NECA always brings some high-quality exclusives to the table, and this year's San Diego Comic-Con offerings look to be no different.
[UPDATE May 25] NECA is holding a presale for their San Diego Comic-Con exclusives for attendees to pick-up at the booth only. Although it was previously announced that some exclusives would have a limited inventory available online during the show, that's no longer the case.
There is a limit of two per exclusive that each individual may pre-order. You'll select a date and time range to pick up your exclusives from NECA Booth #3145 (Preview Night is not available for pick-up), where you'll need to present your order number and your ID, matching the name on your badge. The ONLY badge type that won't be accepted is Exhibitor. You can read more about the process on NECA's site.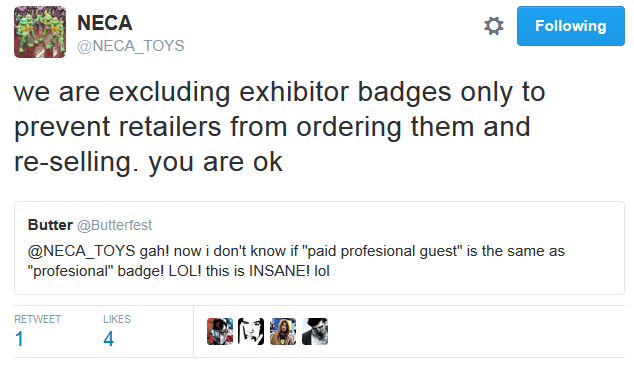 The presale for the Teenage Mutant Ninja Turtles has sold out, but there's good news! NECA will be re-opening a small window of the exclusives on July 13 at 12PM ET/9AM PT, which you will be able to purchase here.
Here's a look at what they're bringing in 2016:
[UPDATE May 25 #2]
Just kidding! NECA also unveiled an SDCC exclusive Deadpool (X-Force) Head Knocker, also available for $30. It's a limited edition of 500, and available now for pre-order for SDCC pick-up. It sounds like that may do it for NECA's SDCC 2016 exclusives.
Here's a look at the piece: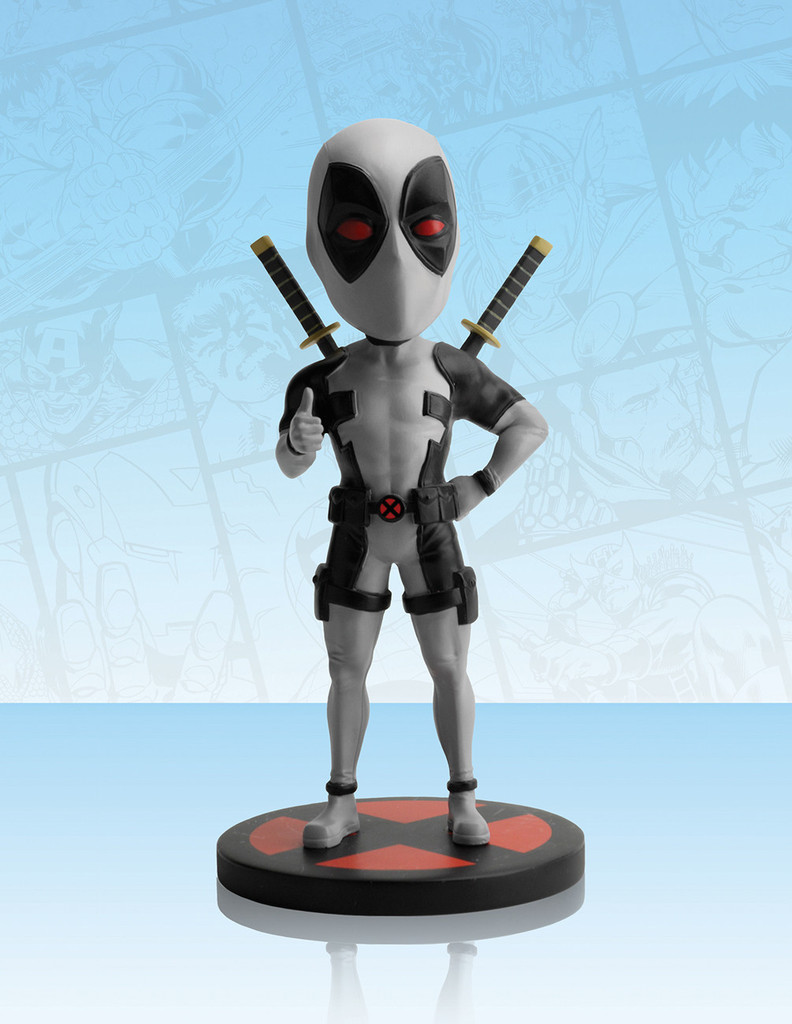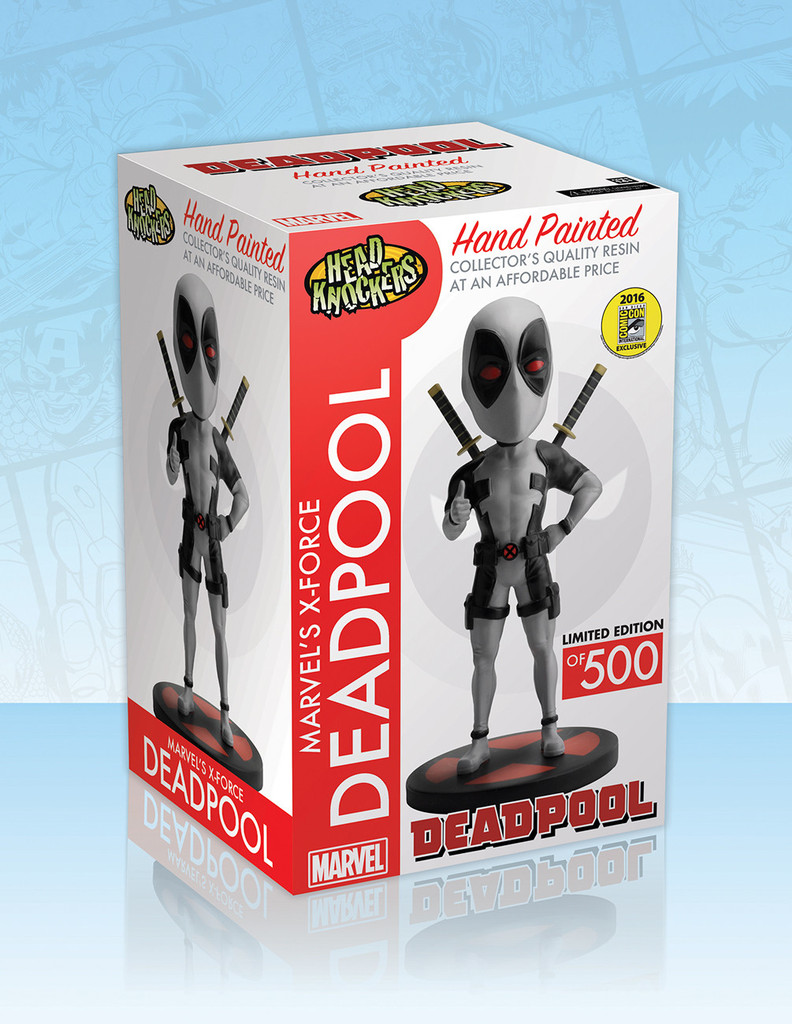 [UPDATE May 25]
In addition to the Turtles presale today, a new SDCC exclusive popped up for presale on NECA's site today: a Marvel Head Knocker Spider-Gwen Classic Unmasked SDCC exclusive, available for $30. The 8″ resin, hand-painted figure is a limited set of 500, and is now available for pick-up at SDCC only.
From NECA's site, here's a look at the figure: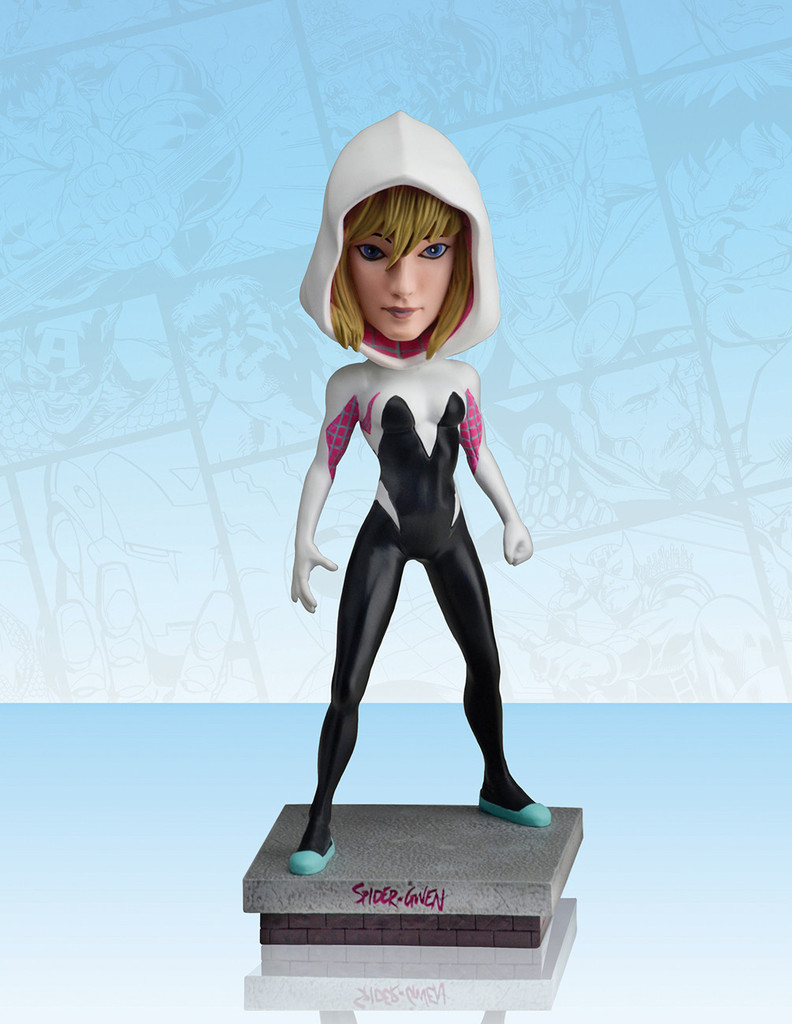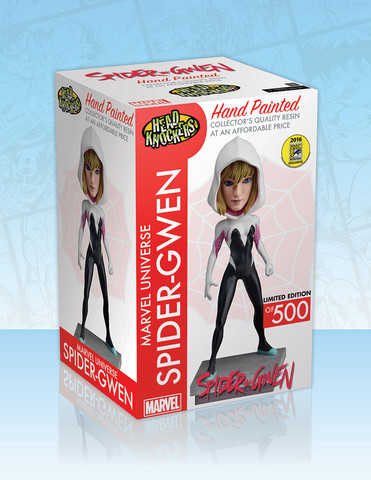 [UPDATE May 23]
Break out the pizza boxes, because NECA has two (yes, two!) awesome Teenage Mutant Ninja Turtles exclusives that they've unveiled today. And, best of all, both sets feature all new molds. Presale information for both sets will be announced later this week (for pick-up at the con only) and some inventory will be held for the booth only — but unlike the rest of NECA's exclusives, these will only be available at SDCC, with no limited quantity going to non-attendees online due to licensing issues.
The first is a TMNT (Arcade Appearance) Turtles Box Set, based on the classic Konami 4-player co-op arcade game. It features all four 6″ shelled heroes, which feature over 30 points of articulation. They come equipped with accessories, including signature weapons, interchangeable hands, pizza power-up, and more. It will retail for $100. It's a limited set of 3,000.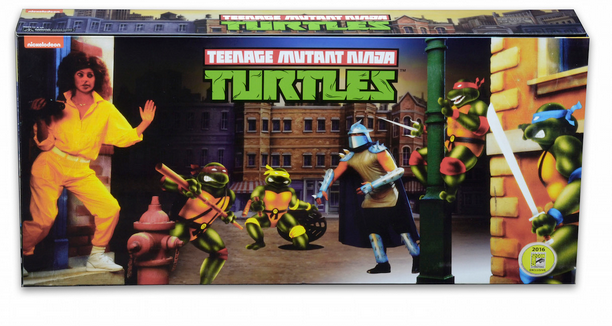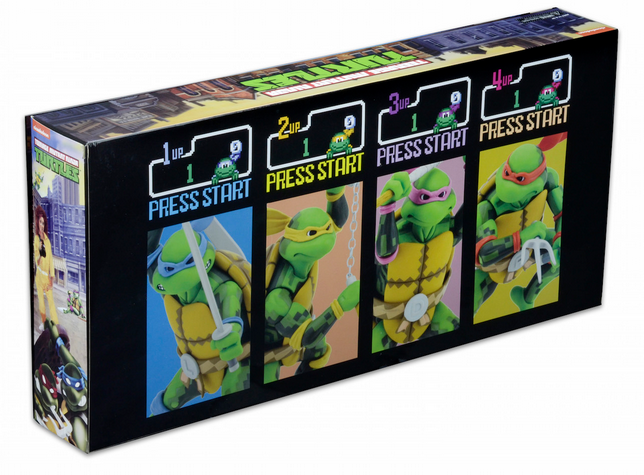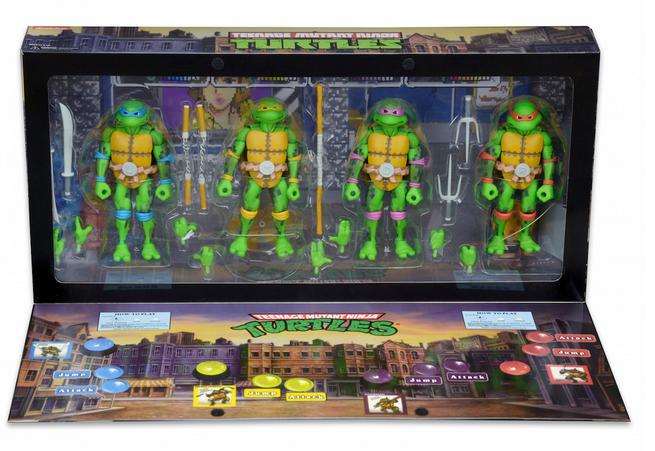 Then, because every half-shelled hero needs a villain to battle it out with, NECA is also bringing a Foot Clan Box Set, featuring Shredder and the Foot Clan as 6″ figures. Just like the turtles, they feature over 30 points of articulation, and come with an oversized hammer, swords, throwing star, rifle, dynamite, and more. This set will also retail for $100. It's a limited set of 3,000.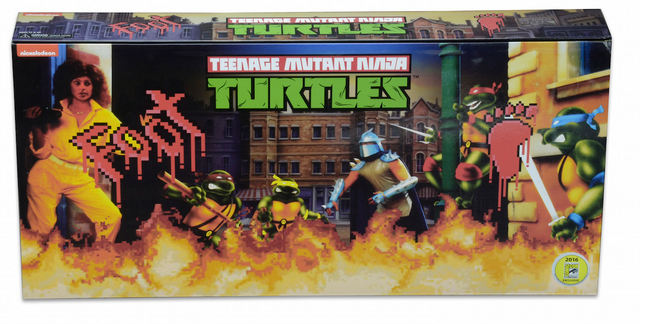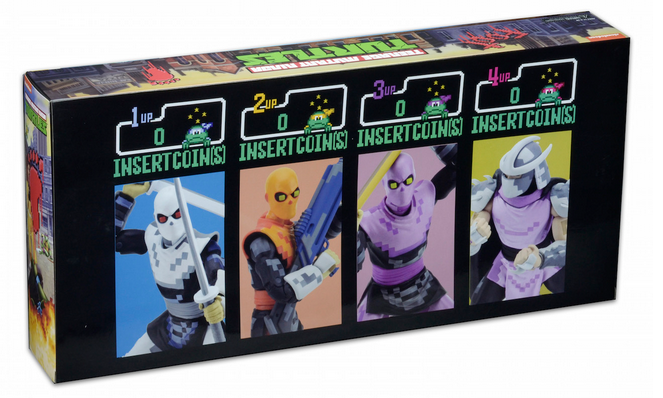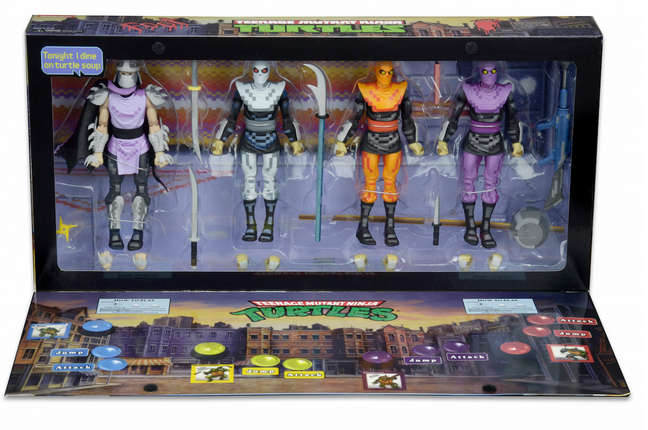 Here's a better look at all the figures: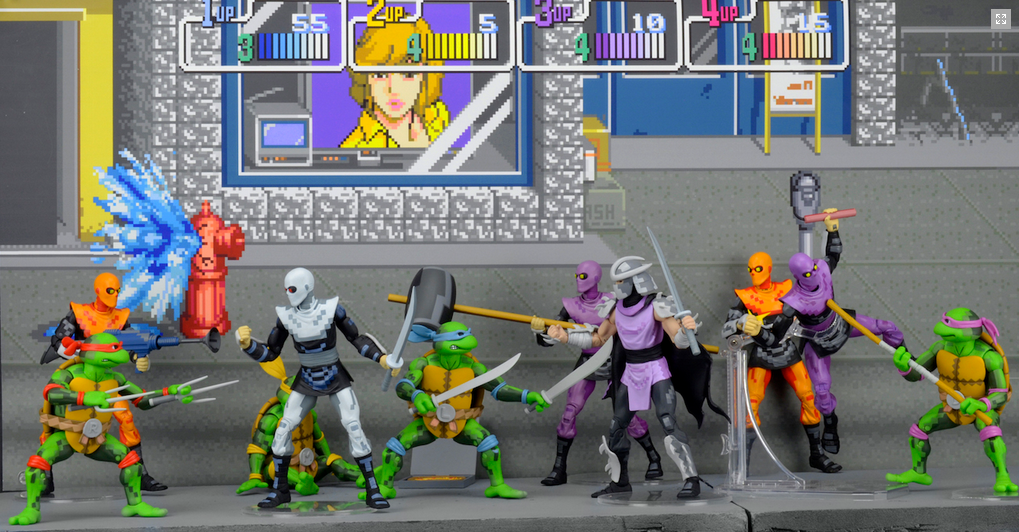 You can read more about both sets on NECA's website.
[UPDATE May 11]
It just wouldn't be NECA at San Diego Comic-Con with at least one Predator exclusive, and this year's looks pretty awesome. NECA will be bringing a Cloaked Scar with Temple Hologram figure to the convention.
The 8.25″ figure, which retails for $30, is a limited edition of 3,000 and features over 30 points of articulation. The hologram is removable, and able to attach to other NECA Predator figures. Here's a look, from Twitter: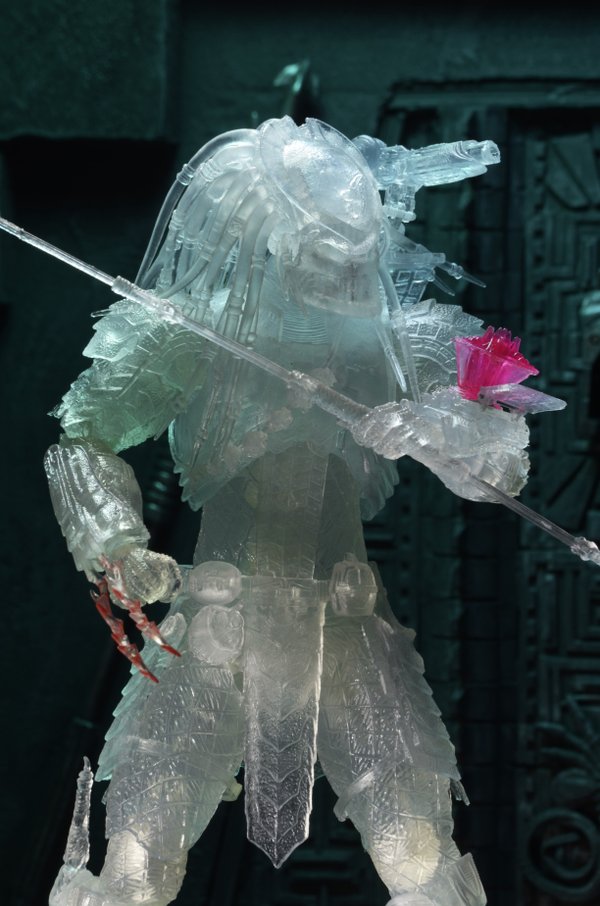 [UPDATE April 26]
Things started off with a bang this year as NECA let actress Carrie Henn reveal the all new Newt figure for Alien Day.
The figure will retail for $30, and stands 5″ tall and has over 25 points of articulation. She comes equipped with a flashlight, doll head, 2nd-grader award, and Hick's helmet, which can be placed on or off the head.
I was given the honor of revealing pics & specs on my @NECA_TOYS action figure. Enjoy, more to come #alienday426 pic.twitter.com/be7ldk17s3

— Carrie Henn (@RealCarrieHenn) April 26, 2016
She then revealed that it would be a SDCC exclusive, which NECA clarified. We'll know more information soon on how you can obtain this figure.
@NECA_TOYS Available at San Diego Comic Con this July exclusively from NECA.

— Carrie Henn (@RealCarrieHenn) April 26, 2016
"mostly" https://t.co/VLIVkQ4Tpm

— NECA (@NECA_TOYS) April 26, 2016
we make all our exclusives accessible for those who really want them – stay tuned here when we announce more info https://t.co/HijIN07ZTT

— NECA (@NECA_TOYS) April 26, 2016
Will you be grabbing the NECA exclusives? Let us know in the comments.