tokidoki is back for another fun-filled year at San Diego Comic-Con, including all new collaborations and a signing with Creative Director Simone Legno. You can pick up all of their exclusives at Booth #5145.
And you can stop by for signings with artist Simone Legno at the tokidoki booth, as well as at the Blizzard Entertainment booth. Here's that schedule: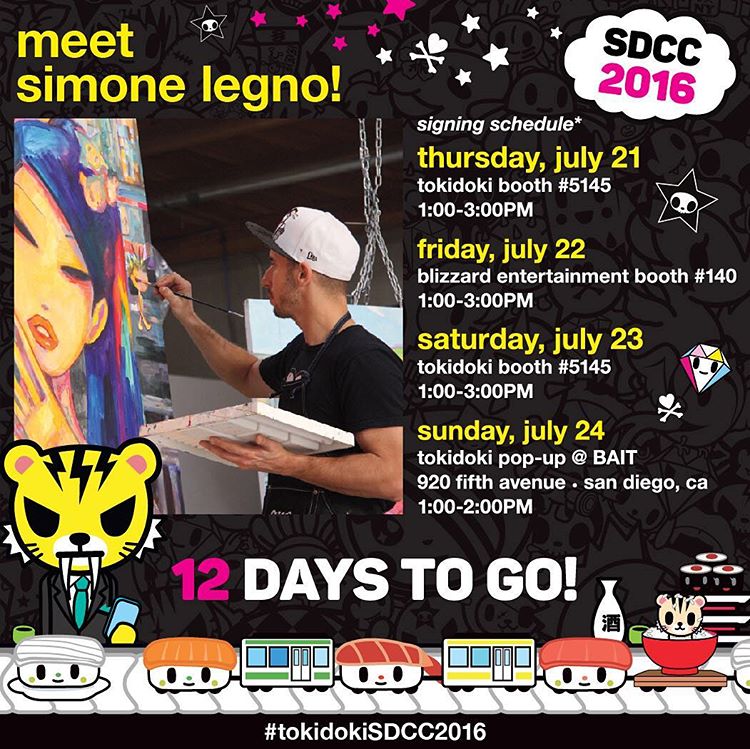 Now, let's take a look at their exclusives:
[UPDATE July 17]
While not Comic-Con exclusives, tokidoki's Major League Baseball Collecion will be premiering at the convention, along with an Iron Maiden mash-up.
https://www.instagram.com/p/BH8d4mWDmwK/?taken-by=tokidokibrand
Ready for us to rock your socks off!? Three words… #IRON MAIDEN & #TOKIDOKI! Available at #SDCC⚡️🤘🏼#tokidokiSDCC2016 pic.twitter.com/Uquu2UFq69

— tokidoki brand (@tokidoki) July 17, 2016
[UPDATE July 14]
UNICORNO METALLICO SERIES 1 BLIND BOX ($10): tokidoki is unveiling their Unicorno Metallico Series 1 Blind Box! Their iconic collectibles return as iridescent exclusives. They've added shimmery, metallic detailing to our wildly popular Unicorno family making them even more desirable for collectors.

MOOFIA 3 PACK ($25): The Moofia 3 Pack makes its official debut to SDCC 2016. Get your favorite Moofia Characters: Strawberry Milk, Soya, and Latte in an eye-catching fridge inspired package. The 3-pack is sure to be a hit with collectors thanks to a never before seen glow in the dark Latte chaser.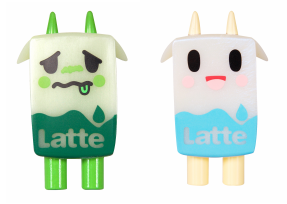 PLATINUM KITTYPATRA ($110): The Queen is Back! Based on the larger than life statue by tokidoki creative director and co-founder, Simone Legno for the 'Hello! Exploring the Supercute World of Hello Kitty' exhibit at the Japanese American National Museum – this epic vinyl figure returns in Platinum!
[UPDATE July 13]
tokidoki unveiled two more SDCC exclusives – two Peanuts x tokidoki shirts that will be available.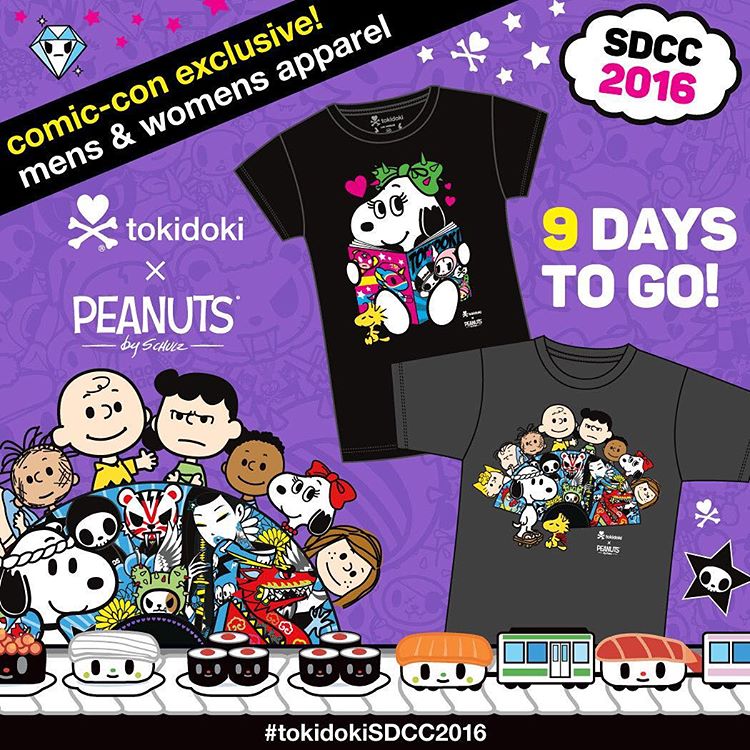 [UPDATE July 11]
The first of tokidoki's 2016 exclusives is split with nsurgo, which means you'll be able to grab it both at tokidoki booth #5145 and nsurgo booth #5146. San Diego Comic-Con will see the premiere of the Kaiten Sushi Skate Deck for $80 (limited to 250 pieces) – and here's a look: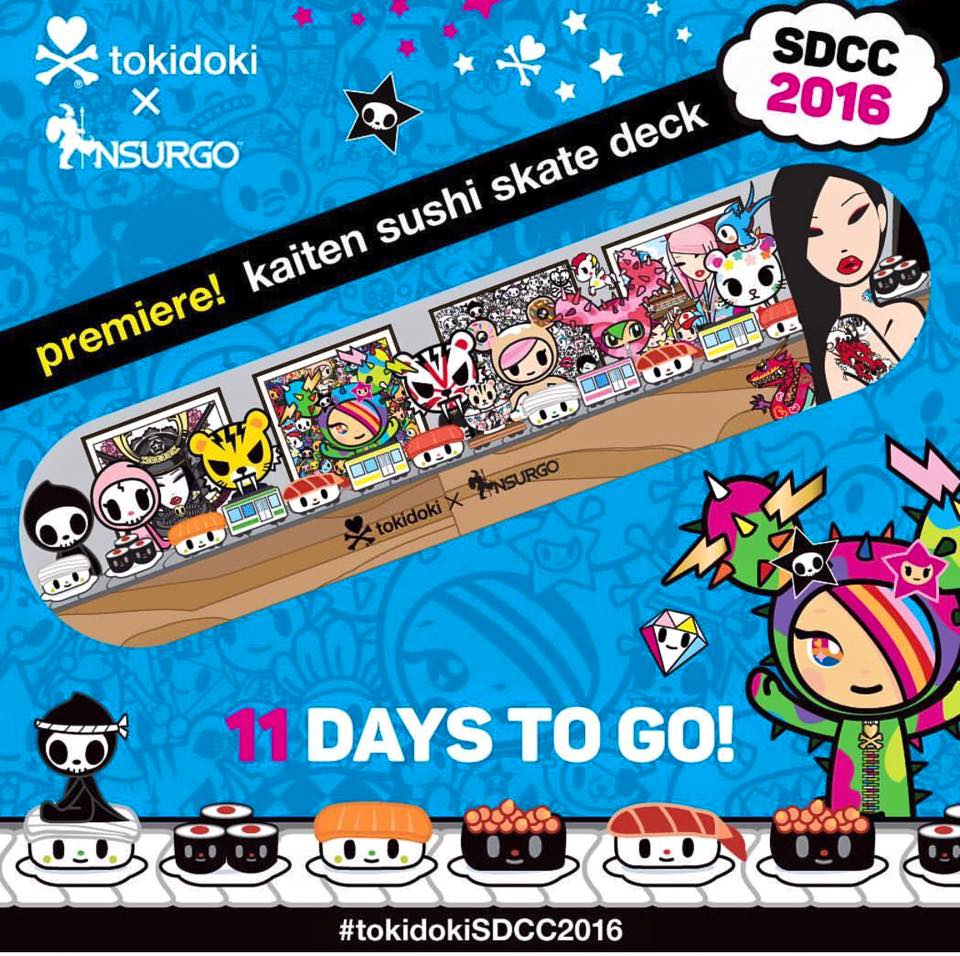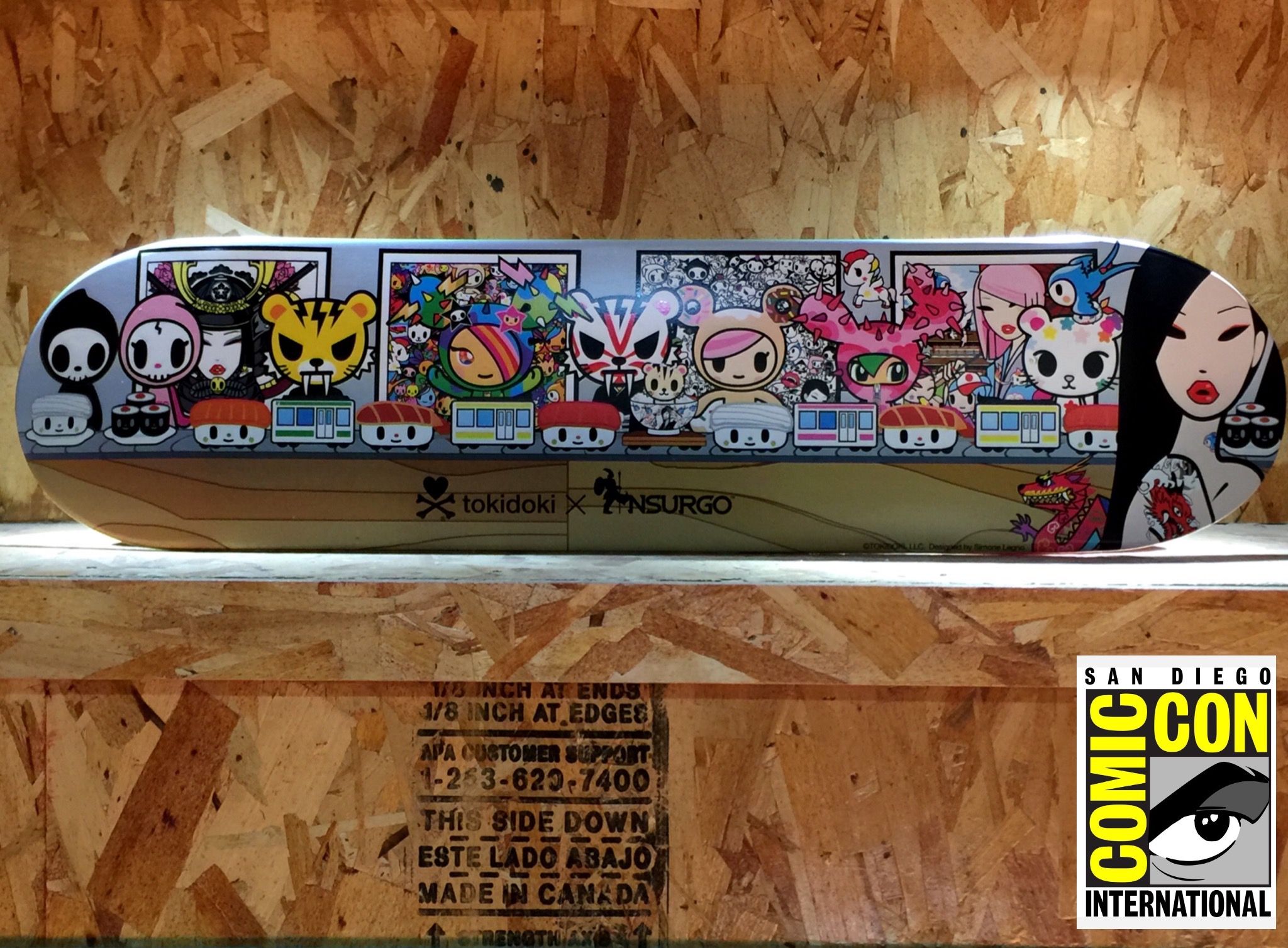 Which tokidoki items will you be grabbing? Let us know in the comments.