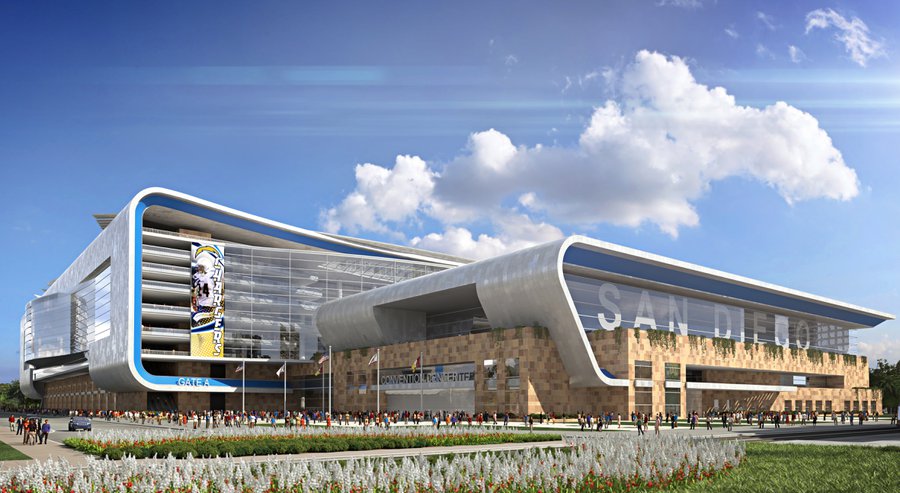 Tuesday's election wasn't just about electing our next President (or even the Senate). In every state, there are also local ballot measures — and in San Diego, that included two proposed measures that could have seen a new Chargers stadium and a convention center annex built downtown.
Now, both of those measures have been defeated.
The Citizens' Plan, spearheaded by attorney Cory Briggs, former City Councilmember Donna Frye, and a group of other proponents (including real estate developer JMI Realty's John Moores), had been pushing to raise hotel taxes (from 12.5 to 16.5 for Measure C, or 15.5 for Measure D, though the latter was sponsored by environmentalists) to some of the highest in the nation in order to fund the convadium.
Although some community leaders like Mayor Faulconer eventually came around to supporting the measures, Comic-Con International was never on board.
Comic-Con International's David Glanzer even wrote an op-ed piece back in March in the U-T, stating in it, "Comic-Con believes that a contiguous convention center expansion (one that is connected to the current facility) would be best for Comic-Con, and most beneficial for any large event San Diego might host in the future." In the article, he makes several good points for why a non-contiguous expansion wouldn't be the best option for conventions — including fear of ambush marketing in the second facility, and separating out vendors to the detriment of foot traffic, sales, and more.
Although Briggs had hinted that should either Measure lose a 2/3 vote but still gain a simple majority, he would have pursued legal avenues to secure a victory — Measure C only walked away with 41% support, which Measure D carried only 40%.
So what's next?
The Chargers will explore their options — which could involve relocating to another city or putting forth another ballot measure, possibly for a different location in San Diego to build their stadium (though if the latter is true, it likely won't include the convention center annex).
As for both The San Diego Convention Center and Comic-Con International and the possibility of an expansion onto the current Convention Center — for now, everything is just on hold.
Although all the way back in 2013, the California Coastal Committee approved a plan to raise hotel taxes (3% for the hotels closest to the Convention Center, though there's more to it) to cover the costs of a contiguous expansion, Briggs had sued and a judge ruled the plan unconstitutional because it hadn't been voted on by the electorate. So for the moment, it would seem the only way to get that contiguous expansion would be for another group to submit their own ballot measure.
That could still happen. However, if it doesn't, just how important is that expansion to CCI? They re-signed to stay in San Diego through at least 2018, and Glanzer mentioned on a podcast with Voice of San Diego earlier this year that they're working to secure hotel rates for 2019-2021, at least hinting that they're planning to stay put regardless.
For now though, we're all back to square one.