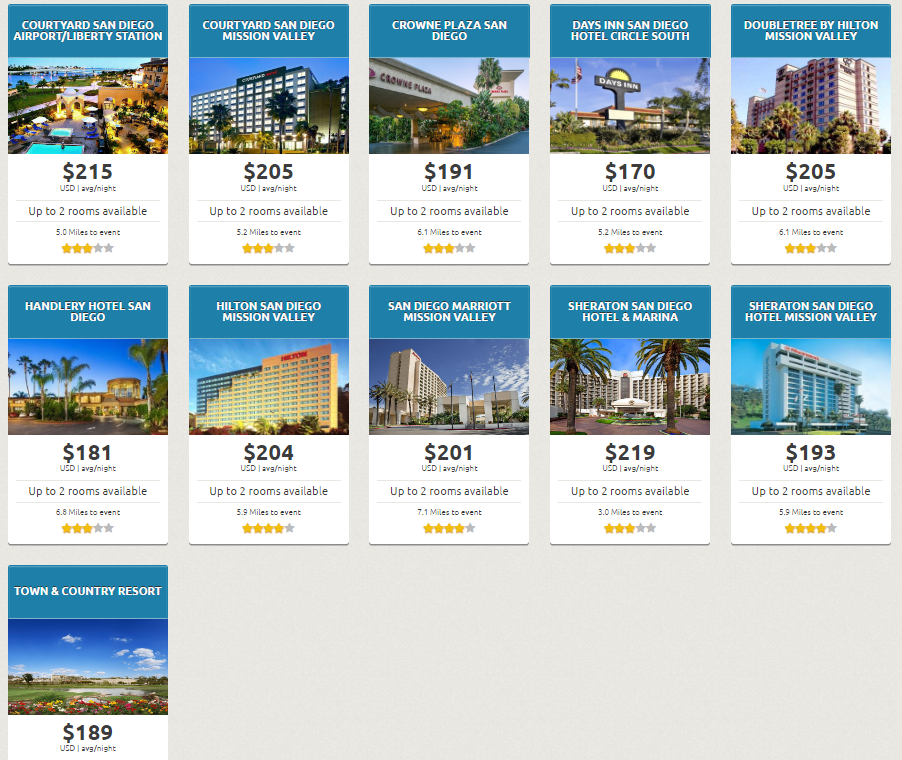 With all the badge sales happening so late this year, one of the biggest questions we've gotten has been: When are hotel sales happening?
The Early Bird Hotel Sale is back for 2017, with reservations now open through onPeak.
Just like in previous years, the Early Bird sale is not for downtown hotels, but rather for hotels in further-out areas, like Mission Valley or the airport. These hotels are typically a little cheaper than the downtown offerings (rates run from $181-$219 per night for a single occupancy room), which will be available later this year, but attendees have to use transportation in order to get downtown to the convention center.
In recent years, this has become easier than ever, in part thanks to an improved Shuttle Service offered by CCI. Nothing has changed from last year as the shuttles will run Wednesday from 3PM-10PM, with 24 hour service beginning on Thursday at 7AM and running through Sunday at 7PM. And, several of these hotels offer free parking – so you may not have to pay for parking your entire Comic-Con week.
Also, while CCI cautions, "If you do not currently have a badge, please DO NOT purchase prepaid, non-refundable hotel rooms" – we don't think that's a sign that a badge is now required for hotel reservations in the General Hotel Sale. Rather, it's likely just CCI cautioning folks not to count on Open Registration, as these hotels are non-refundable.
The Early Bird hotels sell out much slower than the regular hotel sale (which we dub Hotelpocalypse), but each room requires full prepayment at the time of booking, and there will be no refunds or exchanges on rooms – so for those even hoping for a downtown hotel room, this might not be the hotel sale for you. There's also a three-to-four-night minimum stay on each room, which for some hotels must include both Friday, July 21, and Saturday, July 22.
The Early Bird rates will be available through May 1, 2017 – which, if that's anything to judge from previous years, means that the General Hotel Sale will be taking place on either Monday, May 1 or Tuesday, May 2, 2017 (typically, the sale starts the day Early Bird ends, which would suggest Monday – but also typically, the sale is on a Tuesday, so both dates seem equally possible).
Here's a closer look at some of the Early Bird rules: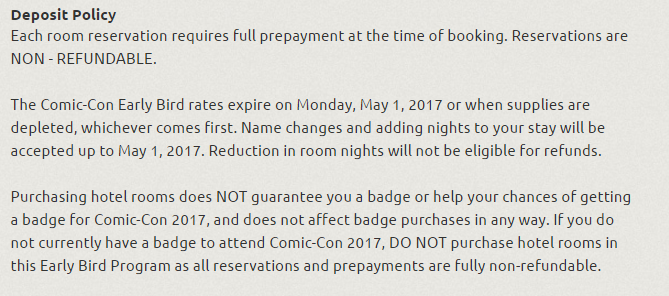 Hotel rates on their own are exorbitant, which is why one of the biggest sticking points for Comic-Con International to stay in San Diego continues to be the hotel block. These are locked-in, negotiated rates that CCI has secured for attendees, so that you aren't paying $1,000 per night. That's why we highly recommend booking within their system for the best rate, even if last year's General Sale was a mess.
Want to know more about the difference between the Early Bird Hotel Sale and the General Hotel Sale? Check out our simplified comparison. For more information on the sale visit the CCI Early Bird page.
Will you be purchasing a hotel in the Early Bird sale? Let us know in the comments.