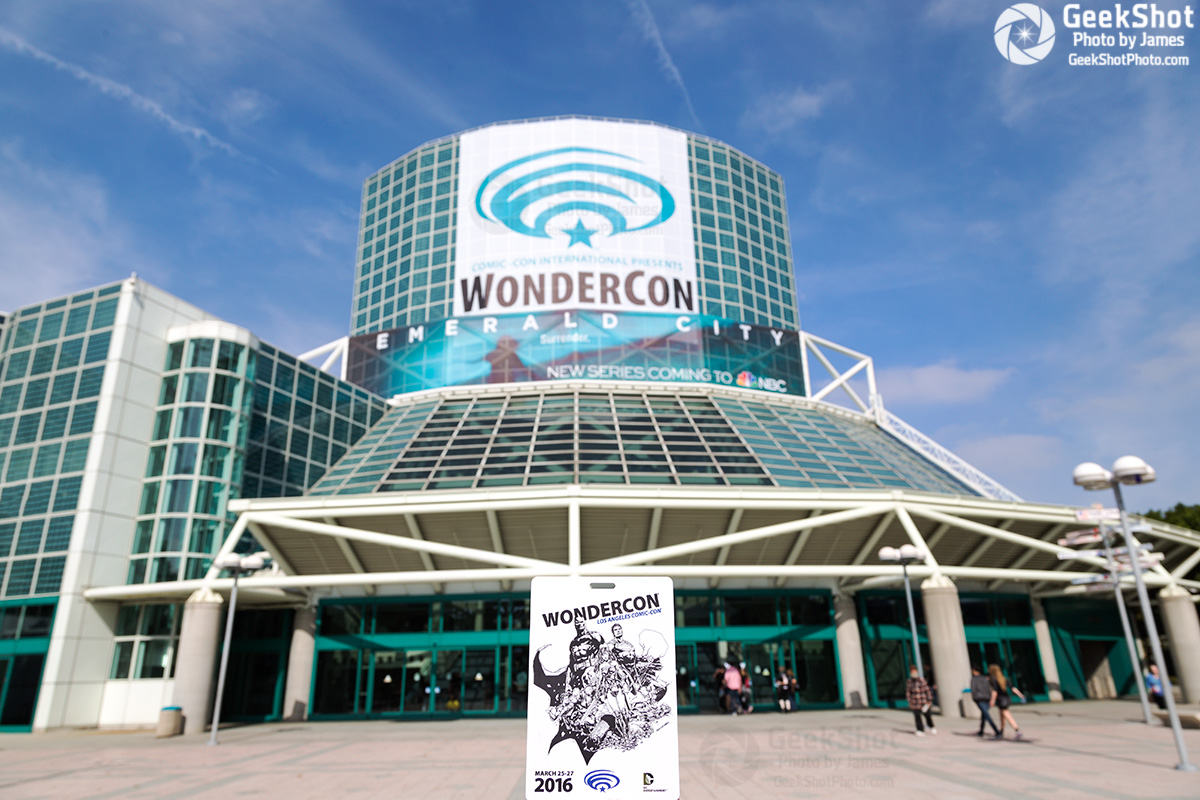 WonderCon Anaheim, Comic-Con International's sister show to San Diego Comic-Con, is just two short weeks away. Earlier today, we all got the whole convention schedule, and it's filled with fan-favorites from TV, comics, and… a little film. It's not the media-crazy event that is SDCC – some say it's more akin to what SDCC used to be – but there's more than enough interesting programming to fill most of the day and still get you time on the Exhibit Floor.
We've combed the schedule for our favorite panels to help you plan your weekend. With that said, bring on the highlights!
Friday, March 31
WonderCon continues to be a great convention if TV is your preferred medium. All day Friday, you can catch panels like Time After Time and Riverdale in the Arena, Prison Break and DreamWorks Animation's Trollhunters (plus you get a cool lithograph!) in 300AB, and even a look back at the 20 year legacy of Buffy the Vampire Slayer (as well as its future). ABC has made some strange choices this year, choosing to bring along both Imaginary Mary, the live-action/CGI comedy premiering on April 4 (with cast members Jenna Elfman and Stephen Schneider in attendance – and you'll get an exclusive screening of the second episode) and The Goldbergs (with cast members Wendi McLendon-Covey and Jeff Garlin). Weird – but sure, ABC. We'll take it.
Comics fans have a lot to be excited about on Friday. It's a party at 3PM in Room 211 with Goosebumps' Dave Roman, who will be teaming up with his mom Miriam to create improvised comics, in what's sure to be one of the most interesting panels of the weekend.
Friday is very light on film, but we're interested in "Behind the Creative Process of Logan" with HALON Entertainment's pre-vis and post-vis supervisor at 3PM in Room 300DE.
Journey to another dimension with NASA engineers as they discuss the "heartbreaks, close calls, and adventures of real-life solar system exploration" at 7PM in Room 209.
And we also recommend swinging by Room 207 at 7PM, as Mark A. Altman and Edward Gross have gathered a group of panelists to discuss the life, legacy, and impact actor and longtime convention veteran Richard Hatch had on us all.
Saturday, April 1
The biggest news – and the biggest question mark – on Saturday's panel is the Warner Bros. Pictures panel, scheduled from 4:30PM-6PM in the Arena. It's the dreaded TBA, promising only "a sneak peek at upcoming films from Warner Bros., New Line, and DC Entertainment Films, with special guests TBA". This could be literally anything, from King Arthur: Legend of the Sword with Charlie Hunnam (which seems the most likely), to Wonder Woman (which seems just as likely), to the horror flick Annabelle 2, to the remake of It, to The Lego Ninjago Movie, to even something a little bit more out there like Geostorm or Going in Style. With 90 minutes, it seems likely they've got at least three films on the block though.
We're also interested in "Rogue One: The Magic Behind the Mission" at 3:15PM in Room 300AB, which sees the animation supervisor discussing visual effects in the last Star Wars film.
But really, on Saturday, it's all about TV – ranging from IDW's Wynonna Earp panel at 11:30AM in Room 208 with "cast and crew"; the upcoming FOX high-tech police drama APB with cast members Justin Kirk, Natalie Martinez, and Ernie Hudson; Syfy's The Magicians with cast members Jason Ralph and Stella Maeve in Room 300AB at 1PM; Marvel's Agents of S.H.I.E.L.D. at 2PM in Room 300AB with "series stars"; and DreamWorks Animation's Voltron: Legendary Defender at 5:30PM in Room 300DE (with another exclusive lithograph). For a double dose of S.H.I.E.L.D., be sure to also check out the VFX panel with Marvel visual effects supervisors happening at 7:15PM in Room 300AB. For those who prefer music over visual, there's also "Scoring the Future: Writing Music for Sci-Fi" with composers from Firefly, The 100, and more at 12:30PM in Room 213.
You can also catch several screenings on Saturday, including the very good Doctor Who spin-off Class (no really, watch it) at 7:30PM in Room 300DE, a brand-new episode of Riverdale in the Arena at 3:15PM (though the cast won't be in attendance for this – for that, see the panel on Friday), and the series premiere of Midnight, Texas with a discussion after with cast members François Arnaud, Dylan Bruce, Parisa Fitz-Henley, Arielle Kebbel, Jason Lewis, and Sarah Ramos.
The biggest comics panel of the weekend is probably the DC Universe: Rebirth, at 3:30PM in Room 300DE. Although no panelists are listed, it's your chance to find out more about what's upcoming in all the DC stories you love. Join the people who know the heroes in a half-shell best (Kevin Eastman, Tom Waltz, and Bobby Curnow) for a Teenage Mutant Ninja Turtle "shell of a good time" panel at 3:30PM in Room 213. Get the scoop on Deadpool: Bad Blood! with Marvel creative director Brian Crosby and Deadpool co-creator Rob Liefeld in Room 209 at 4PM.
You've got two chances to see Gerard Way at WonderCon this year (did you hear that, Lisa? Twice the Gerard!) – as he'll be jumping from Room 300DE for his Spotlight panel to Room 213 for a discussion with Mark Waid about what it takes to get into comics (along with panelists Michael Cho, Lissa Treiman, Genevieve Valentine, and Judd Winick).
And although it's not on the schedule, the Masquerade will be at 8:30PM in the Arena.
Sunday, April 2
The weekend wraps up with Sunday, and it's relatively light on panels.
On the TV side of things, the big panels are Lucifer and Gotham in the Arena, complete with cast members and "video presentations". You should also be sure to check out a brand new episode of Teen Titans Go!, followed by a Q&A with voice cast and creators.
Sunday is also Kid's Day, so it's a great day to get your child into comics, with panels like a Spotlight on TMNT co-creator Kevin Eastman or IDW's "Hey, Kids! (of All Ages") at 11:30AM. For a slightly more adult crowd, be sure to check out Valiant's 25 Years of X-O Manowar at 1:30PM, as well as the spotlight on the incomparable Chip Zdarsky at 2PM.
Disney legend Bob Gurr, as well as Garner Holt, and Atomic Design Studio builder Thomas Kuntz discuss "the history of mechanized magic in Orange County, from Japanese Deer Park to Knott's Berry Farm and Disneyland" at 12:30PM in Room 213.
There won't be a dry eye in the house at the "Princess Leia: A Special Star Wars Fan Tribute" panel at 11:30AM-12:30PM in Room 300DE.
As always, the convention will close with the WonderCon Talk Back, a sort of town hall meeting where attendees can discuss anything they feel should be addressed with Comic-Con International staff.
Of course, there are tons more awesome panels at WonderCon we couldn't list, so be sure to check out the entire programming schedule. And sign up for MySched, mark your favorite panels and see which ones your friends are going to.
Which panels are you looking forward to most? Let us know in the comments.