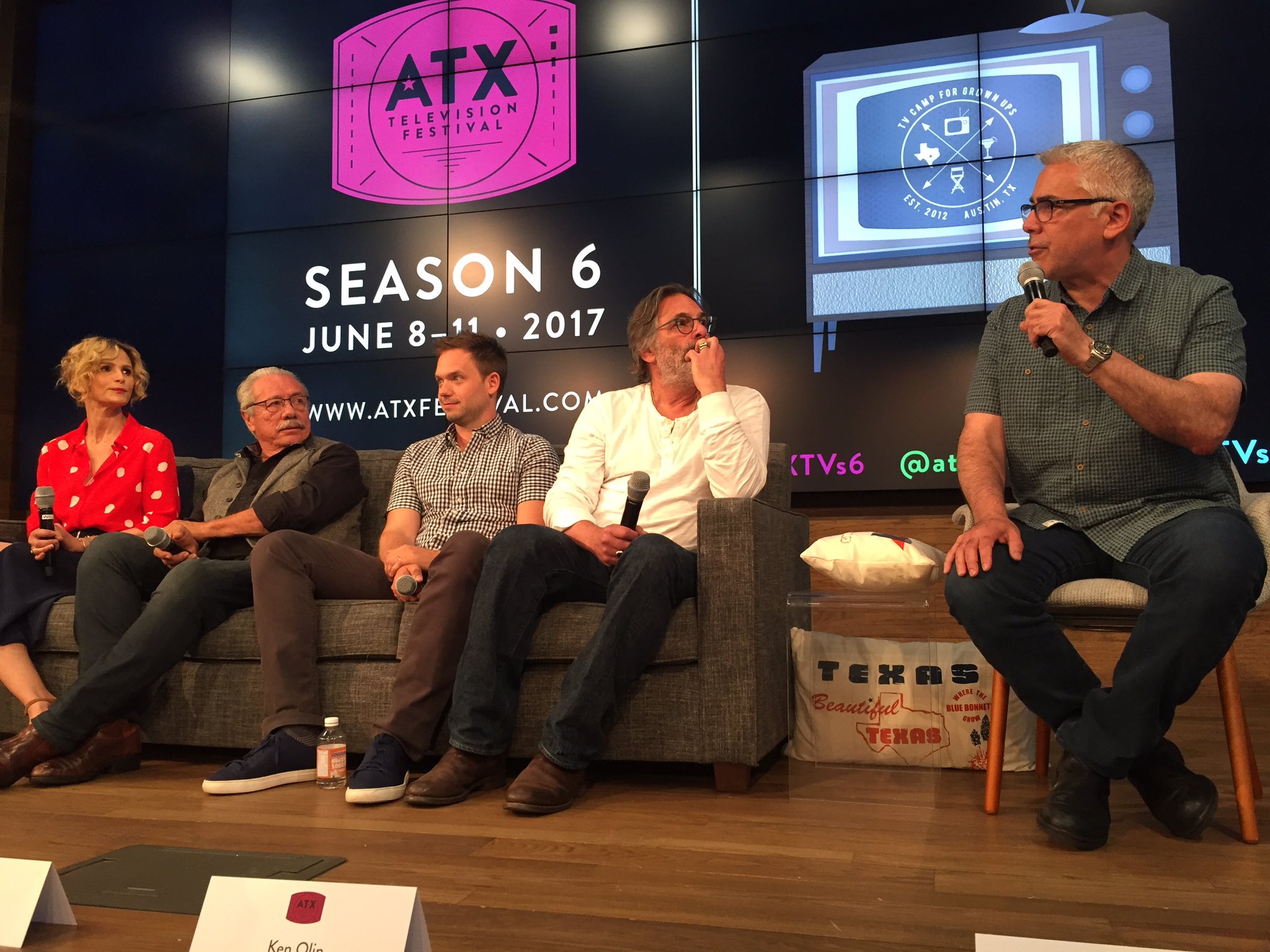 If you love the world of TV — the shows themselves, the mechanics behind them, and your fellow fans who watch them — then get yourself to Austin next June for the ATX Television Festival.
I've known about the festival for years, but just never made the trek down until this year. So, if you're a smarter person than me who has gone before, you're probably rolling your eyes right now and going, "Where have you been?"
Co-Founders Caitlin McFarland and Emily Gips started the Austin festival (don't call it a convention) in 2012, as a way to "celebrate the history of the medium as well as the future" of television. Over the last six years, they've managed to pull in a level of talent that's usually only seen on a San Diego Comic-Con or TCA stage.
This year's event, for instance, featured a reunion of almost the entire cast of Battlestar Galactica, as well as a script reading of the pilot episode of Suits with the entire cast, and pilot screenings for everything from Snowfall to Ghosted to Midnight, Texas. And those are just the tip of the iceberg of the shows both old, new, and upcoming represented, which ran the gamut from The Comback to Alias to Sweet/Vicious to This is Us.
But at ATX, it's not just a parade of actors (though they're often there too). Want a panel with the presidents of Hulu, NBC, HBO, FX, and Showtime discussing today's TV landscape? Or an hour with the directors of Sons of Anarchy discussing making the show? How about a panel of Kyra Sedgwick, Edward James Olmos, Patrick J. Adams, Ken Olin, and Adam Arkin talking what it's like to make the jump from being an actor to directing? They've got it all, in a much more in-depth look than you're usually afforded at San Diego Comic-Con simply by nature of the setting.
Best of all, the event is very small — and ATX organizers want to keep it that way. This year's event was expected to host 2,500 attendees, with most venues for the festival seating around 150-350 seats (with the Paramount offering a bit more). That's Nerd HQ levels of intimacy, which can create a powerful connection between the audience, like when the entire cast and audience in the Sweet/Vicious panel was in tears discussing what an important message the show was and still is (#SaveSweetVicious).
But with such limited seats can often come challenges in getting access – which is why ATX does something very smart by both offering programming at different venues so attendees aren't all vying for the same panel, and by offering Fast Passes.
During a set time period, each attendee submits a list of their top eight panel choices in order of preference. Then behind the scenes, everyone is randomized (that, at least, should sound familiar to SDCC attendees), and then given Fast Passes for four of their eight panel choices. This gets you to the front of the line and in the panel first, though space is always held for those without Fast Passes (they claim no more than 1/3 of inventory for any panel goes to Fast Pass, but based on what we saw and heard for This is Us, it is occasionally more). The stand-by line can form an hour before the start of each panel, and you'll receive a printed "Boarding Card" with your actual number placement in line, so you know exactly how far back you are, and can better gauge your chances of making it in — similar to Ballroom 20 or Hall H's A-D card/wristband process, but with the added benefit of exact numbers.
No "TV Camp for Grownups" would be complete without some opportunity for unwinding after the festivities. ATX also offered a few later-evening activities, including a TV Trivia game with surprise guest Julie Plec, a Parks and Recreation Pawnee Harvest Festival complete with a screening of two episodes and Lil Sebastian, and a few other events and lounges.
ATX also has things they need to work on, sure. I didn't attend a single panel that ended on time, which could have easily been solved by adding a volunteer to each room who motions to the moderator when they have 15 minutes and should start taking audience questions, and again when they have 5 minutes remaining (though is having extra time with panelists really something to complain about?). There was inadequate signage at a few of the venues. The stage in the SFA Ballroom desperately needed to be raised higher.
None of those are insurmountable, though. We'll be looking in another post at some lessons both ATX and San Diego could learn from each other.
But overall, ATX felt more like an informal gathering of top-tier gathering of talent. It's not that circus that these events so often are, but rather more of a fireside chat, with everyone (both panelists and fans) excited to discuss the medium. We need more events like this — similar as well to Nerd HQ.
So if you love TV, just go ahead and mark your calendar: June 7-10, 2018. I'll meet you at the bat bridge.