As we previously reported, Amazon is go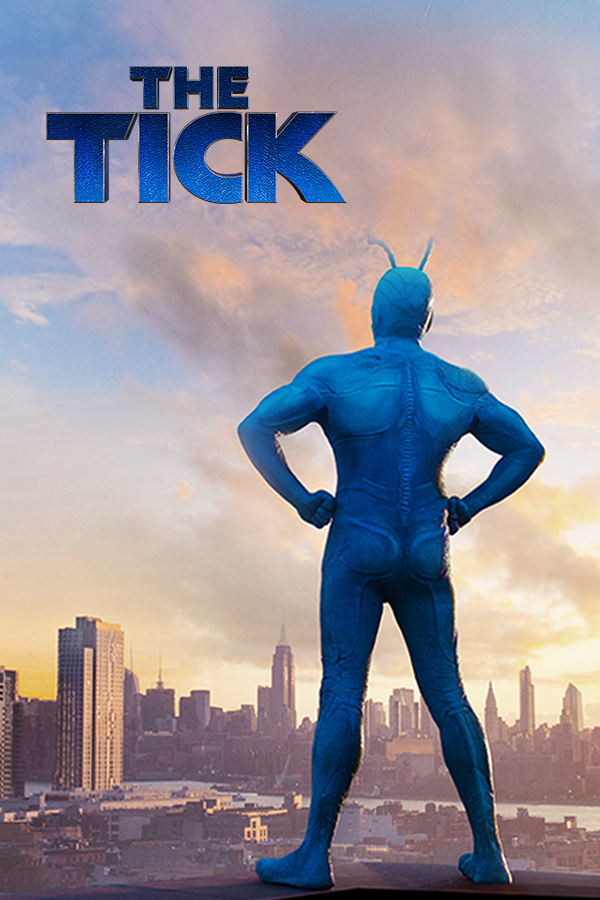 ing big at San Diego Comic-Con this year with a panel (set for Friday, July 21 from 4:45PM-5:45PM in Room 6A) and an offsite for The Tick. That's not all they have in store, though, as they're also bringing along Danger & Eggs and Niko and the Sword of Light.
Join The Tick on Friday with cast members Peter Serafinowicz, Griffin Newman, Jackie Earle Haley, Valorie Curry, Yara Martinez, Brendan Hines, Scott Speiser and Michael Cerveris and creatives as they offer up the world premiere screening of the second episode of the series, followed by a Q&A.
There will also be a The Tick street team in San Diego, ready to help you with whatever you need. Just look for members of Team Tick adorned with a blue antenna around the Gaslamp.
Then on Sunday, it's all about Danger & Eggs and Niko and the Sword of Light. Danger & Eggs is the new Amazon Original aimed at kids, which follows the endless adventures of a fearless, teal-haired girl named D.D. Danger and her ever cautious best friend, a giant talking egg named Phillip. D.D. is always chasing her next big thrill and luckily for her, Phillip is always there by her side with jerry-rigged safety mechanisms to make her thrill-seeking dreams come true. You can hit up Room 24ABC for a chat with voices members Aidy Bryant, Eric Knobel, Jasika Nicole, Charlyne Yi and Stephanie Beatriz, and more.
Finally, Sunday will also have a panel for Niko and the Sword of Light, which follows ten-year-old Niko who is the last of his kind in a strange, fantastical world. The panel, moderated by Tom Kenny, will feature voice actors Kari Wahlgren, Dee Bradley Baker, and Jim Cummings.
There will be autograph sessions for all three series (though Danger and Nick will be combined).
Here's a look at the full panel and autograph schedule:
The Tick Autograph Signing
(limited signing – drawing for line tickets to be held Friday 9:00am – 10:00am in the autograph area)
Friday, July 21, 3:00pm – 4:00pm
San Diego Convention Center, Sails Pavilion Booth AA07
The Tick Panel
Friday, July 21, 4:45pm – 5:45pm
San Diego Convention Center, Room 6A
Moderator: Ralph Garman
Panelists: Executive Producer Barry Josephson, David Fury, Executive Producer Ben Edlund, cast members Peter Serafinowicz, Griffin Newman, Jackie Earle Haley, Valorie Curry, Yara Martinez, Brendan Hines, Scott Speiser and Michael Cerveris
Danger & Eggs Panel
Sunday, July 23, 1:00pm – 2:00pm
San Diego Convention Center, Room 24ABC
Moderator: Chris Hardwick (Executive Producer)
Panelists: Creator and Executive Producer Shadi Petosky, Creator and Executive Producer Mike Owens, cast members Aidy Bryant, Eric Knobel, Jasika Nicole, Charlyne Yi and Stephanie Beatriz
Niko and the Sword of Light Panel
Sunday, July 23, 2:00pm – 3:00pm
San Diego Convention Center, Room 24ABC
Moderator: Tom Kenny
Panelists: Executive Producer Rob Hoegee, Executive Producer Jim Bryson, Executive Producer Bobby Chiu, cast members Kari Wahlgren, Dee Bradley Baker and Jim Cummings
Danger & Eggs and Niko and the Sword of Light Autograph Signing
limited signing – drawing for line tickets to be held Sunday 9:00am – 10:00am in the autograph area)
Sunday, July 23, 3:00pm – 4:00pm
San Diego Convention Center, Sails Pavilion Booth AA05