Artist Patrick Ballesteros, whose work you might recognize from The Late Late Show with James Corden or from his Punny Sweater series or his 25 Cent Wonders collection, always brings his A-game to San Diego Comic-Con. This year is no different, and you can find him at Artist Alley DD-08, where he will have a plethora of 25 Cent Wonders and other art, as well as five San Diego Comic-Con exclusive prints (which you can find here), and maybe a few extra special surprises.
While we've been showing off most of Ballesteros' 25 Cent Wonder regular edition prints in our "Under the Tents" column, the final two were so special that we wanted to do something different. Both of these prints (and a whole lot more) will be debuting at San Diego Comic-Con this week, and you can pick them up at Artist Alley DD-08.
First up, we've got Homecoming Kings, inspired by (obviously), Spider-Man: Homecoming. Just like all the other 25 Cent Wonders, the 6″x8″ print features Spidey and his buddy Ned riding atop a mechanical ride, like the ones you used to beg your parents for 25 cents to ride outside the grocery store. It's got some really cool details — like the tiny toy Iron Man in Spider-Man's hand, the Vulture riding atop the coin drop, and more. You can pick it up for $8 at the con.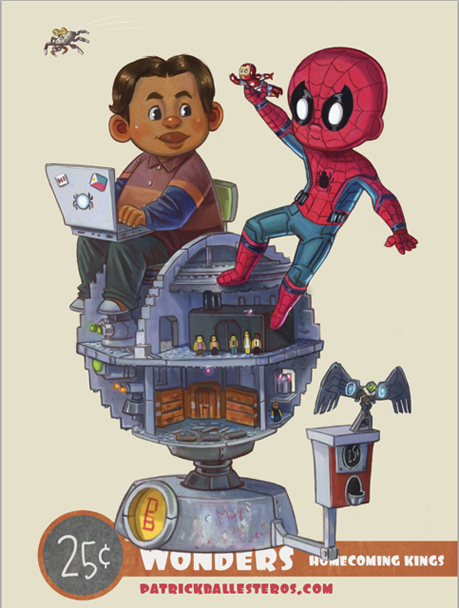 Finally, Ballesteros' last 25 Cent Wonder for the con is "Don't Flip Out", for Lumpia 2, a sequel to the original 2003 indepedent, Filipino-American superhero film. In Lumpia 2, a silent avenger protects Fogtown with his weapon of choice: a Filipino egg roll!
Ballesteros has created a print inspired by the upcoming action/comedy sequel, which is a limited edition of 100. The 6″x8″ print will be available at his table for $10.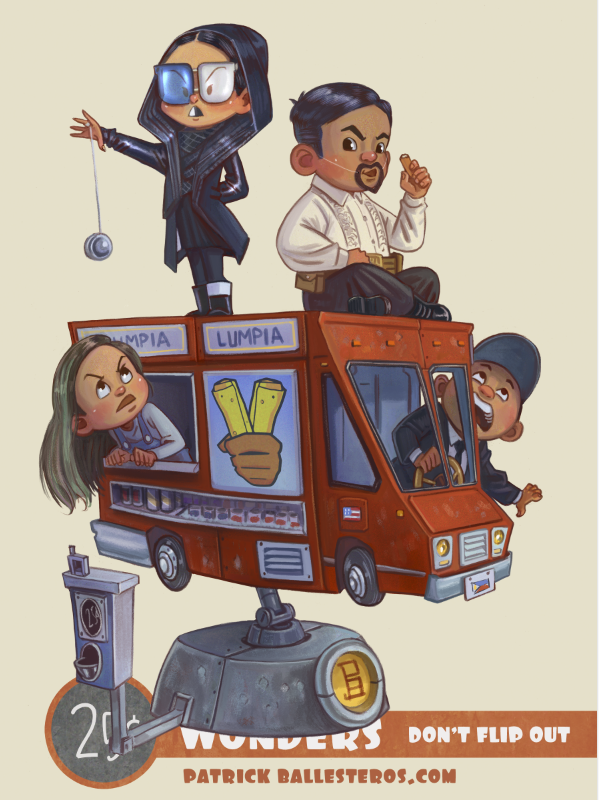 You can find more of Ballesteros' work on his website.
Will you be picking up Ballesteros' prints at San Diego Comic-Con 2017? Let us know in the comments.