[UPDATE July 18] 20th Century Fox Home Entertainment will also have a multitude of other exclusives and specials when you pre-order at Booth #4229, including:
"Legion": Pre-order Season 1 on Blu-ray to receive a limited-edition collectible screen-print poster. While supplies last.
Phoenix Forgotten: The first 500 pre-orders will receive an exclusive glow-in-the-dark mini poster. Phoenix Forgotten is available on Digital HD July 18 and on Blu-ray and DVD August 1.
Robocop: Visit the Fox Fanfare Booth to receive power-up codes for the official Robocop mobile game.
"Firefly" 15th Anniversary: New commemorative box art will be available for pre-order and available on September 19; pre-orders will receive a sticker card set. Visit the booth each day to receive a new sticker and a chance to win a replica brown coat.
Trolls: Show your colors with a Trolls wig, free when you purchase the Blu-ray.
The Princess Bride: Visitors dressed in Princess Bride cosplay will receive a free collectible poster in honor of the film's 30th Anniversary while supplies last.
Additionally, you can also find 20th Century Fox out and about in the Gaslamp and convention center with these additional activities:
Predator Official Fan App (Convention Center): Spot the Predator roaming around Comic-Con and download the new Predator Official Fan App, an interactive "superfan" destination for Young Bloods. Those who encounter Predator will have an opportunity to collect a limited-edition mini poster. Did we mention he's a WiFi Hotspot?
Piggy Man Cosplayer (Gaslamp District): Watch your back! The infamous Piggy Many will be roaming the show floor, inspiring both screams and selfies. "American Horror Story: Roanoke" comes to Blu-ray October 3.
Vikings Street Team (Gaslamp District): San Diego gets a Norse invasion as a horde of marauding Vikings roams the streets of the Gaslamp giving temporary tattoos to lucky fans. "Vikings" Season 4 Volume 2 lands on Blu-ray in October.
The Boss Baby Costume Character (Convention Center): The only way to do Comic-Con is like a boss! A Boss Baby costume character will be on hand in the convention center handing out SDCC exclusive cardboard ties.
[UPDATE July 14 #2] Archer fans aren't left out in the cold without exclusives this year either – as ScreenRant unveiled a look at the new Fox Home Entertainment Archer Most Extraordinary Spy Kit Ever. In addition to including all seven seasons of the series, the Kit also includes mustache sunglasses, a "Danger Zone" shot glass, and more. Score it at the Fox Booth #4229.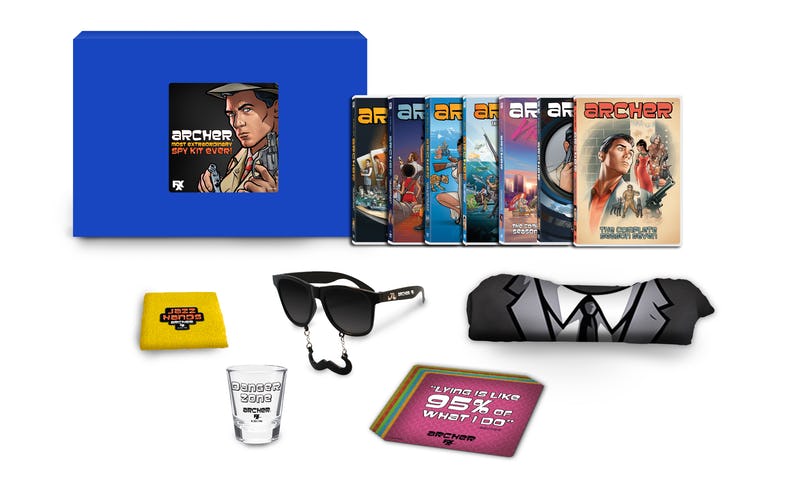 [UPDATE July 14] Bloody Distgusting has the first look at some San Diego Comic-Con exclusive collectible DVD skus for The Strain seasons 1-4 at Fox Booth #4229. Fans who purchase DVDs of seasons 1-3 (or who pre-order season 4) will receive collectible DVD o-ring art, as well as a poster featuring artwork of the season purchased. A Complete Series box set will also be available with all four collectible o-rings and posters as well as all seasons, and will retail for $54.99. Since season four isn't out yet, it will ship at a later today.
Here's a look:
[PREVIOUS] Fox Home Entertainment has a late addition to the game in the realm of our favorite San Diego Comic-Con exclusives this year, with some vinyl releases for some of their recent films.
Logan, Deadpool, Kingsman: The Secret Service, Dawn of the Planet of the Apes, and Rise of the Planet of the Apes are all getting vinyl pressings for their soundtracks, and come with a Blu-Ray, DVD, and Digital HD copy of the particular film. Plus, you'll receive a free limited edition tote bag with the purchase of either Planet of the Apes set! You can grab these at Fox Booth #4229, at these prices:
Deadpool ($39.99)
Logan ($39.99)
Kingsman  ($34.99)
Rise of the Planet of the Apes ($34.99)
Dawn of the Planet of the Apes ($34.99)
There will be a limit of one of each album per customer.
From The Hollywood Reporter, here's a look: