The San Diego Convention Center, the City of San Diego, and the Port of San Diego announced this morning several new changes relating to traffic and attendee access/security during San Diego Comic-Con this year.
New this year, Harbor Drive will be closed to vehicle traffic (including bikes, scooters, and skateboards) between First Avenue and Park Boulevard during Comic-Con during the following hours:
Wednesday, July 18 3PM – 9PM
Thursday, July 19 7AM – 9PM
Friday, July 20 7AM – 9PM
Saturday, July 21 7AM – 9PM
Sunday, July 22 7AM – 7PM
The three main exceptions to this rule will be emergency vehicles, the official Comic-Con shuttle buses which will still be allowed through, and those who purchased parking for the convention center. Those individuals will need to show their permit from the First Avenue side when entering after 7AM.
This should make things a bit easier for those on foot.
Here's a look at the planned road closures (click for larger):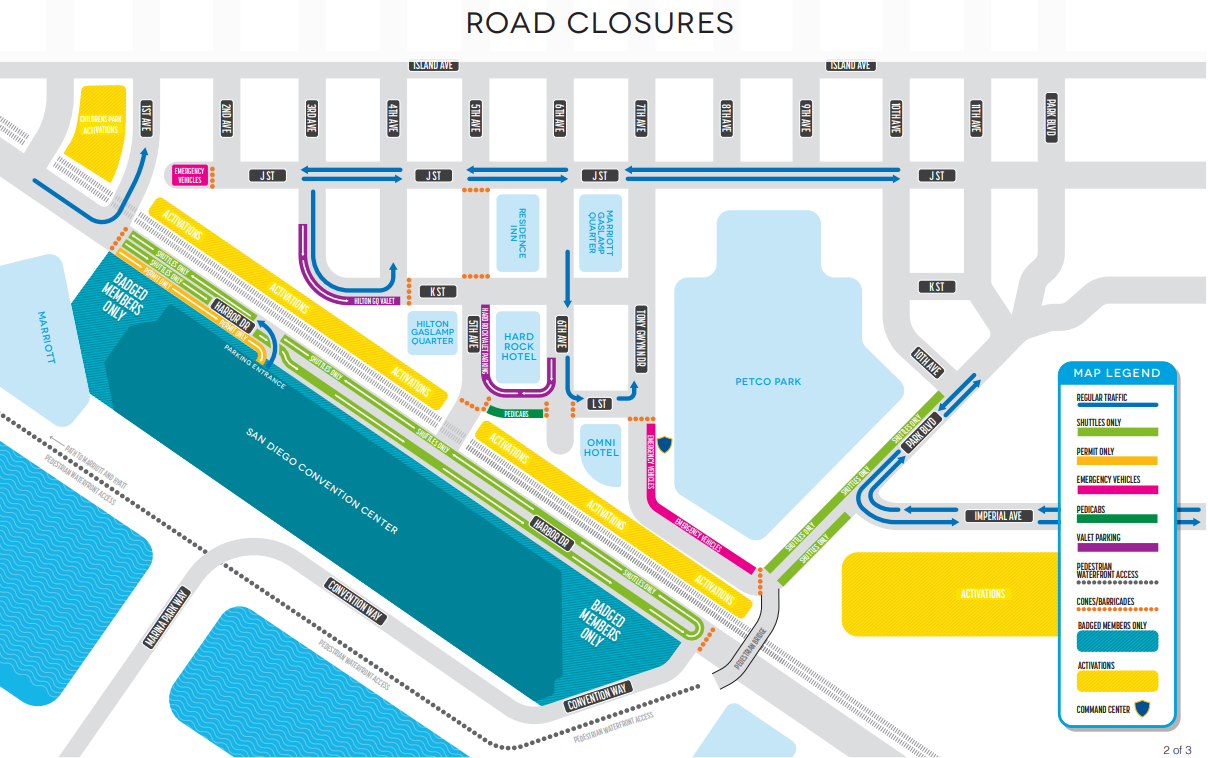 Also new this year, rather than setting up the initial security checkpoints at the doors of the convention center – they're spreading the zone of "attendees only" out a bit further. Now, only badged members of San Diego Comic-Con 2018 may access the front drive, stairs, and surrounding sidewalks of the convention center. If you arrive at the convention center and need to pick up your badge, you will still be allowed to access the Sails Pavilion through the Hall C Lobby. Have proof of your registration with you.
For those non-badged members of the public who are looking to access the waterfront behind the convention center, you'll need to cross the Harbor Drive Pedestrian Bridge by the Hilton Bayfront, and then follow the sidewalk on the Hilton Bayfront side.
Here's a look at the traffic flow, which also shows where the barriers should be (click for larger):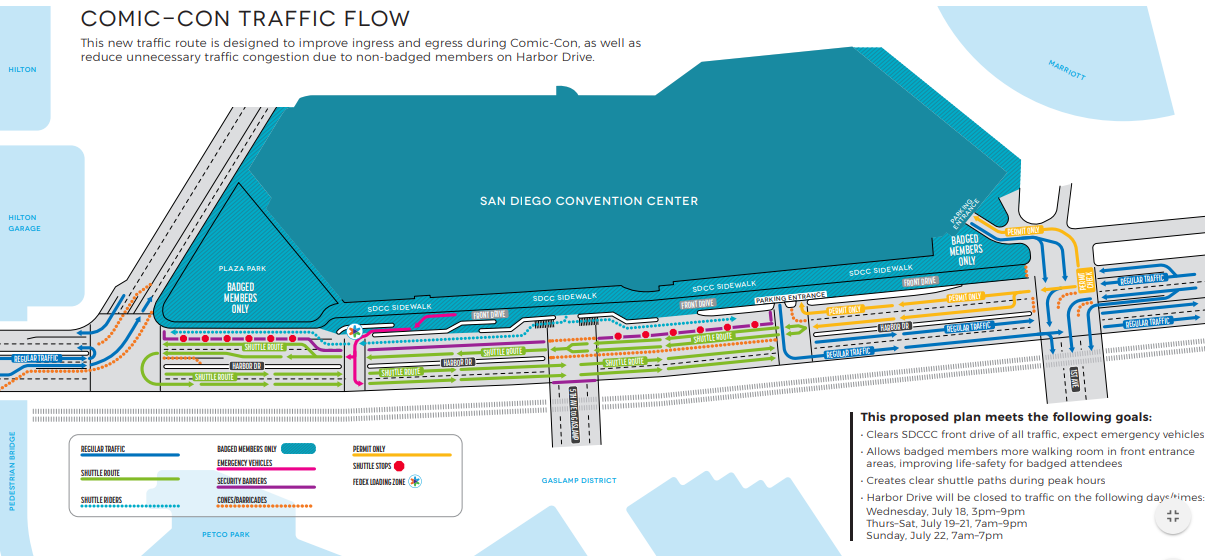 The shuttle routes will continue to operate for attendees, and you'll still board your shuttle stop along Harbor Drive. According to the press release, "All other shuttle stops will be at Petco Park".
You can read the full announcement here, which also includes access information for those guests staying in the Hilton Bayfront and Marriott Marquis and Marina.
What do you think of these changes? Let us know in the comments.