Do you love Patrick Ballesteros' amazing work as much as we do?
We've got good news for you, as in addition to his absolutely adorable exclusives and regular prints for San Diego Comic-Con, Patrick is also offering up exclusive canvas prints of his Comic-Con exclusives.
Five of his exclusives (pictured below) – "Do You Remember", "Princess Lea", "Better Late Than Never", and "Jump Around", and "That's Incredible" (new! see more info below!) – will all be available for purchase as a limited edition giclee canvas print (signed and numbered by the artist!). Each 12″×12″ canvas print will be a limited edition of only 10, and retail for $85 (with a limit of one canvas print design per person, so you can order up to one of each design).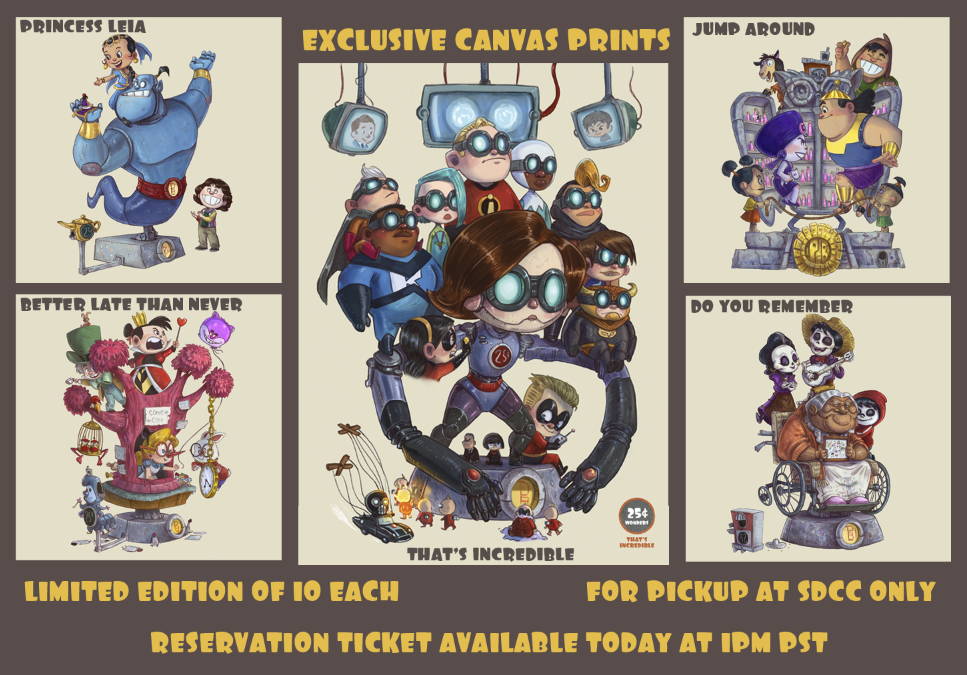 To order, you'll need a SDCC Canvas Exclusives Reservation Ticket. The $5 ticket serves as your deposit, and will be applied to the total cost — meaning you will owe $80 per canvas after your order is confirmed. This is a pre-order only for pick-up at San Diego Comic-Con 2018, and will not be shipped. It will open at 12PM PT today.
In the event the canvas you are interested in sells out, you can also join a waitlist.
You can pick up all of Patrick's regular prints at Artists Alley Table DD-08, with his regular 6″×8″ exclusive prints retailing for only $15 – with the exception of "That's Incredible", which is a larger 9″x12″ print and will retail for $20. And speaking of "That's Incredible", here's a closer look at that print: