The official San Diego Comic-Con t-shirt has been revealed and pre-orders are once again happening online before the convention. The pre-order and pickup process that has been used for the last couple years is continuing with no changes. Note that there is a limit of one order per Member ID, so make sure you grab everything you want in the first order.
Just like last year, you'll actually need to login to your Member ID in order to purchase – once you do that, there is a "Merch" tab.
There are five t-shirts available for ordering, as well as tote bags, hats, and tiki mugs.
Here's a look at this year's designs:
Comic-Con 2018 Catwoman T-shirt: The Cat is back with a new DC Comics series by writer/artist Joëlle Jones, who illustrated this T-shirt you'll find only at Comic-Con 2018! Colored by Laura Allred.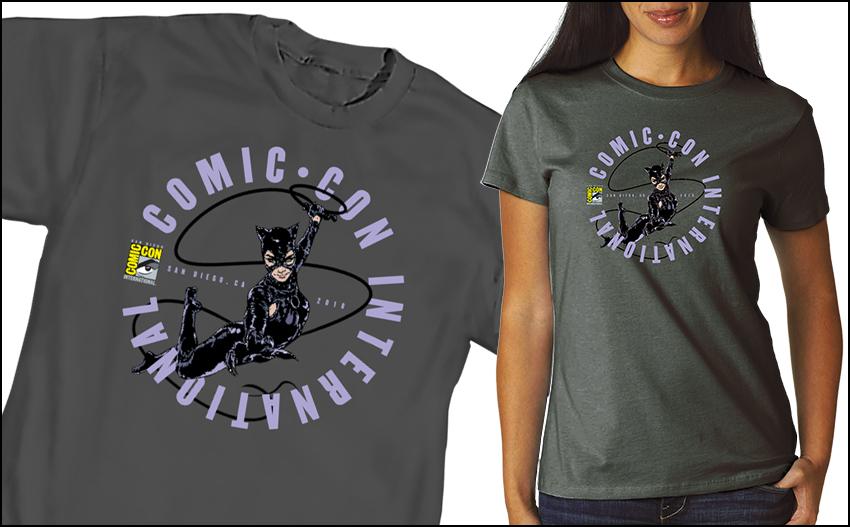 Design #1: The Classic: We've brought back our classic "split logo" shirt, which shows the Comic-Con logo on a black tee, with the emphasis on the type.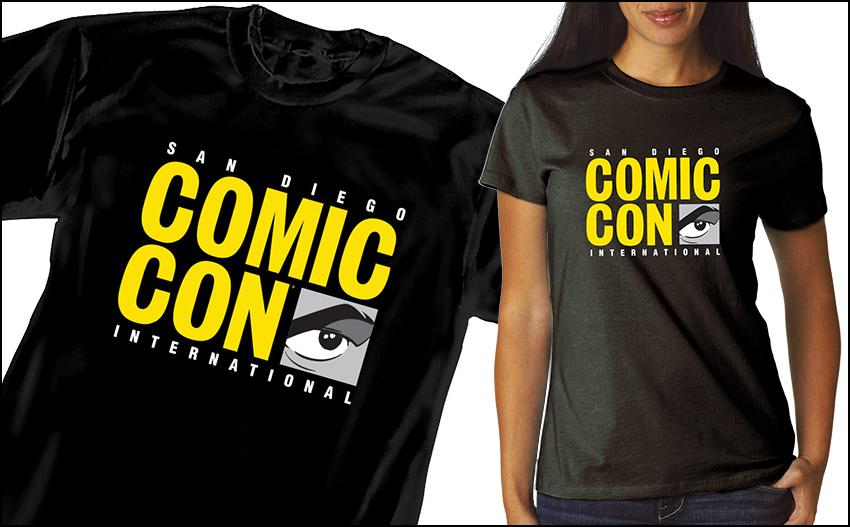 Design #2: SDCC Collegiate: One of our most popular logo shirts of the past few years, now with a brand new color scheme: Gold distressed type on a navy blue shirt. Prove you're an alumnus of the college of comic book knowledge with this classy addition to your T-wardrobe!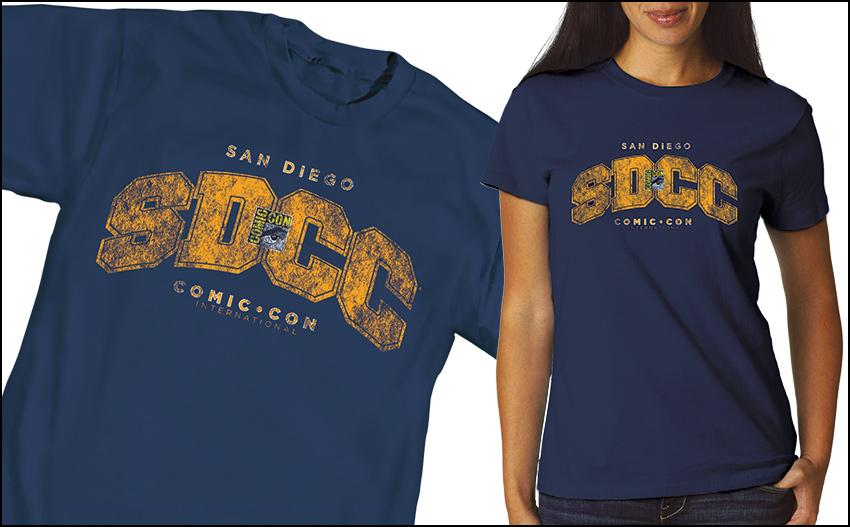 Design #3: Comic-Con Logo Dark Grey on Black: Something completely different … the traditional Comic-Con logo printed in dark grey on a black T-shirt! This classy variation is perfect for those more formal occasions!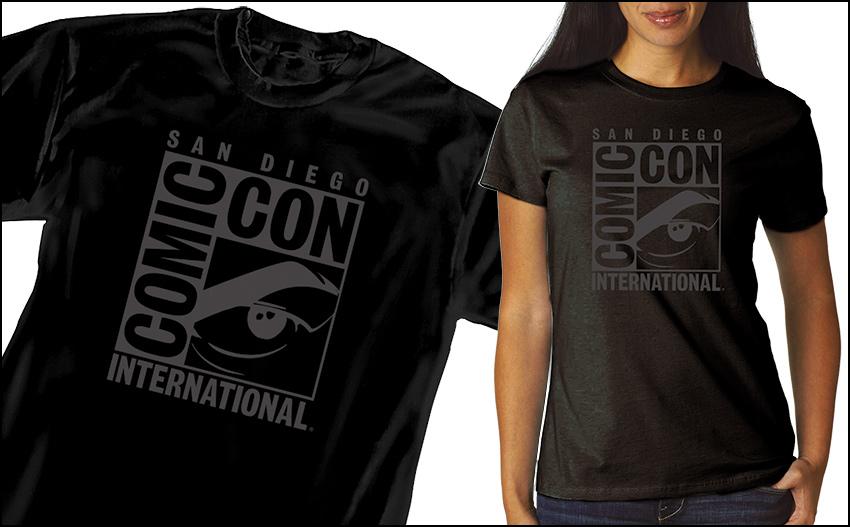 Comic-Con 2018 Spaceman Toucan T-shirt: We've launched the Toucan into Outer Space in this brand-new T-shirt featuring art by Rick Geary on a black shirt. Greetings from the Comic-Con Universe!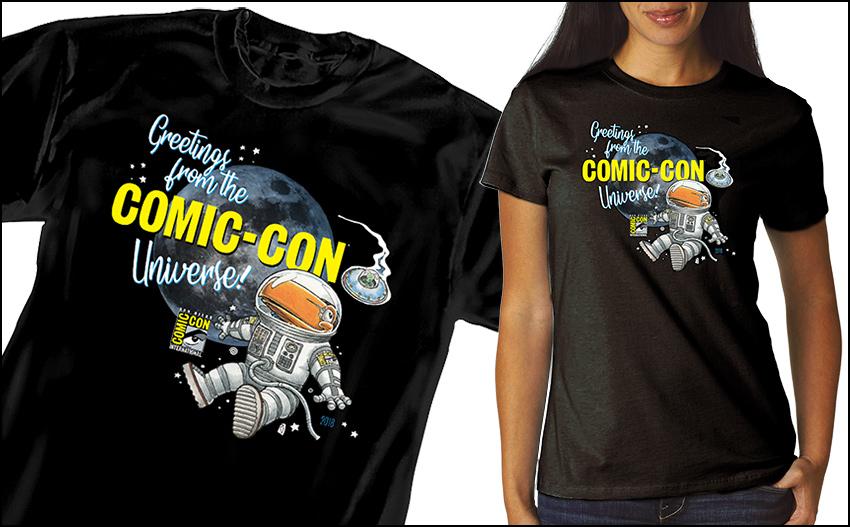 BAG #1: Comic-Con 2018 Book Bag – $22.57: This year's book bag has the classic Comic-Con logo emblazoned on one side on a red bag. It has large black straps for easy use as a shoulder tote. The bag measures 13" wide x 14" tall with a 3" gusseted bottom and 25" black cotton web handle straps.
BAG #2: Comic-Con 2018 Large Tote Bag – $27.96: We've taken the "split logo" and put it on this year's larger tote bag in basic black. It has large straps for easy use as a shoulder tote. The bag measures 18" wide x 13" tall with a 6" gusseted bottom and 25" black cotton web handle straps.
Comic-Con Embroidered Cap (Black or Charcoal Grey) – $27.96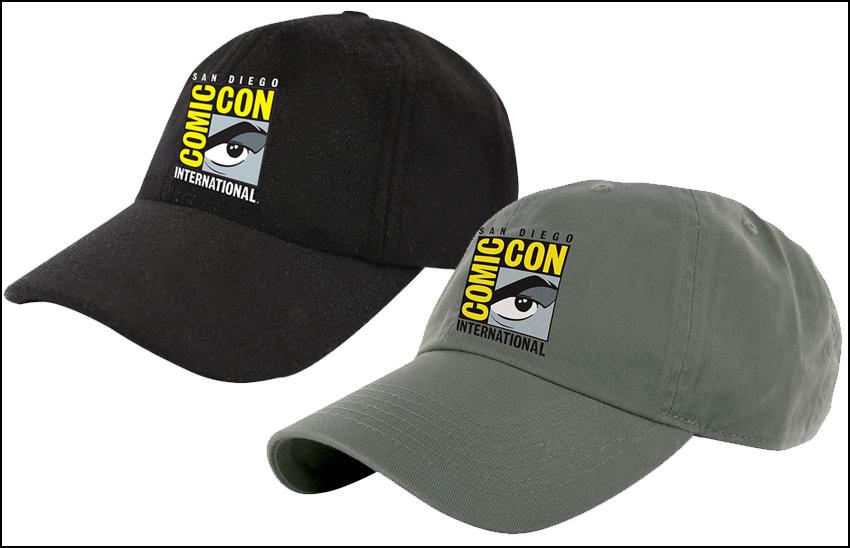 Comic-Con Tiki Mug (Toucan Tiki or Victorian Murderer Tiki) – $33.40: The Toucan Tiki Mug is glazed in a dusty royal blue gloss glaze, with the Comic-Con logo being a fully-fired permanent decal. The Victorian Murderer Tiki Mug comes in a gunmetal gray gloss glaze, with the Comic-Con logo being a fully-fired permanent decal.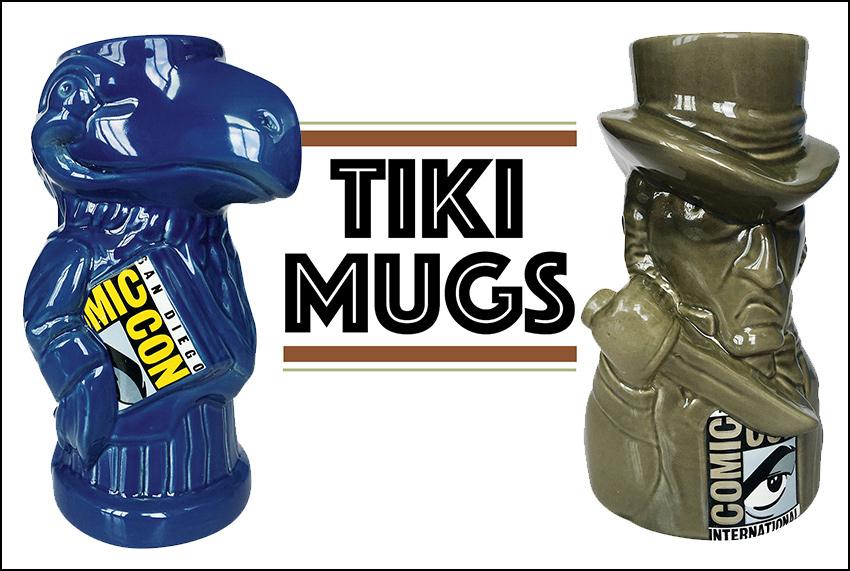 Comic-Con 2018 Enamel Pins – $10.78: Remember that spiffy enamel pin you got with your badge in this year's badge box? Well, there's actually TWO of them, and you can pre-order the one you didn't get to complete the set … or buy one for a friend! There's the 2018 Comic-Con logo pin and the 2018 Spaceman Toucan pin … get them both for $10.78 each!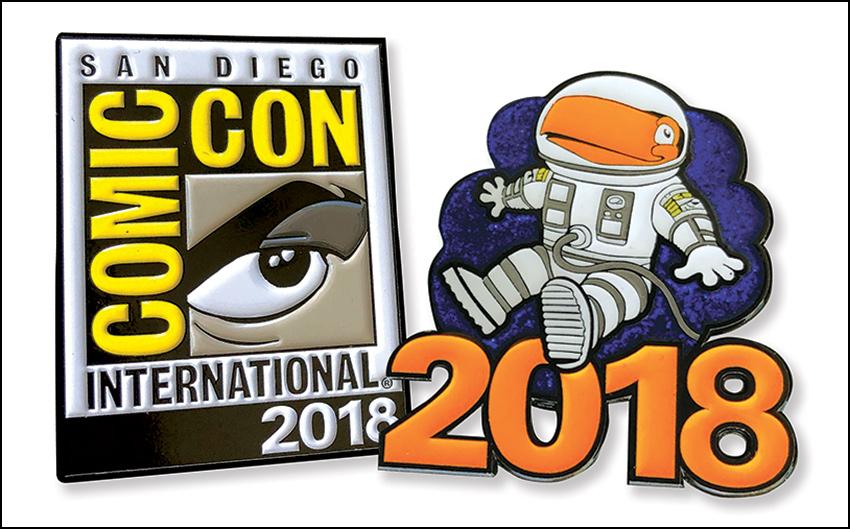 All t-shirts are available for the following prices (sales tax included) and sizes:
ADULT S-XL: $22.57
ADULT XXL: $25.81
ADULT XXXL: $29.04
WOMEN'S S-XL: $22.57
WOMEN'S XXL: $25.81
WOMEN'S XXXL: $29.04
YOUTH S-L: $19.34
PRICES INCLUDE SALES TAX
T-shirts that are pre-ordered can be picked up in the Marriott Marquis & Marina in the Comic-Con International merch area – in Pacific Ballroom, which is located in the new Marriott expansion. – between the hours of 9:30AM-7PM on Thursday-Saturday, or 9:30AM-3:00PM on Sunday. They are also now opening early on Wednesday, July 20, from 12:00 to 5:00 PM for pick-up of pre-ordered shirts only, and then re-open from 6PM-9PM for both on-site sales and pick-up orders.
Here's the location: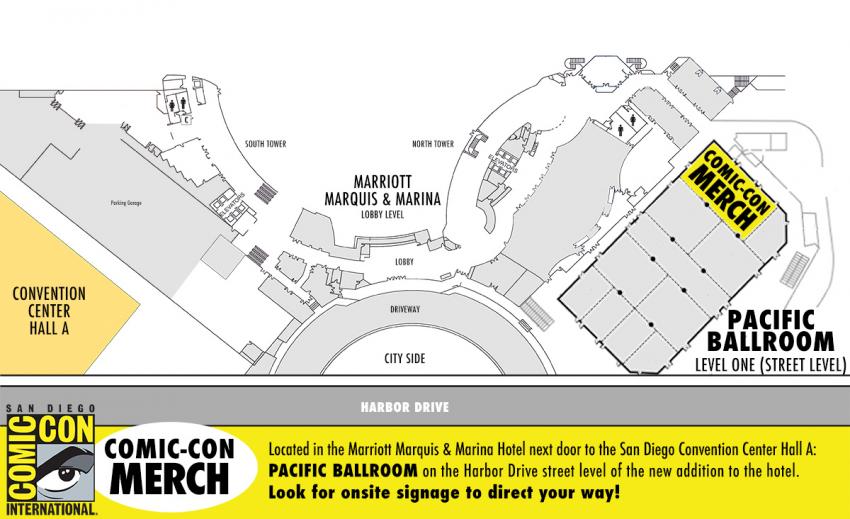 You can find more information about the shirts, including all the designs, and pre-order them online now on CCI's site.
Will you be buying one of these shirts? Let us know in the comments.