Grandesign will be bringing "The Experience" to San Diego Comic-Con this year, a collection of immersive activations. "The Experience" will take center stage at the Lexus Premier Lot at Petco Park, in the area formerly known as the Petco Interactive Zone. You can stop by Thursday, July 19 – Friday, July 20 from 10AM-9PM; Friday, July 21 from 10AM-10PM, or Sunday, July 22 from 10AM-5PM.
New this year, they'll be transforming the three-acre blacktop into "a pop-culture playground, equipped with food trucks, VIP lounges, evening entertainment, and a myriad of activations". This year will include activations from Samsung, FANDOM, Microsoft, Guild Wars, Nestle, HISTORY, Playerunknown's Battlegrounds, DC Super Hero Ice Cream, Freeform, NBC, Razer, The Walking Dead, ArenaNet, Hello Kitty, Ghostbusters World, Marvel, Telemundo, Xbox, and Sony.
Here's a look at some of the activations:
Marvel's Cloak & Dagger on Freeform recreates the iconic moment Tyrone and Tandy's powers interact by fabricating a physical experience where participants are harnessed to a bungee that propels them backwards from the force of their powers. A slow-motion recording captures the moment in an overlay effect that shows both the light and dark energy emitting from participants.
Sony Pictures Entertainment's "Ghostbusters World" — in collaboration with Ghost Corps, the game's publisher FourThirtyThree Inc. (

4:33

) and developer NextAge —invites attendees to experience the new augmented reality game for smartphones at its first public demo. While attendees wait their turn in line for the first chance to battle and capture the ghosts populating The Experience, they can try on authentic Ghostbusters costumes, pose with the original Ecto-1 and awe at the towering Stay Puft Marshmallow Man.
In celebration of SHARK WEEK's 30th anniversary premiering 

July 22 at 8 p.m.

 on Discovery Channel, Sharkzilla will be taking over San Diego during Comic-Con. The 40-foot long inflatable shark will be outside the Convention Center ready for photos with fans. In addition, every hour Sharkzilla will bare its teeth and chomp everyday items – from lifeguard towers to beach chairs, and there will be plenty of jawsome SHARK WEEK swag for fans to enjoy.
Samsung brings the ultimate 4K gaming experience via a tricked-out semi-truck outfitted with custom-built gaming pods and its newest line of QLED TVs. Fans are invited to compete for the fastest winning time in Forza Motorsport 7 on Xbox One X to win premium prizes from Samsung and Xbox – an unbeatable combination.
PlayerUnkown's Battleground Mobile (PUBG MOBILE), is providing an immersive experience throughout the event, including a community gathering, a fully-branded entrance and exit, roaming charging stations for those in need, IGN live and GameSpot's Comic-Con Twitter Moments, giveaways that include branded swags, postcards with exclusive in-game rewards and much more.
While the event is open to the public, San Diego Comic-Con badge holders will have "VIP status".
Here's an artist rendering of The Experience for 2018: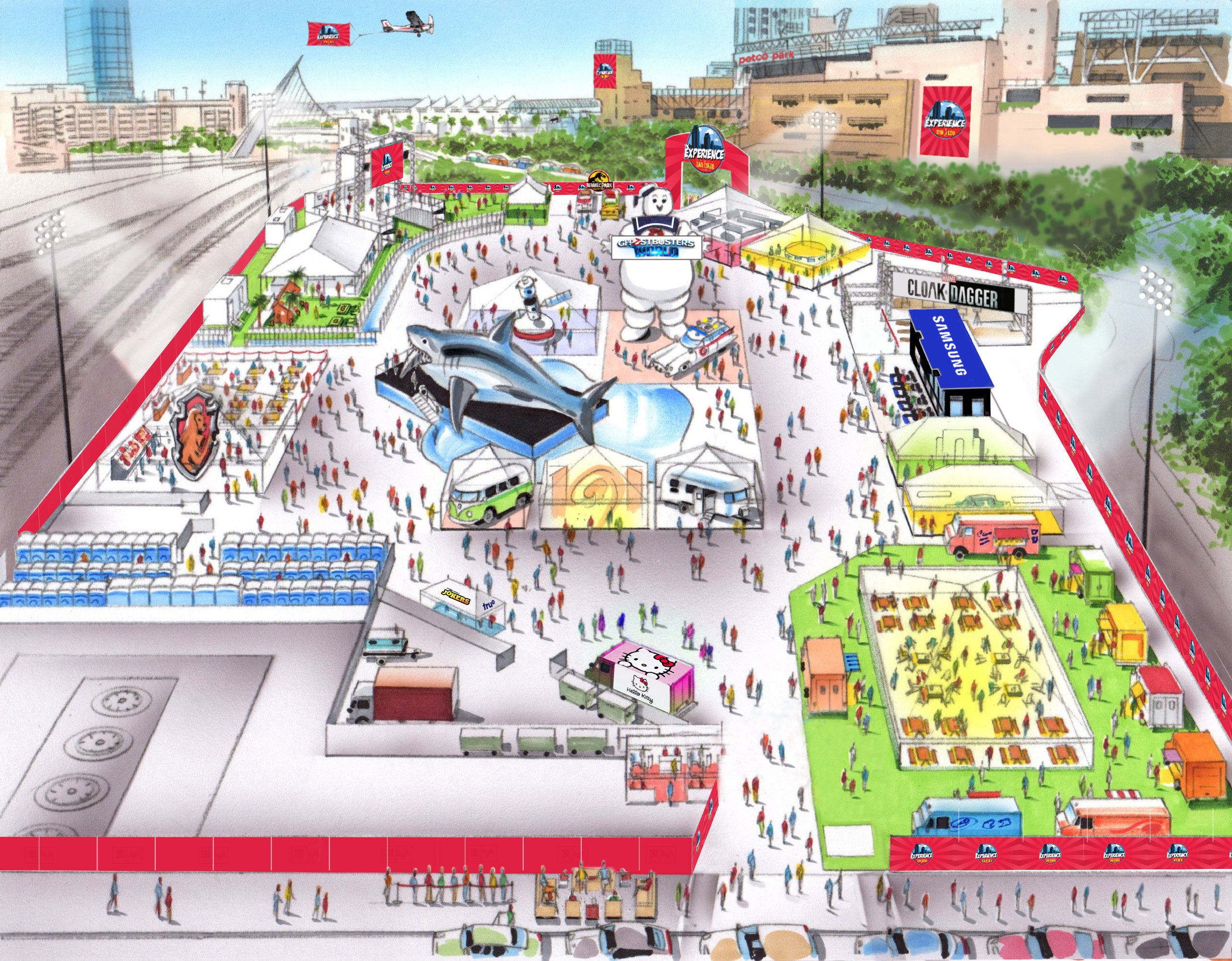 There will also be evening entertainment, including a photo opportunity with the original Jurassic Park vehicle, screenings of Marvel's Cloak & Dagger and Spider-Man: Homecoming, music from Band from TV, eSports, and more. Here's a look at the evening entertainment schedule:
THURSDAY JULY 19
6:00PM – Jurassic Park Presented By NBC 7 / Telemundo 20 San Diego – Photo Opportunity with the original Jurassic Park vehicle
8:15 PM – Freeform Presents Marvel's Cloak & Dagger Episode 8
FRIDAY JULY 20
6:30 PM – Music by Saint Heart
7:30 PM – Grandesign Presents the Band From TV
SATURDAY JULY 21
5:00PM –  eSports:  Fortnite:  Pros vs Pros
8:00PM – Atom Tickets Presents Sony Pictures'  Spiderman Homecoming
*During the day their will be music, eSports: Play Fortnite with thePros, Sharkzilla Feedings, Podcasts and more.