[UPDATE July 2] Wakanda Forever! Ninjabot: The Art of Arnel Baluyot have unveiled this year's San Diego Comic-Con exclusive, whish features T'Challa. There are two versions, including a limited edition 13″x19″ print with beautiful purple details, limited to just 50 pieces – and each comes hand-signed and hand-numbered. It will retail for $50.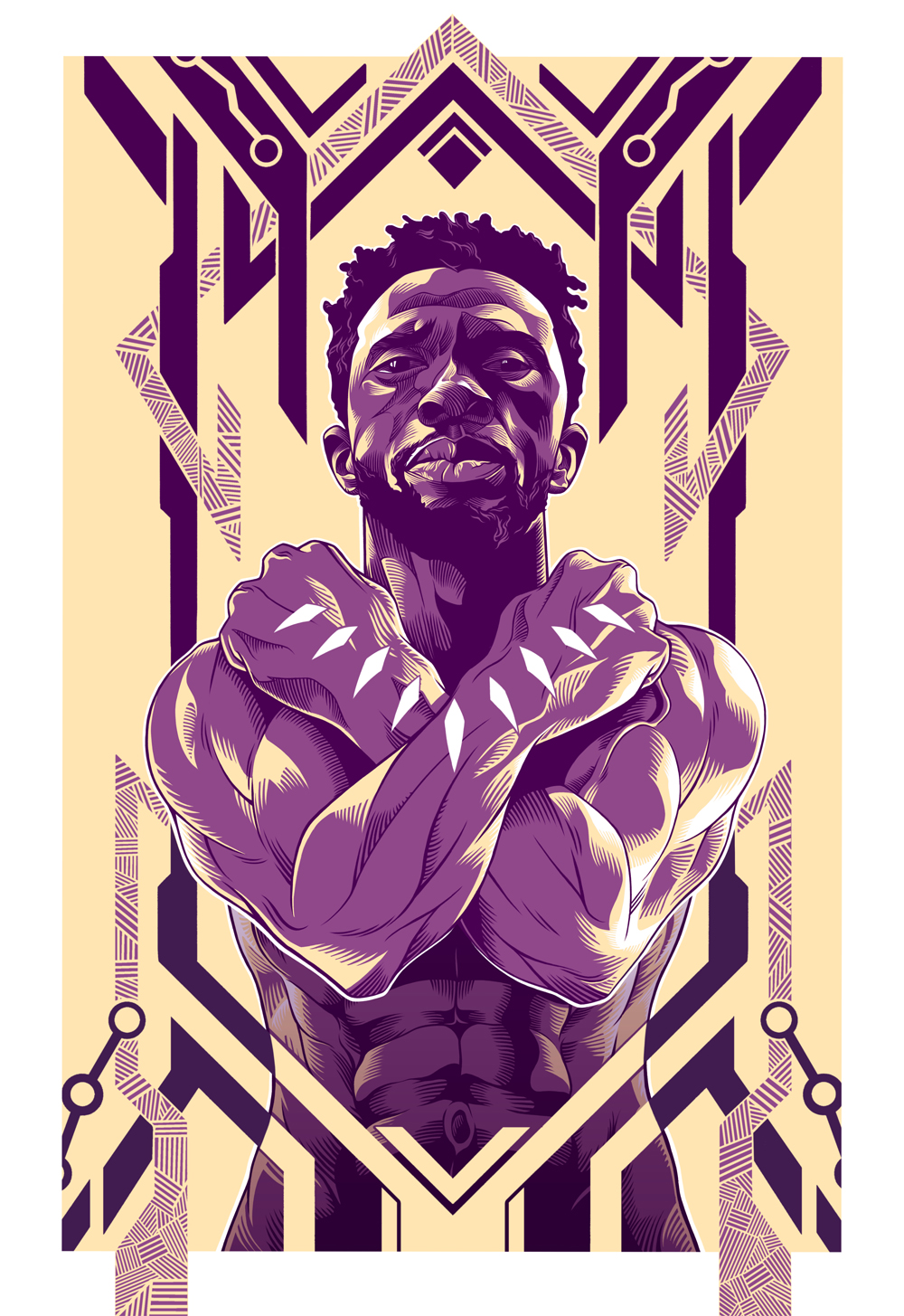 They also have an Embellished Limited Edition version in black and white. The 13″x19″ print features hand-embellishments with fine purple metallic gouache, and is limited to just 20 pieces. Each comes hand-signed and hand-numbered, and will retail for $80.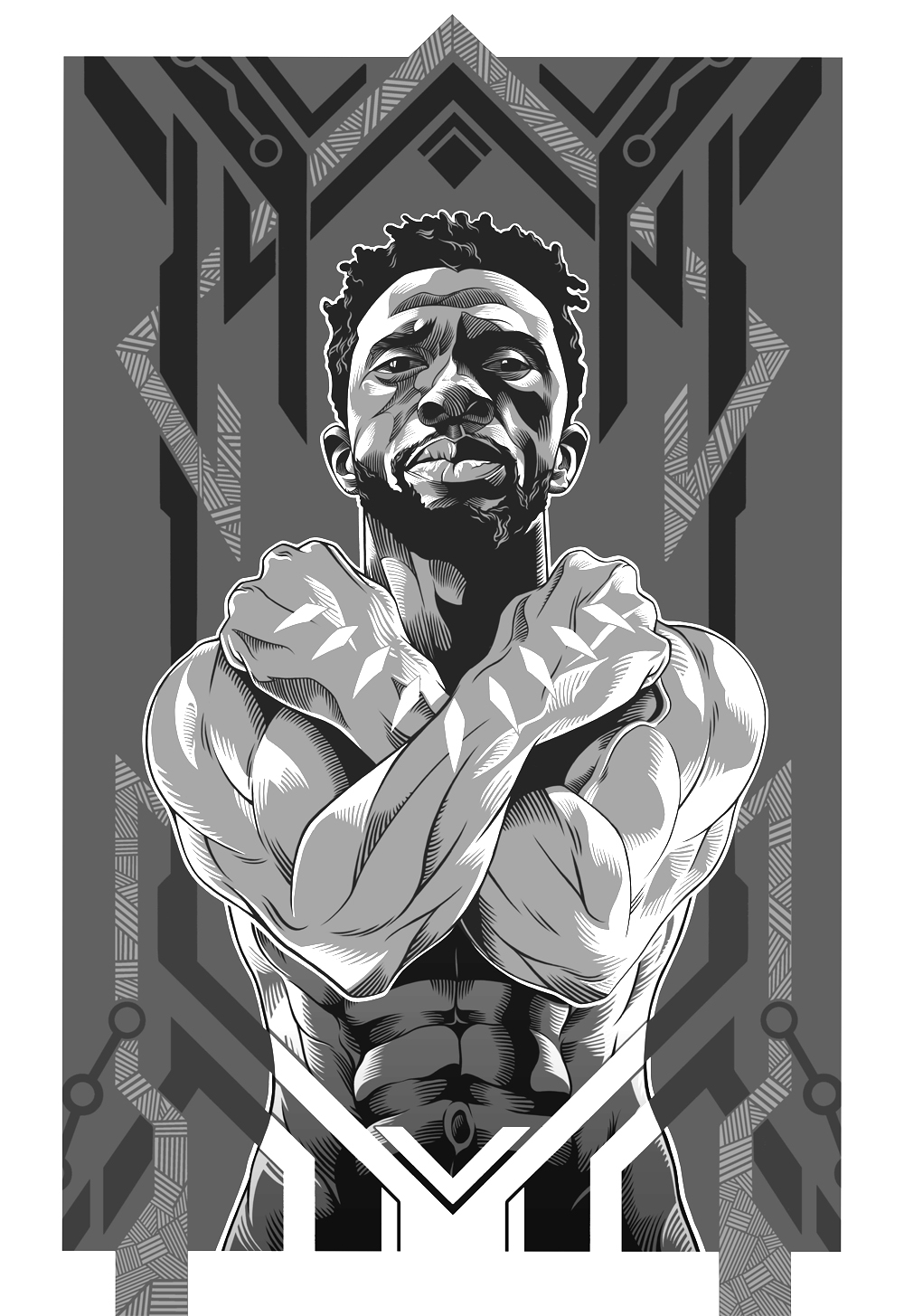 Their SDCC exclusives are available for pre-order starting this Friday, July 6 at 10 PT. All orders must be picked up at Small Press L-O8 during SDCC – if not, a shipping charge will be added after the show for delivery.
Ninjabot are also bringing some of their amazing WonderCon exclusive Blade Runner 2049 hand-embellished prints, made with golden metallic gouache details. These 13″x19″ prints are available for $80 at Small Press L-08 only.
[PREVIOUS] If you've ever wondered what your favorite person – fictional or otherwise – would look like as a cartoon cat or a cartoon dog, we've got you covered.
One of our favorite artists, Ninjabot: The Art of Arnel Baluyot, returns to San Diego Comic-Con this year – and they're bringing back their popular customized PopCat and PopDog pieces. You can have Baluyot create one for you (either in the form of a "Mini" painting for $45 each or a full size for $85 each) now that their commissions are officially open. Character headshots are also $85. Plus, you'll also get a free PopCats pin with every pre-order commission!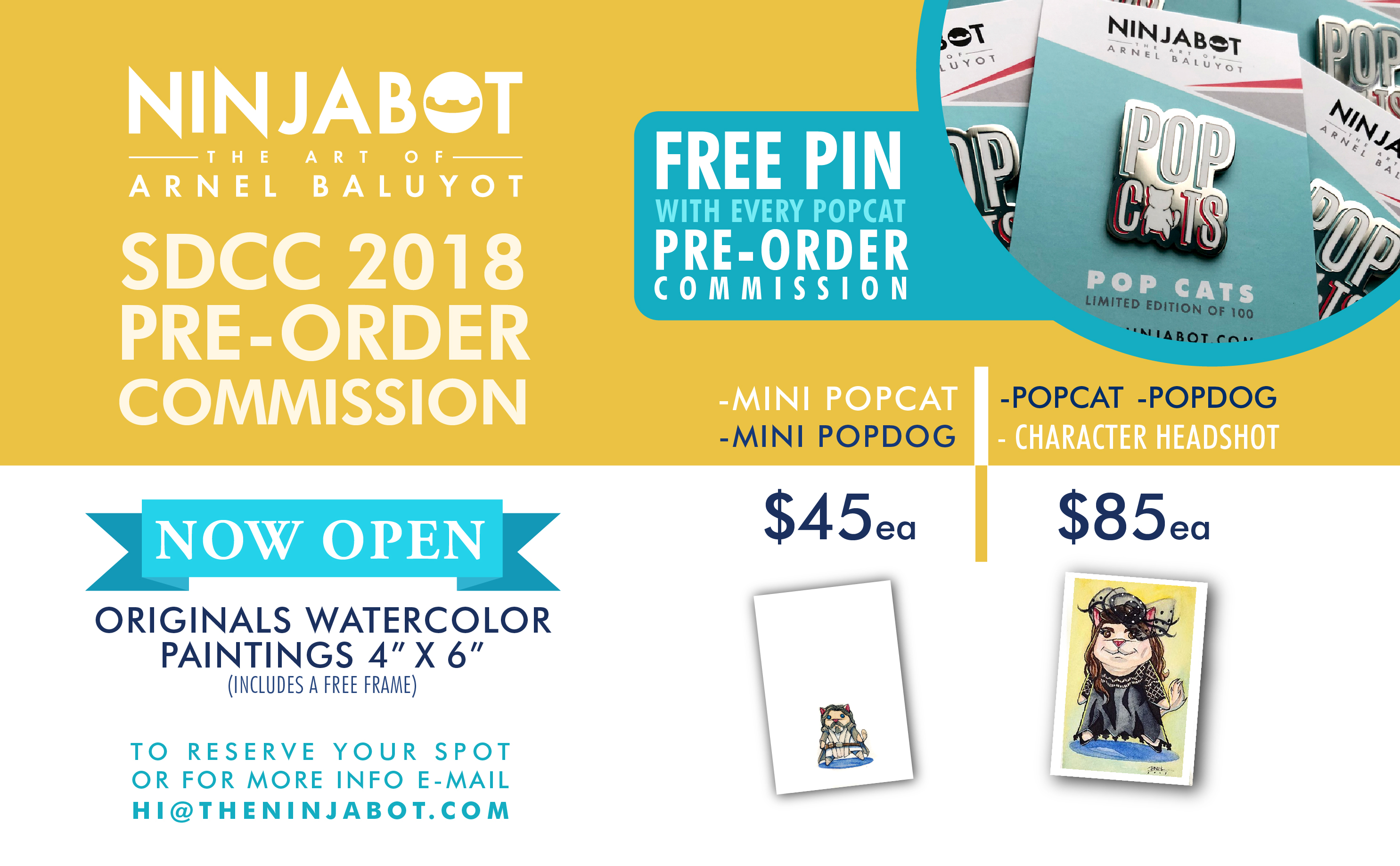 Additionally, Ninjabot is bringing back their free exclusive booth giveaway – which for 2018, will be die-cut vinyl stickers. You can stop by Small Press L-08 daily for a different sticker each day (Wednesday will be M'Baku, Thursday will be Nakia, Friday will be Shuri, Saturday will be Okoye, and Sunday will be Killmonger). You can also score T'Challa himself with any $15+ purchase at their booth, on any day, while supplies last.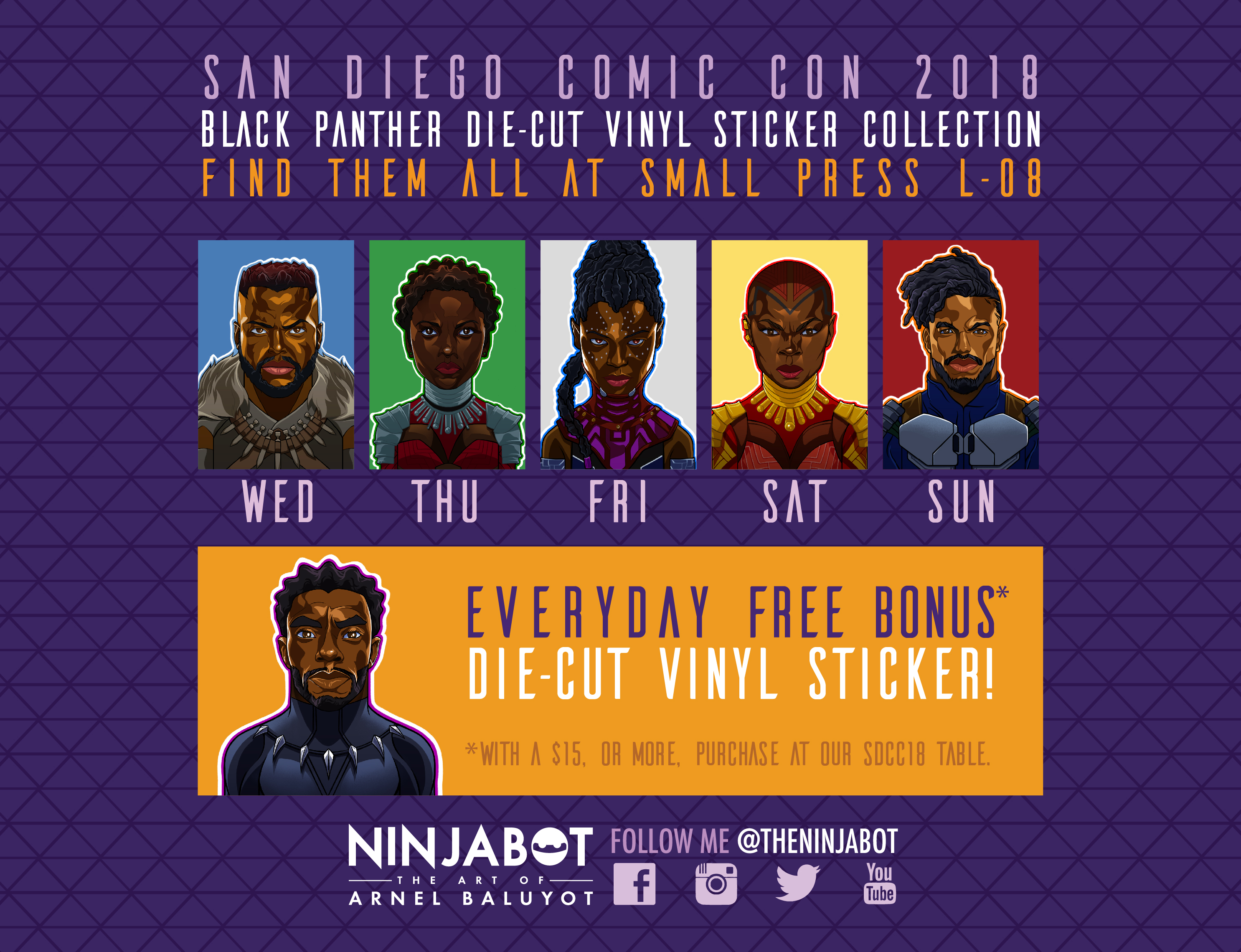 [UPDATE June 21] They're also giving away three sets of these awesome Black Panther stickers – and all you have to do is enter is simply follow the instructions on Twitter, Facebook, and/or Instagram.
But Ninjabot has something even cooler up their sleeve for Comic-Con, in that they'll be holding a demo of their brand new game PopCats Fighter in Room 15AB in the Mezzenine Level on Thursday, July 19 – Sunday, July 22. Not only will you get to play the awhile game ahead of its August 6 launch, but everyone who stops by to play will also receive free posters and stickers.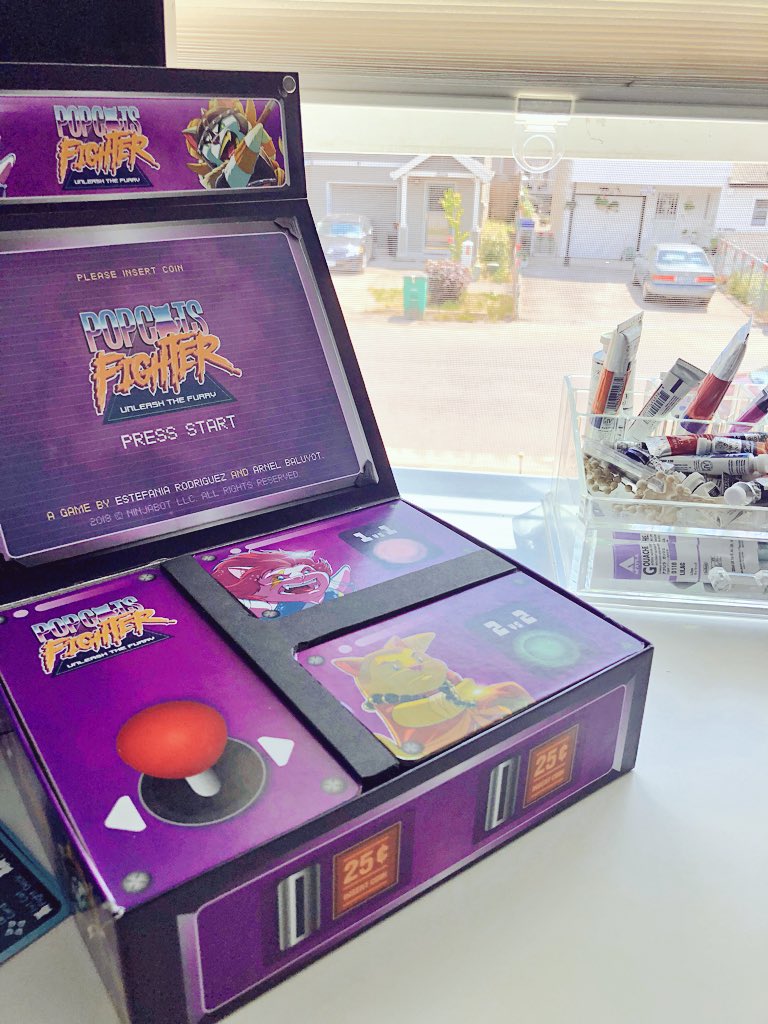 This is only the start of Ninjabot's San Diego Comic-Con plans, though. They'll also be unveiling this year's SDCC exclusive print soon, which will come in both a regular version and an embellished version. Pre-orders for this year's print will begin on July 1.