We are under two weeks to San Diego Comic-Con, and there's news pretty much everywhere you look. In today's (morning) edition of Under the Tents, we have updates on a Brooklyn Nine Nine cast member in attendance, news about how to show off your awesome Marvel cosplay (and maybe win some prizes), new items from Cryptozoic, Daniel Danger, The Beast Is Back, and way more. Plus, fish tacos (yes, this counts as very important news)!
Here's a look at the news you might have missed:
While the Brooklyn Nine Nine (NINE NINE!) panel announcement may not have indicated which cast members will be in attendance, here's one you can add to the list: Melissa Fumero, who confirmed on Twitter she'll be at the big event.
See you there Nine Niners!! https://t.co/Vh3r3WXjw6

— Melissa Fumero (@melissafumero) July 6, 2018
https://www.instagram.com/p/BkyMI-Zj-M-/?taken-by=super7
https://www.instagram.com/p/BkvtUsjgLUR/?taken-by=thebeastisback
https://www.instagram.com/p/BkLk32fgSRs/?taken-by=thebeastisback
Artist Cody Vrosh showed off some new matted original pieces he's bringing to San Diego Comic-Con. You can catch them – and him – at Small Press M-08.
Preparing some new matted originals for San Diego Comic Con! I hope you all like purple, cuz #PURPLE!#sdcc #sdcc2018 #smallpress #illustration #art #codyvrosh pic.twitter.com/pXpMxi0ZcO

— Cody Vrosh (@CodyVrosh) July 4, 2018
I scream, you scream, we all scream for ice cream! Except there's no ice cream to be had for this poor little robot in Jeff Pina's "Does Not Compute" print, available at Small Press Q-06.
Here's my second "Does Not Compute!" robot print, debuting at #SDCC in two weeks! Small Press booth Q-06!#robot #sdcc2018 #icecream #oops #cute #original pic.twitter.com/6uSsx3a486

— Jeff Pina Makes Comics! (@JeffPina78) July 4, 2018
Artist Ben Seto has been hard at work on some new covers for the original five issues of Usagi Jane and The Skullbunnies. You can grab them at Comic-Con, at Artists Alley CC-02.
https://www.instagram.com/p/BkzQkwkFqGq/
Mark Dos Santos is bringing a limited edition of 50 prints of his "King Ghidorah" print to San Diego Comic-Con, which you can snag at Artists Alley GG-05.
https://www.instagram.com/p/Bky4u28HXOb/
Better start preparing your wallets now. Daniel Danger & Tiny Media Empire is bringing an original 24″x36″ 13-color screenprint to debut at the convention. This will be Danger's first time exhibiting at the convention, but hopefully not his last.
"it stopped being about the panic or the guilt and what we would build from it. it became about the horizon and those who will inhabit it."

a limited edition 24×36" 13 color screenprint debuting at #SDCC2018 at my inaugural booth 1617. (see below for youtube breakdown.) pic.twitter.com/CLDswmUqWS

— Daniel Danger (@tinymediaempire) July 5, 2018
Cryptozoic Entertainment will be debuting a new Harley Quinn Puddin' Pop Statue at SDCC, followed by a full retail release after the convention. The 6.25″ statue (10″ if you include the lollipop) will be available at Cryptozoic Booth #115 for $75.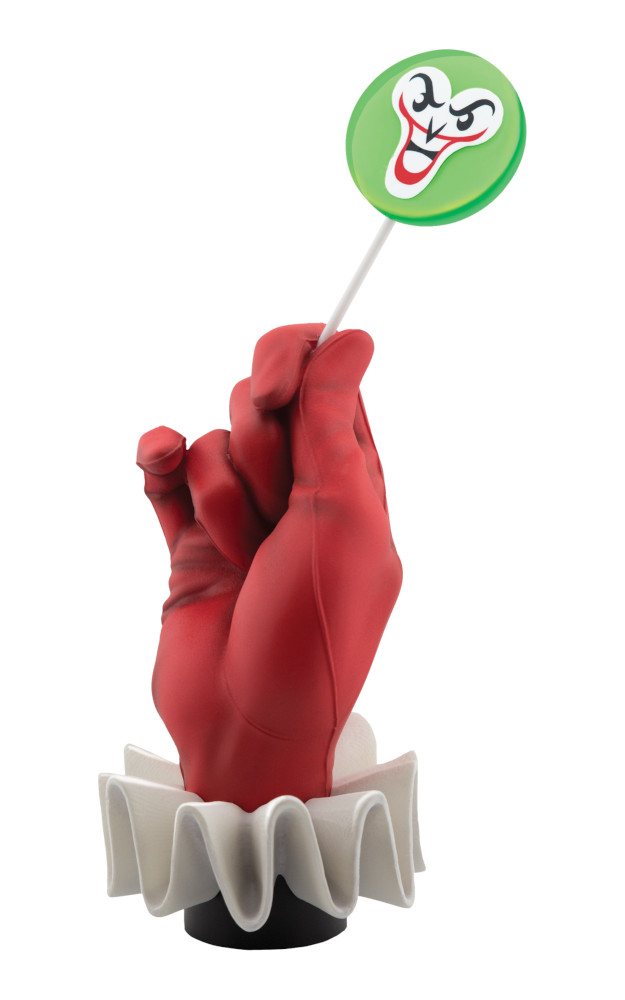 Make sure you swing by Galaxy Press Booth #1222 to pick up a copy of Battlefield Earth (available in print or audio) — and you'll also get a free t-shirt.
https://www.instagram.com/p/Bj7tRNVleLV/
https://www.instagram.com/p/Bky48ERBuww/
IT'S A MERMAID PUG! And some other Meraculous Mernimals, from Blind Squared. The new collection will be debuting at SDCC and online on July 18. Pick them up at E-05.
https://www.instagram.com/p/Bk3H-pLn3QR/?utm_source=ig_twitter_share&igshid=1u57qvugera7y
Calling all Marvel Cosplayers: Marvel has a few events at their booth you're not going to want to miss. On Thursday, July 19 at 1PM, stop by for the Becoming Cosplay Photo Op, where all Marvel costumers are welcome to step onto the Marvel stage for a cool photo op. Then, on Saturday, July 21 at 5:30PM, there's a second opportunity — only this time it's all about the competition. You might even win some cool prizes, but make sure you're there by 5:15PM. Finally, on Sunday, July 22 at 10:45AM, it's the kids' turn, with the Becoming Kids Costume Event. You can find more information on Marvel's site.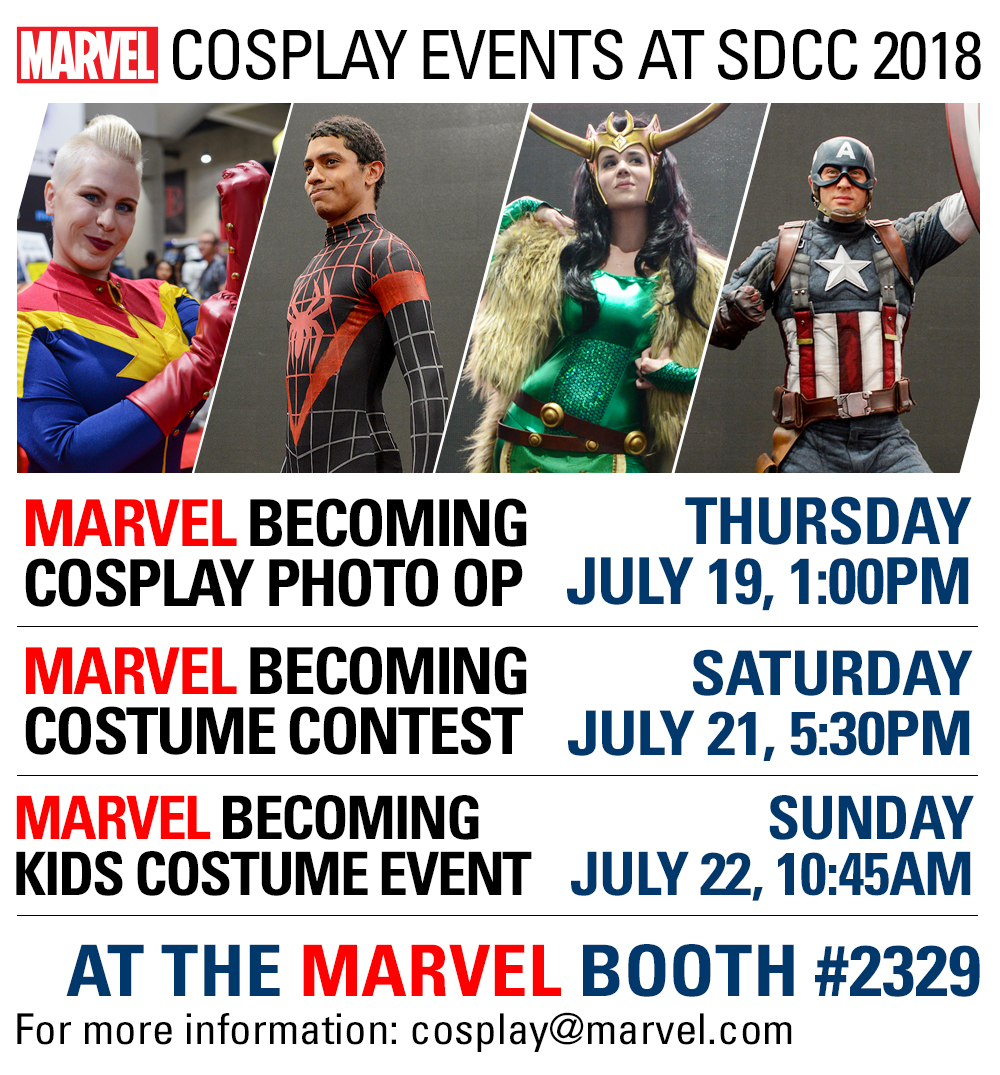 Glad you were able to sample them! Fun Fact: @SMMWConference was the 1st event where our #craftbeer battered #fishtacos debuted. We're happy to offer them this year at our two annual summer conventions: @EsriUC AND @Comic_Con! #EsriUC #sdcc2018 @centerplate #foodies #SanDiego https://t.co/qaFVglMjoL

— San Diego Convention Center (@SDConventionCtr) July 5, 2018
If you couldn't get on Arnel Baluyot (aka The Ninjabot)'s commission list – there's good news ahead! Although he's fully booked for San Diego Comic-Con 2018, he will open commissions post-SDCC at a discounted price. All the details for how to get on his list can be found below.
Good News for #SDCC! 1) I've been getting lots of messages about people wondering if I'm still accepting commissions, and although I am fully booked for SDCC Pick Up, I've decided to Open Up commissions for post SDCC still at a discounted price! If you're interested please(1/3) pic.twitter.com/rwihfIIuc8

— Arnel Baluyot (@theninjabot) July 4, 2018
email me at hi@theninjabot.com for more info!

2) I have also decided to start posting my commissions for SDCC. Normally I don't post them before, only after SDCC and only a few because I end up forgetting.

First up is PopCat Sara from Labyrinth in all of her ballgown (2/3)

— Arnel Baluyot (@theninjabot) July 4, 2018
splendor! I used watercolor, Gouache, Acrylic Gouache, and ink. Hope you enjoy it! More commission posts for SDCC coming soon! (3/3)

— Arnel Baluyot (@theninjabot) July 4, 2018
Anything we missed? Let us know in the comments, drop us a line, or tweet us at @SD_Comic_Con.