Marvel trading cards, memorabilia, and premium art prints are the name of the game for Upper Deck and they have some big plans for San Diego Comic-Con this year. You can find Upper Deck at Booth #307 on the show floor, where they'll have a new line of limited edition gallery prints, featuring all original artworks of your favorite comic and movie characters. Check out the incredible illustrations created by some of today's top-tier artists, including Kyle Baker, Vanessa Lemen, Jae Lee, Ben Templesmith, Jason Shawn Alexander, Ariel Olivetti, Nei Ruffino, Adam Rabalais, Chris Thornley, Rudy Siswanto, and many more.
Let's take a look at the exclusives you'll find at Upper Deck Gallery Booth #307:
SDCC Exclusive Print – Infinity Gauntlet Act III
Upper Deck's first San Diego Comic-Con 2018 exclusive is the center-piece in a foil Triptych from artist Crystal Graziano, an homage to the original comic art from the 1991 Infinity Gauntlet series written by Jim Starlin. The SDCC exclusive print is 18″x24″ and features Thanos wielding the Infinity Gauntlet with his mistress, Death. Each print is signed by Graziano, and is hand-numbered and Authenticated. It's limited to just 250 pieces, and will retail for $74.99 at Booth #307.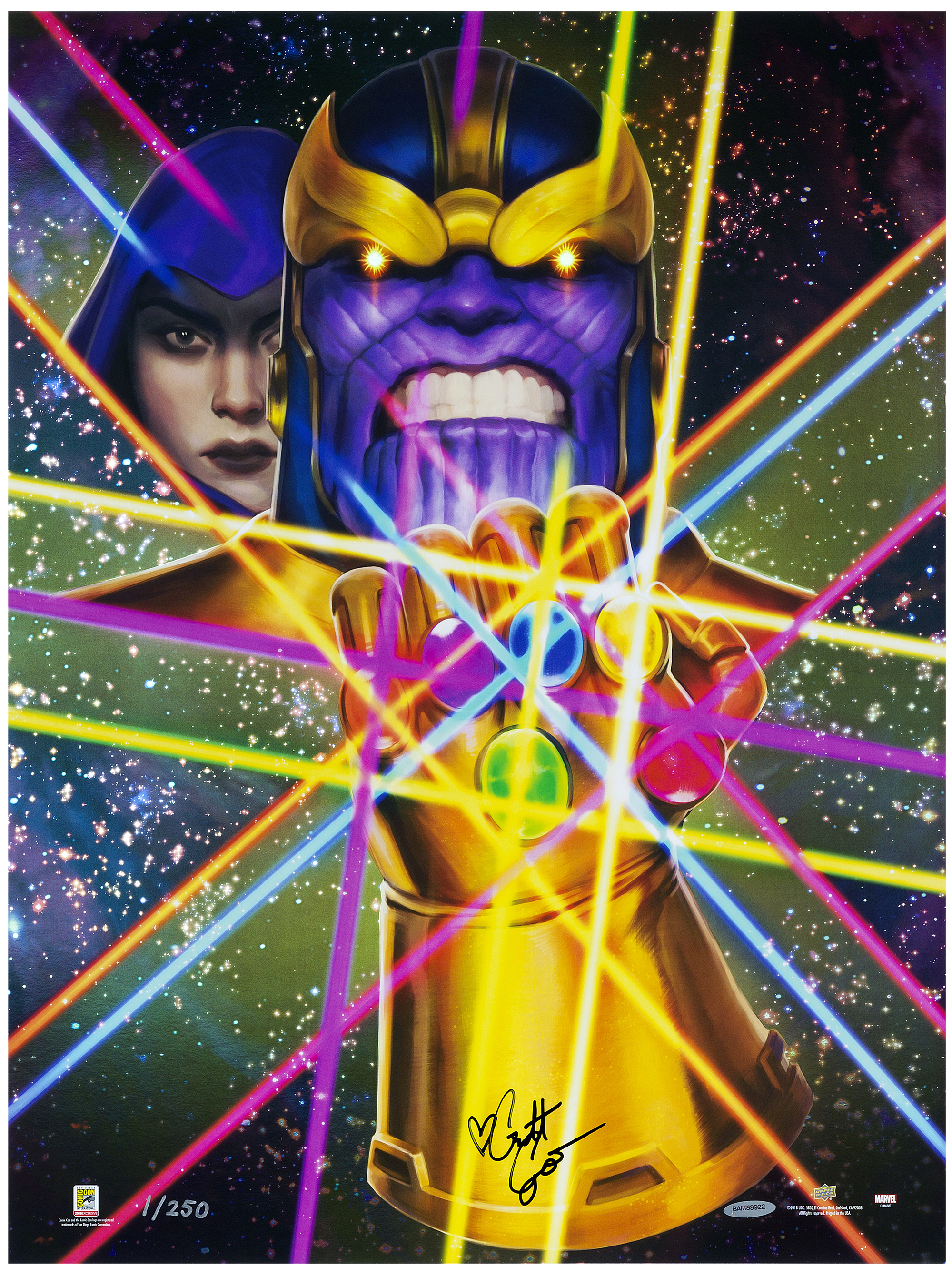 The really cool part is that this exclusive is part of a Triptych. The other two pieces in the set (Infinity Gauntlet Act I and Infinity Gauntlet Act II), combine with the exclusive to create a more expansive piece of artwork, measuring 54″ x 24″ total. You can pick up the full set at the Upper Deck booth while you're grabbing the exclusive.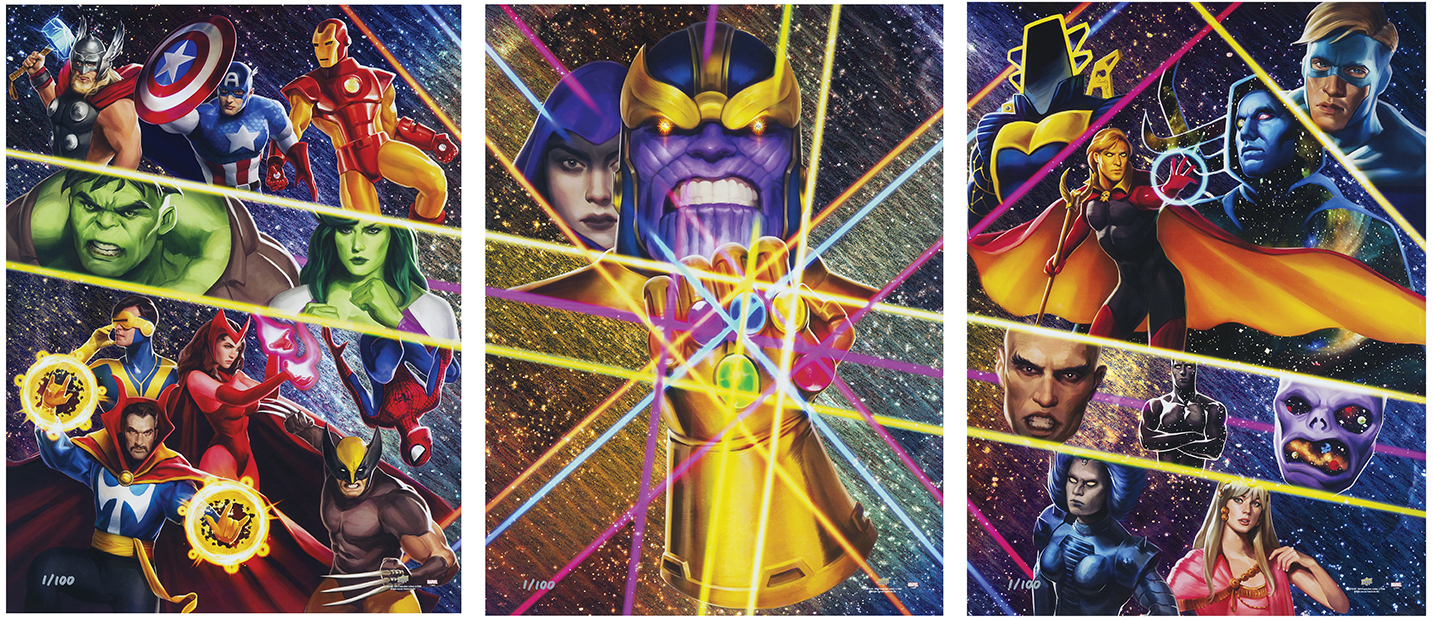 Upper Deck is offering special, bundled price options for the complete Triptych to the first 25 customers (first come/first serve). The bundled pricing is:
Bundle all 3 Regular prints for $175 (Full Price $195)
Bundle all 3 Variant prints for $225 (Full Price $300)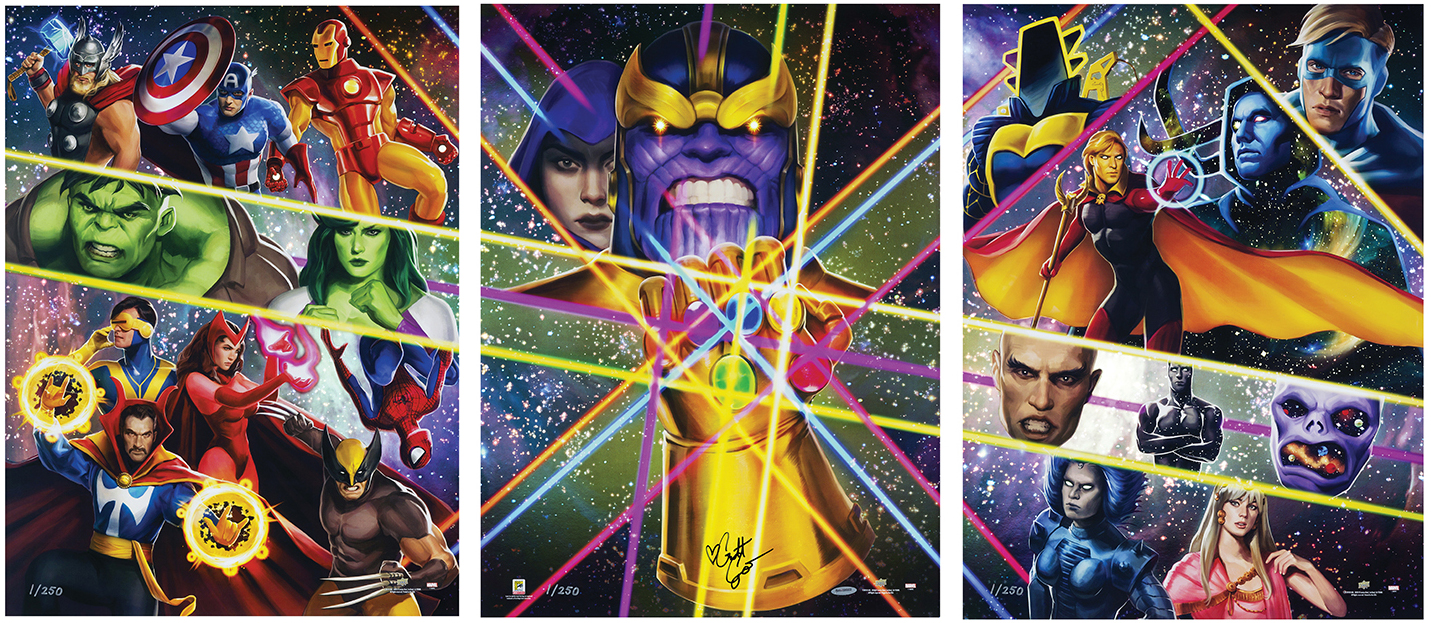 Here's a closer look at the other two prints in the series: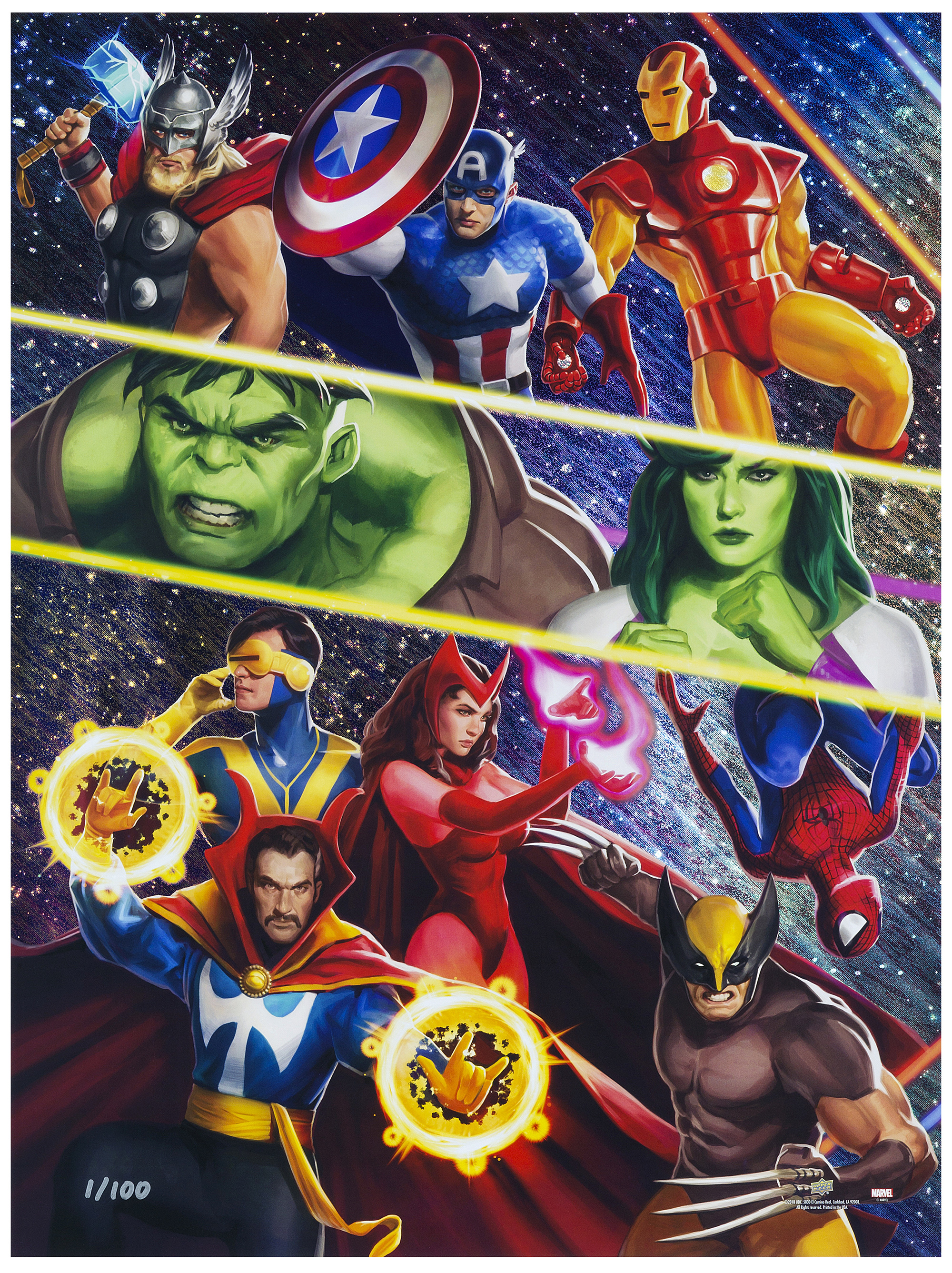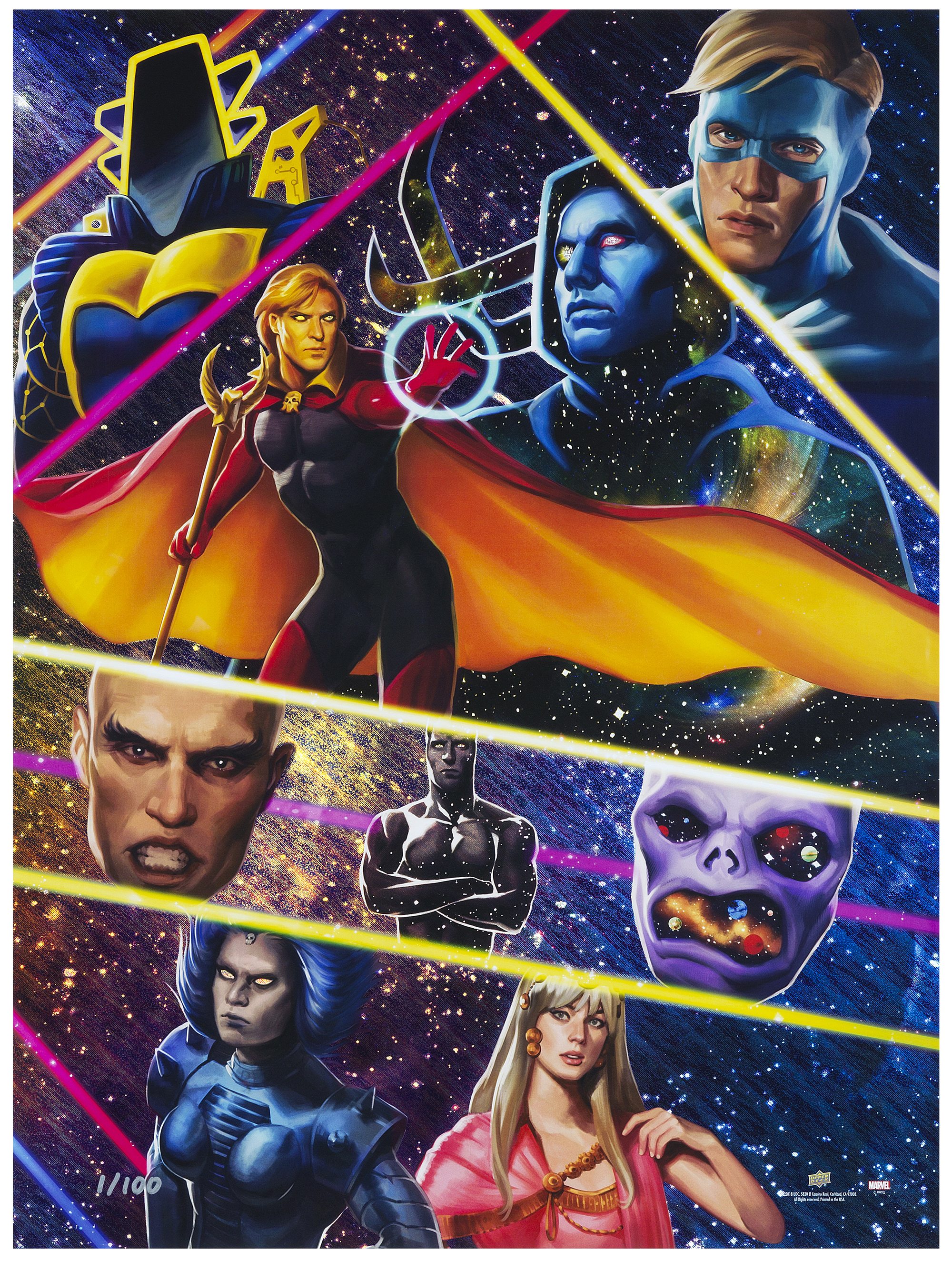 SDCC Exclusive Marvel Trading Card Pack
Upper Deck will also have an exclusive sneak peek at their upcoming Marvel Cinematic Universe 10th Anniversary Trading Card product. The San Diego Comic-Con exclusive Foil Variant Cards can only be found at the convention, and won't be available in regular hobby packs. The deck features movie posters throughout the MCU's 10 years of films, and you will receive 18 cards in one pack for a complete set. The decks are limited to just 500 packs produced – and will retail for $10 per pack at Booth #307.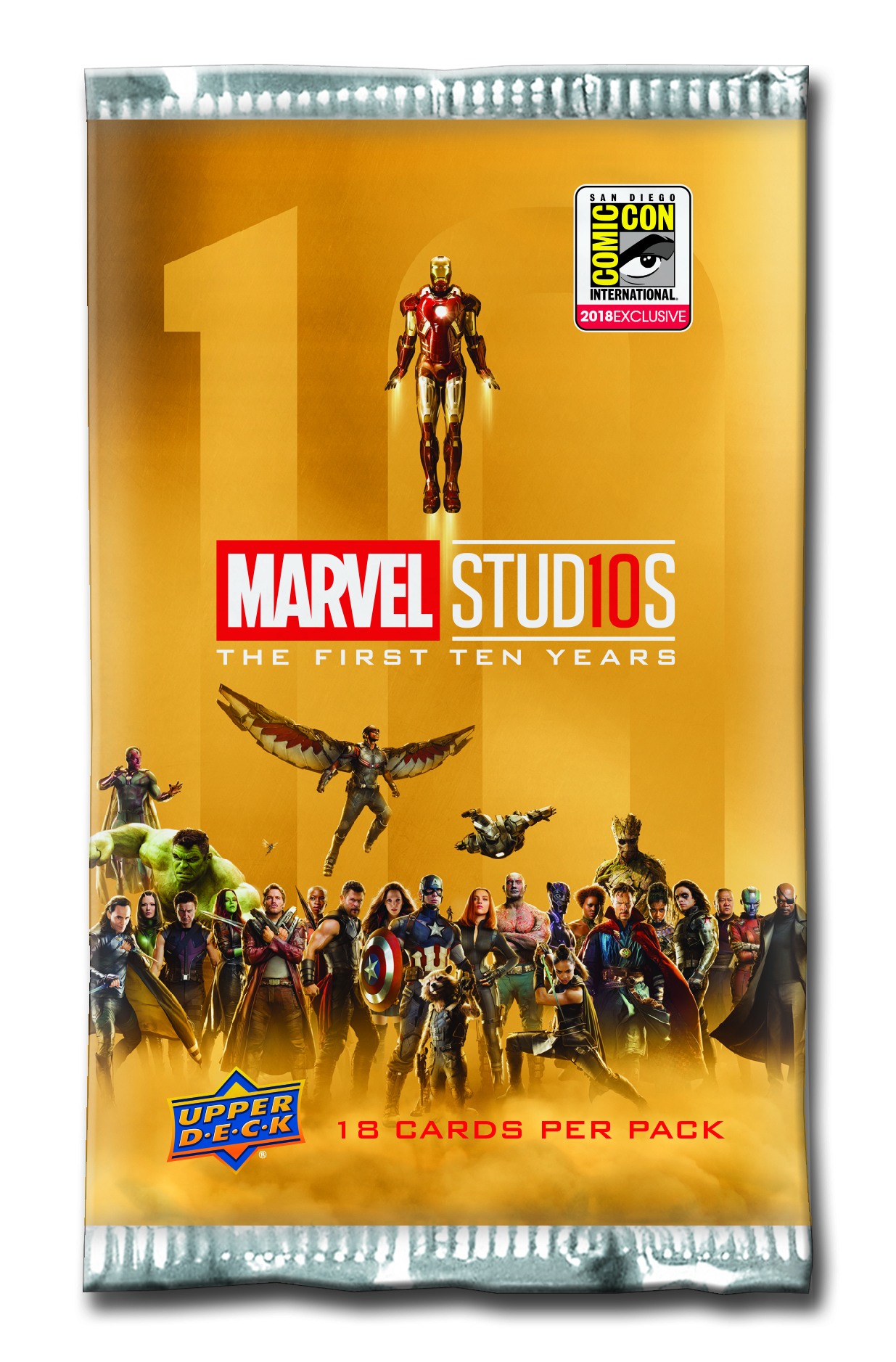 Are you excited about Upper Deck's San Diego Comic-Con 2018 exclusives? Let us know in the comments.