Well, we made it – our last WonderPost for 2019. By this time tomorrow, we'll all be wandering the Anaheim Convention Center exploring what looks to be a great WonderCon. We still have some news for you, so here's one more WonderPost to help you navigate the convention. Want to know what's up with Nooligan, toddland, and Justin Harder, among others? Then read on, fellow con warriors.
Here's a look at what you might have missed:
The Comic Source Podcast will be at WonderCon 2019 with some epic swag. Not only will they give you a free lanyard if you find them, you'll also have the chance to win a free iPad loaded with Batman comics if you find Jace at the convention. See their website for their official rules and how to enter.
Tomorrow is the day! @WonderCon begins & we'll be giving away iPads FULL of comics all weekend! Be sure you're following us here to celebrate #Batman80 & have a chance to win Also pick up Skyward it's really good! See everybody soon CHEERS! https://t.co/vvKdMR9Tlq pic.twitter.com/Q2s33mm0PT

— Jace – The Comic Source (@TheComicSource) March 28, 2019
Authors Sheri Fink and Derek Taylor Kent are turning the cuteness up to 11 at Booth #903, where they'll be signing copies of their books and have The Little Unicorn with them.
This #weekend at @WonderCon ! 😍 Come meet #1 best-selling children's #authors @Sheri_Fink and @DerekTaylorKent at Booth #903 at #WonderCon! 💙 We'll be signing #books and taking photos with Fans all 3 days. 🧜🏼‍♀️ Stop by to meet The Little #Unicorn. 🦄 #SaveTheDate: March 29-31 pic.twitter.com/K0DF7lipTJ

— Sheri Fink (@Sheri_Fink) March 27, 2019
Artist Tom Neely got his Melville-inspired prints back just in time for WonderCon this weekend. Just don't call him "Ishmael".
New prints in time for Wondercon! A poem by Melville illustrated by me… See you in Anaheim this weekend! pic.twitter.com/aggFljIVxW

— Tom Neely (@tomneelyart) March 27, 2019
Are you stopping by Booth #2052 to visit our good friends at toddland? If you weren't planning on it, one look at these Bob's Burgers screenprints they're bringing with them may change your mind.
https://www.instagram.com/p/Bvg3uuHl469/
The whole universe is dangerous, kid! #ComingSoon to @comiXology Originals & @WonderCon. #WCA2019 pic.twitter.com/XPqERw0m8U

— Comixology (@comiXology) March 27, 2019
Roll a 12 or higher and head to Table #D-15 in Artists' Alley, where you'll find Marie Lum with her dice bags.
https://twitter.com/PuccaNoodles/status/1110811130421608448
Since I'm going to be set up specifically in L.A. for #WonderCon, I better assemble and bring my broader art portfolio showcasing my licensing & animation work history.
Never know who wanders by the table. pic.twitter.com/pxyAVSvsjH

— Dan Veesenmeyer (@dveese) March 27, 2019
We're always excited to see what Justin Harder's CLAUS Studios brings to WonderCon. We mentioned the headshots he's including with his throw blankets at Booth #1328 in a previous WonderPost. Harder recently tweeted the entire line-up of headshots you'll find at his booth.
Did some little headshots that will be avail this weekend at #wondercon alongside our Marvel/Target blanket. (I'll add Happy Hogan and War Machine to round this out) CLAUS Booth #1328 pic.twitter.com/b4wWK4cX8U

— Justin Claus Harder (@clausstudios) March 27, 2019
Comics writer Jim Zub will be at Booth #2151 with artist Max Dunbar, where they're hosting some giveaways and the debut of the next release of Originals.
As an extra surprise, @Max_Dunbar and I are also surprise guests at @WonderCon this weekend!

AWWWWW, YEAH!

Come to BOOTH 2151 for giveaways. Come to our @comiXology Stone Star panel, and a whole lot more!https://t.co/pdKCcPg8Dq pic.twitter.com/tkS76VBP7t

— Jim Zub (@JimZub) March 27, 2019
Character designer Jeff Victor is excited to debut his new book, The Ultimate Pop Culture Revolution, at Table #SP-90 in Small Press this weekend.
Are you pumped for Wondercon??! Cause I am! I hope you'll swing by my table in small press (Table SP-90) and say hi! I'll have lots of new prints for sale as well as the public debut of my new book, The Ultimate Pop Culture Evolution! Hope to see you there! #wondercon2019 pic.twitter.com/QR5kYSznqB

— Jeff Victor (@jeffvictorart) March 27, 2019
Disney artist Elsa Chang put her toucan note pads through a rigorous test process before approving them for Artists' Alley Table #C-37.
Apple says please come check out these new notepads at WonderCon this weekend! They were tested for quality assurance by Apple and Henry and have been approved for sales. You can find the toucan notepads at table C37 in artist alley! WonderCon is happening March 29-31! pic.twitter.com/l3FJDf8KZN

— Elsa Chang (@ElsaSketch) March 27, 2019
Wait, he's not Zelda? Proudly correct the public misconception of Link's name with this enamel pin from Yesterdays you'll find at Booth #1137.
New pin drops this weekend at @wondercon BOOTH 1137 pic.twitter.com/9XANizM4ik

— Yesterdays (@yesterdaysco) March 27, 2019
There's going to be some Pooh at artist Sean Forney's Table #J-14 in Artists' Alley with his exclusive poster Do You Pooh homage to Detective Comics #1000.
WonderCon exclusive Do You Pooh homage to Detective Comics 1000.
Lines by @marat1200
Colors by @seanforneyart #darkknight #detectivecomics1000 #detectivecomics #batman #doyoupooh #homage #parody #comicbooks #coloring #digitalcolor #digitalcoloring #se… https://t.co/0ZOEtmfDYA pic.twitter.com/HR9oKC1EX5

— Sean Forney at C2E2 O-6 (@SeanForneyArt) March 27, 2019
Were you able to get on artist Scott Williams' WonderCon commission list? Since it filled up so quickly, he's decided to bring some sketches with him to Table #A-51 in Artists' Alley.
Because my Wondercon commission list filled so quickly, I'm bringing some less elaborate drawings on a first come first serve basis. Here are a few examples. Artists Ally A51 Friday and Saturday. pic.twitter.com/cmqZ8LEmtN

— Scott Williams (@ScottW_inks) March 27, 2019
WonderCon is Whosits & Whatsits biggest convention of the year, so they're bringing t-shirts, hats, and outerwear galore to Booth #1801. We're not sure how much a "galore" is, so you'll want to get there fast.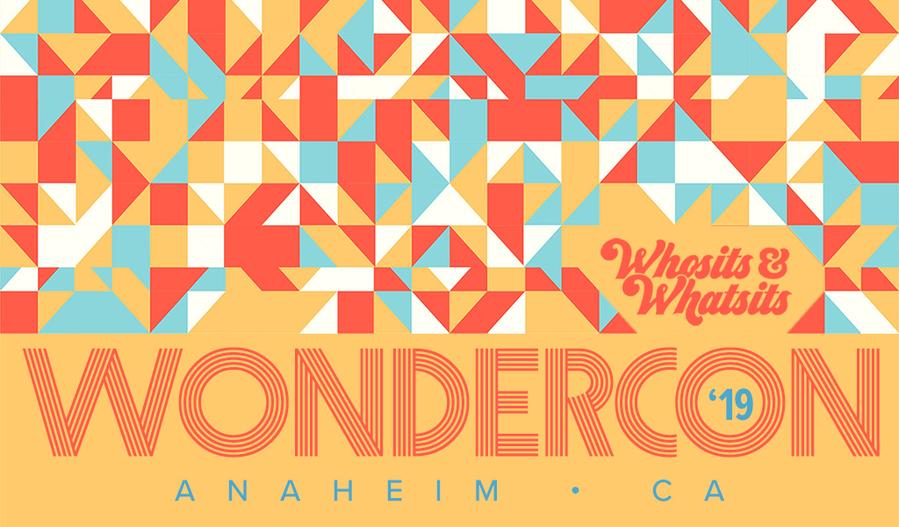 Artist Mikel Janin tweeted his signing schedule for WonderCon this year. When he's not signing, look for him at Table #B-26 in Artists' Alley.
This Saturday and Sunday I'll be in WonderCon Anaheim! Here's my schedule:
Saturday, March 30
6:00 – 7:00PM: SIGNING – DC Booth 1101
Sunday, March 31
DC Batman Art Academy
10:30 – 11:30AM: PANEL – Room 210
Sunday, March 31
4:00 – 5:00PM: SIGNING – DC Booth 1101 pic.twitter.com/zXAKciPP8t

— Mikel Janín (@mikeljanin) March 27, 2019
If you were worried artist Val Hochberg wouldn't have any of her Critical Role art stocked after ECCC, you can rest easy knowing that you'll find plenty of it at Table #F-57 in Artists' Alley.
I sold out of ALL my #CriticalRole art at ECCC… But fear not #WonderCon peeps! I have been drawing like a madwoman this past week to have a fresh NEW batch of adorable art for my dear #Critters! Here's a sneak peek at just a few of them! 💕 pic.twitter.com/BvPTAD94NF

— Valvalchu 💖 (@kickgirl) March 27, 2019
Your spidey senses may tingle as you get close to Table #B-21 in Artists' Alley. Fans of pop artist Nooligan can find his Spider-Man-themed exclusives and more of what he plans to debut on his blog.
Artist Chrissie Zullo had to disappoint her fans when she announced on Twitter she will not be able to attend WonderCon this year. We hope to see her back at WonderCon next year.
I'm sorry guys. I hope to come back next year 😞. pic.twitter.com/E7pHuMCNEe

— chrissie zullo uminga (@Chrissie_Zullo) March 27, 2019
Another artist who had to cancel her appearance at WonderCon this year is Kate Carleton. She's having a "special sale" this weekend instead, so if you were planning to grab something from her, you'll still be able to do so.
Still missing @c2e2 . Also sad I had to cancel Wondercon this weekend, but I'll do a special sale this weekend to make up for it. So enjoy this Superboy Commission I did last weekend during the show. #keelhaulkate #katecarleton #illustration #fanart #dccomics #comics #superb… pic.twitter.com/0gvd5teRZI

— Kate! (@KeelHaulKate) March 27, 2019
Anything you're particularly excited about? Anything we missed? Let us know in the comments, drop us a line, or tweet us at @SD_Comic_Con.