Let's try to take your mind off Round 2 of Hotelpocalypse with some fun and exciting announcements, shall we? We have several cosplay photoshoots, shiny foil prints from Val Hochberg, and so much more.
Let's take a gander at the news you might have missed:
Ninjabot, also known as Arnel Baluyot, has announced that his commission list is opening up on May 6 at 8AM PT. His list is limited and the prices are significantly cheaper than on-site requests, so be sure to mark your calendars and send that e-mail to get on his pre-convention list. Also, how amazing are those PopCats cosplay pets? Additionally, on May 6 Arnel will reveal the theme to his free exclusive stickers, available at his Small Press booth, L-08.
Interested in original artwork pieces? Here is the info on how to pre-order commissions for #SDCC from me. This is the only time a year I'm open for commissions, so don't miss out because slots are limited! pic.twitter.com/SFT0pX9CYu

— Arnel Baluyot (@theninjabot) April 18, 2019
If you're going to #SDCC, make sure to stop by Small Press L-08 everyday for free goodies! I will have daily exclusive free stickers for you, and this year's theme will be announced on May 6th, when I open commissions. I'm SO excited about them, and you will be too. pic.twitter.com/eXlIxQDpUB

— Arnel Baluyot (@theninjabot) April 18, 2019
Hasbro concept artist Marcelo Matere has announced that he will be in attendance for all four days of SDCC.
Hi! Yes! I will be there all 4 days ! #sdcc https://t.co/s2RZppqIph

— Marcelo Matere (@marcelomatere) April 16, 2019
The Graphic Novels and Comics Roundtable is looking for speakers for the Comic Conference for Educators and Librarians which takes place at the San Diego Library. Openings are for Thursday, July 18 only and submissions are due by April 30. As a bonus, accepted speakers receive a free badge to San Diego Comic-Con, plus a guest badge.
Submissions are open for the 4th Annual Comic Conference for #Educators & #Librarians (CCEL) at San Diego Central Library during #SDCC2019. Accepted speakers receive a free 4-Day SDCC pro badge + 1 free guest badge! #libcomix #educomix Apply by 4/30 at: https://t.co/ObGhuDI1mK pic.twitter.com/ame8LbYcky

— ALA Graphic Novels & Comics RT (@libcomix) April 16, 2019
Black Lightning actress and artist Chantel Thuy raised her hand when asked if she will be at SDCC this year. We're going to take that as a (fingers crossed!) YES, and pretty much a guarantee that you'll find Black Lightning on the schedule.
🙋🏻‍♀️ https://t.co/p0oqoqm6wL

— Chantal Thuy (@Chantal_Thuy) April 16, 2019
BBC Studios is looking for some inspiring Doctor Who designs and want YOUR help. The BBC is looking for great Doctor Who fanart (featuring the TARDIS and the Doctor of your choice), with submissions open between now and May 15. One winner and four runner-ups will have their art printed on limited edition Doctor Who merchandise sold at San Diego Comic-Con, and the winner also receives a trip for two to London, among other goodies. Got the skills? Enter by May 15 for your chance to win.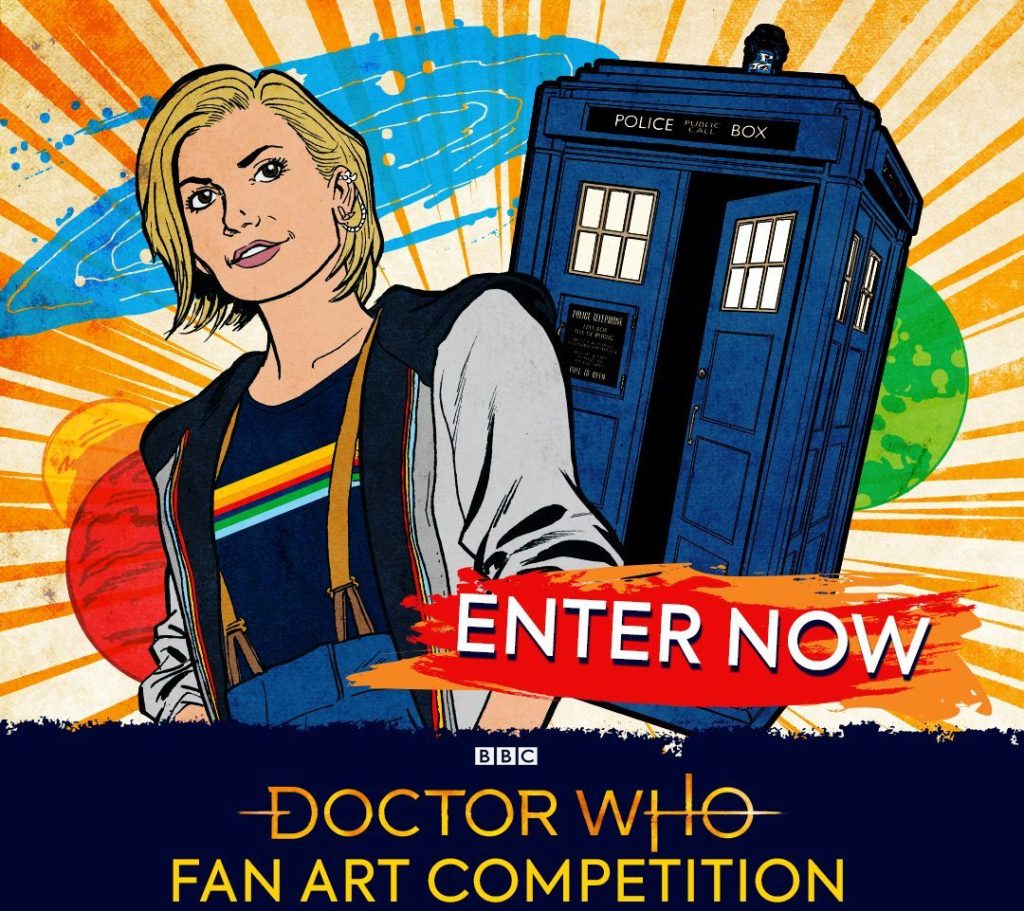 Marvel cosplayers will want to RSVP to this photoshoot to keep tabs on the date and time of the event. We do know that it will take place on the bayside  Mezzanine level, which means a badge will be required to participate.
On the flipside of the comic universe, DC cosplayers can RSVP to a similar event, also taking place on the bayside Mezzanine, date and time to be announced later.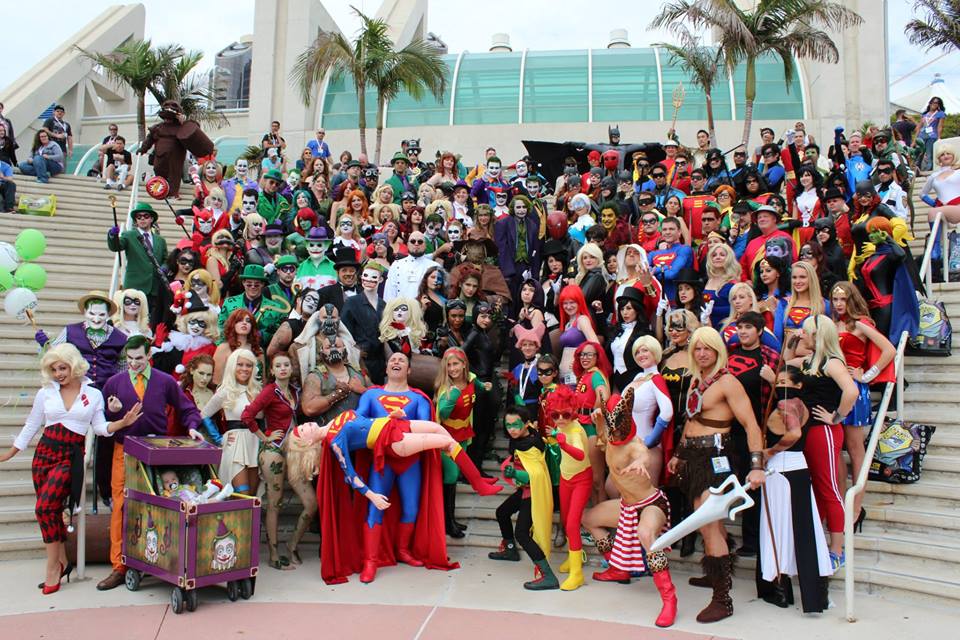 Starting in May, Lyft users will have an easier time hailing a ride from the San Diego Airport after the company launches a new program, similar to a "taxi line." Instead of selecting a specific driver, riders will request a ride, be issued a code, enter a queue where a Lyft driver will pick them up. Once give the code, the rider and driver will then be linked in Lyft's system. This sounds like a big improvement from playing the "Who are you here to pick up?" game, perfect for those arriving by air for San Diego Comic-Con and needing a ride to their Hotelpocalypse selection.
Val Hochberg's delightful foil prints are available for pre-order and if you are attending SDCC, you can save some dough by choosing to pick up at the convention. Prints come in two sizes and print runs will be limited.
SHINY NEW GOLD FOIL PRINTS! Available for Preorder NOW! 😄
I'm planning on limited print runs so order now to ensure you get one

11" x 17" Prints: https://t.co/gYImoiwNwT
5.5" x 8.5" Prints: https://t.co/FyttbO7iYy

I hope you like them! More new stuff coming really soon! 💖 pic.twitter.com/Vfd1ytXOws

— Valvalchu 💖 (@kickgirl) April 17, 2019
Fans of author Sherrilyn Kenyon will be happy to know that she will once again be at Booth #1700 at San Diego Comic-Con. You can RSVP to let Sherrilyn know you are excited to see her.
We'll be showing you a lot more stuff from Patrick Ballesteros in the coming months (duh!) but here's another one of the mini originals that he'll have at SDCC to tide you over.
Up Up & AWAKE it's a Wednesday! And just in case you can't Hawkgirl is there to give you that extra push 😬.

More mini originals to come, stay tuned! #SDCC2019 #SDCC #sdcc50 pic.twitter.com/XQJ81N1kcX

— Patrick Ballesteros SDCC DD-08 (@PatrickBallest) April 17, 2019
Potterheads have a reason to practice their best wand holding techniques. On Friday July 19, join a group of Harry Potter cosplayers for a photoshoot. This event does not require a badge as it will take place in the Gaslamp. Follow their Facebook event to stay up on all the details.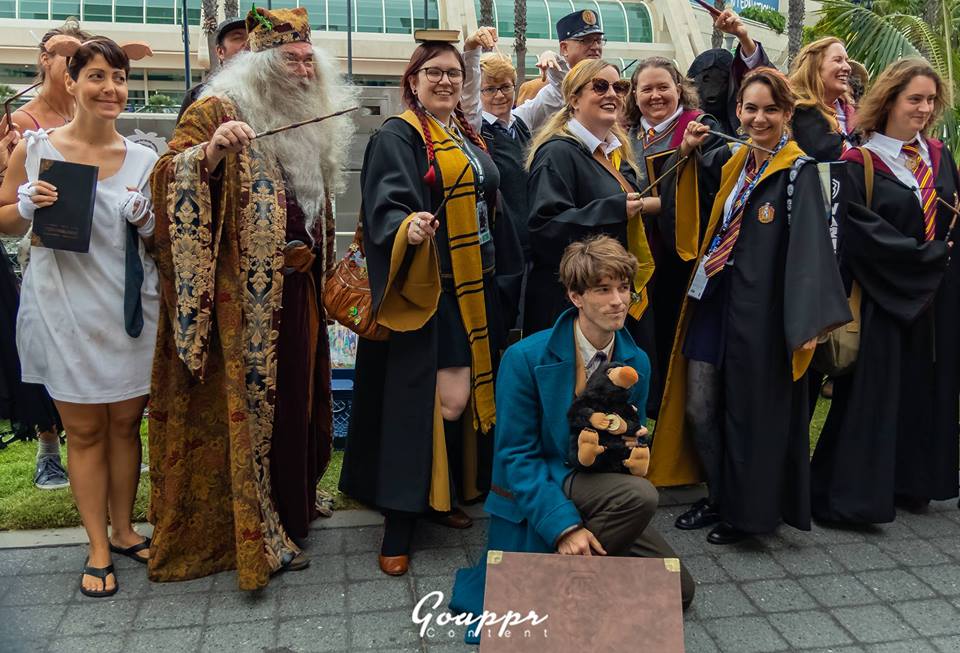 Viz Media will be hosting portfolio reviews as part of their Viz Originals creator-owned imprint. They will be scheduling reviews with both artists and writers during several summer conventions, including San Diego Comic-Con. Those interested must complete an application form and already be attending the event. You can find more information regarding the process on their website.

New York Times bestselling artist and inker, Matt Banning, posted his convention schedule on Twitter and we're happy to announce that he will be at San Diego Comic-Con. Banningt's commission works are stellar so we're hoping he offers them at SDCC. We'll keep you updated if he announces them.
Here's my show schedule for next few months!! Up next!: @northernfancon 2019 Fancon, May 3-5 2019 Prince George
B.C., Canada @PhxFanFusion Fan Fusion 2019 May 23-26 2019@Comic_Con San Diego July 18-21 #dc #comic #comiccon #superheroes #art #artist #batman #wolverine pic.twitter.com/yNVZ5yGdQX

— BATT (@BATTinks) April 18, 2019
Advantage Customer Experience, responsible for the Impractical Jokers event, is looking forward to pulling off more exciting activations this year and we can't blame them, we love their work too.
Comic Con is just around the corner! We had a blast last year activating experiential and sampling events in San Diego and we're already looking forward to this summer! #ComicCon #SDCC #marketing pic.twitter.com/PtI4Hnkt1f

— Advantage Customer Experience (@Advantage_ACX) April 18, 2019
For those hoping to get a Sean Forney sketch cover at SDCC, now is the time to e-mail him your requests. Sean posted a variety of blank covers that are available for him to customize, but don't dawdle, they won't last long.
https://www.instagram.com/p/Bwfw_UHBmNS/
Genesis II will releasing publications that are all @Comic_Con exclusives: 2 chapters of "Genesis II" featuring new original stories of our characters and a new adult sci-fi anthology series called "The Undefeated".#sdcc #sdcc50 pic.twitter.com/cwuNul6n2y

— Genesis Two Comics (@GenesisTwoComic) April 22, 2019
And finally today, Chrissie Zullo's enchanting Game of Thrones artwork will be available as a print and at San Diego Comic-Con. By then we hope to have recovered from whatever heart-wrenching ending HBO throws at us.
Finished up my GoT drawing ❄️ 🔥! Hope you guys like it; created with Copic markers. I also made prints in my Shop ( https://t.co/KjojdNR1U4 ). 🐺 🐉 🦁 #got #gameofthrones #daenerystargaryen #jonsnow #branstark #aryastark #sansastark #drogon #tyrionlannister #nightking #hbo pic.twitter.com/LIINpQm45w

— chrissie zullo uminga (@Chrissie_Zullo) April 21, 2019
Anything we missed? Let us know in the comments, drop us a line, or tweet us at @SD_Comic_Con.