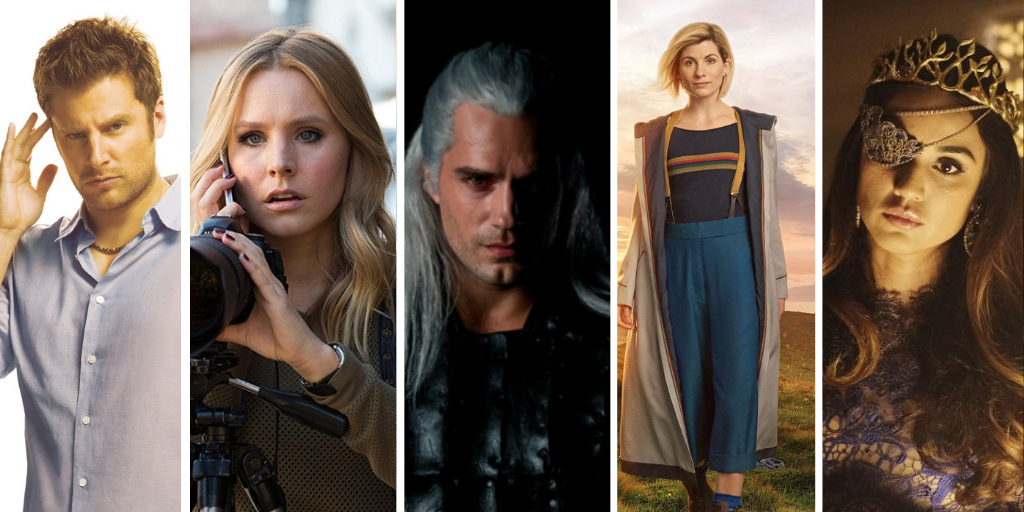 Television series comprise a huge chunk of the schedule for San Diego Comic-Con — and every year it seems like they become a larger and larger piece of the pie. The lines for Ballroom 20 are starting to rival even those of Hall H, and they won't be getting any shorter any time soon.
As the anticipation builds for the official announcements from networks and CCI as to which television shows will be on the panel schedule, we like to take time out earlier in the year to speculate which shows have the best chances of appearing at SDCC. We'll be breaking this into three segments, starting with the Broadcast Networks which we did on Monday, and followed by the Family Networks soon. But today, we're focusing on the Cable & Streaming Networks — and there's a lot of them.
So what do we think you'll be seeing at Comic-Con this summer? Let's take a look:
Adult Swim
Trying to predict Adult Swim's line-up each year is a bit of a moving target. The network has tons upon tons of series, and trying to pinpoint which ones are most likely to turn up is truly a coin toss. The only guarantee at this point is pretty much mainstay Robot Chicken, which confirmed season ten was in production during last year's SDCC. Beyond that — could we see The Venture Bros.? It's likely not airing until 2020, so it's probably out. Rick and Morty? Season four is set for November, so it's very likely in. The Jellies!? They've attended the convention in the past, but the second season will likely finish airing right before Comic-Con. Mike Tyson Mysteries? It was renewed almost a year ago, but also doesn't have a release date. Something not on this list at all? Probably! Basically: Anything could happen here. — Kerry Dixon
Amazon
You can pretty much count on the upcoming Amazon series The Boys to turn up at San Diego Comic-Con this year. Is it because it's based on the comic book of the same name by Garth Ennis and Darick Robertson, so it's Comic-Con friendly fare? Is it because it stars Karl Urban, Elisabeth Shue, and Chace Crawford, in "a world where superheroes embrace the darker side of their massive celebrity and fame" – so a group of vigilantes known informally as "the boys" work to take down corrupt superheroes "with no more than blue-collar grit and a willingness to fight dirty", and that it also comes out very soon after the convention? Well, yes – but it's also because Amazon pretty much already confirmed it.
So expect The Boys to get the big offsite push, similar to what the network has done in the past for both The Tick and Jack Ryan – but they have additional fare on their schedule that seems likely to turn up as well. Alcon Entertainment's The Expanse was saved by Amazon, and they've pushed the series at the convention before with panels and even a fun offsite. So long as Alcon and/or Amazon finds the funds, we think we could easily see a presence again this year.
While we don't have an air date yet, Carnival Row is set for sometime in 2019, and stars Orlando Bloom and Cara Delevingne in a story following mythical creatures who have fled their war-torn homeland and gathered in the city as tensions are simmering between citizens and the growing immigrant population. It's got potential, it just depends on how much Amazon wants to push something further out. They've also got Invincible, which is set for sometime in 2020 – an animated series based on the comic book by Robert Kirkman and featuring the voices of Steven Yeun, J.K Simmons, Sandra Oh, Mark Hamill, Seth Rogen, Gillian Jacobs, Andrew Rannells, Zazie Beetz, and Walton Goggins, just to name a few. Amazon has brought some of their animated fare before, and with that many stars, it wouldn't be hard to pack a room.
On the returning front, they've got The Man in the High Castle, which recently got word the upcoming fourth season would be the last. While there's no air date yet for that either, it's got at least some footage that it could show off to fans, and with it being the final season, Amazon might want to either give it one last push – or to focus on their newer offerings. Last summer's breakout hit Tom Clancy's Jack Ryan could also make a comeback at the convention, considering how much fanfare it received in 2018 – but again, there's no premiere date as of yet. Last summer, Amazon also grouped all of their shows into a single, showrunner-led discussion that covered multiple series – so they could use a similar approach for 2019 to cover more ground. But that's a lot less fun. – Kerry Dixon
AMC
The Walking Dead should be a lock again. The series is an unstoppable force and has been for years, and there's no reason to change a winning formula – which also includes a Comic-Con presence. We think there's no way AMC won't double down on the series again this year, and pair it with a back-to-back panel with their spinoff show Fear the Walking Dead.
We also suspect Preacher will be back to promote their last season. Season four premieres in August this year, meaning there's plenty of footage and teases to show off.
NOS4A2, the upcoming show about Charlie Manx, a seductive immortal who feeds off the souls of children but is threatened when a young woman discovers she has a dangerous gift, already had a panel at WonderCon earlier this year. The series would be in the middle of its season during the convention, but that's never stopped AMC from bringing Preacher in the past, so we've got good reason to think NOS4A2 will be in attendance. The show stars Zachary Quinto, Ashleigh Cummings, Ólafur Darri Ólafsson, Ebon Moss-Bachrach, and Jahkara Smith — so there's plenty to be excited about.
Better Call Saul made a surprise appearance at the convention last summer, after skipping for years. The fifth season doesn't premiere till 2020, so it might be too far out for this summer, but maybe AMC will surprise us again. However, we think the odds are much better for British import A Discovery of Witches. British channel Sky brought it over in 2018 — and with renewals for both season two AND season three, don't count it out.
They've also got The Terror, whose second season premieres in August. The series hasn't been to Comic-Con before, but possibly simply because the timing didn't work out — they did have an offsite at WonderCon in 2018. With the new season premiering so close to the convention, and a whole new cast, AMC may see a reason to push The Terror: Infamy. – Kara Dupree
Audience Network
Audience Network only has one genre show on their network and that is Mr. Mercedes, but they go all out at the convention for it. Last year Audience had an immersive experience which was one of the best offsites at the convention. We think the odds of seeing this show again are pretty high, the only caveat being that the show does not have an air date for season three yet. Still, the show has finished filming and is supposed to premiere in late 2019, so they would have plenty of footage to show off. – Kara Dupree
Apple TV+
Apple's new subscription streaming service, Apple TV+, is set to launch sometime this fall. Apple has no shortage of money to throw around when it comes to promoting the new service, but it's yet to be determined if their promotion plan includes San Diego Comic-Con. If they do decide to make the trek, they've got several series which could make sense for a push at the con, including Amazing Stories, the fantasy anthology series based on the 1985 series created by Steven Spielberg. The new iteration sees Spielberg return as an executive producer, alongside the Once Upon a Time team of Edward Kitsis and Adam Horowitz, and promises to "transport the audience to worlds of wonder through the lens of today's most imaginative filmmakers, directors, and writers". They've also got the Ronald D. Moore created For All Mankind, which will explore what would have happened if the global space race had never ended, and stars Joel Kinnaman, Michael Dorman, and Sarah Jones. And, less likely but certainly not impossible, is See — which takes place in a future when the human race has lost the sense of sight, but their worldview is challenged when a set of twins with sight are born. It's got a pedigreed cast in Jason Momoa and Alfre Woodard.
On this one, anything could go. So far though at least, Apple hasn't shown that they feel the need to promote the streaming service much outside their own usual channels — but we'll just have to wait and see. – Kerry Dixon
https://www.youtube.com/watch?v=Bt5k5Ix_wS8
BBC America
Doctor Who has long been a Comic-Con mainstay, provided its not a year between Doctors. With Jodie Whittaker back for another season, and filming started months ago, we feel pretty confident that you can expect 13 back on the Hall H stage again this year, with some cool teases for fans. But can she and BBC America top last year's appearance?
Unfortunately, as much as we love Killing Eve and think it would be a great addition to the convention, it seems pretty unlikely. Season two will be finished airing before the convention, and although it has a season three renewal, the fact that the series hasn't been before doesn't bode well. – Kerry Dixon
Cinemax
Cinemax hasn't been to San Diego since 2016, when they brought along the Robert Kirkman series Outcast — but we think there's some potential for 2019. The network used to be a much more regular participant, bringing along Banshee and Strike Back in the mid 2010's, both of which were more "action" than strict "genre" fare. We mention this because they've got something similar on their 2019 slate in Jett, which sees a fresh out of prison, world-class thief named Daisy "Jett" Kowalski who is forced back into using her skills to deal with eccentric criminals. It stars several fan favorites, including Carla Gugino, Giancarlo Esposito, Elena Anaya, and Jodie Turner-Smith. The series debuts in June, just ahead of the convention, so it may not make sense to bring it — but we still feel there's some potential here. – Kerry Dixon
https://www.youtube.com/watch?v=TEOOLGNk5rk
Comedy Central
Comedy Central is another inconsistent Comic-Con network, with their last appearance being 2017 for Broad City. We suspect they'll probably sit out 2019 again, but if they did choose to come, they have the long running South Park (who last made an appearance in 2016 for the 20th anniversary, so we probably have another two years to wait for the 25th anniversary). They've also got the upcoming Awkwafina, a vehicle for the breakout star of Crazy Rich Asians. She stars in the series, alongside BD Wong, which follows a 20-something woman in Queens who strives for a larger than life existence. It's got nothing inherently Comic-Con-y other than its star, but it sounds like it's a similar series to Broad City, which did turn up a few years. Granted, those years were later in its run, when it had proven itself to be a pop culture gem — so maybe Awkwafina will show up in a few years as well. – Kerry Dixon
DC Universe
Warner Bros. and DC Entertainment pushed their streaming service DC Universe at last year's convention with a huge offsite, some smaller panels, and more. We're hopeful that we'll get another fun offsite (that maybe has better line control/flow), and that they'll step up their panel game. The biggest DC Universe presence on last year's schedule was for the animated Young Justice: Outsiders, and with a new season starting on July 2, it seems poised to make a return to the convention. Also on the animated front, and very likely to attend, is the new Harley Quinn series debuting in October. There's lots of potential with the voice cast here, as it stars Kaley Cuoco, Lake Bell, Alan Tudyk, Wanda Sykes, Natalie Morales, Jim Rash, Giancarlo Esposito, Tony Hale, Christopher Meloni, and Rahul Kohli — some of whom will likely already be pulling double-duty at the con.
On the non-animated side of things, we'd love to see a proper solo panel for Titans, as the new season hits small screens sometime late this year. Stargirl also has potential if they decide to give their live-action series a bigger spotlight in 2019, rather than lumping them all into one executive-led session ala 2018. Either way, we think you can probably count out both Doom Patrol, which hasn't been renewed yet, and Swamp Thing, which should finish its run just before the convention.
We think you can definitely count DC Universe in for an appearance. The question is just whether they decide to go bigger on the panel front in 2019. – Kerry Dixon
Disney+
There's really good news when it comes to Disney+ at San Diego Comic-Con: Disney CEO Bob Iger already confirmed that they plan to feature the upcoming streaming service at big fan events like "San Diego Comic‐Con in July and [their] own D23 Expo" this year. So it's coming. The question is, in what capacity?
On D23 years, Disney tends to save a lot of their best content for their own convention — but they've also never shied away from bringing ABC genre shows to the convention before, so there's a lot of potential for TV series on the new Disney+ streaming service at SDCC. The series fans most want to see are the Star Wars and Marvel productions, which on the latter side include Marvel's What If… (animated, has the most potential) Falcon & Winter Soldier (we know the most about this one, but nothing is filmed), WandaVision (releases 2021, much less likely), and Loki (the same). On the Star Wars side of the equation, Disney+ has The Mandalorian (releases in November with the service, has potential), season seven of Star Wars: The Clone Wars (has a long history with the con), and the untitled Rogue One prequel series (2021, doubt we'll get much here). Of all of those, we think the animated series Marvel's What If… and Star Wars: The Clone Wars have the most potential, given that Disney usually lumps their Marvel animated series together into a single panel, and Clone Wars has a longstanding (if inconsistent) history with the con.
On the live-action side of things, we feel this could go a lot of different ways. Making Star Wars had a rumor earlier this year that Disney planned to focus on The Mandalorian at their own D23 and to push the upcoming Star Wars: The Rise of Skywalker at SDCC, but that hasn't been confirmed. Will they do the same with Marvel, focusing on their upcoming slate rather than the D23 series? Maybe — but then Iger's comment may not make much sense. Perhaps we'll get a generic Disney+ panel, where we get a few tiny tidbits across several of the series.
Or maybe we're getting none of the above, and we're getting a three hour panel all about Forky Asks a Question. Like we said, we know Disney+ is coming to the convention — but the specifics are all very much up in the air. – Kerry Dixon
Epix
Epix has never come to the con before, but they have a big reason to this year with the new series Pennyworth. The upcoming show follows former british soldier Alfred Pennyworth, who forms a security company and goes to work with Bruce Wayne's billionaire father Thomas. Most importantly, studio Warner Bros. is producing the series, meaning they'd be the ones to bring it along — and WB has a long history of bringing most of their series. With the premiere set for July 28, which is just a week after the con, it seems like a safe bet we will get the entire first episode or extensive footage of the first season, possibly as part of the Wednesday night Ballroom 20 screenings. We also bet we'll get a bigger panel, with some combination of series stars Jack Bannon, Ben Aldridge, Emma Corrin, Paloma Faith, Jason Flemyng, Dorothy Atkinson, and Ian Puleston-Davies. – Kara Dupree
Freeform
We believe Siren will once again be at the convention this summer, since season 2B premieres shortly before the convention, and would be in the middle of their episodes during SDCC, giving them plenty to show off for fans. As for Cloak & Dagger, their second season will have ended before the convention, and the series has not been picked up for a season three — which will need to happen before SDCC for it to have a shot of attending.
As for new series the network could bring, they have the upcoming Motherland: Fort Salem, about a trio of witches who are trained to become powerful weapons for the American military. The series stars Taylor Hickson and Jessica Sutton, and where isn't a release date on this yet, we do have a teaser trailer. It's a toss-up. – Kara Dupree
https://www.youtube.com/watch?v=-7IYcQ07v08
FX / FXX
FX has always had a large presence at San Diego Comic-Con, with their wraps on the Hilton Bayfront (why so many gross years of The Strain wraps though, FX?!), takeovers of the Bayfront lawn, and Sunday Hall H panels. But with Disney taking over the studio, we're all curious to see if it's business as usual for FX, or if something will change. For instance, Legion's final season is set to start roughly a month before San Diego Comic-Con 2019 — and with so few episodes left to promote, will it get a send-off at the convention? We lean towards yes, but the new House of Mouse owners may feel differently. We're a bit more confident that Mayans M.C. will be at the convention to promote the upcoming second season, given its predecessor Sons of Anarchy's long-standing relationship with the con. For once, we're not sure on Archer — the upcoming season, titled Archer: 1999, finishes airing its season just days before the convention starts, and its future right now seems murky, so we may have seen the last of Sterling Archer, Pam Poovey, and the gang at SDCC. Though Archer also feels like the very rare show where an exception to the rule just might be made.
The FX series most fans would probably like to see make the jump to San Diego Comic-Con is What We Do in Shadows, the Jermaine Clement and Taika Waititi comedy horror series based on the 2014 film (which if you have not seen yet — run, don't walk). We were a bit surprised when it didn't turn up last summer, but its March 2019 release date may have put it too late in the promotion schedule to bother with SDCC. The same, unfortunately, may be true for season two. They've also got Y, based on the comic Y: The Last Man by Brian K. Vaughan and Pia Guerra, which is set in a post-apocalyptic world in which a cataclysmic event has decimated every male mammal — except for one male human. It stars Dunkirk actor Barry Keoghan, as well as Diane Lane, Imogen Poots, Lashana Lynch, Marin Ireland, and Amber Tamblyn — but again, with a 2020 release date, it may simply be too far out. Shōgun, which has not even started filming yet, is definitely too far out.
It's been three years since American Horror Story stepped foot on a San Diego Comic-Con stage (though we've had some scattered promotions as part of the yearly FX offsite) — is 2019 the year that it makes a comeback? It seems slightly more possible than last year, given that we have not only a title (AHS: 1984, if you were wondering) and a teaser trailer, neither of which we had at this point last year. Still, considering how many other options are on the table and how little FX really needs to promote the show anymore at this late stage, we're guessing it's a no-show. – Kerry Dixon
https://www.youtube.com/watch?v=wA8oSYeos5A
HBO
We've been getting a lot of questions this year about whether or not Game of Thrones will still show up to the convention in 2019, despite being over — and our money is pretty squarely on "no", but stranger things have happened. The show's appearance at the convention has always been more of a victory lap than a chance to tease anything new, but we just don't see the network spending that kind of money on a series that will have ended (and given fan reaction to this last season, calling an appearance this summer a "victory lap" might be pushing it).
Especially when they have several other series to bring to the convention instead. Namely, Watchmen. We feel confident that we're finally going to get the Damon Lindelof HBO series at Comic-Con that we've always deserved (RIP, The Leftovers, you never got the SDCC love you so deserved). It's got very obvious Comic-Con roots, considering it's based on the classic graphic novel by Alan Moore, Dave Gibbons, and John Higgins — and it premieres sometime this fall, meaning there's plenty of footage to show off and get fans hyped up. Tick tock.
They've also got the upcoming His Dark Materials, based on the Phillip Pullman novel series, which was co-produced with BBC One. It's supposedly set to premiere sometime in 2019, and with a cast list that includes everyone from James McAvoy to Lin-Manuel Miranda, it wouldn't be hard to get fans excited. However, with BBC One pushing the series harder than HBO right now, it may get less fanfare overall (assuming it gets any). They've got other genre fare on their slate, like Lovecraft Country, but we suspect that's simply too far out to get a push at Comic-Con. We're willing to bet that Watchmen gets the bulk of HBO's attention at SDCC 2019.
We also think the odds are in fans favor that they'll get a first look at Westworld season three. Although the new season won't premiere until sometime in 2020(!), the last time the series came in July of 2017, the new season wasn't set to premiere until April of 2018, so there's precedence. They're currently filming, so they could surely put together a teaser full of strange imagery for audiences to have fun dissecting over the next year. (And if you're listening, HBO, please give us another amazing offsite. PLEASE.) – Kerry Dixon
History
This is the last season of Vikings and the show has been coming to the con since season one, so we don't see any reason why History wouldn't bring the cast for a final send off. The only thing is the final season does not have an air date yet. The only other History series that has a fair shot of attending is Project Blue Book. The show did have a panel last summer before season one even premiered, and it's already been picked up for season two, so it's definitely got a shot. – Kara Dupree
Hulu
If there is one show that Hulu needs to bring to SDCC 2019 it's the Veronica Mars reboot. The show premieres a week after the convention, and honestly what better way to give one last promotional push than at San Diego Comic-Con? The series has roots in the city, considering it filmed much of the series in San Diego, and it's been coming to the convention since the show started. More recently, they also turned up in 2013 to promote the Veronica Mars movie. With Warner Bros. producing, we've got high hopes that it's going to attend — but we're also hoping Hulu opts to use their now-annual offsite presence for a Veronica Mars activation (Mars Investigates walk-through perhaps?). Make our dreams come true, Hulu.
The other Hulu series that has a really good chance of attending is Animaniacs. The rebooted animated series doesn't premiere until 2020, but the whole cast will already be in town for Animaniacs in Concert at the Balboa Theater (tickets are on sale now, if you want to check that out). So it only makes sense to use that same talent with a panel inside the convention center as well. We'll start brushing up on our "Yakko's World" singalong skills now.
As far as other shows on the network, there is Marvel's Runaways which hasn't had a panel before and with no release date for the third season currently, so we sadly don't see this coming this summer either. Castle Rock which took over the con last year with a panel and a huge offsite, has a much better chance. While it does not have a date for season two, they do have a stacked cast with Lizzy Caplan, Tim Robbins, Garrett Hedlund, Elsie Fisher, and Barkhad Abdi, and they've been filming. We think it's more likely than not to return. – Kara Dupree
Netflix
Now that Netflix is an actual performer at the convention (yessssss), the question is: What will they bring for 2019? Our #1 pick for "most likely" goes to Disenchantment, the Matt Groening created animated series whose second season hits small screens in September. It came last year, and there's no reason to think they won't bring it back with a release date that close to the con.
After that, things get trickier. Marvel's Jessica Jones has a final season yet to air sometime in 2019, but with all the Marvel Netflix seasons now dead, we're not sure it makes sense to spend money pushing it at the con. There's not a ton known about the upcoming The Witcher fantasy series, based on the Andrzej Sapkowski book series of the same name — but it's set to air sometime in fall of 2019, and might make sense for the con. The only name fans will likely know from the cast list is Henry Cavill, but Superman himself is nothing to sniff at.
If Netflix wanted to make all of my childhood dreams/nightmares come to life, there's also The Dark Crystal: Age of Resistance, a prequel TV series to the beloved Jim Henson film. It's set for August, and the voice cast includes Taron Egerton, Anya Taylor-Joy, and Nathalie Emmanuel, as well as Mark Hamill, Jason Isaacs, Keegan-Michael Key, Caitriona Balfe, Helena Bonham-Carter, Natalie Dormer, Eddie Izzard, Mark Strong, Alicia Vikander, and more. Does Netflix realize this could potentially be the best panel of 2019 if they could assemble even some of these actors on one stage to talk about The Jim Henson Company and puppetry? To be determined.
And then there's everything else. Lost in Space wrapped production earlier this year, so they'd have plenty to show off — but with no release date, it may make more sense for it to return to WonderCon instead. Altered Carbon replaced their season one lead Joel Kinnaman with Anthony Mackie and has also wrapped, but also lacks a release date, so the timing may not be right. Chilling Adventures of Sabrina will be filming during the con, and isn't likely to air until close to Halloween 2020, so it's more likely for SDCC next year than this. The Haunting of Hill House was one of Netflix's biggest hits of 2018, but we don't even think the second season has started filming yet. The same also goes for The Umbrella Academy. Stranger Things releases its third season just a few weeks before the convention, so unless Netflix feels like doing a victory lap ala HBO with Game of Thrones, there's nothing new to show there. They could even throw in a curveball if they wanted, like Mindhunter — which releases in August and would probably do much better at the convention than they think — but Netflix seem more likely to stick to more traditional genre fare. Still, there's plenty to be excited about on Netflix's slate, and we hope they'll give Comic-Con fans a chance to see it.  – Kerry Dixon
Showtime
While Showtime is reviving the world of Penny Dreadful with an upcoming spinoff that's surely ripe for Comic-Con audiences, called City of Angels, it's likely simply too early for it to make an appearance at the convention. Potentially circle your calendars for 2020, though. -Kerry Dixon
Starz
We'd love to say that there's a slam dunk guarantee for a panel for Starz in 2019 — but honestly, it could go any which way. Outlander began production last month in Scotland, and likely won't be finished before San Diego Comic-Con. Sometimes having the cast together makes it easier to transport them all at once, but Outlander is an inconsistent performer at SDCC anyway. So possible, but not guaranteed. American Gods got a season three renewal earlier this year, but given how long we had to wait between seasons previously, and that we don't know if they're filming yet, we'd count it out.
As for new series, The Rook — which is based on the novel of the same name and follows a young woman pursued by shadowy paranormal adversaries while dealing with her own extraordinary abilities, all while resuming her position at the head of Britain's most secret service — is a possibility. It debuts about a month ahead of the convention, which means they'd have plenty to tease, but Starz typically likes to bring series which haven't debuted their new season yet. Honestly, we wouldn't be surprised at all if Starz chooses to skip 2019 entirely, as they've done some years in the past. – Kerry Dixon
https://www.youtube.com/watch?v=QWOKuq9MhmQ
SYFY
SYFY always goes hard at San Diego Comic-Con, and there's no reason to think that's going to change in 2019 (after all, it really is a fan thing!). You can pretty much count on panels for Van Helsing, Krypton (whose second season will be airing during the con, making sneak peeks very easy), and The Magicians (though how awkward said panel will be given fan reaction to that season four finale is anyone's guess). Less certain are some of last year's other entries — including Deadly Class (which hasn't yet been renewed for a second season), Happy! (which has not yet been renewed for a third season, and will have finished airing before the con), and Wynonna Earp. As most Earpers know, production on the series has been stalled due to IDW financial difficulties — with no immediate path forward at this point in time. So with no footage to show and an awkward and ongoing production situation, they very well may sit out 2019. Killjoys has never made the jump to the con, and it's not starting with its final year.
As for new series, we'd be shocked if you didn't find a panel for the upcoming series Resident Alien, based on the Dark Horse comic series by Peter Hogan and Steve Parkhouse. The series, which stars Alan Tudyk, follows a crash-landed alien who takes the identity of a small-down Colorado doctor, all while wrestling with the new moral implications of his secret mission on Earth. They showed off a trailer at Upfronts last week, so it's definitely something the network wants to push. – Kerry Dixon
TBS
It feels like we've been talking about the TV version of Snowpiercer for years on these lists (probably because we actually have been talking about Snowpiercer for years on these lists) — but while the series used to be part of TNT's possible line-up, it's now got a much better chance of attending the convention under its new home network of TBS. The series, based on both the 1982 graphic novel Le Transperceneige and the 2013 Chris-Evans-starring film by Bong Joon-ho, is set to air in spring of 2020, and wrapped earlier this year, so there's plenty to show off. The cast list includes both Daveed Diggs and Jennifer Connelly, which are both likely to get fans very excited — though for very different reasons.
The Olan Rogers animated series Final Space played big at the convention last year, despite its season having already ended. So while there's no release date yet for season two, it might make sense to bring it back. – Kerry Dixon
TNT
TNT wrapped up their long-standing Comic-Con series The Last Ship last year, and skipped the convention entirely in 2018. Will they do the same in 2019? Our money is on yes — though they could choose to bring a very early look at Raised by Wolves, an upcoming series which revolves around two androids (Father and Mother) who are tasked with raising human children on a mysterious virgin planet. It stars Vikings' Travis Fimmel, and the premise definitely makes sense for the con, but it's not set to wrap production until early fall, so it's probably just too early. – Kerry Dixon
USA Network
As we say every year, USA and SYFY are the two networks that really "get" San Diego Comic-Con — and we're expecting big things from USA Network in 2019. With Psych: The Movie 2 having wrapped, there's no way the network will pass up a chance to bring one of Comic-Con's favorites back to the convention. We expect the full cast (hopefully with a still-recovering Tim Omundson making an appearance) to grace the Ballroom 20 stage once again, as the series has a long history with SDCC and fans (this one included!) still love it.  We also think we'll see the return of The Purge, whose second season will likely be hitting TV screens this fall in time for Halloween. The series is expected to begin shooting this month, which means they'd have footage to show off at the con. The only question is, after the success of last year's The Purge Store offsite, can they top themselves?
Less certain is Mr. Robot, which has skipped having a panel some years in the past (ex: we got an amazing offsite but no panel in 2017). We're cautiously optimistic that they might bring the fan-favorite back for some final fanfare ahead of its last season, and with no premiere date currently announced, SDCC could be the perfect place to tease more — but USA could also decide it's just not worth spending the money to bring the cast at this late stage. But hey, if you're reading this, USA — can we get one more final amazing offsite? Pretty please? They could also potentially bring the upcoming Brave New World with Alden Ehrenreich, but we think it's probably just too early for that one. – Kerry Dixon
YouTube
YouTube dipped their toes in the water at last years convention by bringing two of their series. This year we think we could see another panel for the show Impulse, which was picked up at the convention last summer for a season two set to premiere in 2019. They are currently filming and are supposed to wrap in June, so they would definitely have footage to show off. The other series they could bring would be Cobra Kai, which had a panel at WonderCon earlier this year. Season three premieres in 2020, so it might also be too far out. – Kara Dupree
TV Graveyard
We'd also like to take a moment to reflect back upon our dearly departed shows that won't be gracing the stages at San Diego Comic-Con this summer, either because they were canceled, or simply ended their run. Here are the cable shows that you won't be seeing at SDCC again, at least until that ten year reunion (or until Hulu, Netflix, or some streaming service that hasn't been invented yet inevitably picks it up):
Adventure Time (Cartoon Network)
Another Period (Comedy Central)
Broad City (Comedy Central)
Channel Zero (SYFY)
Colony (SYFY)
Game of Thrones (HBO)
Homeland (Showtime)
Into the Badlands (AMC)
The Last Ship (TNT)
Marvel's Daredevil (Netflix)
Marvel's Iron Fist (Netflix)
Marvel's Jessica Jones (Netflix)
Marvel's Luke Cage (Netflix)
Marvel's The Punisher (Netflix)
Nightflyers (SYFY)
Outcast (Cinemax)
Shadowhunters (Freeform)
Stan Against Evil (IFC)
The Tick (Amazon)
Voltron: Legendary Defender (Netflix)
Wrecked (TBS)
Z Nation (SYFY)