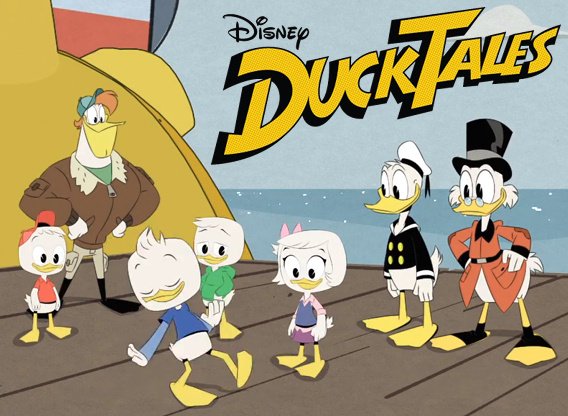 Television series comprise a huge chunk of the schedule for San Diego Comic-Con — and every year it seems like they become a larger and larger piece of the pie. The lines for Ballroom 20 rival even those of Hall H, and they won't be getting any shorter any time soon.
As the anticipation builds for the official announcements from networks and CCI as to which television shows will be on the panel schedule, we like to take time out earlier in the year to speculate which shows have the best chances of appearing at SDCC. We've broken up our picks into three segments, including the Broadcast Networks and Cable & Streaming Networks, and we're wrapping up today with the family channels — Cartoon Network, Disney XD/The Disney Channel, and Nickelodeon.
So what do we think you'll be seeing at Comic-Con this summer? Let's take a look:
Cartoon Network
With Adventure Time now concluded, you can expect Cartoon Network to double down on their other beloved series: Steven Universe. The upcoming film for the franchise is set for sometime this fall, so Cartoon Network should have plenty to tease fans with.
Otherwise, last summer the network really only brought along creatives from some of their series (including Craig of the Creek, We Bare Bears, Victor & Valentino, Summer Camp Island, and OK K.O.! Let's Be Heroes).  That doesn't give us confidence that they'll give any of those series a bigger platform in 2019, but it may be possible. We also didn't see The Amazing World of Gumball, Ben 10, or The Powerpuff Girls in 2018, so we wouldn't be shocked if they skipped again.
What may stand a better chance are its two newer programs — Mao Mao: Heroes of Pure Heart, which follows a Sherriff cat on the lookout for adventure. The first episode premieres in early July, which may make Comic-Con the perfect time to give it an extra push. Or they could focus on Infinity Train, which attendees got a teaser of last summer during the con. The story follows a 12-year old girl who is trapped on a train, trying to find her way home with the help of a robot companion.
Disney XD / The Disney Channel
Get ready to solve a mystery, or rewrite history — because we can't see Disney skipping on bringing back DuckTales, which should be airing its third season later this year. As much fun as we had with Ben Schwartz, Bobby Moynihan, Danny Pudi, and Toks Olagundoye though — we've got our fingers crossed for David Tennant.
All the Marvel animated series also receive a yearly, joint panel (Marvel Animation Presents, which is actually presented by, y'know, Marvel rather than Disney — but we're talking about it here because we're drunk with power). That panel should have a presence of basically all the Marvel animated series, including Spider-Man, possibly some teases about some of the upcoming Hulu Marvel series like Marvel's Howard the Duck, Marvel's M.O.D.O.K., Hit Monkey, and Tigra & Dazzler. They've also got Big Hero 6: The Series, which last year received its own panel, but they could technically throw it in with Marvel if they really wanted to (but we don't think they will).
The bigger question is, will we get Star Wars Resistence? We didn't get season one last summer at the convention — but maybe the timing will make more sense for 2019.
Nickelodeon
2019 marks the 20th anniversary for your favorite pineapple under the sea, so there's no way Nickelodeon doesn't go all in here. The only minor caveat here is with the feature film The SpongeBob Movie: It's a Wonderful Sponge releasing in 2020, Nickelodeon and Paramount may want to save most of the sponge-love for Hall H. No matter what, though, you're getting SpongeBob SquarePants.
We also consider Rise of the Teenage Mutant Ninja Turtles to be a lock, as the heroes with a half-shell have a long history at the con, and fans flock to the panel.
After that, things get interesting. Nickelodeon has leaned on con goers nostalgia hard the last few years, and they've got two upcoming series that could just fit that bill. First, there's the revival for All That, which is set to launch in June. It will surely have an all-new cast, but Kenan Thompson is an EP on the series, so it wouldn't be too hard to bring him along for the panel for some added interest. They're also bringing back the fan-favorite Are You Afraid of the Dark?, which haunted 90's kids dreams for years. It premieres in October, which should mean its ripe for some sort of promotion at the con.
Television Graveyard
Adventure Time (Cartoon Network)
Star vs. The Forces of Evil (The Disney Channel / Disney XD)