Monkey Minion Press is bringing a couple of cool exclusives that feature two of our favorite things: Comic-Con and Space! Check them out at Booth #2007.
New Worlds Await – Limited Edition Fine Art Print $40
2019 marks the 50th anniversary of 2 important milestones in American culture: San Diego Comic-Con International & the first Apollo Moon Landing. To celebrate, Monkey Minion Press is releasing this travel style, RetroModern fine art print! Each limited edition, 13×19 print will be giclee printed on high quality watercolor paper, numbered, and signed by the artist.
(One per person, per day, please.) If the daily allotment sells out, per SDCC rules, no more will be made available until the following day. We appreciate your understanding and interest!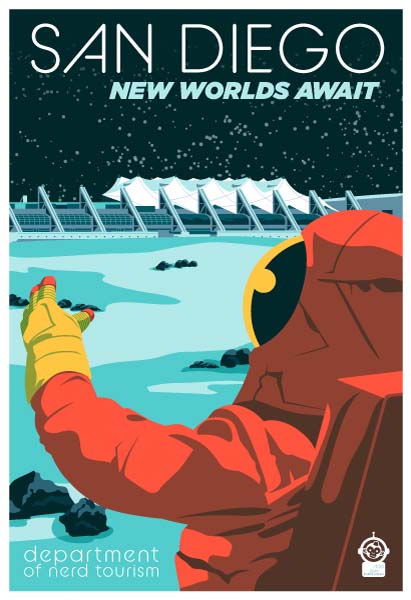 New Worlds Await – Commemorative Postcard $5
To go with our fine art print, we are releasing new RetroModern postcards! Featuring art of our home away from home, the famous San Diego Convention Center! These postcards are 5″x7″ and are mailable! In fact, if you want to mail one or two to friends, we'll take care of that for you!
No limit, no reserve! Come get your collectible, commemorative postcards all weekend! Only available at Comic-Con Internation in San Diego.