If you tuned in to our mega stuffed SDConCast last night, you were probably inundated with SDCC news. Since Con Season never sleeps (and neither do we), we found even more SDCC news. This edition of Under the Tents has more news from BeeFy & Co., Terry Dodson, Dan Veesenmeyer (who loves you 3,000), and so much more. Can you handle more SDCC news? We think you can.
Here's a look at what you might have missed:
Artists love dropping little prints for people to find. Artist Jesse Torres will be around SDCC with some of his mini-prints to give away during the con. Follow his Twitter to find him and his prints at SDCC.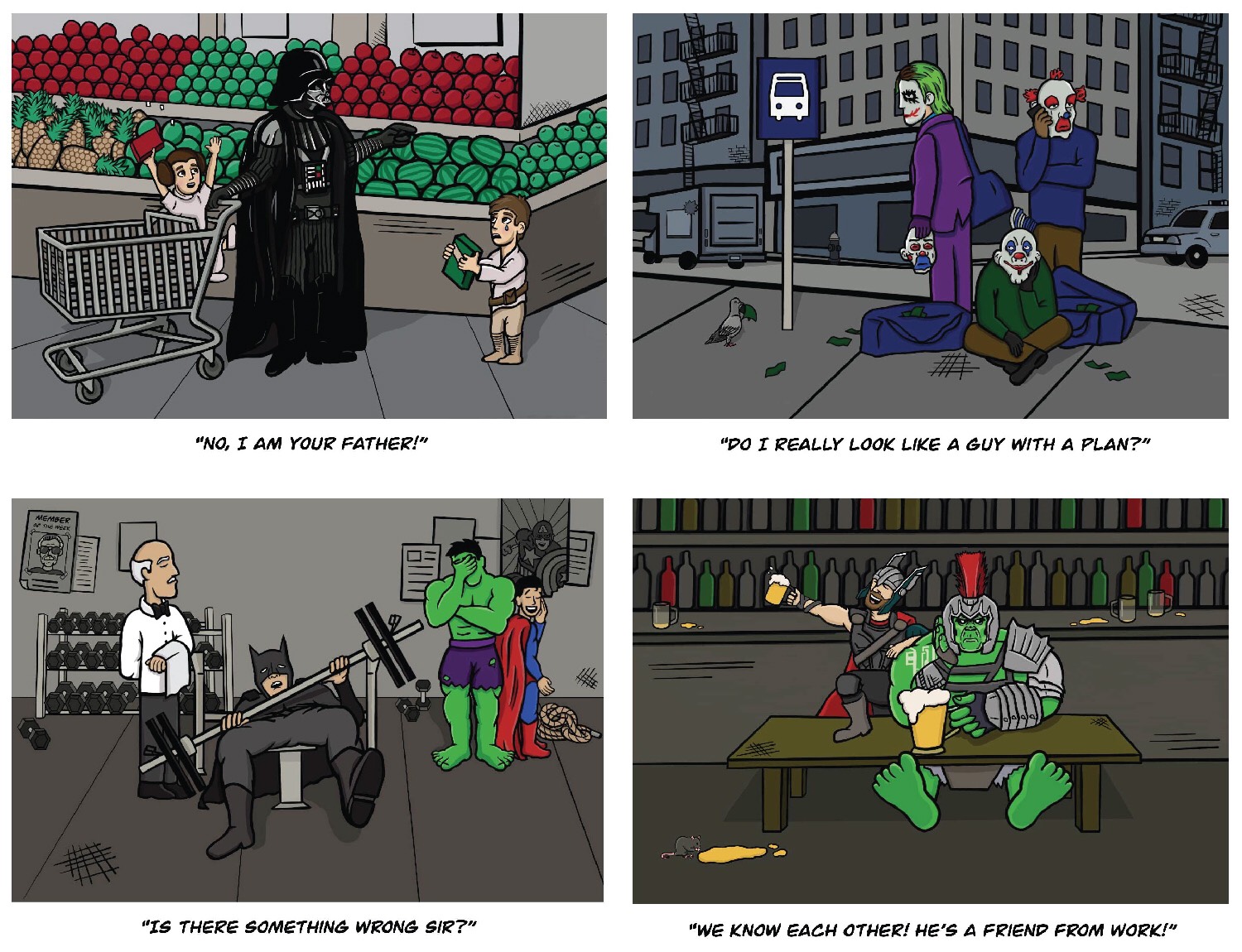 Author Clay McLeod Chapman announced via Twitter he'll be at SDCC 2019 promoting his new novel, The Awakening. Look for him to be on panels and signings around the con.
Just found out I'll be at San Diego Comic-Con to promote and panel it up for my new novel #TheRemaking! Bringing all my ghosts to the west coasts! @quirkbooks #sdcc #SDCC19 #SDCC2019

— Clay McLeod Chapman (@claymcleod) June 19, 2019
CoverCrashers will have a shiny new promo card on hand for their new series, Critical Snail. He may not be too fast or strong, but his viscosity is amazing.
https://twitter.com/PixelTraitor/status/1141480444401053696
My 50th anniversary retailer variant Vampirella cover for IG user Kwanchangart! Signed, unsigned and remarked copies will be available for purchase at Kwanchang's SDCC booth 5005 or on his website https://t.co/HM0Y4aDvNW after the show! thanks! =D#vampirella #dynamitecomics pic.twitter.com/0ZJoGUfy9t

— DCWJ Derrick Chew (@DCWJ01) June 18, 2019
Artist Ian Nichols will be at New England Comics' Booth #1807-1809 at SDCC this year. Check out our Commissions post for info on placing pre-show commission orders, or he could sketch something on one of your purchases. Just don't drop anything off.
In keeping with NEC tradition, I'll be doing free quick sketches at the booth on anything purchased upon request (no drop offs).#SDCC #SDCC2019 #Comics #Comicart #commission #comicbooks #thetick #tmnt #IDW #NEC #Dynamite #usagiyojimbo #batmantmnt #gijoe

— Ian Chase Nichols (@IanCNichols) June 19, 2019
Fans of artist Terry Dodson, get your calendar apps/spreadsheets handy. Dodson's SDCC sketch commission list opens in two weeks on July 3, 2019. See our Commissions post for details on pricing and how to order.
Two weeks until I take my @Comic_Con sketch list

Details can found at my blog –https://t.co/9LpSIoejNq #sdcc2019 #sketchlist #terrydodson #sandiegocomiccon #commissions #copicmarkers #CaptainMarvel pic.twitter.com/1ODNu6XUYp

— Terry Dodson (@TerryDodsonArt) June 19, 2019
Chula Vista artist Jin Yung Kim won't have to go far to set up Table #CC-08 in Artists' Alley. Look for his latest Voltron sticker while you're there.
Yo twitter-verse! Haven't kept up here, so I'm trying to remedy that. ICYMI: I'll be @Comic_Con in artist alley #CC08! Lots of new things are coming and I'll be dropping updates here. Let's start with a #Voltron sticker! @SD_Comic_Con #SDCC #SDCC2019 #superminibots #jyk_allday pic.twitter.com/lDLD3iU5AY

— JYK All Day (@JYK_AllDay) June 19, 2019
The Pop Insider revealed Xtreme Play's SDCC exclusive – a Rainbow Six Chibi Charm Set. These charms pay homage to characters from the game Tom Clancy's Rainbow Six Siege and stand 1.5″ tall. Find them at Booth #134 for $40 for the set.
LEGO artist Dan Veesenmeyer's new art print for SDCC 2019 will hit you right in the feels. Proud parents Tony and Pepper guide Morgan on her way to being the next "Iron Man". Pew! Pew! right to the heart.
New art print for San Diego Comic-Con 2019.
Lego Avengers Endgame

❤️3000
Tony, Morgan & Pepper Stark

This started as a Sketch Commission layout but while working on it decided to go full render. ✌️ pic.twitter.com/bua9YxgbJl

— Dan Veesenmeyer (@dveese) June 19, 2019
Exhibitor Donald Ward announced to his Instagram followers that his new The Tiniest Ghost pins and patches are ready to go with him to SDCC.
https://www.instagram.com/p/By6Lb6Fg2Sw/
Artist Sean Forney debuted his SDCC exclusive Scarlet's Cryptid Hunting Club buttons he'll have at Table #BB-05 in Artists' Alley.
https://www.instagram.com/p/By6BupLh2p7/
Head to BeeFy & Co.'s Booth #1190 to pick up their 8″ Chu Totopoo for your collection. Can't make it to the con? No worries — you can pre-order it now and have it shipped to you after SDCC.
https://www.instagram.com/p/By5NSvEnqlx/
What are you excited about? Anything we missed? Let us know in the comments, drop us a line, or tweet us at @SD_Comic_Con.