Welcome to our last weekend before SDCC 2019. Downtown San Diego is busy preparing for next week's festivities, and so many artists and vendors are preparing as well. This edition of Under the Tents brings some great SDCC news from Veronica Mars, Patrick Ballesteros, and so much more.
Here's a look at what you might have missed:
Finally! Veronica Mars fans have their ultimate SDCC 2019 question answered: Who will be on the panel? Thanks to TVLine, we now know who will be in Ballroom 20 on Friday at 11:30AM PT: Kristen Bell (Veronica), Enrico Colantoni (Keith), Jason Dohring (Logan), Percy Daggs III (Wallace), Francis Capra (Weevil), Ryan Hansen (Dick) and franchise newbie Kirby Howell-Baptiste (Nicole). Series creator Rob Thomas and EP Diane Ruggiero-Wright will also be on hand. As if that weren't enough, fans who are lucky enough to attend Friday's signing at the Warner Bros. booth will also be handed a copy of the official SDCC Veronica Mars revival poster.
.@VeronicaMars' Comic-Con Panelists, Moderator, Girl-Powered Revival Poster Revealed (Exclusive) https://t.co/tV5TACf4up #VeronicaMars #SDCC @IMKristenBell pic.twitter.com/rykzMcYIVa

— Michael Ausiello (@MichaelAusiello) July 12, 2019
Adrian Wassel, Editor-in-Chief at Vault Comics, tweeted a big announcement – Vault will have advanced copies of Mall #1 as well as a black and white ashcan of The Plot #1. See them before anyone else at Booth #1819 at SDCC.
I have a #NCBD surprise! 🎉

At #SDCC + lucky shops, we're giving away adv MALL #1s ft. a 10 page B&W ashcan of THE PLOT #1.

So find us at #SDCC or tell your shop you need it. Or, cause I love you, shoot me a DM & I'll send you a PDF—*if* you're a retailer, reviewer, or friend! pic.twitter.com/CExXO4sYvh

— Adrian F. Wassel (@afwassel) July 10, 2019
Artist Tyler Kirkham is getting his prints ready to send to SDCC. Find these amazing pieces at the J. Scott Campbell Booth #4601.
Prepping prints for San Diego comic con! These will only be available at booth # 4601 (J Scott Campbell booth) pic.twitter.com/nTKw946E0S

— Tyler Kirkham (@TylerKirkhamArt) July 10, 2019
Slow and steady wins the race when it comes to learning the Periodic Table, or in Rebecca Hicks' case, The Periodic Tortoise. See how cute science can be at Booth #5535. Science!
I'm premiering my new Periodic Tortoise fine art print at San Diego Comic-Con. Get your science on at booth 5535! pic.twitter.com/PCvYjqoVr9

— Rebecca Hicks – She/Her (@RHicks) July 10, 2019
Daniel Danger will be at Booth #1617 in the Exhibit Hall signing some of his classics and fan favorites as well as some new work. Good luck on that movie deal, too.
hey all, ill be at San Diego Comic Con next week, booth #1617. ill have some restocks and reprints of some classics and favorites, a release and signing on thursday, and otherwise will generally just be hanging out hoping to score the next big movie deal or meet spiderman. #SDCC pic.twitter.com/cMAPoWxQiw

— Daniel Danger (@tinymediaempire) July 10, 2019
Artist Brandon Yarwood will be on-hand in the Lucasfilm Pavilion at Booth #2913-D on Friday afternoon from 2:00PM to 3:00PM PT to sign copies of his original SDCC exclusive poster.
Times coming up so fast! I can't wait to see everybody. I'll be doing an exclusive signing at the booth Friday afternoon 2:00 – 3:00. #sdcc #sdccexclusive #comiccon #starwars #empirestikesback #illustration #illustrations #digitalart #art #drawing #artistofinstagram #comicart pic.twitter.com/n1X1NywLqh

— Brandon Yarwood (@YarwoodArt) July 10, 2019
Grab your dinglehopper and your homie Pillboi and get to Patrick Ballesteros's Table #DD-08 in Artists' Alley to find his adorable mini prints of (not a robot) Janet and The Little Mermaid herself, Ariel.
Just wanted to say "Hi There" and looking forward to being a "Part of Your World" next week! 2 new minis for next week but stay tuned tomorrow for a couple new pin releases and the daily release schedule for the 25 Cent Wonders exclusives!#sdcc50 #sdcc2019 #illustration pic.twitter.com/jskvcYowj4

— Patrick Ballesteros SDCC DD-08 (@PatrickBallest) July 11, 2019
The folks at Magic: The Gathering have tapped their manna and are hitting the Exhibit Floor this year with a ton of activities and signings at Booth #3213 (Hasbro) this year. They've announced games and exclusives that can be found all over the convention center as well.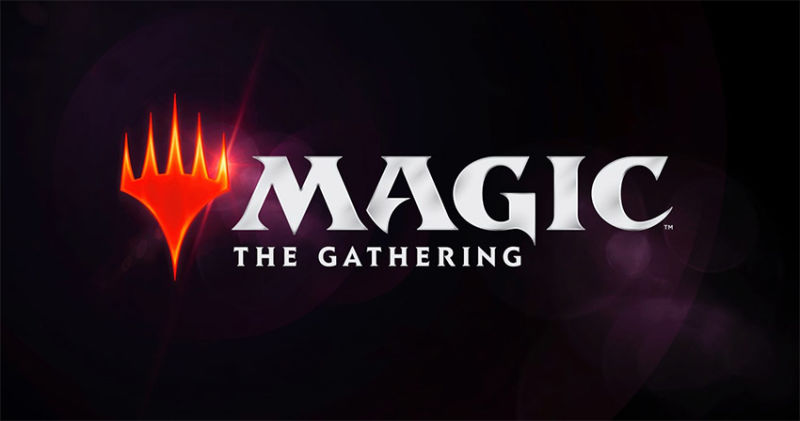 The great minds behind the Broadway hit Harry Potter and the Cursed Child will also have their hands full at SDCC this year. Their panel will take fans behind the scenes to see how they make magic real even for Muggles on the stage. At Booth #3629, fans will find original costumes and exclusive art from the forthcoming book of the same name.

Artist J. Lynn Warner promises reasonable prices on these Marvel sketch cards he's bringing to Table #L-09 in Small Press.
https://www.instagram.com/p/BzygWLwBvd1/
Make your way to the Nickelodeon's Loud House during SDCC, where they will be giving away copies of La Casagrandes.
https://twitter.com/lynnsanitypage/status/1149410472921198592
We're big fans of "mash-up" panels here at the SDCC Unofficial Blog, and this one looks like it's going to be epic. Dust off your Discman, feed your Tomagotchi, and go back to the 90's with panelists like Jason Mewes (Jay and Silent Bob Reboot), Orlando Jones (American Gods), and more totally fly peeps.
Grab your pogs and your Game Boys, #SDCC, and then join @maudegarrett, @DaveHolmes, @TheOrlandoJones, @JayMewes, @jonahray, @elizaskinner, & @MintMilana for some nostalgic fun in "It Came #FromThe90s" on FRIDAY, July 19, at 10:15AM PT in Ballroom 20. pic.twitter.com/iudDxs2FKa

— SYFY WIRE (@SYFYWIRE) July 11, 2019
One more booth that will keep you entertained for hours it The Behemoth at Booth #329. You can play Castle Crashers on a Nintendo Switch while you browse through their brand new merch (pictured below).
Marvel author Rainbow Rowell added another signing to her SDCC schedule. You can find her at the Marvel Booth #2329 on Friday, July 19 from 2:00PM to 2:40PM PT, and it doesn't look like you'll need a ticket for it.
https://twitter.com/rainbowrowell/status/1149497976219262976
Nerdvania will allow your imagination to soar with their Custom Chalkboard Kidrobot Trikky. Grab your favorite colored chalk (included!) and make your Trikky however you want it to be. Then, wash it off and start all over again for an endless amount of fun and creativity.
https://twitter.com/Nerdvania/status/1149500048750678019
Mysterious Gallery is bringing an exclusive twist on the Arthurian Legend to Booth #1119 at SDCC this year. Fans can pre-order copies of their latest novel, Cursed, at their booth during the con and receive an exclusive print signed by artist Frank Miller.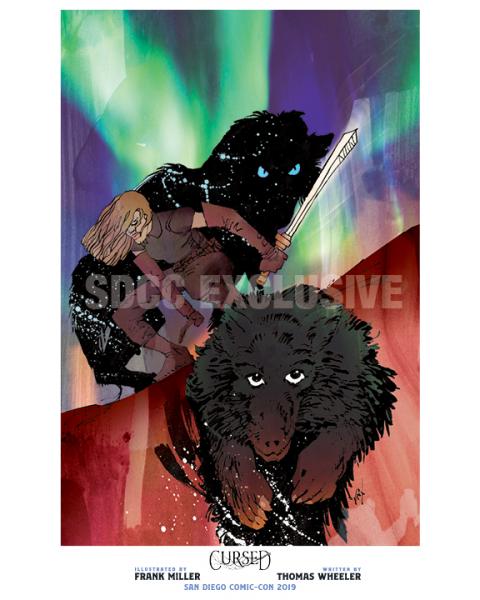 I'm not even supposed to be here today!!! Find out where that line came from and a whole lot more when you see Shooting Clerks, a documentary about the film that introduced us to Jay and Silent Bob. And is it even remotely related to Kevin Smith if you don't get a free comic book out of the deal?
Saturday night at @Comic_Con! After my Hall H panel, check out the Con debut of the @UppieDownie movie about how we made CLERKS! You'll walk away inspired AND you'll have an exclusive comic book! https://t.co/sly4ZX5Ya1

— KevinSmith (@ThatKevinSmith) July 11, 2019
Are you going to be in San Diego next week? Swing by the Gundam Interactive Zone at SDCC to check out the game, and pick up a free Gundam prize, including possibly a Gunpla!

See you there!

Pre-Register today!
iOS: https://t.co/zCm2wCX0nx
Android https://t.co/d0dtY0Q0Fn pic.twitter.com/lvxnJoSbLe

— GUNDAM BREAKER MOBILE (@GundamBattleGW) July 11, 2019
Not to be outdone by the San Diego Hostel, BAIT tweeted their own photo to show fans what they'll find at 920 5th Ave. in the Gaslamp Quarter during SDCC.
Make sure to drop by our store next week during San Diego Comic-Con! We're located at 920 5th Ave. You'll see us. 😂 pic.twitter.com/TusrF1Fy7H

— BAIT (@BAITme) July 11, 2019
Spencer and Locke writer David Pepose was excited to show off the cover for Go to the Chapel by MJ Erickson to his Twitter followers. Look for this new comic at Action Lab Danger Booth #1737.
Been waiting to show this off for awhile—how incredible is @kreugan's #SDCC-exclusive cover for @GoToTheChapel?! You can buy yours at the @ActionLabDanger Booth #1737 next weekend at #ComicCon, and I can sign your #comics Thursday, Saturday and Sunday from 3-4pm! 👰🤵🏾🕺🏻💍💒🔫🚨 pic.twitter.com/ZheLUfwRFW

— David Pepose – Comic Book Writer (@Peposed) July 11, 2019
Anything we missed? Anyone you're really excited to see? Let us know in the comments, drop us a line, or tweet us at @SD_Comic_Con.