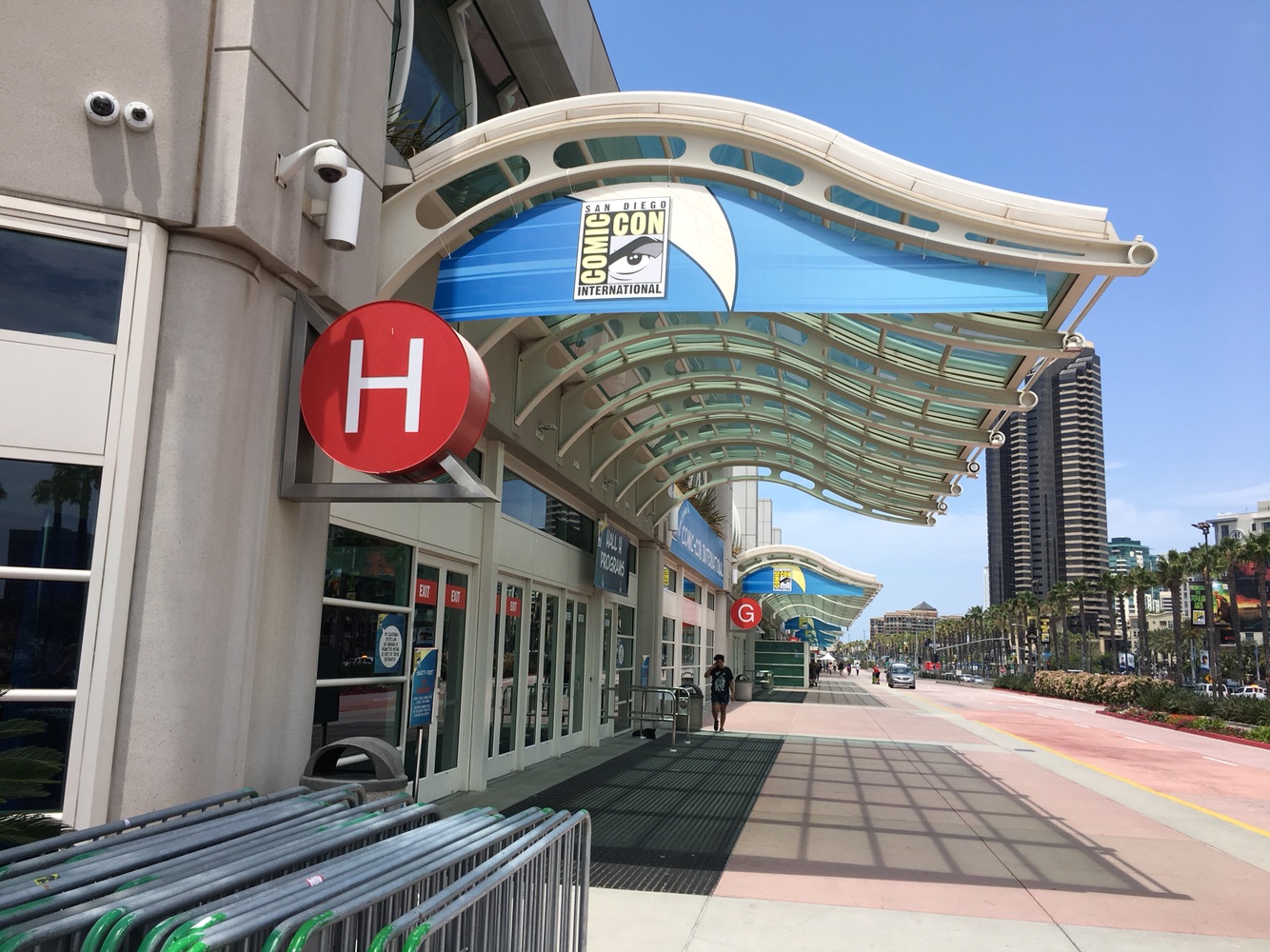 For better or worse, several thousand Comic-Con attendees have their badges for 2020 — and several thousand more don't yet.
Returning Registration for San Diego Comic-Con 2020 — the badge sale for eligible returning general attendees — took place this morning, on a cold October morning, and was full of a lot of panic, but also ended happily for thousands (and unhappily for thousands more). The process included use of the EXPO Logic Waiting Room, which has been in place since Comic-Con 2014.
So just how did the sale go?
The Waiting Room
The EXPO Logic waiting room opened promptly at 8AM PT, giving attendees one hour in which to enter before the room would randomly sort attendees to buy their badge.
For the most part, this process went off without a hitch for most users. But any time you get a large number of attendees, there's always going to be some issues — though this year's seemed to be incredibly small. We saw very few instances of people being kicked out, and only a stray issue or two. And some of the issues were definitely not CCI or Expo Logic's fault.
When I first logged on, instead of images loading, I got two huge green boxes. Manually refreshed, and images popped up

— dennis! (@accelerate) October 12, 2019
I was getting booted but it seems ok now

— Robin, probably (@RoFiNerdery) October 12, 2019
Yeah. In work as always for the sale. Brewers passed the test…put in code….works IT blocked the page…mad dash back home.

— Andy Dickinson (@Ensign_Leodis) October 12, 2019
https://twitter.com/VioletVudu/status/1183043259372920833
Smooth sailing so far!

— Geeky Hooker (@GeekyHooker) October 12, 2019
EXPO Logic has clearly fine-tuned this process over the years to create a well-oiled, badge-buying machine. For most users, the hardest part about the 8AM-9AM time period was just the waiting.
@SD_Comic_Con pic.twitter.com/RTi5iOwfm2

— Scott Mueller (@mueller894) October 12, 2019
See your doctor about spinning blue circle #SDCC #SDCC2020 #RR2020 pic.twitter.com/K8x8cfLdSV

— andrew (@andrewjamesies) October 12, 2019
The Sale
Shortly after 9AM, those in the waiting room were randomly assigned a placement in line. Just 7 minutes into this process, the sorting was done, and attendees were reporting getting through to the purchase page. That's one minute earlier than 2019's number, but as we'll see soon, although we started off a bit earlier, we finished a bit later.
Sounds like someone is in! #SDCC

— SDCC Unofficial Blog (@SD_Comic_Con) October 12, 2019
From there, it was 12 minutes of happy, victorious buying – until Preview Night sold out, at just 19 minutes in. That's exactly the same as 2019 timing.
Got in and finally got Preview Night for the first time ever.

— Kacie (@Kac_2k) October 12, 2019
Got in! Just in time to actually make it to my lunch plans… *whew* pic.twitter.com/exueqVqZf8

— Jessie Holley (@Jessperanza) October 12, 2019
Preview Night badges have sold out. Badges for other single days of Comic-Con 2020 are still available!

— San Diego Comic-Con (@Comic_Con) October 12, 2019
From there, it took 40 minutes into the sale for Saturday to sell out, only one minute slower than 2018 timing.
Saturday badges have sold out. Badges for other single days of Comic-Con 2020 are still available!

— San Diego Comic-Con (@Comic_Con) October 12, 2019
Most interestingly, last year, Friday and Saturday sold out basically simultaneously at 39 minutes. This year, Friday was much slower than Saturday — not selling out until 47 minutes into the sale.
Friday badges have sold out. Thursday and Sunday badges are still available.

— San Diego Comic-Con (@Comic_Con) October 12, 2019
Instead, this year it was Thursday and Sunday that went simultaneously, at 59 minutes into the sale (rather than last year's 46 minutes for Thursday and 52 for Sunday).
All Returning Registration badges have been sold. Comic-Con thanks you for your continued patronage and support. If you were unable to purchase a badge today, you will be eligible for Open Registration later this year.

— San Diego Comic-Con (@Comic_Con) October 12, 2019
Overview & Next Steps
This was another victorious year for CCI and EXPO Logic on the user experience front, as the sale ran very smoothly, and very quickly. Getting thousands upon thousands of people through to purchase badges, without the system crashing, in under an hour is always a victory.
The sale took 7 minutes longer than last year, but it's still pretty close to last year's timing. There are so many factors that possibly go into why the sale length changes — maybe people are checking out faster/slower, maybe the system is letting more/fewer people in, maybe there are more badges available overall. The truth is, no one really knows but CCI and EXPO Logic. And they ain't sayin'.
Regardless, there are thousands of you doing cartwheels in your living room right now — and thousands more crying into a bottle of wine right about now — but that's just supply/demand, and not due to glitches.
But all hope is not lost, if you weren't able to get exactly what you wanted today. Open Registration — the badge sale available to anyone with a Member ID — will take place sometime in the near future (likely mid November). During this sale, all badge types will be available (so just because a badge sold out today, doesn't mean it's gone forever). So long as you didn't purchase all four days plus Preview Night today, you'll be able to participate to pick up any days you weren't able to get today.
Badges will be mailed to the U.S. addresses in your Member ID. Make sure you verify your address by May 13, 2020.
As for all other badge types? General hotel sales should be sometime after Open Registration, and all other badge registration events (volunteer registration for those on the interest list, Trade Professionals, and more) will be "at a later date".
Were you able to get what you wanted today? Let us know in the comments.