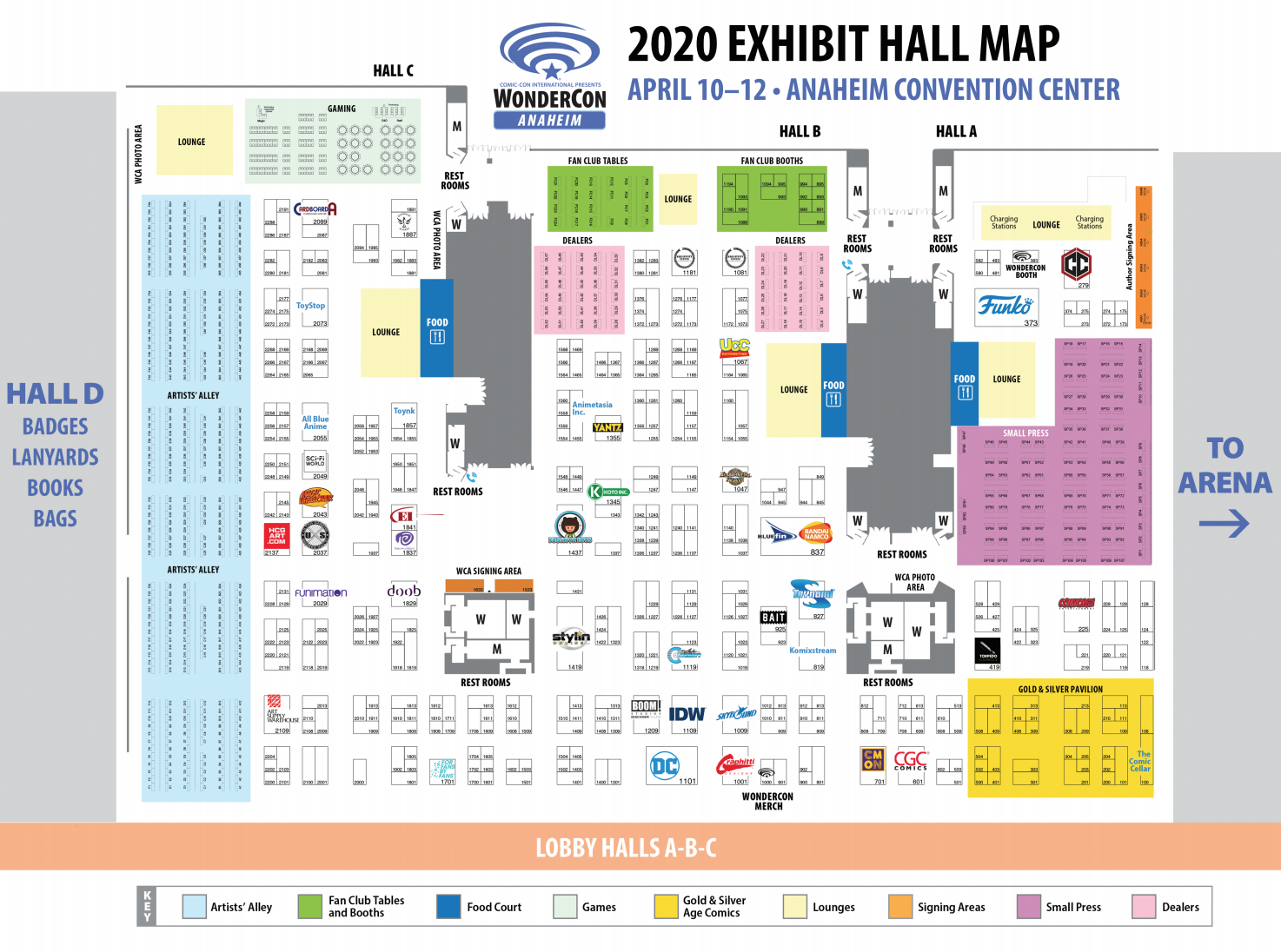 With WonderCon Anaheim 2020 just five weeks away, CCI has released the official list of Exhibitors that will be attending this year's convention, along with information on fan tables, autograph, artist alley and small press areas — and the map of where you can find everyone.
There are over 445 exhibitors listed for WonderCon Anaheim 2020, covering comics, toys, merchandise, and more — up from 430 in 2019.
On the comics front, although Marvel and Dark Horse aren't returning again this year, DC Entertainment, BOOM! Studios, Skybound, IDW Publishing, and ASPEN Comics will all be representing.
The movie side is still looking very light again. DC returns,  which will surely have something to represent the upcoming Wonder Woman 1984, and the return of film distributor Indican Pictures (who distribute mostly C-level horror films, which could be in attendance).
Toy and collectibles fans can stop by UCC Distributing, Cryptozoic Entertainment, Fugitive Toys, Super7, Bluefin and Bandai Namco, Toynami, Koto Inc (formerly Kotobukiya), and more to get their collectibles fix on. And of course, the biggest news of the con — Funko! While Funko has brought their subscription boxes to the con before, this is (to the best of our knowledge) their first time exhibiting at the con with their Pop!s… and it sounds like fans can look forward to exclusives.
Many of our favorites, including Toddland, Legion M, Hero Complex Gallery, Funimation, Cyclops Print Gallery, Spoke Art, and BAIT are must-stops when planning your exhibit floor plan. You'll also want to plan a stop at the Comic-Con Museum booth, where presumably you can sign up for membership.
Fans of Doctor Who and more will find something to like among the 20+ fan tables, with various fan clubs and cosplay groups among the list of Fan Tables. In addition, there are over 320 tables (down just slightly from last year) listed in Artists' Alley (including Patrick Ballesteros, Sergio Aragones, Danny Haas, Christopher Uminga, Chrissie Zullo, Katie Cook, Brianna Garcia, Lord Mesa, and many more). Unfortunately, Jen Bartel who usually exhibits in Artist Alley and who designed this year's WONDERFUL WonderCon program guide cover, will not be exhibiting — but she will be signing! There are also over 100 attending in the Small Press area, including Kymera Press, Monkey Minion, and more. There's so much to see at WonderCon Anaheim, and we haven't even seen the panel schedule yet.
Particularly at WonderCon, we recommend checking out many of the smaller companies and artists that you might not have time to visit at San Diego Comic-Con. Exploring Artist Alley in particular is one of this blog's favorite activities at any con, and you're sure to find something you love. Attendees can just focus on having fun rather than feeling like you missed out on whatever this year's hot item is.
As of right now, WonderCon Anaheim is still fully on. In a recent article to TVLine, a Comic-Con International spokesman told the outlet that they are "working with local officials as it pertains to the COVID-19 situation and continue[sic] to monitor developments closely" for both WonderCon Anaheim and San Diego Comic-Con 2020. Any updates likely won't happen for a few more weeks. Until then, we urge you to stay calm, and to make any decisions that make sense for you.
We'll keep you updated should anything change as the situation develops, but for right now — get excited for WonderCon 2020.
Check out the Toucan Blog for links to all the areas above, as well as a map of the Exhibit Floor for you to start charting your course for April 10-12.
What are you looking forward to most? Let us know in the comments.