Every year, San Diego Comic-Con is full of hundreds, maybe thousands, of moments. From the sky to the ground and every square inch in between, memories are being made and captured. It's one of the great aspects of Comic-Con, and also one of the worst. Sometimes there are things you don't even know about until the week after you get home and see them on Twitter.
This year, with San Diego Comic-Con (and everything else) cancelled, we thought you might miss those moments — both mini and momentous — and would enjoy taking a deep dive into what things were like a decade ago. Let's hop into the time machine and check out some San Diego Comic-Con 2010 moments.
2010 was a big year, and not just for Comic-Con. It was the year the New Orleans Saints beat the Indianapolis Colts in the Super Bowl, 31-17. The Hurt Locker took the top award at the Academy Awards. Toy Story 3 and Iron Man 2 both dominated the box office and it felt like everyone had superhero fever. When 125,000+ people descended upon San Diego for the 41st SDCC during July 22 – 25, they were looking to be entertained, and they were not let down.
Inside the Convention Center there was singing, dancing, photo-ops, light cycles, entire casts of new and old television shows, iconic actors, and … assembling… Avengers assembling. Outside was nothing to snooze at either. The smell of garlic bread wafted through the air, entire buildings were covered in ads, an arcade from both the past and the future popped up and the sky was raining…. bubbles? Nobody could see or do it all (and we can't cover it all), but here is a great swath of what went down at San Diego Comic-Con 2010.
The excitement started before you even hit the exhibit hall, with a splashy Scott Pilgrim vs. The World wrap adorning the Hilton Bayfront. 2010 was the first time attendees were treated to these over-sized hotel wraps that are now common-place all over the Gaslamp, which can even be seen from flights arriving at the airport.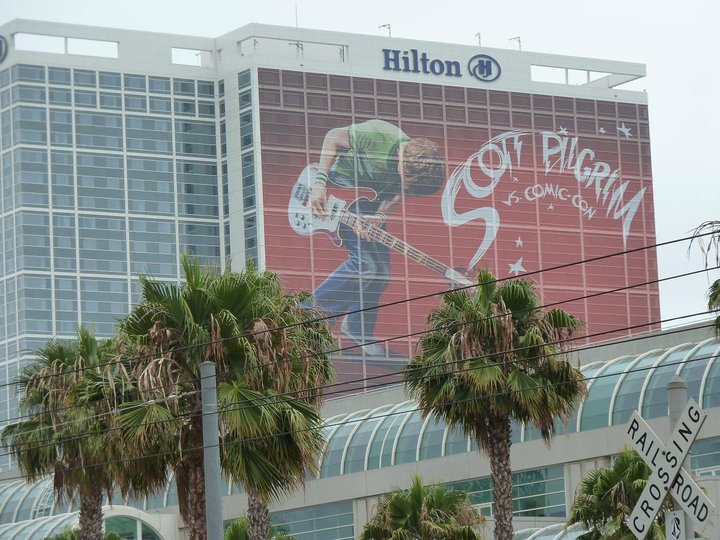 This wasn't the only Scott Pilgrim vs. The World promotion either. Across the street was the Scott Pilgrim Experience, where those who braved the line were able to make a custom t-shirt and flip book — which, at the time, offsites were still a relatively new occurrence. A food truck doled out free garlic bread, which you could smell for blocks around. At the panel, attendees were each given a character button. At the end of the panel it was revealed that certain buttons were good for admittance to that night's screening of the movie (a full month early!). The screening featured a Q&A with the cast and director Edgar Wright, as well as a performance by the band Metric.
Another hotel wrap we saw in 2010 was for the largely forgettable sci-fi movie Skyline. What wasn't forgettable about this film's promo was it's floating component: bubble men. Little man-shaped bubbles floated through the air throughout the con. If you saw the film, you know it's a reference to the people who were immobilized by lights and floated up to be gathered by some aliens. At the time though, they were just some crazy floating bubble men.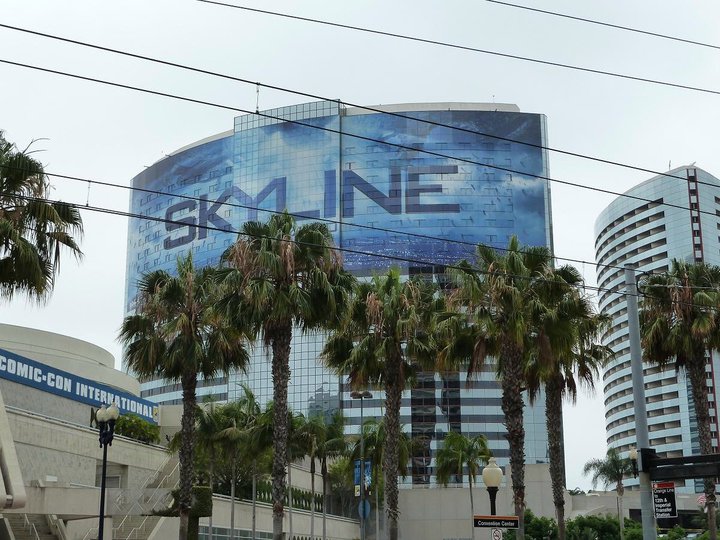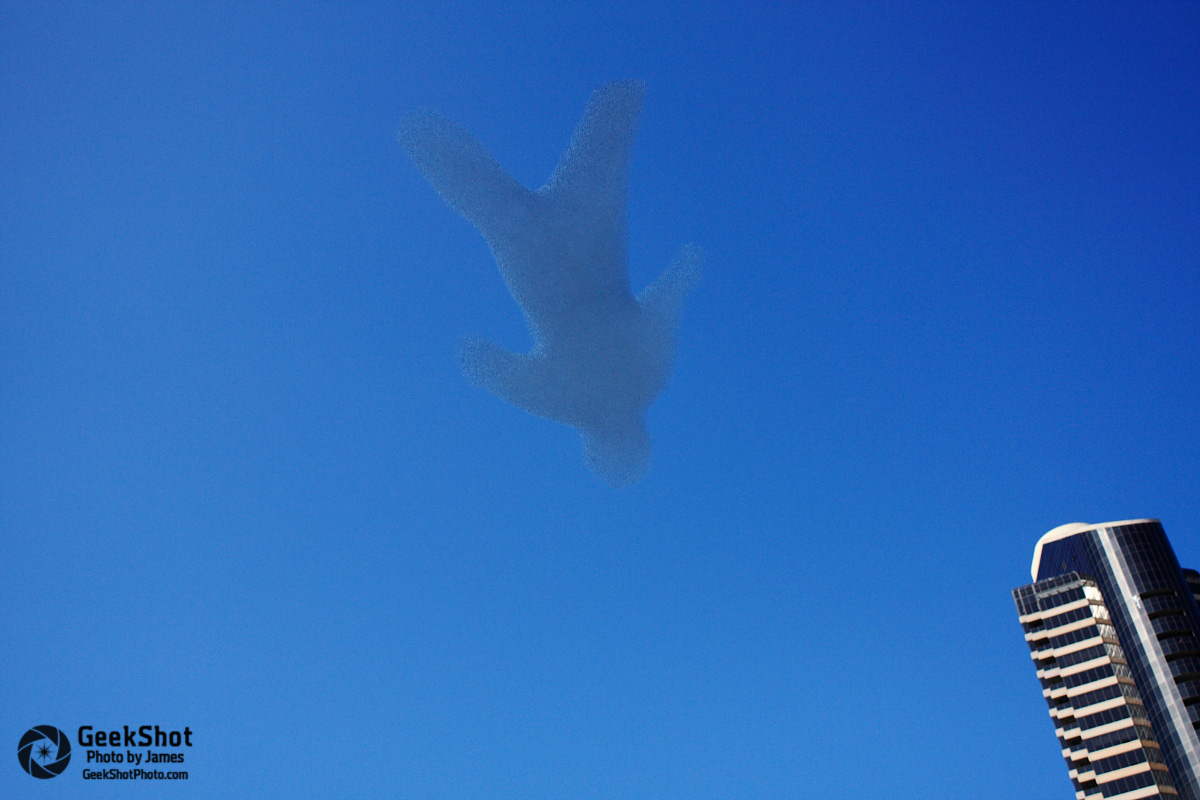 Meanwhile, inside the convention center up in the Sails Pavillion and over at the Town & Country hotel in Mission Valley, a new tradition was taking place. When attendees picked up their badges (the mailing of badges would not begin until 2016) they were handed a bundle containing their Events Guide and Souvenir Book and… a WARNER BROS. BAG!
These coveted receptacles of awesomeness were previously only available at "random times" from the Warner Bros booth, usually resulting in a swarm of people rushing to the booth. In 2010 Warner Bros made the generous (and safer) decision to produce enough bags for each attendee. In an added twist, there were 11 different designs, distributed randomly. Eleven seems piddly compared to the 20+ bags offered in 2017, but at the time attendees were thrilled at the variety. And so began the traditional #BagSwap, attempting to pair folks who didn't want their bag with another person who did. The 11 designs offered randomly included Looney Tunes, Green Lantern Brightest Day, Big Bang Theory, Fringe, Human Target, Chuck, Batman: Brave and Bold Video Game, Clash of the Titans DVD, Scooby Doo Mystery Inc., The Vampire Diaries, and Nikita.
Now that attendees had something to carry things in, it was time to hit the exhibit hall, where some new booths were waiting for them.
While it's now hard to remember a time *before* the Walking Dead was a television show, during SDCC 2010 there was still three months before the series' debut. AMC was sure they had a hit on their hands with the human-drama-hiding-behind-a-zombie-outbreak based on the Image comic book by Robert Kirkman.  AMC set up an interactive booth on the floor, featuring a homey family room where attendees could pose and take photos. Out in the lobby, AMC's The Walking Dead banners reminded you to tune-in, turn on and zombie out.
Over at the Marvel booth, a seat worthy of — well, a God, was erected. Odin's Throne, in all its golden glory, made a stunning backdrop to all the festivities. In addition to the usual comic book creator signings, the Marvel booth also held a Guinness Book of World Records ceremony in which Marvel was presented with the world record for the best selling single comic book in history, the 1991 X-Men #1 by Chris Claremont and Jim Lee. Claremont and COO at the time, Jim Sokolowski, were in attendance for the presentation.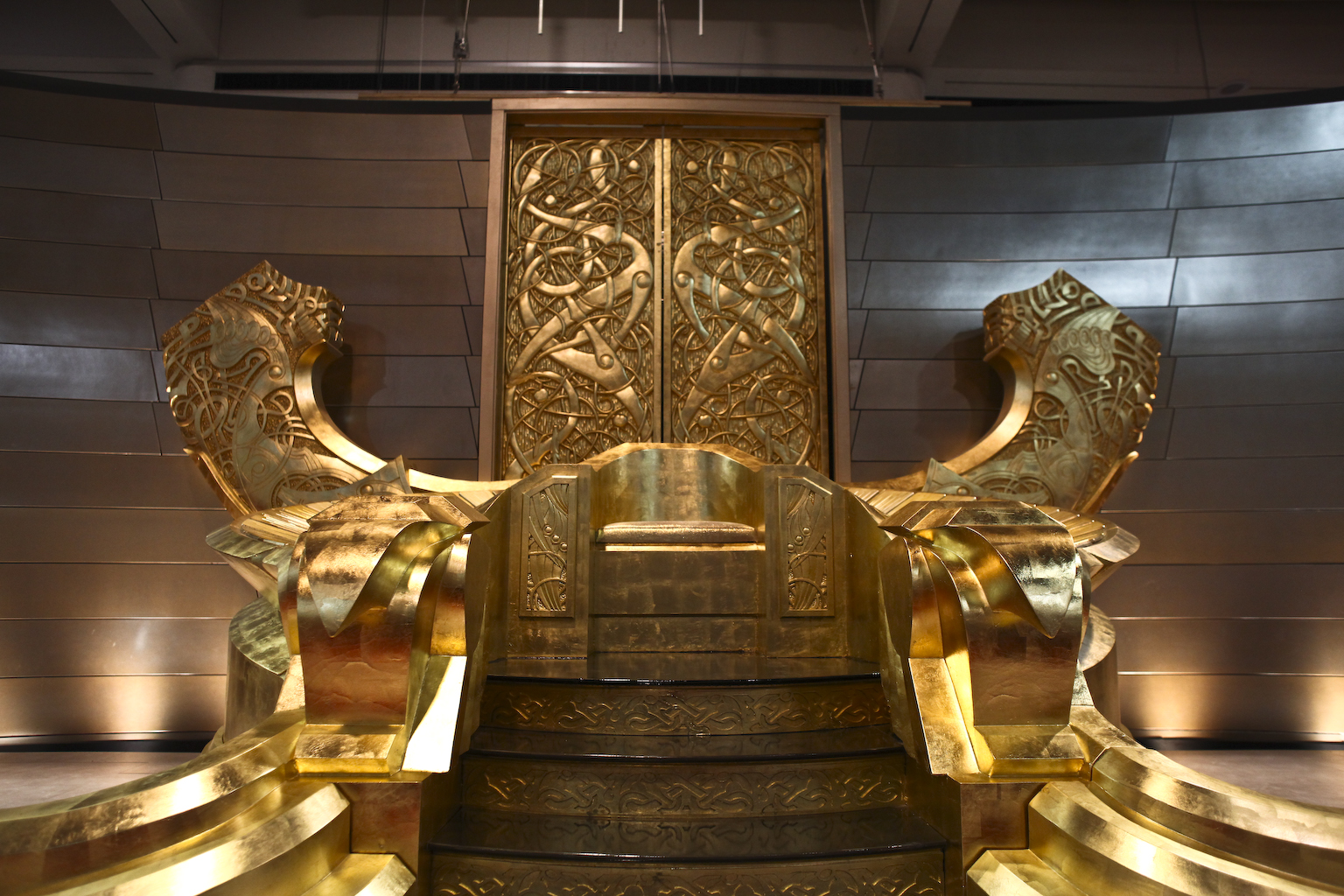 Autographs signings have always been an exciting and popular part of the San Diego Comic-Con experience. These days, most of the major SDCC autograph signings are announced in advance with tickets or wristbands being distributed through the mysterious SDCC Portal process, or by magically getting to a booth in the morning to obtain a ticket. Back in 2010, some of the signings were announced in advance and some you didn't even know about until you saw them in the Events Guide or at the respective booth (which, granted, can still happen!). The process for scoring a spot in line could involve acquiring at ticket the morning of the signing or sometimes just came down to "right place, right time," and/or circling the booth until the line began and hopping into the queue. Thoughtful booth employees would occasionally tell you what time to return for lining up, or even remember your face, wave you over, and open up the queue. Security was a smidgen less scream-happy at the time (although in 2019 there was a drastic change in the tone of security staff around star-studded booths) and it was possible to do a slow walk past a booth during a signing and snap a few pictures.
2010 was flush with autograph opportunities, with something for every taste and fandom. The casts of Falling Skies, Let Me In, and Dollhouse all signed at the Dark Horse Booth. Hideo Kojima could be found at the Konami booth, signing and judging a Metal Gear Solid cosplay contest.
The Fox booth, when not handing out poster tubes, hosted the cast of Sons of Anarchy, The Cleveland Show, and Glee. CBS brought out LL Cool J. Signings at the Marvel booth (which were just as cutthroat and difficult as they are now) included some newcomers by the names of Kenneth Branagh, Chris Hemsworth, Tom Hiddleston, Chris Evans, and Hugo Weaving.  And as usual, Warner Bros pulled out all the stops, with signings with the casts of Children's Hospital, Human Target, True Blood, Chuck, V, Nikita, Vampire Diaries, Big Bang Theory, Supernatural, plus J.J. Abrams (representing Fringe), and more. The Sony booth even hosted a Community signing (but more on Community coming up!).
When attendees were not blinded by all the stars in their eyes, they could visit the Legendary booth which featured a mini-museum of props from some of the most popular movies, including The Hangover and Christopher Nolan's Inception, which had just opened in theaters the week before Comic-Con.
One of the busiest booths at SDCC the past several years has been Funko. Love them or hate them, the Funko Pop!s exclusives are a hot ticket item requiring lottery entries, long lines, and a whole lot of luck. In 2010, Funko was already well established at San Diego Comic-Con, with a booth in the vinyl toy section of the exhibit hall and a low-key fan appreciation event called Funko Fun-Days (ever heard of it?). Along with their popular Wacky Wobblers, Funko brought their new line, Funko Pop!s (also known as Funko Force 2.0 for a very short period of time). In hindsight, the exclusive Batman, Batgirl, and Green Lantern Pop!s were the exclusives to buy that year. Nobody could have predicted how the hyper-stylized pop culture cuties would seemingly multiply into the army of almost 10,000 different characters and variants that have come since.
If Pop!s and Wacky Wobblers weren't your thing, there were plenty of other exclusives available to attendees. Just a few of the exclusives Hasbro offered in 2010 included an Iron Man 2 Mark VI Mighty Mugg, a 19″ Galactus, and a graffiti inspired "Power Pony" My Little Pony. Mattel's exclusives included a trio of superhero Polly Pockets, a Masters of the Universe Mo-Larr vs Skeletor figure set, a DC Universe Plastic Man action figure, and even a Monster High Frankie Stein doll.
LEGO fans attending SDCC 2010 really only had one exclusive to hunt. Cube Dudes, which were very stylized cubistic characters sets. Cube Dude sets were only sold at San Diego Comic-Con, Star Wars Celebration, or used for promotional purposes — and only in 2010. The SDCC set was limited to 2000, and each set contained 416 pieces, cost $75, and made five Star Wars: Clone Wars characters.  LEGO's ultra popular mini-figure giveaways would not begin until the following year.
This was really just a drop in the bucket (or giant Warner Bros. bag) of all the exclusives offered in 2010. NECA, Graphitti, Hallmark, Kotobukiya, Diamond Select, Mezco, Entertainment Earth, Monogram, Sideshow, Gentle Giant, Funimation, and other perennial favorites all produced limited exclusive items for the event.
But what about the FREE stuff, you ask? Oh, there is always free stuff. One thing that hasn't changed in the past decade is the mystery of HOW to get the free stuff. Some items are given out randomly at booths, some are free with purchase, some are covertly slipped into your hand as you navigate 5th Avenue, some you trek a quarter of a mile to the Fulfillment Room to pick up, and some are given away as you leave a panel room.
Falling under the S.W.A.G. (Stuff We All Get) category, 2010 was the first year for the ubiquitous TV Guide Comic-Con Special Edition. These were easy to pick up at the Warner Bros. booth or outside the convention-center. Four covers were produced (collect them all!) featuring The Big Bang Theory, Fringe, Smallville, and Vampire Diaries. Chances are, if you've been to SDCC between 2010 and 2019, you've seen an issue or two of this yearly special.
Fox had their Fox Fanfare tubes which were convenient to carry all the posters they gave out for the shows they were promoting that year, including Glee, The Simpsons, The Cleveland Show, Futurama, American Dad, Family Guy, Bones, Sons of Anarchy and Bob's Burgers.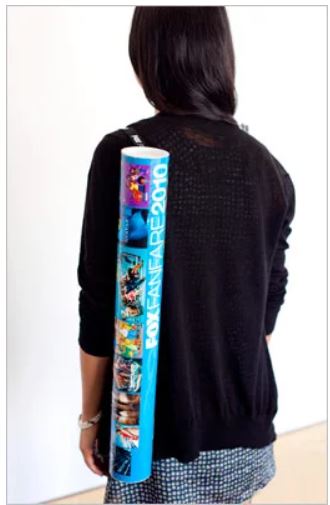 A quick eBay search (much more reliable than memory) brought up loads of other promo items that were given away, including: Rizzoli & Isles 200 piece puzzles; Expendables temporary tattoos, bandannas and shirts; Masters of the Universe Moss Man deodorant; Captain America shield pins; Dexter trading cards tattoos and pins; True Blood cinch bags with the novel and a journal; Psych shirts and foam pineapple hands; Glee foam "L" hands; Fear.Net shirts and popcorn; Sucker Punch shirts and wristbands; SyFy Giant Back Pack Bags; Ghostbusters Minimates; Star Wars comic books, and so, so, soooo much more.
When the 2010 panel schedule was released a few weeks before SDCC, there was no doubt it was going to be an exciting time upstairs and in Hall H. From a Nikita preview on Wednesday night to the final notes of the Buffy the Vampire Slayer musical episode "Once More With Feeling" on Sunday, 2010 was jam packed with movies, television shows, comic creators, and all nature of fandoms. But despite the jam packed schedule which promised Hollywood icons and fresh faces, there were some things happening in the panel rooms nobody could have predicted. Let's look at some highlights:
Walt Disney Pictures put its muscle behind Tron: Legacy in Hall H (and elsewhere, but we'll get to that soon). The House of Mouse brought the cast, including Jeff Bridges, Michael Sheen, Olivia Wilde, Garrett Hedlund, and Bruce Boxleitner, plus director Joe Kosinski.
A few days later, also in Hall H, Marvel took the stage. It was the first time that Marvel was appearing under the umbrella of the Walt Disney Pictures, and if anything, that only made everyone step up their game. Following the presentation for Captain America: The First Avenger and Thor, Kevin Feige brought out the line-up for the then-upcoming film The Avengers: Samuel L. Jackson, Clark Gregg, Scarlett Johansson, Chris Hemsworth, Chris Evans, Robert Downey Jr., Jeremy Renner, Mark Ruffalo, and director Joss Whedon. It would be over 20 months before we got to see The Avengers on the big screen, but that image of the cast all lined up stayed with fans.
Not to be outdone by Feige, Iron Man director and future Aunt May love interest, Jon Favreau, coaxed a standing ovation out of the Hall H crowd by bringing in Harrison Ford to promote Cowboys & Aliens. This was the first time Ford had attended San Diego Comic-Con, and they played up his reluctance with Ford acting bewildered and being led to the stage wearing handcuffs. Olivia Wilde was also present, doing double duty after appearing on the Tron: Legacy panel, along with Daniel Craig and Sam Rockwell (both attending for the first time).
Other movies taking to the Hall H stage in 2010 included Dreamworks' Megamind, which welcomed voice actors Will Ferrell, Tina Fey, and Jonah Hill. Sony Pictures promoted the upcoming Salt by bringing stars Angelia Jolie and Liev Schreiber. Later in the week, Sony also presented panels for The Other Guys, utilizing Ferrell who was already in town and adding Mark Whalberg, Eva Mendes, and director Adam McKay; and The Green Hornet, with Seth Rogen, Cristoph Waltz, and a souped up offsite (more later!).
Summit Entertainment brought a bit of class to the joint by flying in Helen Mirren for RED. Based on the graphic novel by Warren Ellis, cast members Bruce Willis and Karl Urban were also in attendance.
As previously mentioned, Universal brought Scott Pilgrim vs The World, inside, outside, and all around the convention center. For Hall H they brought a ridiculous roster of star power, including creator of the graphic novel Bryan Lee O'Mally, as well as filmmaker Edgar Wright, and stars Michael Cera, Mary Elizabeth Winstead, Ellen Wong, Jason Schwartzman, Anna Kendrick, Aubrey Plaza, Brandon Routh, Alison Pill, Mark Webber, Kieran Culkan, Satya Bhabha, Johnny Simmons, and Mae Whitman. As moderator, Wright was full of jokes, even introducing frequent collaborators Simon Pegg and Nick Frost (attending for the movie Paul) who slunk off stage quickly when revealed they were not in the movie.
Lionsgate promoted Sylvester Stallone's The Expendables by trotting out Bruce Willis, 'Stone Cold' Steve Austin, Randy Couture, Dolph Lundgren, and Terry Crewes — who played to the crowd by ripping off his shirt. Late in the panel there was another Guinness Book of World Records presentation, this time for Stallone and Lundgren whose Rocky franchise was awarded for being the most successful sports franchise.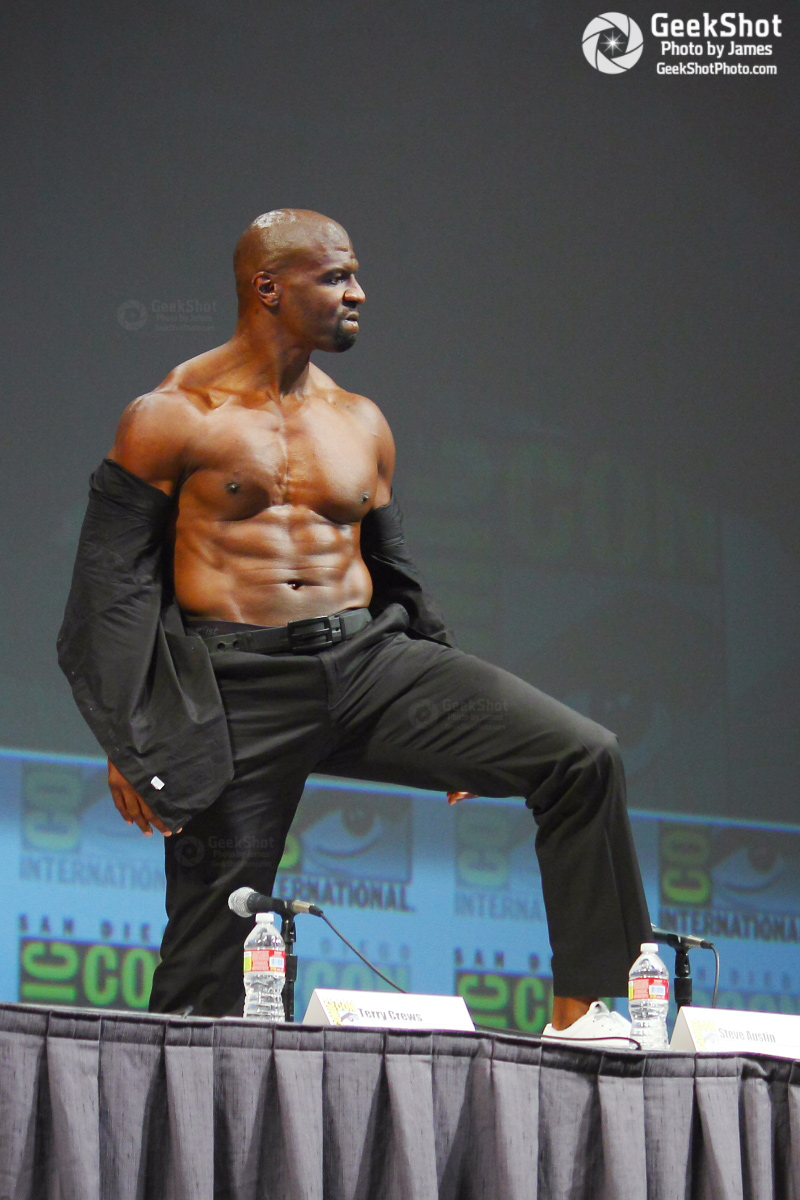 Long before the #ReleaseThe SnyderCut movement, Synder's Sucker Punch was given precious panel minutes. Snyder showed a brand new trailer and had Emily Browning, Carla Gugino, Jena Malone, Vanessa Hudgens, and Jamie Chung along for a Q&A.
Other projects Warner Bros. featured included Green Lantern and Harry Potter and the Deathly Hallows. Green Lantern showed off a new trailer, and Geoff Johns hosted Ryan Reynolds, Blake Lively, Peter Sarsgaard, Mark Strong, as well as screenwriter Greg Berlanti, director Martin Campbell, and producer Donald DeLine. One of the highlights of the panel came during the audience Q&A portion when a young child asked Reynolds about the Green Lantern oath. In heroic fashion, Reynolds recited the oath from memory, impressing both the young fan and the crowd. What the Harry Potter panel lacked in star power — Felton was the only cast member in attendance — they made up for in footage, showing several minutes worth of new footage woven in with an existing trailer.
Over in the world of TV panels, things were equally as star studded, with an unusual but exciting emphasis on music and an eclectic collection of series.
ABC brought Castle for the first time, surprising fans as the series was entering its third season and hadn't yet appeared at the con — and would go on to appear only once more during its eight year run. Star Nathan Fillion made it a good match for SDCC audiences in 2010, though. ABC also brought the Michael Chiklis led No Ordinary Family, while CBS treated SDCC attendees to a panel with the cast of Hawaii Five-0, in addition to giving away autographed surfboards and even an actual trip to Hawaii.
2010 also saw the first appearance of FOX's Bob's Burgers, ahead of its early 2011 premiere. The network also brought along fan favorite Bones (then on its fifth season), The Simpsons (celebrating 22 seasons!), Glee (which got a room upgrade to Ballroom 20 and featured what our Editor-in-Chief still calls "the worst edited montage at Comic-Con, ever"), and freshmen series Neighbors From Hell and Terra Nova. The FX series Sons of Anarchy also made its first appearance at the con.
USA at the time was still bringing along their "Blue Sky Programming" even if they weren't strictly genre, which in 2010 included White Collar, fresh off the conclusion of its first season, with cast members Matthew Bomer (who had nerd cred thanks to his role on Chuck), Tim DeKay, Marsha Thomason, and Sharif Atkins. Returning fan favorite series included Burn Notice and Psych. Although the only cast member attending for Burn Notice was Bruce Campbell, if anyone can single handedly carry a whole panel himself, it's definitely Campbell. The real star for USA though was Psych, which at the time was the network's longest running series with four seasons under its belt (a title now held by Suits). Psych and USA both knew how to put on a show for fans, and fans knew it. Attendees flocked to Ballroom 20 for a panel which included cast members James Roday, Dulé Hill, Corbin Bernsen, Maggie Lawson, Timothy Omundson, and Kirsten Nelson, along with creators.
Remember earlier when I mentioned an emphasis on music? Well, those lucky Psych panel attendees got to enjoy a rousing rendition of Tears For Fears' "Shout," performed by Curt Smith, original member of the band. Not to be outdone, Hill took the spotlight to partake in some impressive tap dancing. And if that wasn't enough for fans in the audience, they were also gifted shirts and foam pineapples.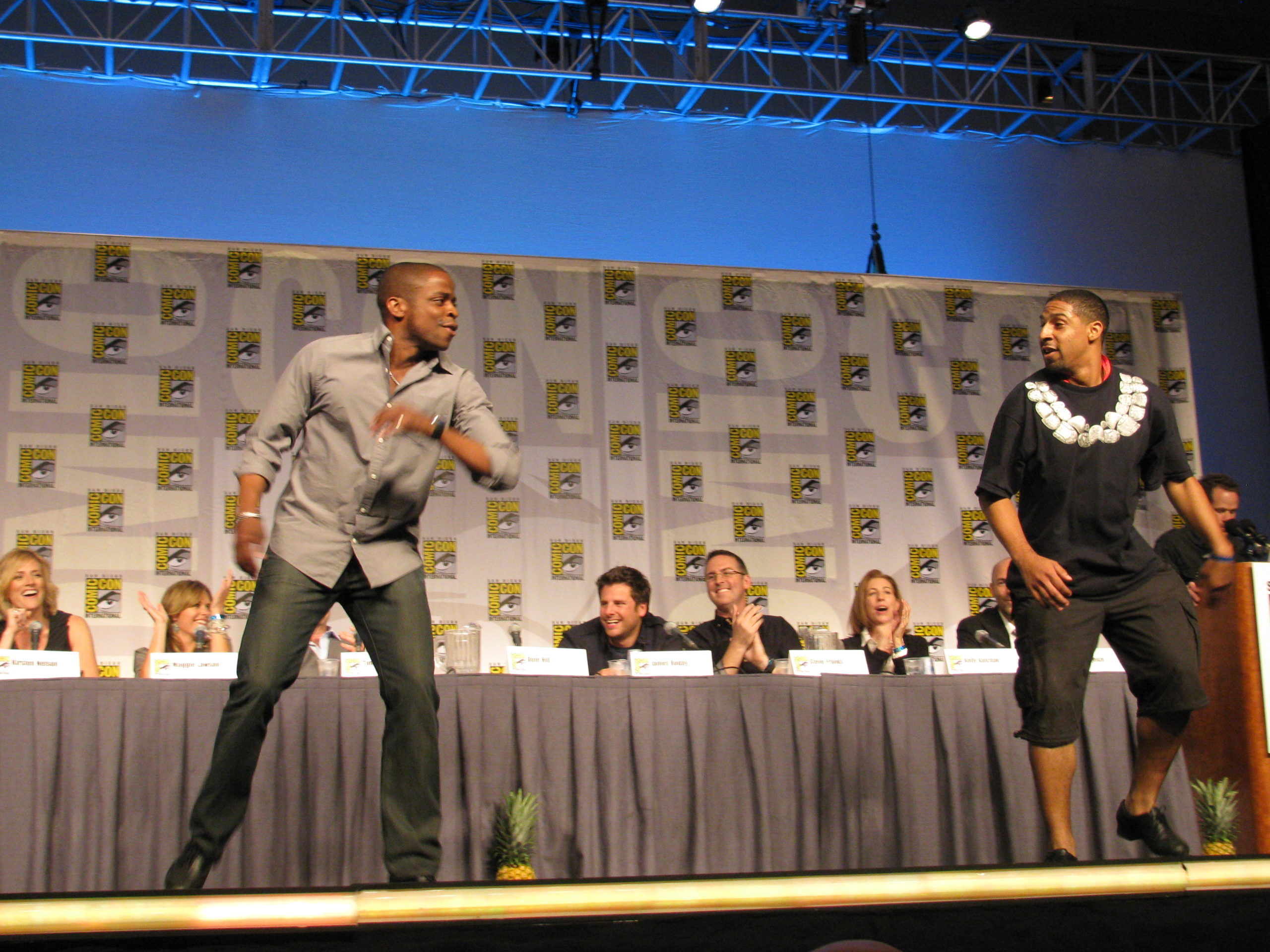 The TV show with perhaps the largest (and loudest) audience reaction in 2010 though was Community, who was hot off a critically beloved first season. Nearly the entire cast took to the Indigo Ballroom stage, missing only costar Ken Jeong. But series stars Joel McHale, Chevy Chase, Donald Glover, Yvette Nicole Brown, Danny Pudi, Gillian Jacobs, and Alison Brie took to the (very crowded) Indigo stage with executive producers Dan Harmon, Joe Russo, Anthony Russo, Neil Goldman, Garrett Donovan, and Russ Krasnoff to the sound of thunderous applause.
According to Brown, who played Shirley, the reaction was both overwhelming and heart-warming. "It was the first time any of us got to see how many fans our show had," Brown said. "I remember being backstage when our trailer aired and the ROAR we heard. It blew us all back. Gillian cried. It was a beautiful moment we shared together. In that moment we all felt like Sally Field at the Oscars. 'They like us! They really like us!'"

NBC gave Brown and Pudi video cameras so they could record the occasion, which you can see below with Pudi filming the crowd during the panel. In another memorable musical moment, Glover and Pudi charmed the audience with an impromptu beat-boxing session that morphed into a performance of "Donde esta la Biblioteca". During the panel, all attendees were given a Greendale Community College ID to remember the event, each featuring a different character.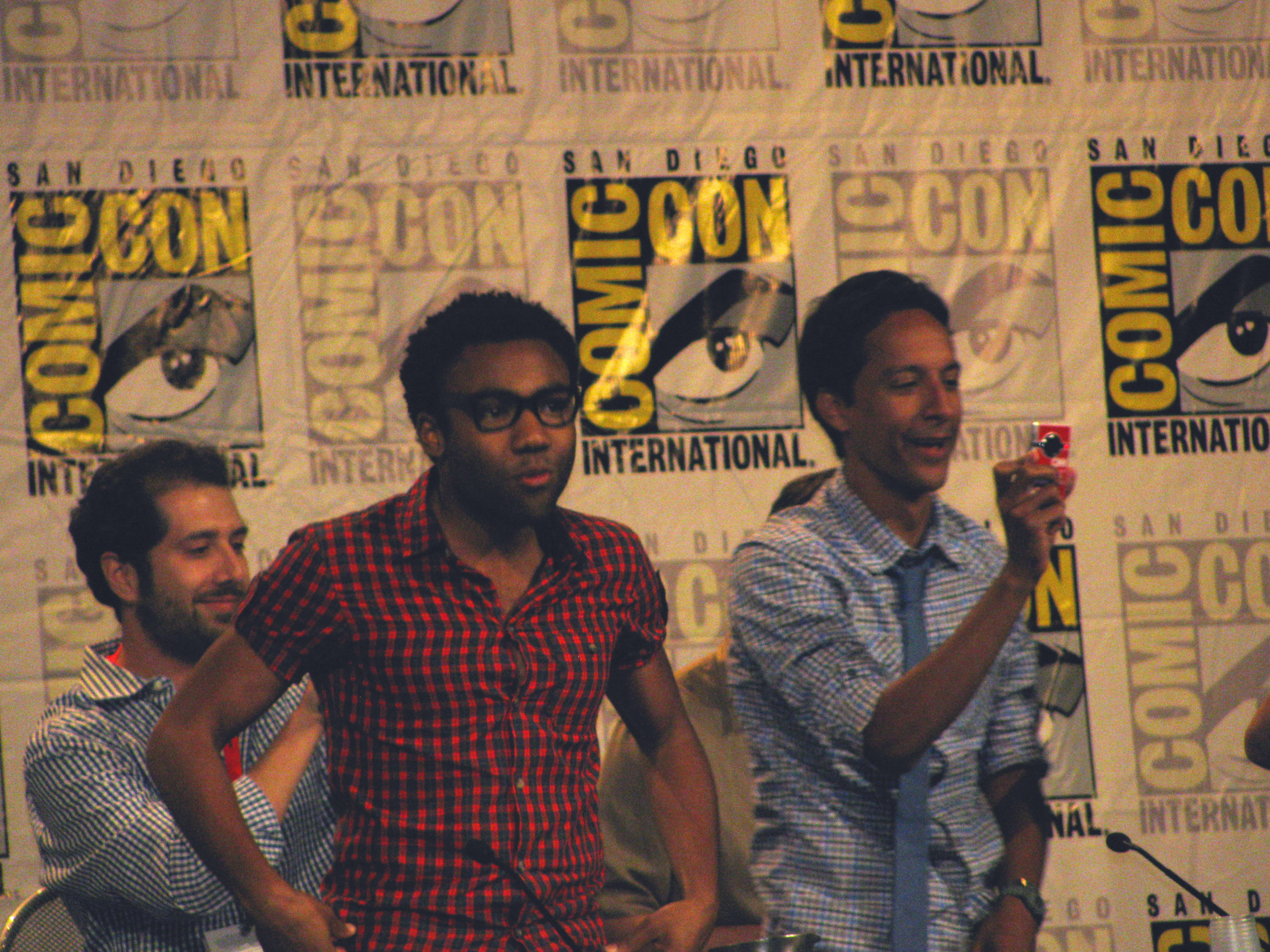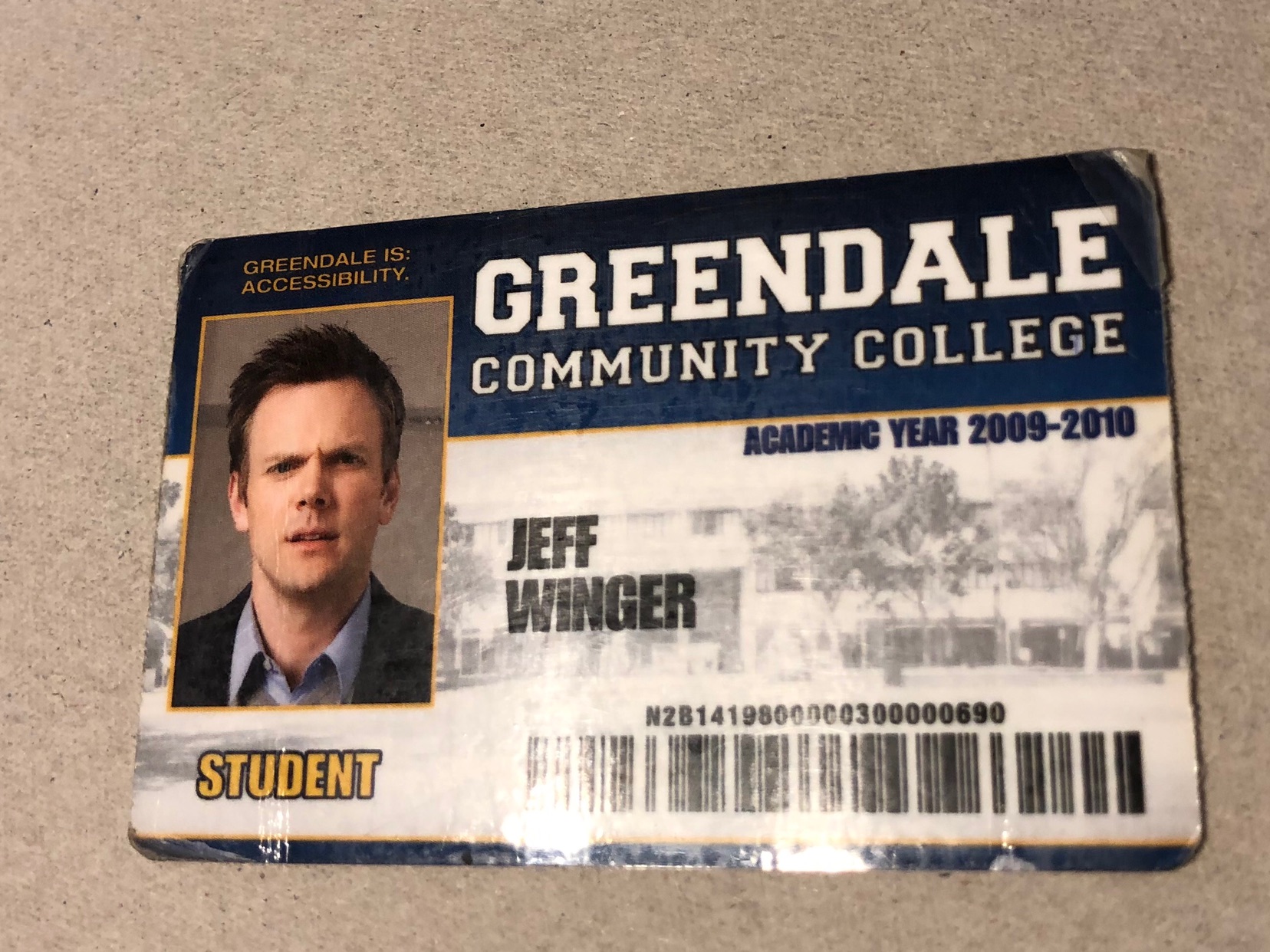 Warner Bros. Television was undeniably the big boy on campus, besting their 2009 record of 12 shows by bringing a stunning 14 shows.
Fan favorites Chuck, Scooby-Doo, Batman: Brave and the Bold, and Fringe all had panels, as did Smallville and Supernatural, who were preparing for their tenth and sixth season respectively. Vampire Diaries was appearing for the second time but had only aired one season by the time SDCC rolled around. Cartoon Network's first live-action mystery series, Unnatural History, was produced by WBTV and they included it on their roster even though it was in the middle of its first, and only, season.  The pilot episode of Nikita with Maggie Q was screened during their panel, two months before it would premiere. DC Comics inspired Human Target and Adult Swim's Children's Hospital each had an aired first season to discuss in their panels.
WBTV darling The Big Bang Theory had three seasons under its belt and a still-growing audience in 2010. Their Ballroom 20 panel included executive producers Chuck Lorre and Bill Prady and cast members Johnny Galecki, Jim Parsons, Kaley Cuoco, Simon Helberg, and Kunal Nayyar — as well as some special surprise guests. Show guest star and certified SDCC royalty Wil Wheaton moderated the panel, and joining the musical trend for the week, a special performance of the show's theme song was performed live by the Barenaked Ladies.
But not everything was musical moments and tap dancing during San Diego Comic-Con 2010. One of the most talked about events of the weekend — or perhaps of the entire con's history — took place between panels in Hall H. According to reports, two men began arguing with one claiming that the other was sitting too close to him. The argument escalated and one of the men was stabbed near the eye with a pen. Programming was briefly suspended while the authorities took the pen-wielder to jail and the other to the hospital. Police categorized the incident as "minor" and by the next day, folks at the con were already spoofing it. Comic-Con attendees: Never one to miss a good cosplaying opportunity!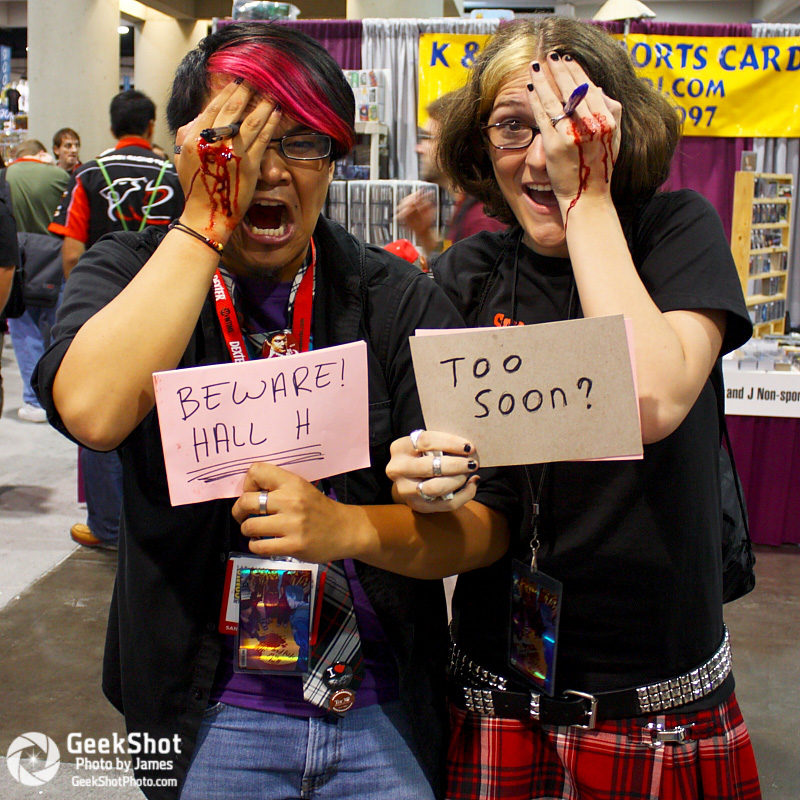 Contrary to the dozens and dozens of offsite events available to attendees these days, in 2010 they were still a new phenomenon. More common were unofficial fan meet-ups and street teams — roving bands of folks marketing shows and properties in interesting ways. There were a few well thought out activations though, if you were willing to cross Harbor Blvd.
As discussed earlier, Scott Pilgrim vs The World had a large offsite, located outside the Hilton Gaslamp. They offered two lines, one for "Stuff," where you could just pick up a bag with a shirt and some soundtrack download codes and then the full on "Scott Pilgrim Experience." Those with the time and patience to wait for the Experience would be given access to a lively atmosphere completely decked out in Scott Pilgrim banners and murals. They were invited to design their own Scott Pilgrim t-shirt, which was screen printed for them on the spot, pose for a short video that was printed into a flip book, and play the UbiSoft video game. Cast and crew from the movie were rotated through to sign posters and take pics, including Alison Pill, Nick Frost, Mark Webber and Scott Pilgrim creator Bryan Lee O'Mally.
A few blocks away, a familiar neon sign was lighting up the night. After a successful 2009 Twitter based hunt that led folks to a Flynn's Arcade from Tron, complete with working video games and a nifty light cycle that spun around to thumping music, Disney decided to open up shop again. After some button-mashing and quarter-munching fun, guests were led "underground" into Kevin Flynn's dusty workshop and sent via laser (SCIENCE!) into the world of Tron: Legacy and the End Of The Line Club, a location which would be seen in the film when it was released that December. There were displays of props and licensed merchandise, plus more clues for club-goers to decipher.  Interestingly, this version of Flynn's was actually the "general attendee" version. A limited capacity exclusive event the night before was attended by folks from the alternate reality gaming community ARGNet who had deciphered a slew of clues sent via mail and those able to solve a viral puzzle that was set in motion during the Tron: Legacy panel. For most it was a just a cool arcade they stumbled across or heard about on Twitter. For a few, it was a delightful rabbit role with a fun pay-off.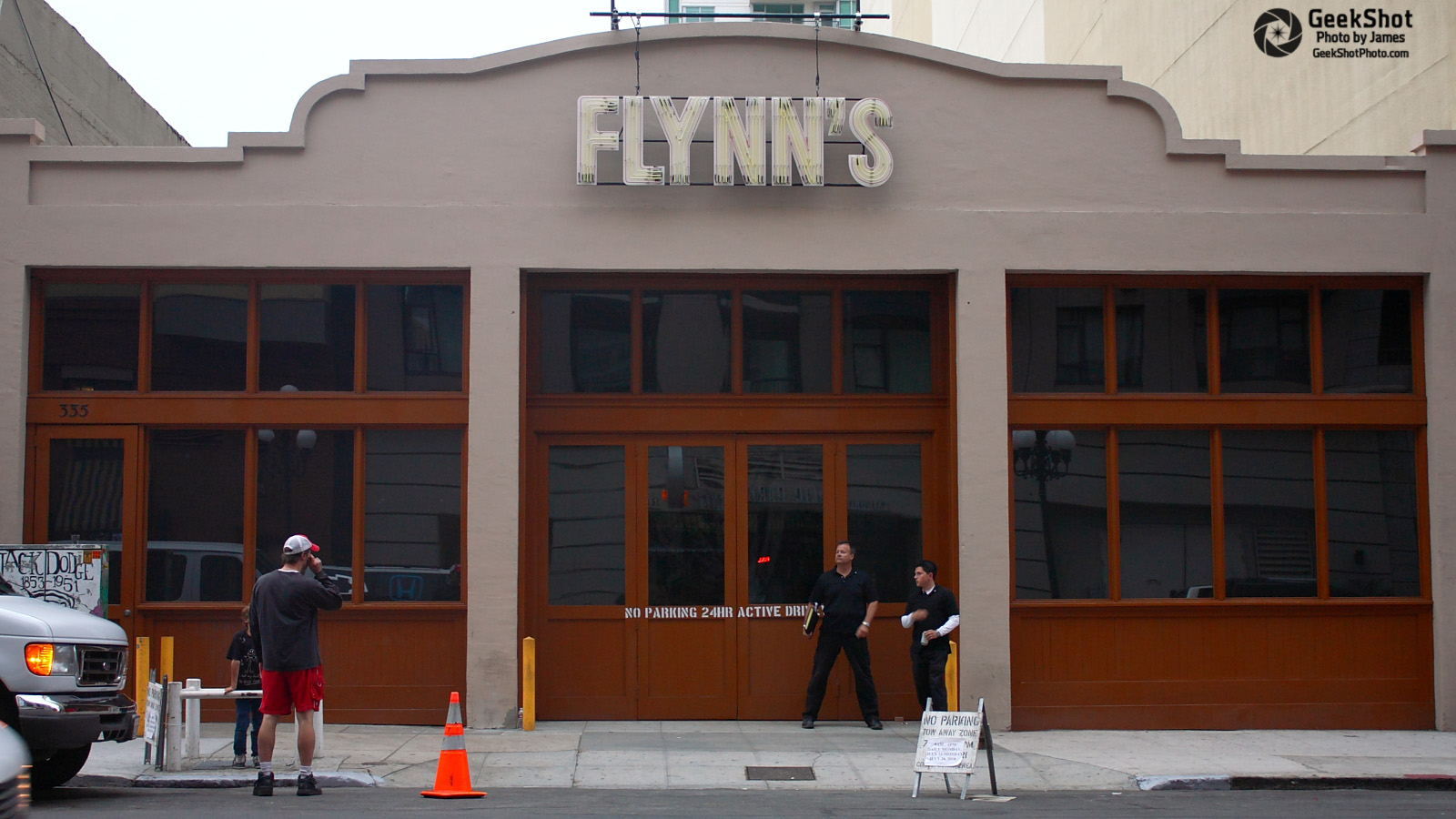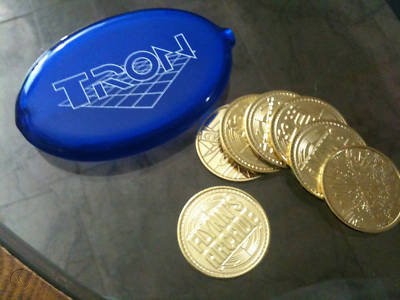 Another company that used ARG (alternative reality gaming) at Comic-Con 2010 was Showtime, for their series Dexter. Every Comic-Con attendee already had their badge hanging from a Dexter lanyard but Showtime wanted to take their marketing up a notch between the show's fifth and sixth seasons. Using the iPhone/Android app SCVNGR, fans could follow a set of clues that would eventually lead them to Dexter's Kill Room, an accurately designed room meant to replicate the show's location where Dexter does his dirty deeds. Members of the street team handed out face tattoos which, when applied, would mimic Dexter's signature face slice. This mission was just one part of the Dexter: Game On ARG, which involved a former FBI agent "contact" and the quest to find the "Infinity Killer," that continued on long after the convention.
HBO's sophomore series Eastbound and Down also used a street team to market itself. Flyers posted around the Gaslamp advertised a chance to win a Panty-Dropper, the coveted jet-ski of the show's character Kenny Powers. A replica of the Panty-Dropper, complete with a Kenny Powers cardboard cutout lounging on it, was hauled around on a trailer by team members wearing mullet wigs and replica baseball jerseys. Subtle? No. Memorable? Yes.
If you were wandering over near J St and 10th Ave, you may have stumbled upon the Green Hornet themed "Brett Reid's Garage." Columbia Pictures set up the "garage" to promote the Michael Gondry directed and Seth Rogan led film where attendees could peruse some very sleek classic cars, including several versions of Green Hornet's car, a 1965 Chrysler Imperial named "Black Beauty." Video screens showed the trailer on a loop, select lucky folks got a brief ride in a Black Beauty, and everyone got a t-shirt for coming by. Rogen had introduced attendees to the Black Beauty during SDCC 2009, back when Green Hornet had a July 7, 2010 release date. After being pushed back to January of 2011, Columbia thought it was a good idea to generate some additional buzz and (hopefully) ride that to the top of the box office.
One little offsite event that may have slipped under the radar to most (but not us!) actually ended up being a bit for the website Funny Or Die. Joshua Jackson, clad in a very appropriate shirt, wandered the area promoting "Pacey-Con 2010", a convention 100% inspired by and for fans of Pacey Witter, Jackson's Dawson's Creek character. Across the street in the grassy area by the Hilton Gaslamp, Jackson attempted to sell $10 Dawson's Creek fan fiction, took pics with fans and held court all the while wielding a bullhorn and espousing the greatness of Pacey, even to those who wanted to praise him for Fringe (which he was actually attending the convention to promote). It was clever and sweet, entirely wholesome, and very, very Pacey.
No doubt, this article barely covers all the events an excitement that was San Diego Comic-Con 2010. It's just a small slice of what our team members remembered when asked about the event. In any given year there are dozens of offsites, hundreds of panels, thousands of notable pop culture guests, and over 125,000 individuals with multiple experiences to share. Of course 2020 will be the exception to that, but have no fear, the next time we all converge on sunny San Diego, we'll be ready to make the most of those moments.
Is there anything else like San Diego Comic-Con?