Elhoffer Design has made a name for itself as one of the best geek fashion lines around — with a focus on making their customers both feel and look amazing. Their geek bound clothes are inspired from many of your favorite properties, including Marvel, Star Wars, Disney, and more.
This year, their virtual booth will kick off daily with new stock (Wednesday, July 21 at 5PM PT; Thursday, July 22 – Sunday, July 25 at 9AM PT each day), with limited stock of each size available each day. All Comi[email protected] pieces will ship for free, but adding non-SDCC items will add shipping.
Here's a look at this year's exclusives and debuts:
[UPDATE July 18]
SDCC Exclusive – Galactic Decoy Dress – $350
Some days you just don't want the responsibility of being a queen. Other days you have to go undercover to protect your people. No matter what, you look epic and amazing in your new Galactic Decoy Dress! Exclusive to SDCC 2021, this is ponte dress with stretch vinyl and velvet accents will have any knight or warrior looking at you! Plus there are pockets for your mobile device or spare space parts.
SDCC Exclusive – Galactic Renegade Unisex Longline Cardigan – $175
This unisex piece can have you sizing down for a more fitted look, or just your regular size for a slightly looser fit. The textures and thumbholes on this Renegade Longline will have you searching for lost heroes or obsessing over that cute force user you just met!
[UPDATE July 17]
SDCC Launch – Essential Scavenger Cape – Aquamarine – $175
Whether you're stranded on a desert planet or questing in a fantasy realm, you probably need an Essential Scavenger Cape! Our new Aquamarine is a lovely shade of blue, and you know we like blue! It's a unisex piece and fits just about everyone, making you feel like you belong in another world. Or it's an amazingly soft blanket that you can wear!
[UPDATE July 16]
SDCC Exclusive – Essential Susan Crop Top – Starry Witch – $75
When your dreams come true, this Essential Susan Crop in Starry Witch is what happens. One of our most popular styles in definitely our most popular pattern. So we expect that this won't last very long.
SDCC Launch – Interstellar Cousins Poncho – $150
For when you have super logical cousin, but you want to be a warrior, we made the Interstellar Cousins Poncho! This is made from two separate knit patterns and can be worn to formal events or just on the bridge of an epic starship. There's even a pocket to keep your communication device!
[UPDATE July 15]
SDCC Launch – Essential Jes Crop Top – Princess Green – $70
You are not a prize to be won! You are born to rule and are definitely awesome enough to tame a wild cat, so there's that.
The Jes Crop is stretchy and made of fabric similar to athletic wear, so it's going to absorb summer moisture and keep it away from your body to make sure you stay comfy in the heat!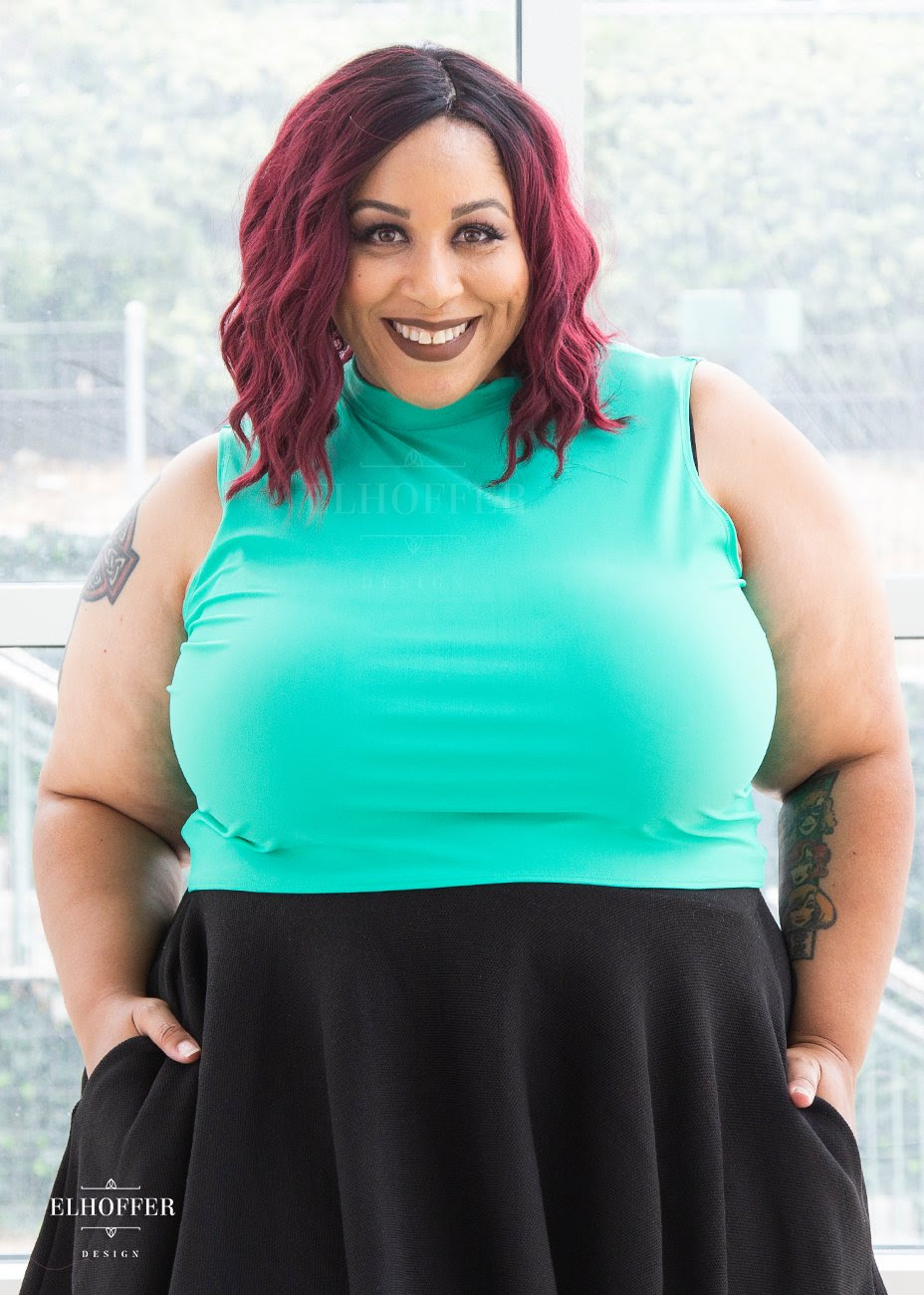 SDCC Launch – Essential Yasmin Pants – Princess Green – $150
Because you decide who you deem worthy, and these Yasmin Pants in Princess Green definitely belong on your body! Also there are pockets for trinkets that aren't from magic tiger caves (because you do NOT touch in those places – duh)!
If you haven't tried out this newer style, we recommend it for the summer! It's a new, fantastic way to stay stylish without overheating! Plus the moisture wicking fabric keeps you dry even when the sun tries to make you sweat. The only place where it's fitted is the waist, so go with the size closest to your natural waist measurement.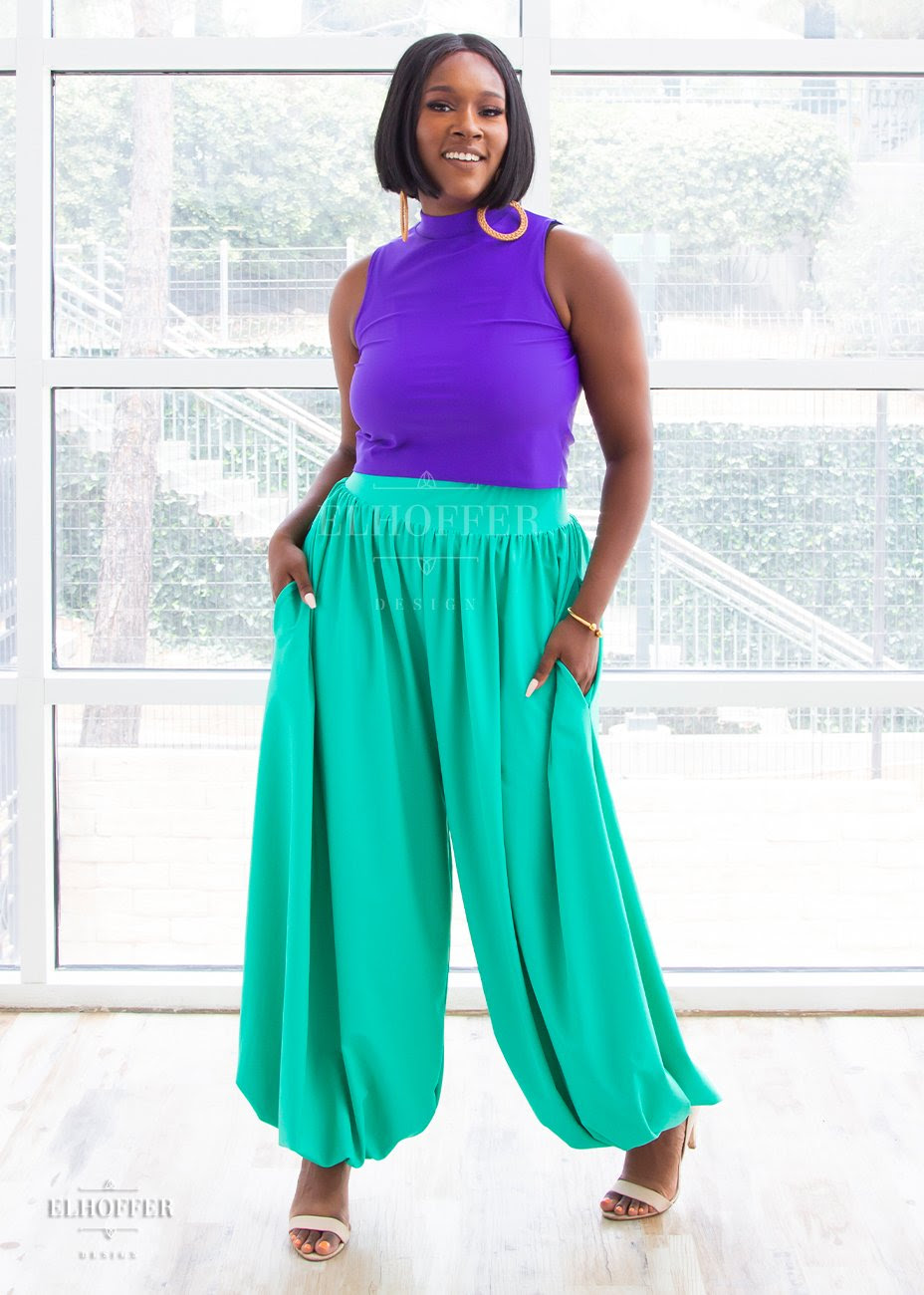 SDCC Launch – Marvelous Bolt Oversize Sweater – $105
It's okay to be young (either actually or at heart) and still feel the need to avenge! In our Marvelous Bolt Oversize Sweater you don't need to feel stretched thin – just throw it on and get things done!
This has our oversize fit, so we recommend getting the size you wear in our Essential Oversize Sweaters (or Tree Of Kings). It's really about how you feel comfy and how you want to style it your way!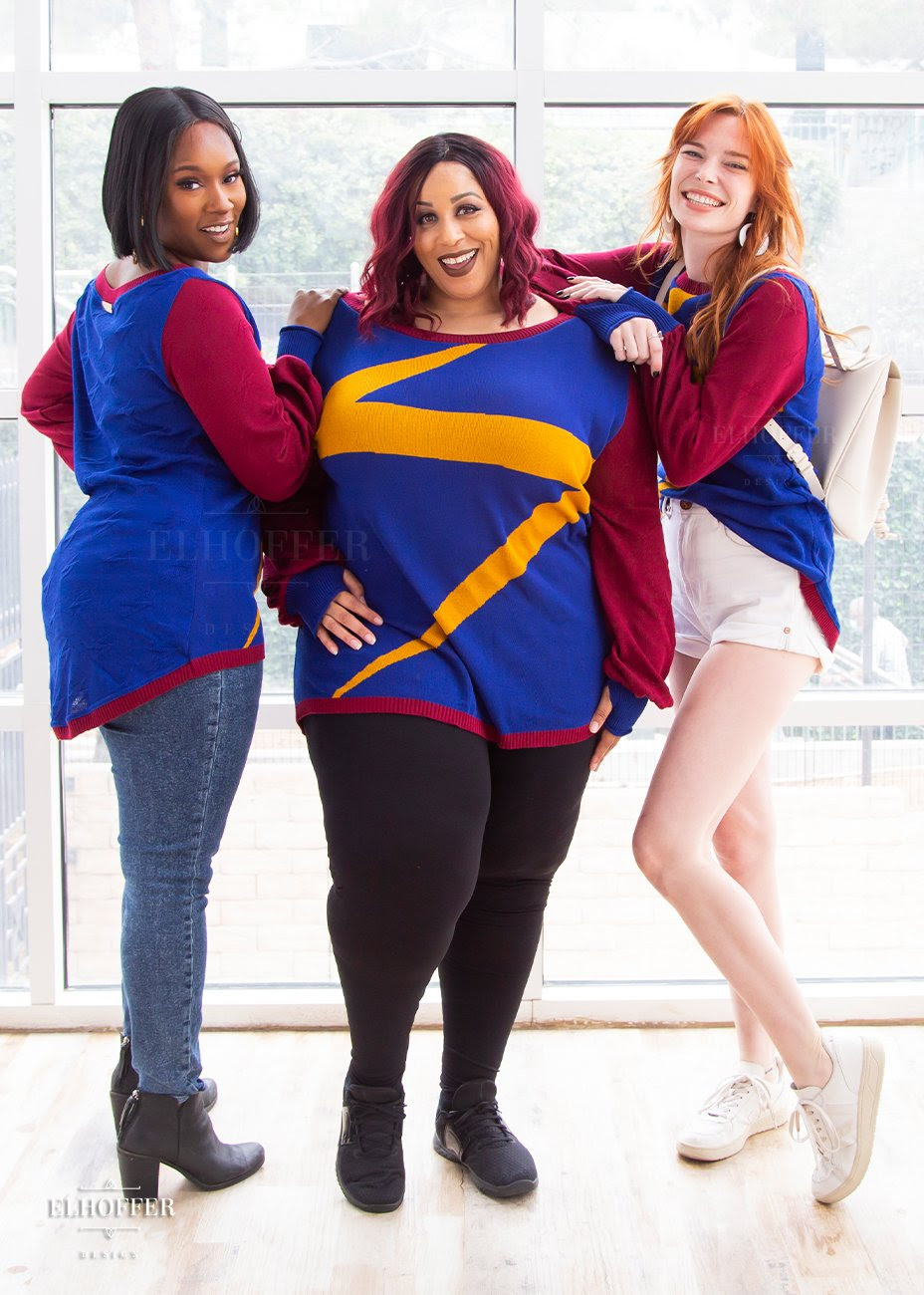 SDCC Launch – Lady Wonder Wrap Dress – $235
Not a sidekick anymore! You're a badass in your own right and you have the Lady Wonder Wrap Dress on to prove it!
Our signature wrap dress style, but with the colors of night hero (just grab some batons and you're good to go). We recommend your regular size on these, though it is possible to size down (we just don't guarantee it'll fit the same)!