There's no such thing as a lazy weekend now through the end of July! We're still busy finding the San Diego Comic-Con news for you, including more panel announcements, art ranging from crews that talk it through to characters in galaxies far far away, and some interesting posters.
Let's take a look at the news you may have missed:
One of our favorite stops on the exhibit floor, Val Hochberg, has been busy creating new prints for San Diego Comic-Con. Ahsoka and Grogu would definitely be besties.
Working on new prints for #SDCC! 🥰 #ahsoka #grogu #WIP #clipstudiopaint pic.twitter.com/IBuQVDZhjU

— Valvalchu 💖 (@kickgirl) June 3, 2022
Just got approvals on the last of my #SDCC exclusives! So there will be 1 more run of #Soonay figures and 1 run of #Toratai figures that will be officially stickered. Super stoked and cannot wait!

Don't forget to tune into my twitch tomorrow for first looks at the SDCC pins!

— Art of Priscilla Wilson 🔜 SLO Comix Fair (@valorandvellum) June 3, 2022
There are days where you gotta say…..#sdcc #sdcc2022 #EverythingEverywhereAllAtOnce pic.twitter.com/Gd1idhTleq

— Patrick Ballesteros SDCC DD-08 (@PatrickBallest) June 4, 2022
On todays drawing board for #SDCC. pic.twitter.com/sBpJK4aTmf

— Patrick Ballesteros SDCC DD-08 (@PatrickBallest) June 4, 2022
Here's something interesting for you: Aubrey Art Design, a graphic designer for Amazon's Prime Video, showed off several posters for The Boys, whose third season premiered this week. The interesting thing is that the posters have a Comic-Con logo on them. Could these posters be giveaways at the con, perhaps as part of an offsite? Panel freebies? We'll have to wait and see.
There are even more panel confirmations this weekend, starting with artist Vince Alvendia, also known as Eggdrop Ramen. Details are scarce, but more Vince is always a good thing!
My panel for SDCC 2022 got accepted! pic.twitter.com/xoaXIctuO8

— 🇵🇭🇺🇸See you at Wondercon AA B-30! (@EggdropRamen) June 3, 2022
@SD_Comic_Con My excitement in announcing two returning #SDCC2022 panels ("Making a Living Being Creative" and "Bad Medicine in TV and Film") is overshadowed by my heartbreak over the lack of #Paceycon.

— Johnny Kolasinski (@cycloptiko) June 3, 2022
My Gay Geeks And Where To Find Them panel had been approved for San Diego Comic-Con!!! Stay tuned for details!!! pic.twitter.com/ZByJlPRQwg

— Julian Jetson (@Julian_Jetson) June 3, 2022
I just received confirmation that three panels I submitted for consideration have been picked up by San Diego Comic-Con 2022. This will be the first time in almost three years that I'll be wrangling speakers and other things. I'm looking forward to it! #sdcc #sdcc2022 pic.twitter.com/KmBq84nz3T

— David Derks (@dderks) June 3, 2022
Comics librarian Mony Slay will have not one, but two panels at this year's convention.
2 for 2 of accepted panels for SDCC, plus invited to mod with a creator I adore.
Must survive ALA Annual first! 😴 🤩

— Moni Barre no blue check (@MoniBarre) June 3, 2022
Found out today that I will be on a panel at @SD_Comic_Con #libcomix #BucketList #sdcc2022

— The Metal Librarian (@MetalLib87) June 3, 2022
My program proposal got accepted to San Diego Comic Con in July!!! 😱

— Mark R. Martell, PhD (@MarkRMartell) June 3, 2022
Writer and humorist Tim Chizmar will also be on a panel again this year.
 

 

View this post on Instagram

 
While comic book creator and writer Terry Mayo didn't specify if the e-mail he received was about a panel, he will be at Comic-Con, and it seems very likely that presence will include a panel.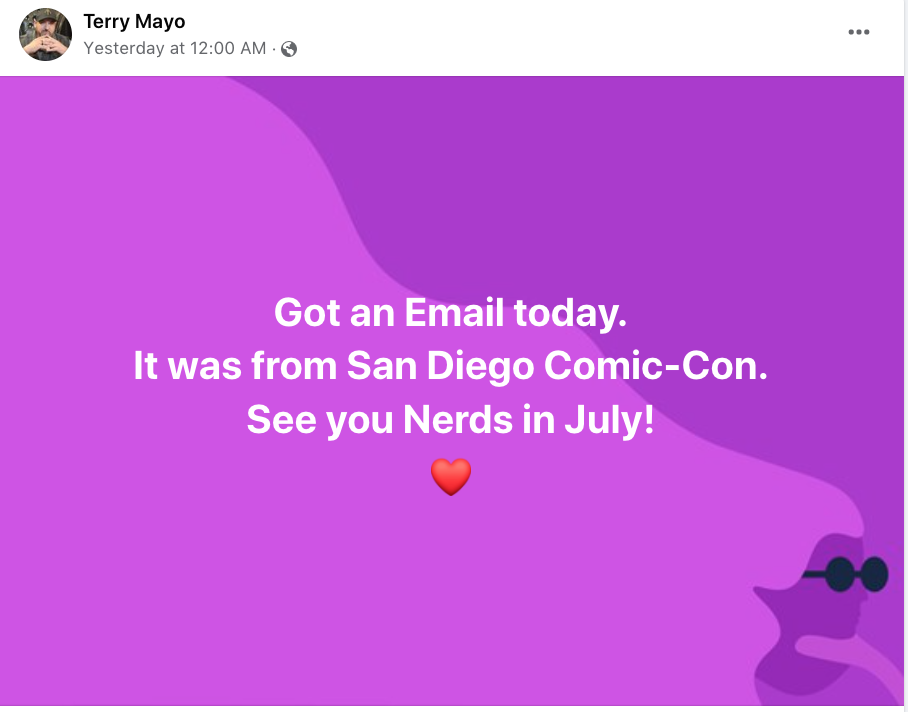 Japanese comic artist Hiroshi Kanatani has a packed schedule of conventions this year — but luckily San Diego Comic-Con is on the list.
My schedule of USA convention.
G-FEST July 15~17
SAN DIEGO COMIC CON July 20~24
ANIME MATSURI TX July 28-31
SuperHero Car Show & Comic Con TX Aug 4~7
FAN EXPO Aug 12-14
STAR TREK convention LV Aug 25–28
Giganticon Killeen  Sep 3~4  
ALL MONSTERS ATTACK Sep 9~11 pic.twitter.com/PWzV1JpDQD

— 金谷 裕 (@sanukisyokunin) June 4, 2022
Comic artist and writer Dan Cooney will also be exhibiting at the convention this year, at Small Press O-01, where he'll be celebrating the 25th anniversary of his Valentine comic.
I'll be returning to exhibit @comic_con next month July 20-24 at the San Diego Convention Center to celebrate 25 years where my first comic book, Valentine made its debut. Hope to see you there! #comiccon #comicbooks #graphicnovel #artist pic.twitter.com/Fb5lCfv5Y4

— Dan Cooney on Patreon (@dcooneyart) June 3, 2022
Here's one you maybe didn't have on your bingo card: The Italian Trade Agency is heading to the con, to promote Italian comics. If you're an Italian artist, reach out to them!
The Italian Trade Agency will be at Comic-Con International in San Diego July 21 – 24. Comic Con is the largest comic convention in the U.S. If you are an Italian company or artist in this sector, please check us out: https://t.co/l4v7lBFzuD#ITAChicago #comic_con #italbooks pic.twitter.com/mZ8BLFe3sK

— Italbooks.com (@Italbooks) June 3, 2022
Anything we missed? Let us know in the comments, drop us a line, or tweet us at @SD_Comic_Con.
If you missed our previous Under the Tents 2022 posts, you can find them HERE.