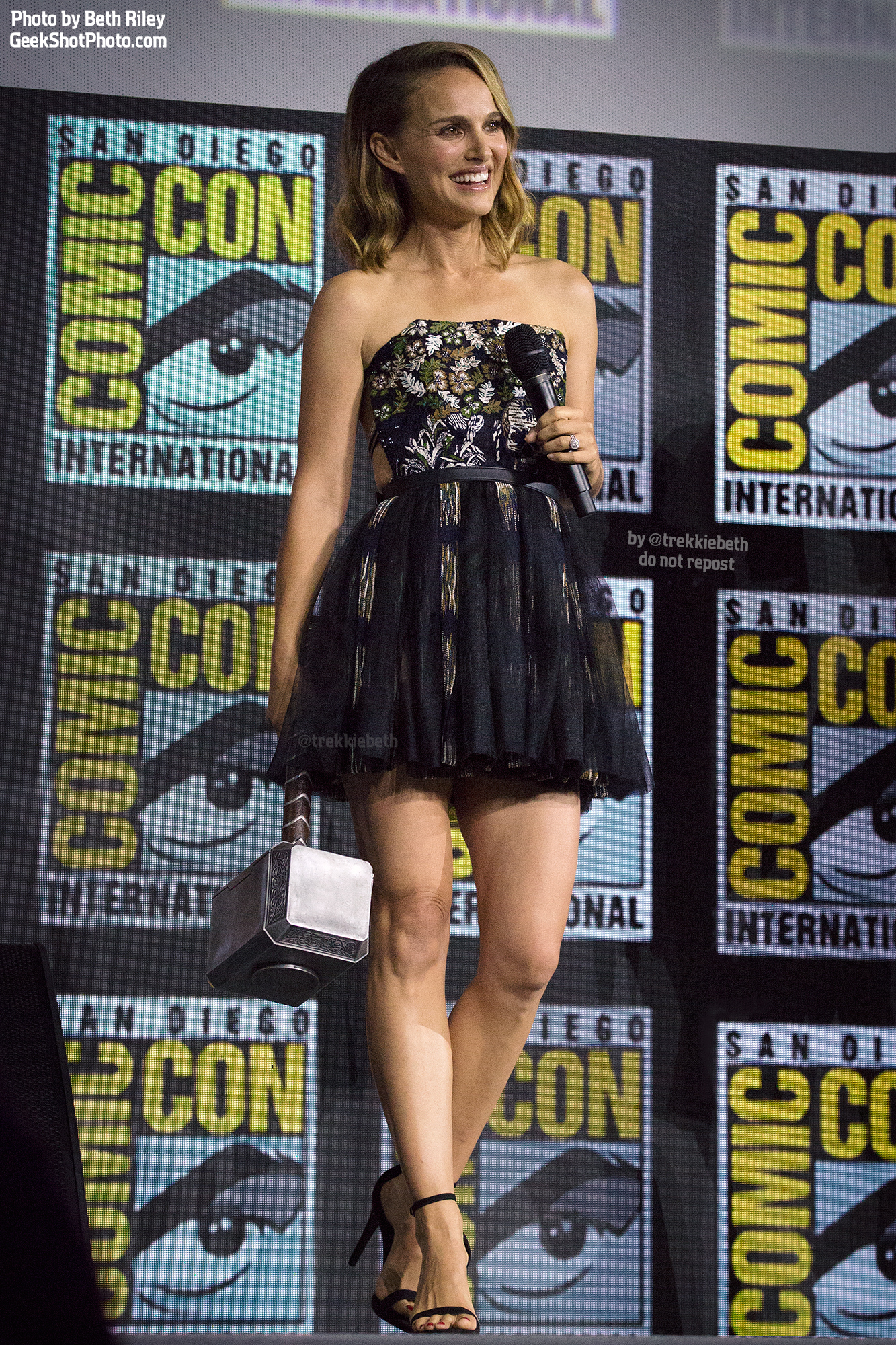 Will Marvel Studios be heading to Hall H for San Diego Comic-Con 2022? We'll save you a read, and tell you upfront, that we don't know. ¯\_(ツ)_/¯
But as our side of the internet has been aflutter with rumors about "Marvel is for sure not going!" and "Marvel is for sure going!", we're going to break down the actual facts for you.
Let's start with this — when people say Marvel Studios, they are referring to a Hall H presence panel. Marvel Entertainment will have a booth at the convention, and they will presumably be selling merchandise, pins, and more there, as they do every year, even when they don't have a Hall H panel. There will also, undoubtedly, be panels on Marvel comics, and possibly even animated TV series, even with or without a Hall H panel.
So in this article, we are referring solely to the odds that Marvel Studios will have a panel with cast from their films and Disney+ TV series.
The D23 Of It All
All the hoop-la around whether or not Marvel Studios would be at San Diego Comic-Con started about two weeks ago with the announcement that Marvel will be at D23, Disney's own convention, in September.
A lot of people claim that Marvel "skips" San Diego Comic-Con during D23 years so they can save their good announcements for that convention, but that's not really proven true.
In 2019, Marvel Studios attended both San Diego Comic-Con and D23 a month a later — and as anyone who attended both can probably tell you, most of the "big" announcements were actually shared at SDCC, as Kevin Feige laid out Marvel's slate for the next few years.
In 2017, when the two conventions were just a week apart, Marvel Studios also still attended.
The two most recent years that Marvel didn't come to San Diego Comic-Con — 2015 and 2018, and granted, 2015 was a D23 year — Feige made comments that it was specifically simply because they didn't have enough to show.
"That's one of the main reasons we're not going to Hall H this year," Feige told Den of Geek back in 2018, "is because Ant Man & the Wasp will have just been released, Infinity War will be out, Captain Marvel will have just finished filming, Spider-Man will have just started filming, and we're not gonna be making any other announcements. So we're gonna wait until Comic-Con next year."
That's very much not the situation that Marvel finds itself in this year. The studio has been very quiet on most of their upcoming Phase 4 plans, with plenty still to be announced and shown from upcoming films and TV series including Black Panther: Wakanda Forever, Ant-Man and the Wasp: Quantumania, Guardians of the Galaxy Vol. 3, The Marvels, Fantastic Four, She-Hulk: Attorney at Law, The Guardians of the Galaxy Holiday Special, Secret Invasion, Ironheart, Armor Wars, and anything else not yet currently announced.
Basically: D23 hasn't really had an effect on whether or not Marvel Studios has a full-scale panel at San Diego Comic-Con.
But That One Site Said They Wouldn't Be There!
A "news" site claimed that "multiple [unnamed] sources" informed them Marvel won't be at San Diego Comic-Con. But that news site is one that's existed for less than a year, and is fan-run.
Now, is it possible that site really does have sources and that Marvel won't be at San Diego Comic-Con? Sure, yes. But Marvel Studios has not said anywhere definitively that they won't be in Hall H — so we strongly suggest you take that news report with a grain of salt.
They WILL Be There — We Saw the Banners!
There are indeed banners for She-Hulk: Attorney at Law up right now in the Gaslamp. While it's potentially a good sign that Marvel Studios will be at the convention in some form (and we already know they will, with their booth, and we've also heard there's a Disney+ booth) — it's not a guarantee that they'll have a panel.
Marvel has also had banners in the Gaslamp in both 2015 and 2018, which they skipped.
Other "Evidence"
Kevin Feige made comments to Total Film this week about fans getting a better idea of where Phase 4 is going in the "coming months". Here's a look at the full quote:
"I think there have been many clues already, that are at least apparent to me, of where this whole saga is going. But we'll be a little more direct about that in the coming months, to set a plan, so audiences who want to see the bigger picture can see a tiny, tiny, tiny bit more of the roadmap."
Many have taken that to mean D23 or San Diego Comic-Con — but it could equally be referring to clues within Thor: Love & Thunder or She-Hulk: Attorney at Law, or any number of other things. Basically: It's not confirmation of anything.
Yesterday, Deadline also wrote that "Marvel will be at the upcoming San Diego Comic-Con 2022, but will likely reserve big revelations for September."
But they could also equally mean that Marvel will have a booth.
So what does it all mean?!
We told you right at the top — we don't know if Marvel Studios will be at San Diego Comic-Con.
But frankly, neither do 99% of the people commenting or writing articles on the internet at the moment.
We'll just have to wait and see. And with San Diego Comic-Con less than a month away, we won't have to wait very long.