This is it, folks; San Diego Comic-Con 2022 is this week. If you've been following our socials, you know San Diego's Gaslamp Quarter is already getting dressed in its SDCC 2022 best. It's San Diego's prom, graduation, World Series (go Padres!), and Super Bowl (cuz the Chargers sure weren't gonna bring one) all wrapped up in one. SDCC artists and exhibitors are also putting the metaphorical cherries on top of the amazing stuff they're bringing to SDCC.
So welcome… to our final Under the Tents of the season.
Here's a look at what you might have missed:
Illustrator Vince Alvendia, better known as Eggdrop Ramen, is bringing lots of ohana with him to Table #DD-02 in Artists' Alley at SDCC this year. First, while he didn't have time to make prints, he's bringing three original Lilo and Stitch 8″ x 8″ watercolors with him.
Lilo & Stitch vs. Disney Eats are coming with me to #SDCC Artist Alley framed (once they're dry)! Wish I had time to make prints, but these 8"x8" watercolor originals are it. pic.twitter.com/NUm73lsSJ9

— 🇵🇭🇺🇸See you at Wondercon AA B-30! (@EggdropRamen) July 17, 2022
Next, as an added bonus, Alviendia was able to borrow back one of his Lilo and Stitch watercolors he sold at WonderCon, "Put Your Records On", so he could make prints of this beautiful piece for SDCC. He only made 15, though, so get to Table #DD-02 in Artists' Alley early.
Lilo & Stitch "Put Your Records on" sold earlier this year at Wondercon, but the owner was kind enough to loan it back to me so that I could have it captured and printed by @chromedigital, just in time for #sdcc!

8"x8" printed on Mould-Made 100% Cotton Rag limited run of 15. pic.twitter.com/4lJdKis0Ak

— 🇵🇭🇺🇸See you at Wondercon AA B-30! (@EggdropRamen) July 17, 2022
Several of you favorite vendors will be making the con even better, with a Thank You Tour. Starting Thursday, July 21, vendors like creators like Matt Hawkins (TOP COW President/COO, writer), Donny Tran (artist -TOP COW, Aspen, IDW), Fanbase Press and Immortal Studios, and more will be giving away one free promotional item (while supplies last). If you can collect a free item from all vendors, simply mark them off, and turn your completed form into artist Don Nguyen at Artist Alley H#H-03 one hour before show floor closes. Winners will be randomly selected each day (Thursday, Friday, Saturday and Sunday) before end of the day to receive something extra special.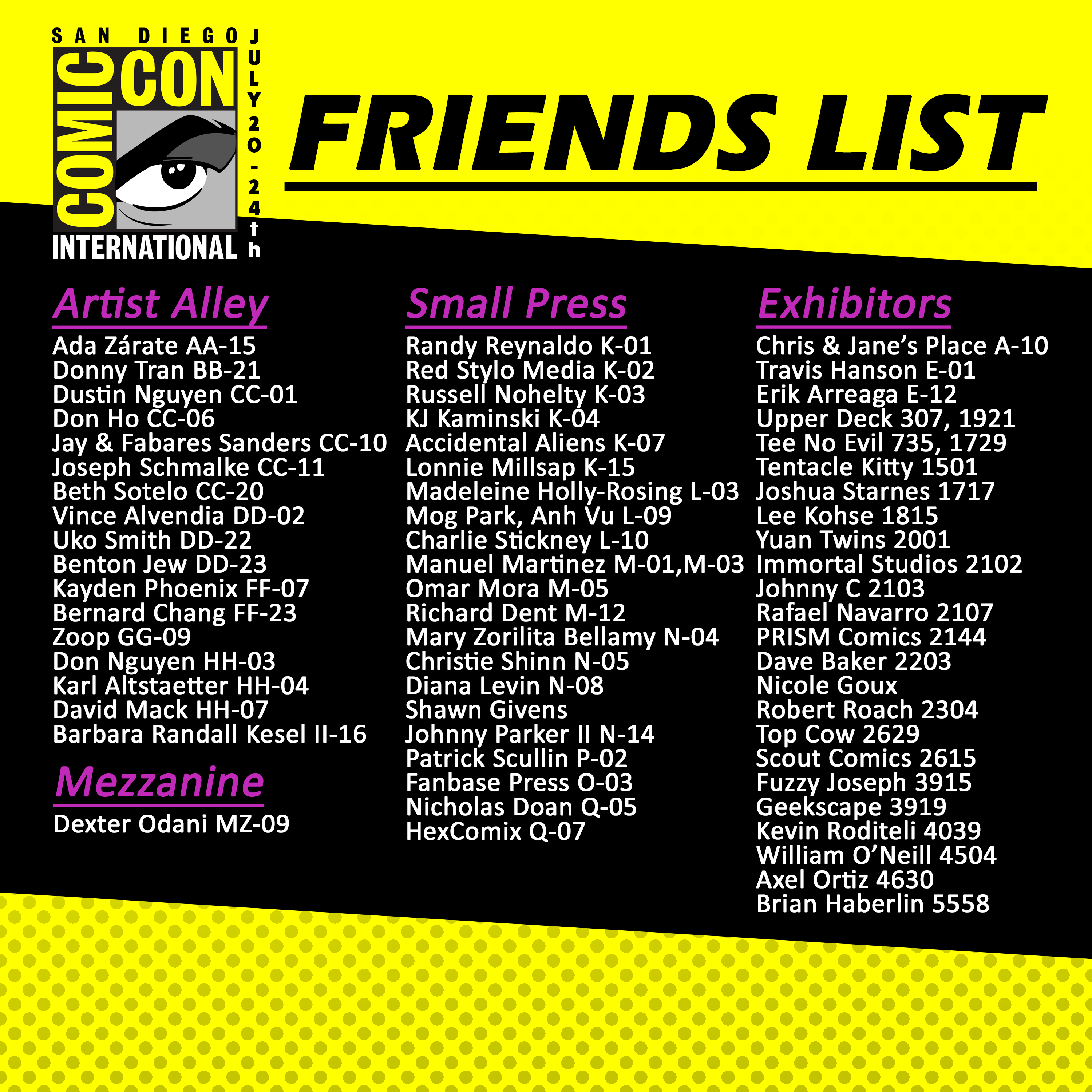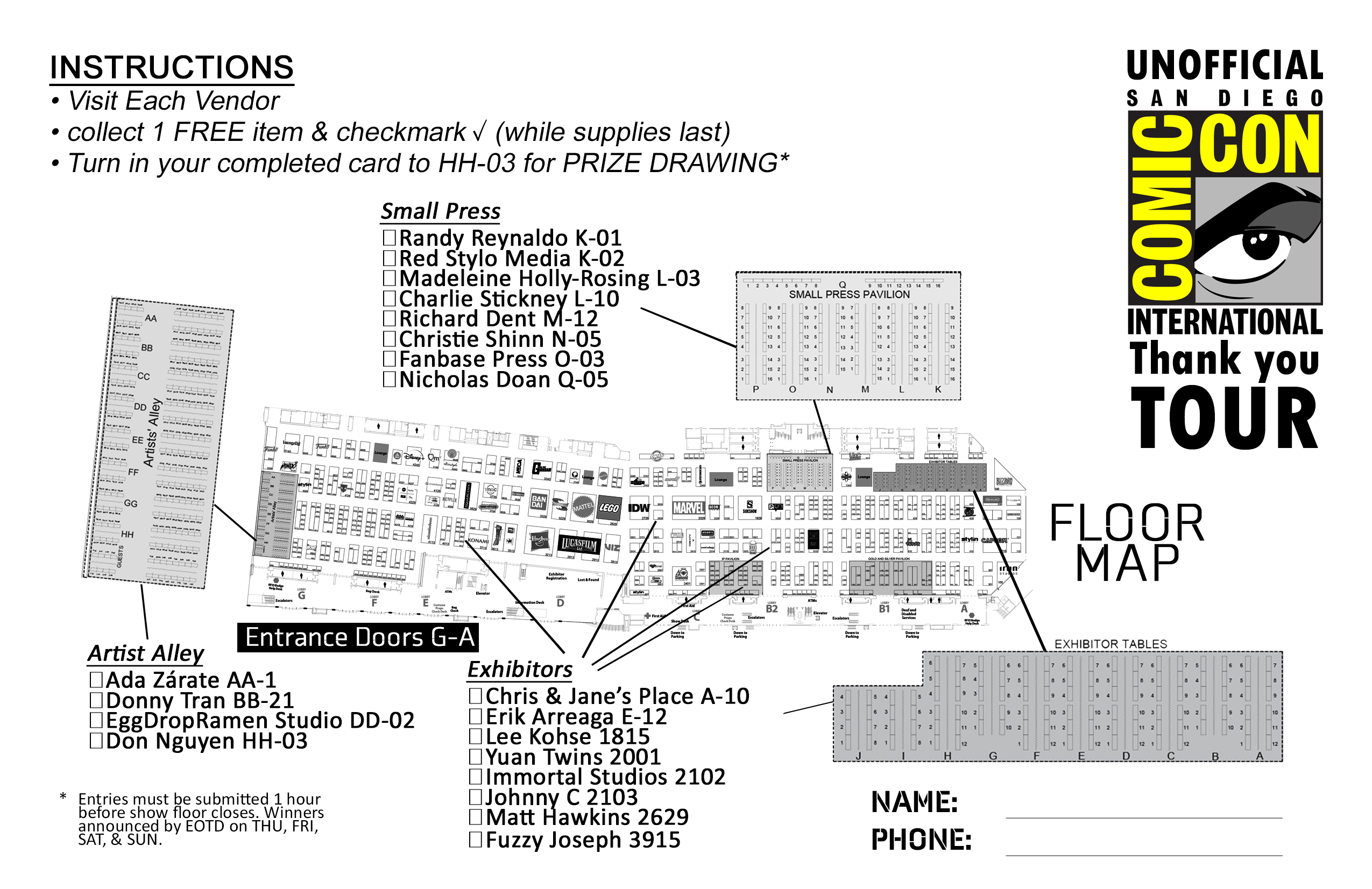 In addition to their Neopets pins, What's Your Passion Jewelry has more items for San Diego Comic-Con. They're bringing a new Metazoo collection, featuring Piasa Bird, Mothman and Hodag; Care Bears which includes three new pieces of jewelry and seven Pride designs, with 10% of every sale donated to the Born This Way Foundation; Ultraman debuting with six pin designs; and more. Stop by Booth #929.
Brain Dead fabricators will be in San Diego during SDCC on Saturday, July 23 at the Good Faith Gallery from 2:00pm PT to 10:00pm PT conducting a

Magic: The Gathering

tournament, where they're also launching their new

Secret Lair promo card

, among other merch. You won't need to tap more mana for the free tournament, which includes food, drink, and prizes.
 

 

View this post on Instagram

 
I may have struck the blow, but you… You are the one that killed her. Stop by Table #AA-01 in Artists' Alley for Ethan Castillo's Green Goblin Post-It Note sketch. With great talent comes great responsibility.
 

 

View this post on Instagram

 
Iron Studios will have some pins, posters, and more swag to give away at Booth #100 on the Exhibit Hall floor. Stay tuned to their socials for time announcements throughout the con.
https://twitter.com/IronStudios/status/1548687643063508992
Are you pondering what I'm pondering? James Silvani revealed more of his original headshots he's bringing to Booth #5555 at SDCC this year. Make sure you swing by and say, "NARF!"
"What do you want to do tonight, Brain?"
"Same thing we do every night, Pinky… Reveal more headshots for SDCC!"
$20 each, booth 5555. pic.twitter.com/jaP1yoYFv8

— James Silvani (@SilvaniArt) July 17, 2022
I sincerely wish I had this back in the day for my eighth grade bird project; it would've been so much more exciting than that Audubon Society book! Looks like I'll be stopping by Booth #2049 at SDCC this year to visit Aaron Reynolds' booth for a copy of Effin' Birds to see what I was supposed to learn in 1988. And you know after that CBP officer let Reynolds go, he went back into the break room and said, "You guys will not believe what I just saw…".
In addition to 3000 free postcards and my SDCC-exclusive pin set, I'll have a very limited number of these bad boys with me at San Diego Comic Con. See you there!https://t.co/ztPWtNEbOx

— Effin' Birds (@EffinBirds) July 17, 2022
Food, glorious food! Justin Orr will debut his MF Doom "Mm… Food" print at Booth #G-05 in the Exhibitors area at SDCC, where you can grab one of the first 100 signed copies.
 

 

View this post on Instagram

 
 

 

View this post on Instagram

 
 

 

View this post on Instagram

 
When CLAUS Studios' founder Justin Harder does an SDCC pop-up, he does it right. He'll be lounging by the pool in the Marriott Marquis pool/bar/restaurant area with some original "Little Deadpool" he's making as well as some posters from his recent collaboration with Mondo.
Drawing some originals for next week at #ComicCon! If you're around on Sat, swing by the Marriott Marquis outdoor pool/bar/restaurant area from 10-1 and pick one up! I'll be chilling there w/some of my Mondo posters and other random stuff I'll post this week! #SDCC2022 pic.twitter.com/viWeCBle3P

— Justin Claus Harder (@clausstudios) July 17, 2022
Can't make it to SDCC 2022? The Cartoon Art Museum has you covered in the art department. They're offering custom commissions from Judd Winick, Dana Simpson, Donna Barr, and more in their Sketch-A-Thon @ Home starting Wednesday, July 20.
And if you can't make it to @Comic_Con this year, we're hosting our Sketch-A-Thon @ Home again, starting Wednesday! Custom commissions from @JuddWinick, @phoebeandheruni, @Donna_Barr and many, many more!

— Cartoon Art Museum (@cartoonart) July 17, 2022
Priscilla Wilson is bringing the freedom of choice to Table #BB-12 in Artists' Alley at SDCC this year. She'll have a variety of beautiful pins and lanyards among the rest of her amazing artwork at her table to choose from.
Here are the pins that I'll be bringing to #SDCC pic.twitter.com/o4wC7Of9D5

— Art of Priscilla Wilson 🔜 Ani-Me #74 (@valorandvellum) July 17, 2022
Artist Dave Correia put a lot of effort into these sculpts based on an Alex Pardee design he's bringing to SDCC. Walk really fast (don't run, kids) to Booth #5502 to find these labors of love.
Another SDCC preview! This sculpt I made is based off an @alexpardee design. I ended up with a very complicated figure – I actually had to have the @gregaronowitz help me with the mold and castings. These took SO LONG to paint, but I had a lot of fun working on them. Booth 5502 pic.twitter.com/uz0p21KJud

— Dave Correia (@davecorreia) July 17, 2022
MunkyKing teamed up with Disburst this year to present Luke Chueh's classic and XL versions of his White Ghost Bear at Booth #2549 at SDCC this year. Look for Chueh signing at Disburst's Booth #2649 on Friday, July 22 as well.
 

 

View this post on Instagram

 
 

 

View this post on Instagram

 
If you're going to Liana Kangas's signing at IDW Publishing's Booth #2729 during SDCC this year, she has an SDCC exclusive pin for you, too.
For those coming to my Trve Kvlt signing at @IDWPublishing – I have a limited number of SDCC exclusive burger lord pins for ya! FREE! Just come to the signing! 🔥🍔 https://t.co/QZgAzSKxSv pic.twitter.com/iMN3L5iJ9V

— Liana Kangas (@lianakangas) July 18, 2022
Among Jazwares many SDCC 2022 exclusives you'll find at Booth #3513, they're also debuting two new constumes: Spider-Rex and Venomosaurus. Con-goers will get first grabs at these cute, corny costumes, but they'll also be available to the public later this year. Rawr!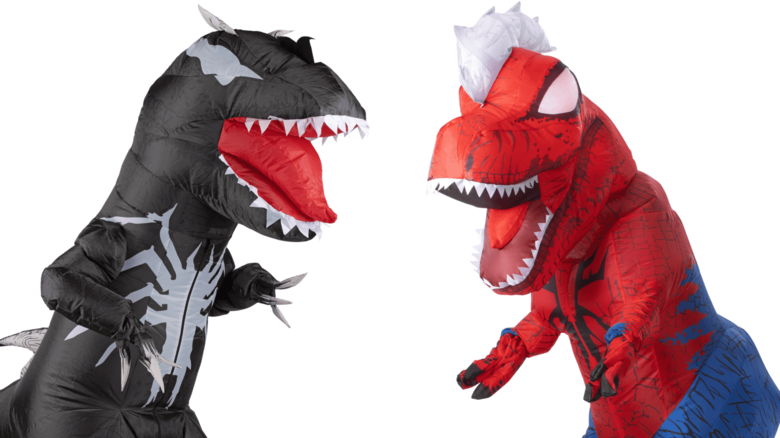 We will be debuting several premium edition DC comics prints at this weeks @Comic_Con . These prints look gorgeous in person with lush colors printing on a very high-end paper stock. These will ONLY be available at Comic-Con and quantities are limited! Booth 4601! pic.twitter.com/C9GYysqkT7

— J. Scott Campbell♠️🎨 (@JScottCampbell) July 18, 2022
Anything we missed? Let us know in the comments, drop us a line, or tweet us at @SD_Comic_Con.
If you missed our previous Under the Tents 2022 posts, you can find them HERE