Sleeping is for after con, so we're bringing you even more San Diego Comic-Con news tonight in a PM edition of Under the Tents. We've got updates for you on artists like Chris Uminga, Billy Martin, Patrick Ballesteros, and Val Hochberg; an international film festival; and where you can find Tamagotchi merch at the con. Yes, really!
Let's take a look at the news you might have might have missed:
Hold on to your butts, Jeff Pina has an adorable tribute to everyone's favorite summer flick, Jurassic Park. This print will be at Jeff's Small Press booth, Q-06.
Jurassic Park is ready for #SDCC !!!#jurassicpark #jurassicworld #trex #spielberg #movie #cute #90s #classic #dinosaur #dinosaurs #art #print #sandiego pic.twitter.com/5GAlU1X6Tl

— Jeff Pina Makes Comics! (@JeffPina78) July 6, 2022
Here's a reptile of another kind! This time it's Chris Uminga with a Godzilla work in progress that is awaiting color before it's debut at SDCC.
The start of a new Godzilla piece for @Comic_Con in a few weeks. Next step is to add some colors. @SD_Comic_Con #godzilla #monsters #SDCC2022 #art #pencilart pic.twitter.com/DwvREfNbJL

— Chris Uminga (@Uminga720) July 6, 2022
Netflix and chill or Netflix and kill? Season 4 of Stranger Things might be over, but our obsession certainly isn't. Patrick Ballesteros knows what we're talking about. Here's a tease of his ST 4 work in progress.
Full reveal tomorrow.

Also, did you know the voice of Vecna was actually the actor Jamie's voice and he spent 7 hours to get into the suit each day. So impressive and it shows in the final performance!#sdcc #sdcc2022 #artistalley pic.twitter.com/NEdKwjlL3z

— Patrick Ballesteros SDCC DD-08 (@PatrickBallest) July 6, 2022
Creator and actor (and spitting image of Zatanna) Tiffany Smith is attending Comic-Con and promises that more information about her panels and signings are coming soon. ynaffiT, up yrruH!
https://twitter.com/Tiffany_Smith/status/1544729398711951361?s=20&t=SJQSHGg2ja3u54XP8tE2tA
Calling all Tamagotchi fans! Take a step back to 1996 because you'll be able to get exclusive Tamagotchi devices and merch at Comic-Con. You'll be able to find them in the Bandai booth.
TAMAGOTCHI FANS! 💖 We're going to be at San Diego Comic-Con 2022 with EXCLUSIVE Tamagotchi devices and merchandise available for purchase! RT if we'll see you there! 🤩#Tamagotchi pic.twitter.com/eAOR3HItyx

— Tamagotchi US (@Tamagotchi_US) July 6, 2022
Who says San Diego Comic-Con isn't about comics? Not Omar Mora, creator of Ancient Explorers: The Lost City of Peru, his second graphic novel. You'll be able to scope this book out at Moras Productions small press booth, M-05.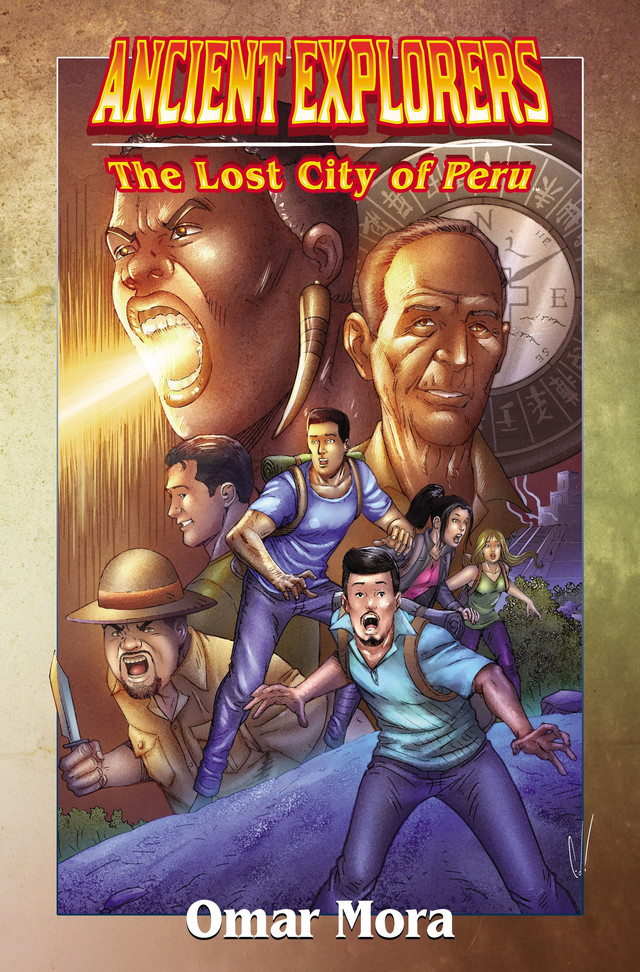 Even with the severe crop job we can tell this little tease from artist Billy Martin is going to be boss. When will we get to see the rest? The magic word is….*soon*
Weird crop sneak peeks for you today! This will be a new print for San Diego @Comic_Con #StrangerThings pic.twitter.com/vdHUHOV6VV

— Billy Martin (@TheBillyMartin) July 6, 2022
Greg Hops is joining some of the best concept artists in the industry for the Concept Artist of TV & Film panel and autograph session. We should have all the details in the next few days. Greg will be showing off some exclusive concept art from The Boys.
Come see me at @comic_con alongside some of the entertainment industries most talented artists! I'll be sharing some exclusive Boys related concept art! Concept Artists of TV & Film panel and autograph session details coming soon! #sdcc2022 pic.twitter.com/YpwaFuDg3Q

— Greg Hops (@greghops) July 6, 2022
In the realm of "bad ideas" this one might rank up there at a "terrible idea"…..at least, if you're creator Matt Kindt. Comic book publisher Bad Idea is releasing a brand new comic, Hero Trade: Sacred Heart, but there is a catch. You have to get it directly from Kindt, using a not-so-secret phrase. Poor Kindt is in for a world of hurt. Find the phrase to score the comic here.
Not only will BAD IDEA be hosting an exclusive SDCC Tiki Party, but we'll be dropping a brand-new HERO TRADE story by Matt Kindt and David Lapham — HERO TRADE: SACRED HEART.

But *surprise* you're gonna have to work hard to get it. Details below.#SDCC: https://t.co/4EgaJixTkc pic.twitter.com/r0ociqYYIE

— BAD IDEA (@badideahello) July 6, 2022
Fancy a meet-up? If you're a fan of the team from Heroes Reforged you're in luck! They have a meet-up in the works for San Diego Comic-Con.
We're going to have a little meet-up at #SDCC this year. Stay tuned for details! pic.twitter.com/9BZ8lCInOS

— Heroes Reforged (@HeroesReforged) July 6, 2022
She is "the strongest woman in the world" and Val Hochberg has made Street Fighter's Chun Li super sassy and sweet too, in this original headed for San Diego Comic-Con.
Slowly coloring my collection of original art pieces for #SDCC! Here's a Chun Li that I like! And I hope you like it too! 💖 pic.twitter.com/wfcXEMRGwp

— Valvalchu 💖 (@kickgirl) July 6, 2022
CCI has announced the days, times and all the other details for the International Film Festival, taking place next to the convention center at the Marriott Marquis and Marina in Grand Ballroom 6.
And finally today, Av from Average Nerd Podcast and Beehive Midtown in Sacramento found a golden treasure…Glow Honey Bear enamel pins, a collaboration with Priscilla Wilson. Find Av and ask nicely to get one.
Found a few of these LE100 Glow Honey Bear @beehivemidtown x @valorandvellum pins at the shop.

Didn't know I had any left. Will bring them with me to SDCC. If you're going & still wants one, all you gotta do is ask…and maybe do a little dance. 😂 pic.twitter.com/N8ASB8E3Tu

— Av // AverageNerdPod 🤓 (@avcruz76) July 6, 2022
Anything we missed? Let us know in the comments, drop us a line, or tweet us at @SD_Comic_Con.
If you missed our previous Under the Tents 2022 posts, you can find them HERE.