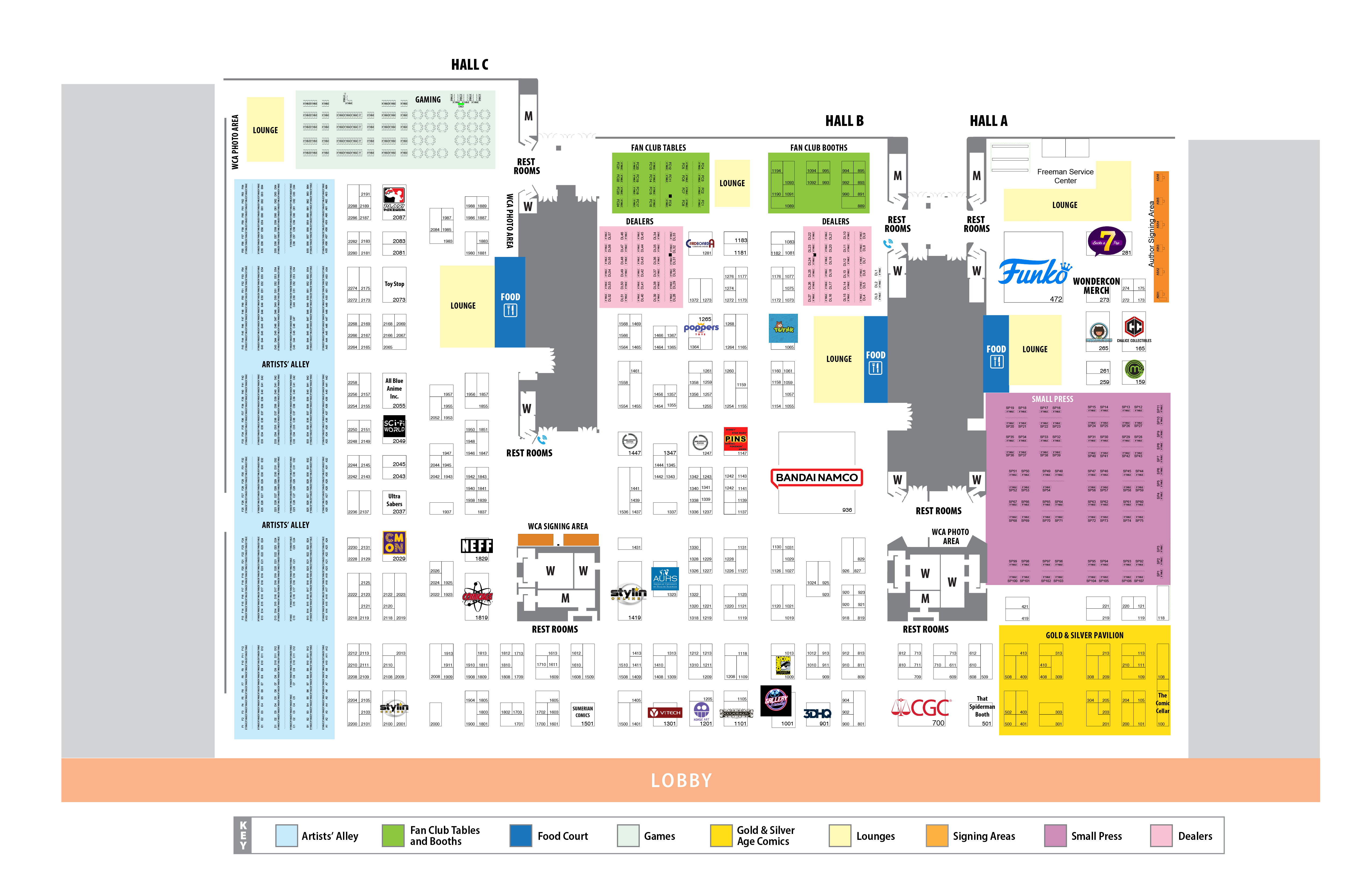 Spring has officially SPRUNG (well, almost) with Comic-Con International releasing the WonderCon 2023 exhibitor floor map and official list of vendors, artists, and exhibitors.
As always, the Anaheim Convention Center will be chock full of small press companies, fan tables, individual artists, handcrafts folks and more.
For 2023, WonderCon has 890 exhibitors listed, ranging from comics and toys to cosplay accouterments and t-shirts.
Once again, WonderCon is lighter on the comics, with DC, Marvel, Dark Horse, IDW, BOOM!, and Skybound all skipping — but none of that is really a surprise. Instead though, you'll find Aspen Comics, Storm King Productions, Z2, KRS Comics, and plenty of smaller, independent comics companies. Maybe you'll find your new favorite this year!
Toy and collectibles fans can stop by Bandai Namco, Fugitive Toys, Toynk, and more to get their collectibles fix on. And of course, there's the behemoth in the corner — Funko, looming large once again by the Small Press area. To score their exclusives though, you'll have to get lucky in the Online Exclusives Portal (open now through March 19).
Many of our favorites, including Toddland, artist Jeff Granito, Tee Turtle, and Little Shop of Pins are must-stops when planning your exhibit floor plan. You'll also want to plan a stop at both the Comic-Con Museum and the WonderCon merch booths.
In addition, you'll find an insanely talented roster of artists over in Artists' Alley (including Patrick Ballesteros, Val Hochberg, Priscilla Wilson, Chris Uminga, Dreamforger Studios, Brianna Garcia Illustration, and many more). You'll definitely want to stop by Mingjue Helen Chen's booth, and congratulate her on this year's beautiful WonderCon Program Book Cover.
Over in Small Press, you'll find Monkey Minion, Mr Toast, and more. There's much to see at WonderCon Anaheim.
This is a very solid line-up — with Funko and Bandai in particular sure to rule the show floor — but just like last year, it definitely feels lighter than a few years ago. FigPin, for instance, helped fill some of the void last year (when we were also down Super7, Koto, Funimation, to BAIT compared to 2020) — but they're a no-show for this year.
WonderCon's exhibit floor has always been more of a showcase for the amazing artists in attendance, and while we wish some bigger booths would come in to close that gap, it just leaves more time to spend perusing Artist Alley — and we're definitely okay with that.
Check out CCI's site for links to all the areas above, as well as a map of the Exhibit Floor for you to start charting your course for March 24-26.
What are you looking forward to most? Let us know in the comments.