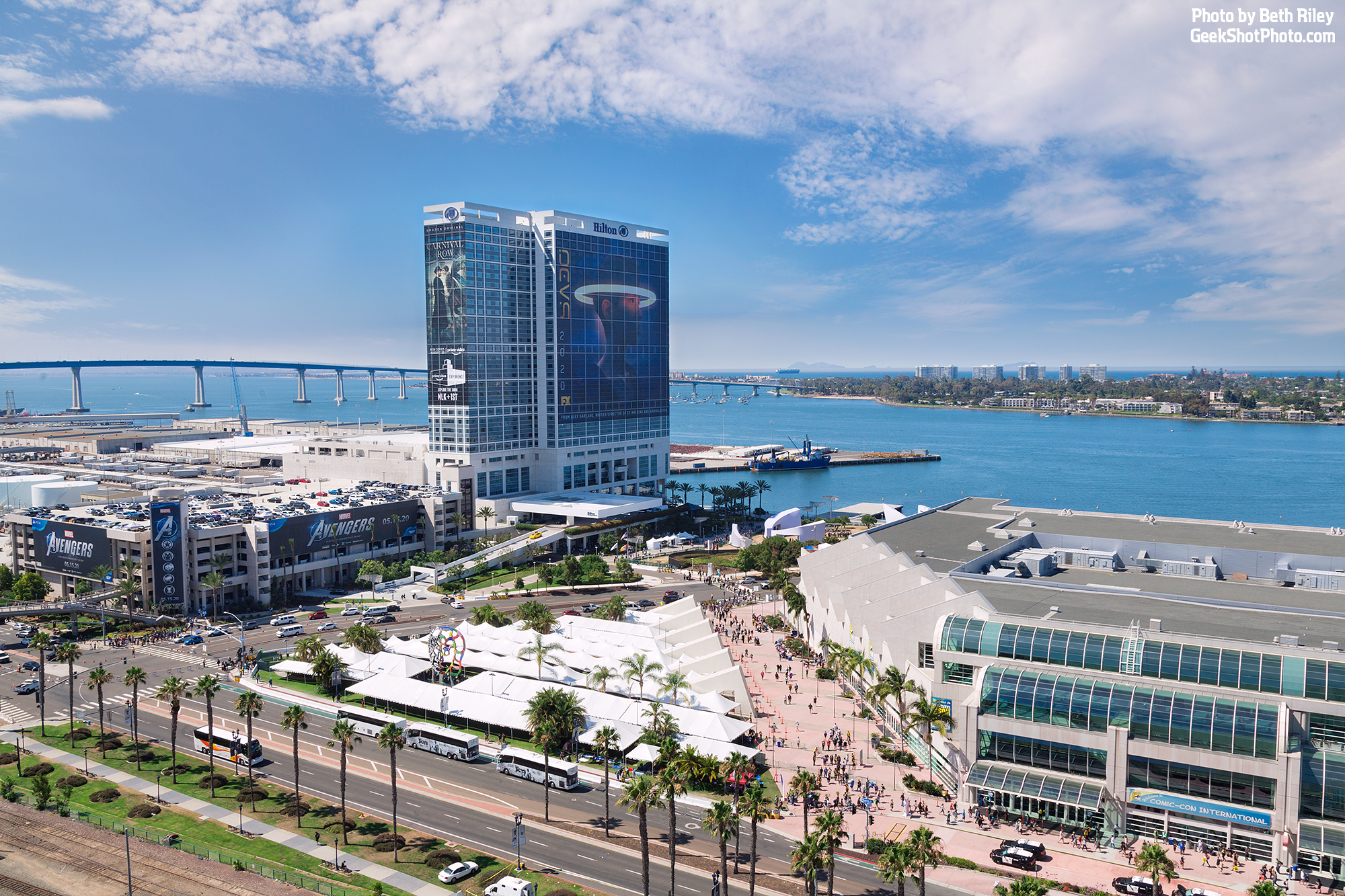 It's been a busy week when it comes to news of panels for San Diego Comic-Con, with many major studios (including Marvel Studios, Universal, Sony, Lionsgate on the film side only, and Netflix) revealing that they won't be found in Hall H this year.
The reasoning is fairly obvious: With the Writers Guild of America (WGA) currently on strike and heavily picketing the studios and productions, Hollywood productions have effectively shut down on both coasts. Because they're currently on strike, writers would be unable to attend the convention to promote their studio projects — even those that have already wrapped.
With SAG-AFTRA (the union for screen actors, voice actors, and beyond) negotiating their own agreement which is set to expire on June 30, the talk of the town for weeks has been whether or not SAG would also join in a strike. Earlier this month, their membership voted with 97.91% approval to authorize a strike should negotiations with the AMPTA (the Alliance of Motion Picture & Television Producers) break down. Essentially, should an agreement failed to be reached, it would allow leadership to join the WGA in a strike, and mean actors would also be unable to promote their projects with studios.
There's no agreement in place yet for SAG-AFTRA and the AMPTA, but SAG leadership today released a video and announcement to members that talks have been "extremely productive" and that they "remain optimistic" a fair deal can be reached.
It's the sort of video you likely only put out if you are planning to reach an agreement, as it surely lowers SAG's negotiating power to say they're happy with how things are progressing. 
So with all of this said, should an agreement be struck and actors are no longer striking, how could this potentially affect San Diego Comic-Con?
Will any of the studios who announced they weren't going change their minds?
It's certainly possible. One has to imagine that every studio is going to take another look at San Diego Comic-Con and see if it makes sense — but attending San Diego Comic-Con is also something that typically takes weeks if not months to put together. There's the logistics of actor availability, securing hotel rooms which may have already been released, and putting together a panel in a short amount of time that will wow attendees. Plus, while we're sure Comic-Con International will do their best to accommodate studios, the official schedule drops July 6-9, and there may only be so much that they can do to shuffle panels back in.
It's also entirely possible that some of these studios had no intention of going to San Diego Comic-Con this year, and simply are using the strike as an excuse for why they're skipping (or that the two are being incorrectly conflated). HBO, for instance, had no plans to attend this year in the first place, as its biggest hits, House of the Dragon and The Last of Us, are both very far from filming. That isn't a new occurrence for HBO, who also skipped in 2018 when a new season of Game of Thrones was too far off to warrant a stop at the convention. So even if some studios do change course, it certainly doesn't mean that all will.
Will we see actors on panels?
If an agreement is struck, actors should be able to attend the convention — assuming that their schedule still allows for it, or that studios still plan to hold panels.A potential SAG-AFTRA agreement is likely good news for networks still in, which at the moment appears to include Lionsgate on the TV side (with Ghosts, Heels, and The Continental), as well as NBC.
Even if the WGA continues to strike through the convention, so long as an agreement for SAG is reached, many actors may be under contract to attend the convention.
Will the WGA picket or protest at San Diego Comic-Con?
If writers are still on strike during the convention, we could see WGA "demonstrations" or "protests" in the Gaslamp. They presumably wouldn't be able to do so directly in front of the convention center, which is private property and closed to non-badge holders, but they could be setup by the hotels, around where the religious protestors hold their own protest every year.
We think it's unlikely to be an official picket line, though. Although San Diego Comic-Con has a Hollywood presence, at its core it is not a Hollywood event, and plenty of other unions are also represented at the convention.
An "official" picket line at the convention would essentially mean that any union member — from animation, to even the teamsters who help set up the convention — would have to choose between crossing a picket line and doing their job. Many union members have been refusing to cross official WGA picket lines, which is part of why productions have been shutting down across the country, as WGA members picket specific productions in the hopes that teamsters won't cross (and it's been working). The absolute worst case scenario for the convention's outlook would be an official WGA picket line, and teamsters refusing to cross — as then, the folks who normally set up the convention wouldn't be doing that. And that would be catastrophic for the con.
Having said that though, we'd like to stress that we think (and hope) that an "official" picket line is unlikely to happen. You may simply be seeing more SAG on strike signs in the Gaslamp.
What sort of panels are not affected?
The AMPTA only deals with actors for the screen — so as we've been saying for weeks, we may still see actors and writers there in other capacities, even if an agreement is not reached.
Animation, for instance, is handled by the Animation Guild, rather than the WGA — so animation writers are not on strike. It also explains why many of the panels we've heard about are in fact animation, such as Paramount Picture's Teenage Mutant Ninja Turtles: Mutant Mayhem, and why Max is likely to bring their animated fare.
More generic panels that are not tied to a specific studio are also likely safe. Something like "Cartoon Voices", which sees voice actors get together to read a script while performing with various voices, isn't a studio panel, and would likely be unaffected even if a deal isn't reached. Likewise, the annual Entertainment Weekly and TV Guide group panels (such as Women Who Kick Ass, Brave New Warriors, and Fan Favorites) could also potentially be unaffected.
At ATX earlier this year, their solution for the WGA strike was to hold generic panels on writing, featuring many of the writers who had been invited to the convention, including even specific panels on the WGA strike — and we could see similar efforts at San Diego Comic-Con this year as well.
We'll have to stay tuned to see if an agreement is even struck within the next week, but one thing is for sure: This year at San Diego Comic-Con is already definitely not boring.