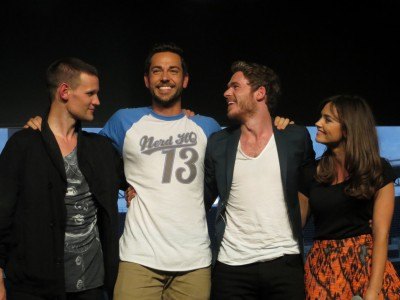 San Diego Comic-Con is really only half the battle. Over the years, the amount of offsites to attend downtown in the Gaslamp have expanded to such a level that there's become a "Comic-Con campus" downtown, with dozens of offsite events offering plenty to do even outside the convention center.
However, all of these offsite events come with their own rules and tips, and there's probably no event that you need to know all about more than Nerd HQ. So we've compiled a guide to help you understand just what this event is and answer some of our readers' most-asked questions.
If there are other questions you would like us to add to the FAQ, please let us know!
Nerd HQ is the annual event organized by Chuck star Zachary Levi and scheduled during San Diego Comic-Con. It started in 2011 and has grown to be one of the top destinations for attendees during the Comic-Con week.
Nerd HQ is held the Thursday through Sunday of Comic-Con weekend in San Diego.
As Nerd HQ has grown over the years, so has its venues to support the thousands of fans who attend. 2013′s Nerd HQ was held inside Petco Park, and the goal is for it to return to Petco in 2014. Nerd Machine also appeared had a presence at New York Comic-Con in 2013, but as of right now, Nerd HQ is not scheduled to appear in any other cities.
4. What's the difference between Nerd HQ and The Nerd Machine?
The Nerd Machine is the company started by Levi, who are part clothing/lifestyle store, and part entertainment/media/news. The Nerd Machine is the creative behind Nerd HQ with 48 Communications as the outside event producers.
5. What is there to do at Nerd HQ?
As Nerd HQ has become a fan favorite event, there is no shortage of things to do.
Probably the most popular of its offerings is the annual  "Conversations for a Cause" series.  HQ hosts some of the biggest stars of the weekend, the difference here is that the unmoderated "Conversations" are a more intimate audience, around 250-300 people. It also provides assigned seating, so there's no waiting for a chance to see your favorite TV and movie stars. You buy a ticket, you are guaranteed a seat. Because the seat assignments are doled out at purchase, you know exactly what seat you're in; and because of the smaller allocation of tickets per Conversation, there's no bad seat in the house. The tickets are hard to get, yes, but that is only because of the smaller audience size.
Nerd HQ hosts some of the biggest open parties of the weekend, as anyone camping out in line can attest to, judging from the late night music booming from Petco across the street. No badge needed, no entrance fee. Just come in, have fun, and bump elbows with Levi and celebrity pals like Nathan Fillion, Alan Tudyk, Matt Smith and others. It's the dream scenario for most geeks descending upon San Diego during the four days in late July. Generally Nerd HQ parties are open to the public nightly; however there is one VIP party that is invite-only. Nerd HQ is open for a total of 55 hours over the weekend, and only 6 of those hours is the venue closed to the public. There are certain areas that fans cannot go, but that is true at any event or convention.
Nerd HQ also provides a place for attendees to come and hang out, play with the latest tech and video games, and grab a drink or a bite to eat. Last year's event featured sofas, laptops free to use to surf the internet, and free charging stations for your electronic devices.
6. When will I know the event schedule for Nerd HQ?
As Nerd HQ relies on celebrities who are already in town for the convention for their Conversations panels, organizers need to see who is first confirmed as panel guests at the Convention Center. As CCI does not release the convention schedule until two weeks prior to the convention, the Nerd HQ schedule is not generally available until after then.
Because of the last minute scheduling, Nerd HQ has been known to add Conversations to the schedule just days prior, sometimes even after the convention has already started. In some cases, "mystery" Conversations are slotted on the schedule, with guests announced just days before, if not during, the event.
7. How much does it cost to go to Nerd HQ?
Entrance to Nerd HQ is completely free. Panel tickets are sold individually for each Conversation for a Cause panel. Prices for each Conversations have stayed pretty consistent throughout the years, starting at $20 in 2011 and being raised only $2 to $22 in 2013. The $2 dollar increase covers fees to the ticket broker, and the rest goes to Operation Smile. 100%. Nerd HQ keeps not one penny of those funds.
8. What's this about Nerd HQ proceeds donating to charity?
Nerd HQ donates all proceeds from its "Conversations for a Cause" ticket sales to the charity Operation Smile. Levi and celebrity guests will also pose in photo booths with attendees, or sign autographs, for a small donation to the charity, called Smiles for Smiles or Signings for Smiles. In its first year, 2011, Nerd HQ contributed $40,000 in 2011 to Operation Smile; $140,000 in 2012 and $215,000 in 2013. He also donated $23,000 from his appearance at the Nerd Machine booth during New York Comic-Con.
The Nerd Machine does have a booth at Nerd HQ which sells apparel and accessories (as it does via its website), and that is the only money generated during Nerd HQ which does not go to charity. Any food and beverage purchase goes to the venue.
9. What's this about crowdfunding?
On March 11, Zachary Levi announced that Nerd HQ would be partially funded this year through a crowd-funding campaign on Indiegogo. Fans can contribute to the campaign, and each person who does so will become a "Member of the Nerd HQ Army" and be part of an exclusive e-mail list that will receive updates, photos, videos, and more. Names of contributors will also be placed on a "Nerd HQ Wall of Honor" at the event and on a contributor page on The Nerd Machine website, www.thenerdmachine.com
The goal for the Indiegogo campaign, called "I Want My Nerd HQ", is one million dollars. Levi and The Nerd Machine are also still searching for sponsors for the event to help fund 2014′s Nerd HQ as in previous years. The only way to guarantee Nerd HQ happens, is for people to support the campaign.
10. Why does Nerd HQ need a million dollars?
Nerd HQ is expensive.  Zac and team wish it were less expensive, but unfortunately the Nerd HQ fans have come to love costs approximately one million dollars. The Nerd Machine team produced the event last year in the same location and that is what it cost. Petco is the most expensive venue outside the convention center. And no matter what happens, they still give all the money raised to charity…even where that has meant a loss to Zachary Levi personally and to The Nerd Machine.
Just a note…a lot of attention has been brought to spending a million dollars on a party.  The Nerd Machine team can promise that their parties are just one small fraction of the overall budget.  If they dropped all three of its parties, it does not make a huge dent in overall budget. They also incur hotel and travel costs for some of their celeb guests (not all of them) which adds to overall budgets.  In 2011, they had 13-14 panels. Last year they had 25. This year they hope to have more.
11. Does the million dollars include sponsor contributions?
As of right now there are no contracted sponsors in place.  Should Nerd HQ gain sponsors, which they expect to, both funded dollars and sponsorship dollars will go towards growing the event in 2014.
12. With the crowdfunding campaign, is the goal for Nerd HQ to be funded completely independently?
If the crowdfunding campaign reaches its goal, Nerd HQ will be funded completely independently. If they do not, they hope to have a combined independent funding and sponsorship dollars to make Nerd HQ happen.