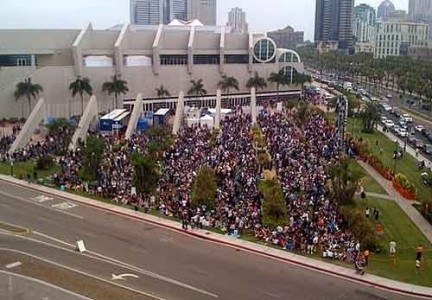 Two interesting bits of news came out from the CCI camp – that is Comic-Con International for the uninitiated – that we feel are important enough to call attention to for our readers.
The first is from NBC San Diego, which says attendees should expect random badge checks at this year's SDCC. The culprit isn't second-hand sales, but rather to address attendees sharing or duplicating badges.
Comic-Con 2012 Director of Marketing and Public Relations, David Glanzer, said his staff will work to avoid delays for the thousands entering the event but with a lot of people duplicating badges, there is a need to increase badge security.

"Security has been very, very good about seeing counterfeit badges but at the end of the event, you may 10 or 15 badges with one person's name used multiple times," he said.

Source: Badges, Costume Weapons to Be Checked at Comic-Con 2012 | NBC San Diego
We say this is a minor inconvenience to head off a bigger problem. CCI has been good about scaring off the secondary badge market, and this next step will help avoid folks gaming the system for future cons. Just be sure to build pockets into your costumes.
The second piece of news came from CCI themselves, via the official Comic-Con website. The Line-Up rules have been established, and they may affect those of you who want to get an early start for the best seat in Hall H.
First, it says no one can line up in Plaza Park outside Hall H until all canopies and line queues are set up, which is expected by Tuesday July 10.
The rest – well, we'd just as well let them tell you:
Camping is not allowed.
No tents, canopies, inflatables, cots, beds, furniture, large coolers, heaters, large fans, large umbrellas, chaise lounges, open flames, or anything of similar size of any kind as determined by the Convention Center.
You are allowed to have one chair per person of relatively normal size. You may use a sleeping bag or blanket as well, provided it is only taking up the space of one person.
No facilities or services will be available in the Park, so plan accordingly.
Restroom access will be available in Lobby G of the Convention Center from 9:00 PM to 7:00 AM each night starting Tuesday, July 10. No other access to facilities will be available.
Please respect the grounds and dispose of trash in trash receptacles. Please do not leave any trash or waste behind.
No "saving" a spot in line unless it is only temporary, such as a restroom break.
What do you think of this year's new rules? For Comic-Con veterans, will these help or hurt your experience? Let us know in the comments.