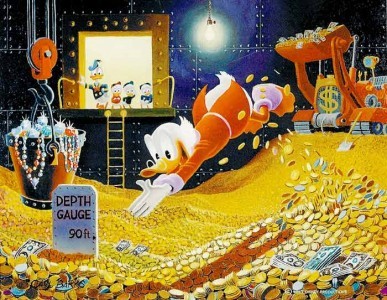 For only $8,286,895, you too can throw your own Comic-Con.
That number is according to tax documents filed by Comic-Con International, the parent organization that sponsors SDCC, Wondercon and Alternative Press Expo. As CCI is a non-profit organization, it is required to make its previous three tax filings, in the form of a Form 990, available for public inspection. So let's see where your $150 badge registration fee is spent, shall we?
As mentioned earlier, it cost just over $8.2 million to throw SDCC in 2010. On the flip-side it generated a revenue of $10.4 million from the annual geek mecca, operating at a positive revenue of nearly $2 million dollars for that year.
In comparison, Wondercon cost $820,198, and APE cost $147,513, in 2010. In total, expenses to throw all three conventions cost over $9.2 million.
So where is most of that money spent? The biggest expense is the one that impacts attendees most – security, at a whopping $1.3 million. Second is the salaries for the 35 people CCI employed that year, at just over $1.2 million. And to rent the convention space? A cool $424k. Since these specific program expenses were not separated by con, we don't know how much of this actually went toward SDCC, but by law of ratios it is likely the majority.
Where it gets interesting is the amount of cash CCI is sitting on. At the end of tax year 2010, CCI had as "savings and temporary cash investments" of over $12 million dollars. That kind of cash would make even Dr. Evil blush. And hey, if they were feeling nice and generous they could refund all of our badge registration fees for this year and still be sitting on about $2 million.
According to the filing, CCI also estimated about 3,400 volunteers across the three conventions for 2010. So just remember that aforementioned vat of $12 million when you're submitting your volunteer application this year.
If you're a geek moonlighting as a CPA, or vice versa, you can check out all the details for yourself here.
Do you find any of this surprising? Any millionaires looking to start their own con? Let us know in the comments!