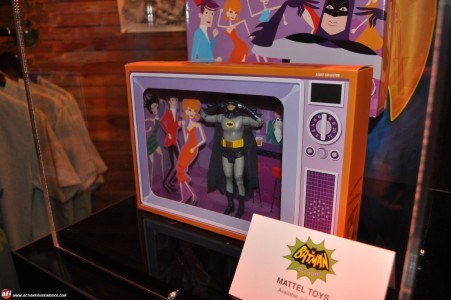 This week we add two items to our SDCC exclusive watch. First, AwesomeToyBlog got the tip from NECA that another Predator figure will be debuting at SDCC this July.  Furthermore, instead of a simple paint variant version like we've gotten in the past, the site said we can expect something totally new:
For the 4th SDCC in a row there will be a Predator exclusive but unlike the past 3 years where the SDCC Predators consisted of Stealth or Cloaked versions of existing Predators this year NECA is stepping it up with an all new Predator never released before. Could this Predator be movie, comic or video game based or perhaps something else from Dead End which coincidentally celebrates it's 10th Anniversary at this years SDCC .
This report was validated shortly after the release of the article when NECA assisted in advertising the story by retweeting the link. Now we will all wait anxiously for a picture of what the sculpt might be.
While there is nothing little about an all-new Predator figure, the biggest news of the week came from Mattel with the announcement of an SDCC-exclusive addition to their Batman 66 line. For those that haven't followed this series, there is a very long story of licensing rights related to the Adam West Batman series of the 60's. During this year's Toy Fair, fans were thrilled to find out that Mattel had managed to work out the details to finally bring West, Burt Ward, Burgess Meredith and the rest of the TV crew to the toy market. What was not announced at Toy Fair was the likelihood of an SDCC exclusive link. Last Thursday, Mattel announced SDCC would become the home of the exclusive Batusi version of the figure. Action Figure Insiders was on top of the story, held at Meltdown Comics in Los Angeles late last week.
In addition to an awesome figure in amazing packaging, the Batusi Batman will also include some cool play features. It has an action option that allows the figure to appear to batusi in front of your eyes and also includes the song that Adam West danced to in one of the most classic Batman scenes of all-time. This figure will make the Mattel booth one of the hottest spots at SDCC and make it all that much more important that attendees take advantage of the expected voucher pre-sale in the next few months. And of course, keep an eye here for more information on how you can add these sweet exclusives to your toy shelf this July.
We've added a nifty quick link on the Home menu above so you can keep track of all the SDCC-exclusive merchandise news and announcements leading up to the con.
What do you think of these SDCC items? Are you going to gear up for that Predator figure or are you more of a Batusi type of nerd? Leave us a comment and let us know.