Blizzard Entertainment, the company behind PC video game juggernauts World of Warcraft and StarCraft, have announced the exclusive merchandise it will be selling at its booth during this year's San Diego Comic-Con. This is the first year the company will be selling SDCC exclusives at its booth, #115.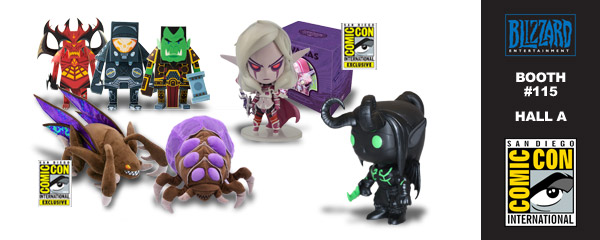 Check out the descriptions below.
TRANSFORMING ZERGLING/BANELING PLUSH

This soft, huggable, and slightly murderous Zerg buddy is ready to keep you company at night! Transforms (at will) from Zergling to Baneling with the pull of a zipper. The exclusive San Diego Comic-Con color scheme is limited to 2,000 pieces.

MINI SYLVANAS

She's cute. She's deadly. Mini Sylvanas is the first in an exclusive new series of micro action figures. Limited to 2,000 pieces, so you'll have to act quickly to snatch up a Banshee Queen of your very own.

SHADOW ILLIDAN BY FUNKO

With his big, adorable eyes and bold colors, Funko's vinyl Shadow Illidan is sure to find a way to adorably corrupt your soul. Shadow Illidan is a Comic-Con exclusive variant of the upcoming Funko POP! Vinyl Blizzard line of toys and is limited to 750 pieces at the Blizzard booth and 250 at the Funko booth.

Udon World of Warcraft Tribute Art Book [Hardcover Edition]

Blizzard will be the exclusive retailer for the Hardcover Edition of Udon's new art book collecting fan-created tributes to the Warcraft universe. Only 300 copies of this Comic-Con exclusive will be available.

EPIC PURPLE LANYARD

Show off your impressive item level by equipping our new Epic Purple Lanyard in your neck slot! This lanyard features a custom-embroidered stat tag, four-color purple ribbon, and a rotating lobster claw clasp. These lanyards are available on a first come, first serve basis to visitors at the Blizzard booth.

MOMOT Blizzard Papercraft: US Premiere

Korean Papercraft comes to the United States with Diablo, Thrall and Raynor models. Comic Con will be the US premiere of the new Korean product line by MOMOT.
Are you a Blizzard fan? Which items are you most interested in? Let us know in the comments.