We've started a new, quasi-regular column on the Blog titled "Under The Tents". The title is symbolic, as it's representative of the times we all line up under the tents waiting for those big moments to happen inside Hall H or Ballroom 20.
Here's the stuff you might have missed for today:
Our own Evic Oropilla tweeted panel acceptance letters were being received by folks today, meaning you'll start to see a lot of independent panel confirmations now. Like this one, for the Harry Potter: Still Magic! fan panel:
Squee! The Harry Potter: Still Magic! fan panel returns to #SDCC on Sunday at 4:15 pm in Room 6DE (our usual Great Hall). Let's make magic!

— Heidi Tandy (my tweets are not legal advice) 💫 (@travelingheidi) June 3, 2013
Dark Horse Comics tweeted an update on its proposed Game of Thrones figures, saying we may possibly see them at SDCC:
@cobra74 We're working on it! Have some statues and drinking items to get out first. Cross your fingers for SDCC.

— Dark Horse Comics (@DarkHorseComics) June 3, 2013
Course of the Force, the charity relay run along the California coast which will end at San Diego Comic-Con, announced a whole slew of sponsors for this year's run. State Farm will be hosting photo booths at the relay stops (or "Conivals" as they're called), Virgin America will be the official transport for the COTF lightsaber (first class, of course), and Otter Pops will be passing out Limited-edition lightsaber freeze pops to participants. Read the official press release for all the sponsors.
FUNimation Channel posted on its Facebook page that it will be back at SDCC this year with "a brand new entertainment news show by Olympusat Media". One of our savvy readers caught the post earlier with a Dragon Age logo, but now it just shows the official Comic-Con logo.
@SD_Comic_Con FUNimation Channel will have something for SDCC with Olympusat Media. Only clue is the Dragon Age logo. Hmm….

— Besthpfan (@Besthpfan) June 3, 2013
Could it be a new movie tie-in with the upcoming Dragon Age III: Inquisition? BioWare always has an offsite installation in the Gaslamp, so maybe…
MTV Geek had the scoop on Mezco Toyz' latest SDCC exclusive: The Breaking Bad Walter White Hazmat Suit Edition.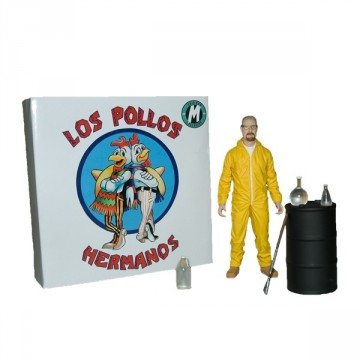 Walter comes with his trademark yellow Hazmat suit, chemical drum, lab bottles and makeshift flyswatter, and comes "in a collector-friendly package with a Los Pollos Hermanos slipcover". It's a limited run of 1500 and is available for order via the Mezco website, or at booth #3445 in the Exhibit Hall.
The Hub Network, the cable network joint venture between Hasbro and Discovery Communications, Inc., announced along with the return of The Aquabats! to the House of Blues, will be at booth #4118 in the Exhibit Hall and will hold the My Little Pony Fan Favorite Poll:
"Hub Network's My Little Pony Fan Favorite Poll" asks fans to elect their "fan favorite" pony from the "mane six" (Twilight Sparkle, Fluttershy, Pinkie Pie, Rarity, Rainbow Dash, and Applejack). In addition to voting, fans have the opportunity to go into a video booth to record a testimonial that could end up on Hubworld.com or on national TV during the "Hub Network's My Little Pony Fan Favorite Poll" winner marathon on Sunday, September 1 (10:00 a.m. – noon ET).
Along with showcasing some of the new licensed products coming out this year, the booth will also be where the writers and artists behind some of our comics and books will be signing. We will also be selling exclusive SDCC products for the first time.
There were also tweets from the official StarCraft Twitter account saying Blizzard will be "showing off new licensed products, signing autographs and selling [Comic-Con] exclusives", and from the official World of Warcraft Twitter account teasing it will have "rad licensed products" at its booth:
At #SDCC we'll be showing off new licensed products, signing autographs, and selling @comic_con exclusives. Stay tuned for more info!

— StarCraft (@StarCraft) June 3, 2013
We're showing off rad licensed products at #SDCC this year! In a booth! We're excited. http://t.co/960Sz4XAVM

— World of Warcraft (@Warcraft) June 3, 2013
Anything we missed? Let us know in the comments, drop us a line or tweet us at @SD_Comic_Con.