With our first reveal of NECA's line of exclusives for this year's Comic-Con, and news of MattyCollector's exclusives being unveiled next week, con season is now in full swing. That means that exclusive news will be coming in fast and furious in the coming months, and today we're kickstarting that off with news on an Action Figure Xpress bust paperweight set.
Earlier this year, AFX had opened pre-orders for a set of two mini-bust paperweights, featuring The Reverse Flash and Flashpoint Batman. The statues measure 5.25-inches-tall, and the set was originally available for pre-order for $50 for both figures. However, we've since learned that these figures won't be making their debut in April as originally planned — instead, they'll be a Comic-Con exclusive (and presumably for those who had already pre-ordered).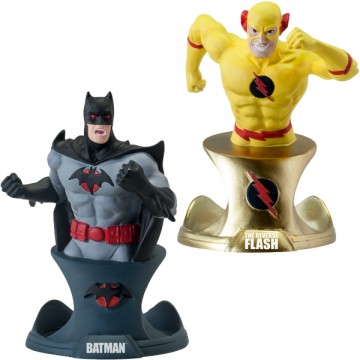 As first reported by Speedforce, representatives for AFX confirmed with us that the set will now be a SDCC exclusive, and while no further details about the set were revealed when we reached out for comment, we assume the figures will likely still be around $50 and available at AFX's booth.
The representative from AFX we spoke to stated that the company had yet to unveil the full list of their Comic-Con "exclusives", implying that AFX will once more be bringing several items to the convention. Last year, AFX brought six exclusives to San Diego Comic-Con, including a set of Iron Man 3 Minimates from Diamond Select and a bust paperweight of He-Man from Icon Heroes.
Will you be snatching this set of paperweights up? Let us know in the comments.