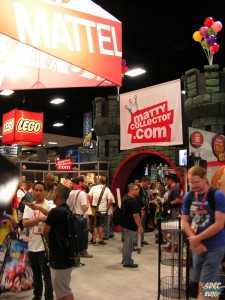 Readers love to know well in advance what exclusives they'll be spending their hard-earned cash on at San Diego Comic-Con (and if you haven't started saving yet, you might want to take a look at Evic's "Setting Your SDCC Budget" post from last year). Now that May is just around the corner, that time is nearly upon us.
One of the more popular toy manufacturers at SDCC is MattyCollector, the collectible arm of Mattel which produces those awesome DC Universe, Masters of the Universe and Movie Masters figures; not to mention the annual Monster High exclusive that has collectors (and vendors) scrambling on Preview Night.
Last year, the first wave of the MattyCollector exclusives were announced in late April. So we should expect the same timeframe for this year too, right?
Right. In a post on the MattyCollector official forums, Mattel's Scott "Toy Guru" Neitlich posted that the reveals are right around the corner.
The reveals will be over the next few weeks throughout late April, early May.
Late April, as we all know, is just a few days away, so we should expect to start seeing reveals starting sometime next week. That also hopefully means we'll also know more about MattyCollector's annual SDCC voucher pre-sale, a service which allows attendees to pre-buy an exclusive weeks in advance and pick them up off the show floor, without the hassle of long (or frequently capped) booth lines.
We already know of Matty's DC Signature Collection Doomsday figure, which was announced during Comikaze last November, but we're eager to see the other exclusives the company has in store for attendees in 2014.
Which exclusives are you hoping MattyCollector will announce? Let us and your fellow readers know in the comments.
[via Toy Hype USA]