The one Comic-Con event that stresses everyone out is the annual Hotel Reservation sales. Why? For one, everyone is competing for a limited number of coveted downtown hotel rooms, likely to have a shower close by after a spending a night in the plaza outside of Hall H. And when we say everyone, we mean it. Preregistration and open registration badge holders, as well as press, pros, volunteers and even those shut out from badges altogether but still want to share in the experience of San Diego Comic-Con.
And now that the "one sure thing" to get a room – the Early Bird Sale – is closed, it's do or die for those who need somewhere to stay.
The other aspect of the hotel reservation sale that stresses everyone out? The frenzy to submit a reservation request is at a fever pitch after last year, when so many people were shut out of a downtown hotel. From our informal (read: unscientific) research, the cutoff submission time between those who did get a hotel and those who didn't last year was two minutes. That means, more people this year had to "buddy up" for a good shot at a reservation, more reservations will be issued to those who will later cancel because they'll go with another roommate's or friend's reservation, and we'll potentially hear more cries from those who were shut out entirely when the Travel Planners emails are sent out in about two days.
What this might also mean, is that as many unwanted reservations are cancelled and thrown back into the pool, those who put themselves down on the waitlist (you did, didn't you?) will get a happy email sometime in the next few months.
On that note, if you have a reservation you don't need, or are looking for someone with an extra bed, help a fellow attendee out by visiting our Room/Roommate Finder thread over on the commiccon subreddit, and tell them we sent ya (not that it'll get you anything, but hey…).
Lastly? The biggest thing that stresses everyone out is that the stressful period has just begun. Once reservation requests are submitted, it's a painful two-day wait to see what hotel you actually got. Until then all you have to look at is this frightfully generic "Thank You" page…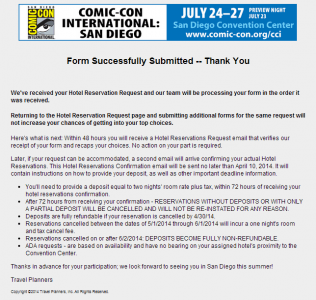 Here are some choice tweets from our readers and friends:
2:20. Maybe a new record. #hoteloween. #SDCC2014

— Heidi MacDonald (@Comixace) April 8, 2014
Comic Con hotel booked…Now the waiting game begins.

— LRM Online (Latino Review Media) (@LRM_Exclusive) April 8, 2014
Comi-Con hotel form submitted. That was deceptively easy. Something MUST be wrong.

— Gary Whitta (@garywhitta) April 8, 2014
Whew. Man that is stressful! #SDCCHotels

— Natalie Abrams (@NatalieAbrams) April 8, 2014
http://twitter.com/LauInLA/status/453563627417927680
And submitted. Now, we wait. We wAIT #sdcc #itisreallystressfulokay

— Anne Kirn⁉️ (@house_of_darkly) April 8, 2014
http://twitter.com/public_m00mba/status/453563425541468161
@SD_Comic_Con submitted at 901. Was shut out of rooms last year, hopefully I do better this year.

— Dan Russo (@stonciddta) April 8, 2014
@SD_Comic_Con You wanted to know about submission times: I got mine done at 09:01:30. #SDCC #Hotelpocalypse

— Malory (@malorybryn) April 8, 2014
@SD_Comic_Con hotel form @done at 12:02pm. We'll see how it goes.

— Tova (@Cloviszim) April 8, 2014
@SD_Comic_Con 9:03:05. Which probably means I'm screwed 🙂

— Jon Reeves (@jonatimdb) April 8, 2014
@SD_Comic_Con Just finished my #hotelpocalypse Got it done in about 60 seconds.

— Jon (@JonathanK81) April 8, 2014
@SD_Comic_Con submitted at 9:03am :/

— Alex (@laced_wings) April 8, 2014
Submitted Comic-Con hotel list by 9:01. Hands still shaking! Cubicle buddy is scared I've had too much coffee @SD_Comic_Con #SDCC

— Stephanie (@sincisinsanity) April 8, 2014
Just filled out a form for the block rate Hotels for @SD_Comic_Con. No lie, that was the most intense 30 seconds of my last couple years.

— Jim, Bond & Llonch (@TheJimBond) April 8, 2014
@SD_Comic_Con I submitted at 9:02. Hoping I got something

— X Potato @ MiniMini Con (@xPotato_exe) April 8, 2014
@SD_Comic_Con Completed and submitted in ~1:45 and GF completed in ~3:30

— Xiruious (@WhySoXiruious) April 8, 2014
[EDIT] And our friends over at the comiccon subreddit have started an "aftermath" thread. Post your time to submit and top six hotels, and chat with fellow readers and Comic-Con attendees.
How fast were you in submitting your reservation request? How are your nerves afterwards? Let us and our readers know in the comments.