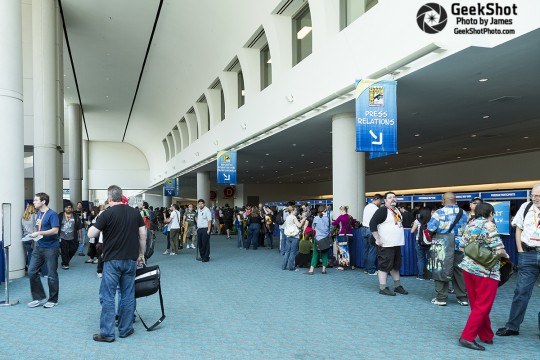 It's now May, and that means in less than 85 days, San Diego Comic-Con will be upon us.  Are you prepared? Well, alright, no one is probably ever completely prepared, but your best option for ensuring you make the most of the behemoth that is Comic-Con is keeping up with the important important. But don't worry! We've got you covered. Here's what you can expect over the next month:
Hotel Room Cancellations
Starting Sunday, any Travel Planner hotel reservation cancellation incurs a penalty fee equal to one night's room rate, plus tax. For those shut out of the hotel sales last month there are still some non-downtown hotels available in Mission Valley and near the airport. They're further out, but they might just be your best and only shot at scoring a room, as the cancelled downtown hotels will go to those on the waitlists, and hotels booked outside of the Travel Planners system aren't eligible for the special convention rate — meaning you could literally be paying thousands of dollars more.
Parking Permit Sales
On May 20th at 9AM PT, Ace Parking will put the parking permits on sale. There will be 11 lots sold in the sale (and for a complete listing, including an interactive map with lot locations, click here) with prices ranging from $15 to $30. Just like with badges and hotels, these will go quickly, so if you'll be needing to park during the convention, plan on knowing your order of preference for lots in case yours is sold out. Need help deciding which lot is right for you before the sale? Check out our Parking Guide.
Exclusive Announcements
May will be a big month in the world of exclusives for most of the major companies. We already have our first look at the first two Comic-Con exclusives from Mattel, and we'll be getting a look at another one on Tuesday, May 6, and then five more on Tuesday, May 13. We also already have the first exclusive from NECA, and word is that we're very likely to be seeing more this month. Also expect some announcements from companies like Bandai and and many others. Last year we got our first Hasbro announcement – the Boba Fett Black Series – as early as May 4.
More Panel Confirmations
Those who applied to hold a panel during Comic-Con typically hear back in either late May or early June. The networks and studios are different, though, and we've already had announcements on several movies and TV shows attending the convention, including Into the Storm, Expendables 3, and Sleepy Hollow. We're very likely to keep getting announcements all the way through May — last year at this time we saw confirmations from The Amazing Spider-Man 2, and of course, that Warner Bros. would again be taking over Hall H on Saturday. You can see our complete list of Confirmed Panels as of now by clicking here.
The Return of the SDConCast
Yes, that's right, an all new regular season of the SDConCast will be returning this month! We'll be bringing you more special guests and great coverage leading up to the convention, to help ensure you're as prepared as possible for July.
Badge Resale Information
CCI has been mum on any resale date, partially because they can't guarantee that one will even happen until they do a recount of the available badges. And that won't happen until after May 23, which is the deadline for people currently with badges to return or cancel them. To put things in perspective, even though the resale date last year was on June 10, we received word about that resale as early as May 20. We think chances are good that it will happen again this year (though there's no guarantee on whether or not it will be a lottery system, open only to U.S. and Canadian residents, again this year), and we'll let you know when a date and details are finally announced.
More News, More Features
We know we say this every year, but the news just seems to keep coming faster than ever. But we know from experience, you ain't seen nothin' yet — May is the start of the true news season for SDCC. Expect all sorts of booth, offsite event, panel, and other information to be announced fast and furiously from here on out, and we'll be on top of it all to be your number one source for all-things SDCC!
In addition, we'll have more tips, regular columns and other great content to help make this year's SDCC your best ever, whether it's your first or your fifteenth year attending.
Is there anything in particular you would like us to cover or want to know more about for SDCC? Let us know in the comments, drop us a line or tweet us at @SD_Comic_Con.