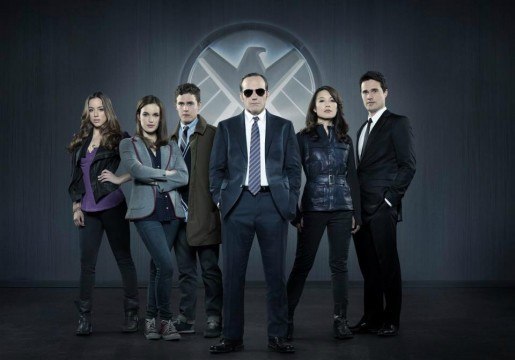 ABC Network has had a strong presence at San Diego Comic-Con for the last few years, and last year offered fans an exciting first look at the Marvel's Agents of S.H.I.E.L.D. pilot months before it aired on TV. Although we already confirmed with a representative at ABC that fan-favorite Once Upon A Time will be returning to the convention with a panel next month, we've now received official confirmation from a representative at ABC that the network will also be bringing back Marvel's Agents of S.H.I.E.L.D. along with newcomer Resurrection, and "possibly" one other series, whose Comic-Con fate has not yet been determined.
The return of Agents of S.H.I.E.L.D. comes as no surprise to fans, as eagle-eyed attendees may have already seen co-executive-producer Maurissa Tancharoen telling a fan on Twitter that she will "see you there" in response to a question of whether or not they would be attending San Diego Comic-Con. Although ABC could not confirm which stars will be in attendance at the panel, Tancharoen tagged actors Clark Gregg, Ming Na, and Chloe Bennet in her message – strongly implying that they're likely to be on the Comic-Con panel.
See you there… @agentvontapdat @clarkgregg @MingNa @ChloeBennet4

— Maurissa Tancharoen (@MoTancharoen) June 28, 2014
As we already speculated earlier this year, we'd be surprised if Marvel's Agent Carter, which hasn't shot its pilot yet, received its own panel at Comic-Con, simply because new series often only receive a limited panel with a pilot screening, and there's no pilot to show currently. However, officially announcing the entire cast, or offering attendees a look at the sizzle reel screened to critics at ABC's Upfronts presentation this year, during Marvel's Agents of S.H.I.E.L.D. panel seems entirely plausible.
ABC also confirmed that it will be bringing along Comic-Con newcomer Resurrection, which debuted in March, and has already been renewed for a second season. The series follows the residents of Arcadia, Missouri, whose loved ones suddenly return from the dead, unaged since their deaths. Although there's no word yet on which cast members will be in attendance, the series stars Omar Epps, Frances Fisher, Kurtwood Smith, Matt Craven, and many others – giving ABC a large talent pool to draw from for the panel in its San Diego Comic-Con debut.
So what other series could ABC be considering to bring to San Diego Comic-Con to join Once Upon A Time, Marvel's Agents of S.H.I.E.L.D., and Resurrection? ABC could surprise us all, and Carter could be that fourth "possible" panel that the network is considering, with other possibilities including the upcoming horror/mystery series The Whispers, musical, fairy-tale, medieval series Galavant, or even the long-awaited return of Castle.
Are you excited about this news? What are you hoping the other panel that ABC is considering could be? Let us know in the comments.