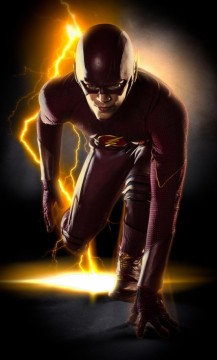 Television series comprise a huge chunk of the schedule for San Diego Comic-Con — and every year it seems like they become a larger and larger piece of the pie. The lines for Ballroom 20 are starting to rival even those of Hall H, and they won't be getting any shorter any time soon.
As the anticipation builds for the official announcements from networks and CCI as to which television shows will be on the panel schedule, we like to take time out earlier in the year to speculate which shows have the best chances of appearing at SDCC. We'll be breaking this into three segments, including the Cable Networks and Family Networks, but we're kicking things off today with the main five basic broadcast channels — ABC, CBS, CW, FOX, and NBC (as well as one bonus network – brought to you by viewers like you).
It's important to note that while we've broken out the schedule by which network a series airs on, these aren't necessarily the entities that physically own the shows, and thus bring them to Comic-Con. So, for instance, The Big Bang Theory is actually a Warner Bros. production, that merely airs on CBS, so Warner Bros. is the one who brings it to the convention. NBC owns Grimm, but not Constantine, so it would only be responsible for bringing the former along. Confusing? We know. That's why we've laid it out like this — but don't panic if your favorite shows aren't on any announcements the networks and studios make in the next two months.
So what do we think you'll be seeing at Comic-Con this summer? Let's take a look:
ABC
ABC probably brings the least amount of shows to San Diego Comic-Con of any of the five broadcast networks, and this year should be no different. However, fans can pretty much count on the network returning with fan favorites Once Upon a Time and Marvel's Agents of S.H.I.E.L.D.
The question on everyone's minds is — will we be seeing Agent Carter? Personally, we don't think so, at least not with a full panel. New shows that haven't aired yet typically debut at Comic-Con with a full pilot screening, and as Carter hasn't been shot yet (it was picked up on the strength of the Marvel one-shot, rather than first shooting a full pilot), and it won't be airing in the fall, there's no need to hurry into production and it's unlikely anything would be ready by con time. We think fans can expect some kind of sneak-peek or first look, or even a full cast announcement, revealed in the S.H.I.E.L.D. panel, but we wouldn't hold our breath for more than that.
If ABC does bring along another new series, we think it's likely to be Forever, which stars Ioan Guffudd as a medical examiner who is also immortal. It's made by Warner Bros., and it would be a good bet for Preview Night, if we didn't think it was going to be a DC sweep this year — but more on that later.
As we think The Whispers is probably too dark for SDCC, the only other new series on ABC's roster that makes sense for the Comic-Con crowd is the musical, fairy-tale, medieval (say that ten times fast!) series Galavant. It stars Psych's charming Timothy Omundson, but ABC rarely brings their comedy series to the convention (not even alien comedy The Neighbors made the cut), so consider this one a very long shot.
Also possible? The long-awaited return of Castle, which has sat the last two years out despite both Nathan Fillion and Molly C. Quinn being in town. Hear our cries, ABC.
http://www.youtube.com/watch?v=hPNVhGbw_Sg
CBS
Expect CBS to return to Comic-Con with The Big Bang Theory, Person of Interest, and Under the Dome. Last year, Elementary didn't return, though it's unclear if that was due to scheduling conflicts, or if CBS simply thought the show was too procedural for the Comic-Con crowd after all — so it's possible we could see its return in 2014.
CBS has debuted at least one new show the last few years that doesn't immediately make sense for the Comic-Con crowd (like Elementary and Intelligence), and of the new shows picked up for 2014, we think that honor will likely now go to Scorpion. The show follows "an eccentric genius and his international network of super-geniuses who form the last line of defense against the complex threats of the modern age". It also stars The Terminator's Robert Patrick, and makes more sense than, say, The Odd Couple. Another, less likely option is Stalker, about a team of detectives who handle stalking incidents — but it hails from The Following's Kevin Williamson, and features Nikita star Maggie Q and American Horror Story's Dylan McDermott. It has some Comic-Con star power, but it seems too mainstream for SDCC.
We wish CBS would bring Vince Gilligan (Breaking Bad) and his Battle Creek, but considering the show won't be airing in the fall and CBS hasn't even released footage online, it's highly unlikely.
http://www.youtube.com/watch?v=KQUHezf0Kqs
CW
2014 should be a big year for the CW at Comic-Con. As usual, the CW should be bringing back The Vampire Diaries and its spinoff series The Originals, as well as Arrow, Beauty & The Beast, Supernatural, and The 100. That's already a pretty full schedule, but then there's also the new shows.
For 2013, the CW brought three of their newly picked up shows, and we expect them to bring three of 2014's new fall shows as well. The most obvious candidate is The Flash, based on the DC Comics and a spin-off of the already-popular Arrow series. It stars Grant Gustin and Jesse L. Martin, and considering the property its based on, makes it a no-brainer for Comic-Con. It's also a Warner Bros. production — which means we can pretty much guarantee you'll be seeing this on Preview Night with a full pilot screening (and then fans will likely see the pilot again in a full panel later in the week with the stars).
However, The Flash isn't the only DC/WB production that the CW picked up. The other one is iZombie, from creator Rob Thomas (Veronica Mars) and starring Rose McIver as a medical student-turned-zombie who takes a job in the Coroner's Office in order to gain access to the brains she must eat to maintain her humanity. Even though this isn't airing until midseason, we expect a screening for this on WB's Preview Night as well, along with a panel later in the week.
Finally, there's also The Messengers, another midseason series, about a group of seemingly unconnected strangers who die from an energy pulse when a mysterious object crashes to Earth, but then awaken to learn that they have been deemed responsible for preventing the impending apocalypse. While we don't think you'll be finding this one on Preview Night, you'll likely still get to see the full pilot later in the week (a strategy utilized last year for Star-Crossed).
http://www.youtube.com/watch?v=Yj0l7iGKh8g
FOX
This year, the FOX Comic-Con schedule is going to most interesting for fans of Fox's traditional Animation Domination. Typically, the network hosts four back-to-back animation panels on Saturday, but one of those shows (Futurama) ended its final season, and another of the shows is being shipped off the TBS (American Dad). So will FOX continue the four-hour hold of Ballroom 20 dedicated to animation? At the very least, expect to see The Simpsons and Family Guy back in Ballroom 20, with Bob's Burgers possibly getting an upgrade from the Indigo Ballroom at the Hilton Bayfront. Axe Cop hasn't been renewed yet (but nor has it been cancelled), so it won't have anything new to show at SDCC, making it unlikely.
On the live-action front, FOX should be bringing back Sleepy Hollow (with cast members Tom Mison and Orlando Jones already announcing they'll be in attendance), as well as Bones and The Following. It will also be the final season of Glee, so it's possible we could get a farewell panel, but after slowly being relegated to smaller rooms and then skipping the convention entirely in 2013, there's a possibility it may not return.
For the new series picked up, Gotham should definitely be in attendance. The show features Ben McKenzie as a younger Commissioner James Gordon as he finds himself drawn into the origin stories of Bruce Wayne, Penguin, Riddler, Joker, Catwoman, and more. It's one of the most highly anticipated new shows this fall, and as it's another Warner Bros. production, we're pretty confident you can find it first on Preview Night.
Another solid contender for SDCC-candidates is Hieroglyph, an adventure drama from the writer of Pacific Rim, Travis Beacham, about a notorious thief in ancient Egypt who is picked to serve the Pharoah while "navigating palace intrigue, seductive concubines, criminal underbellies and even a few divine sorcerers". The series has a Comic-Con pedigree, and some fantasy elements to it, making it a likely fit.
http://www.youtube.com/watch?v=JC2Nn0lPmfc
NBC
NBC cleaned house of several of its genre-fare this year, but the still-standing Grimm and Hannibal are basically locks to return (and Hannibal creator Bryan Fuller already announced the show would be returning at a recent press screening). Also likely to return is NBC's biggest scripted hit, The Blacklist, which also saw some heavy promotion at Comic-Con International sister-show WonderCon back in April.
There's really only one new series on NBC that stands out as being likely to attend San Diego Comic-Con (since Emerald City hasn't shot anything yet, and seems more like a possible summer 2015 show), leaving the most likely candidate as Constantine. Based on the Hellblazer graphic novels, Constantine centers on the master of the occult, John Constantine, as he struggles with his faith while being thrust into the role of defending humanity from the gathering forces of darkness. It's the final Warner Bros. production on our list, and also what we think will be the fourth entry for WB's Preview Night — hopefully making it a full sweep of DC properties on Wednesday night at SDCC.
http://www.youtube.com/watch?v=uPE2oBnzROY
Other
While it's not one of the five main broadcast networks, it is worth mentioning that PBS brought Sherlock last year to Comic-Con, and there's a strong possibility the show will be back. Last year's panel only saw creators Steven Moffat and Mark Gatiss, as well as producer Sue Vertue, but if stars Benedict Cumberbatch and Martin Freeman are in town already for The Hobbit: The Five Armies as we think they will be, it makes sense for a full SDCC panel for Sherlock as well.
Television Graveyard
We'd also like to take a moment to reflect back upon our dearly departed shows that won't be gracing the stages at San Diego Comic-Con this summer, either because they were canceled, or simply ended their run. Here are the broadcast shows that you won't be seeing at SDCC again, at least until that ten year reunion (or until Hulu picks up Community — come on, Hulu!):
Almost Human (FOX)
Community (NBC)
Dracula (NBC)
Futurama (FOX)
How I Met Your Mother (CBS)
Intelligence (CBS)
Nikita (CW)
Once Upon A Time in Wonderland (ABC)
Revolution (NBC)
Star-Crossed (CW)
The Tomorrow People (CW)
Which of these shows are you excited about seeing at Comic-Con? Let us know in the comments.