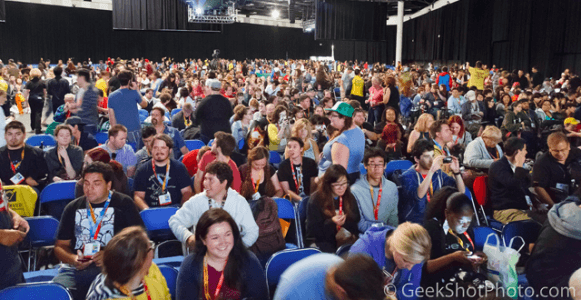 We all know San Diego Comic-Con is more than just comics. Yet despite all the great panels and events that happen throughout the convention, nothing gets quite the attention than a big Hollywood reveal on the stage of the Convention Center's Hall H. Tom Hiddleston as Loki? Warner Bros. taking the wraps off of Godzilla for the first time? The Avengers presented on stage with Joss Whedon? Those moments and more might not be your personal favorites, but they're the moments everyone remembers and talks about for years.
Every year, we take a gander at the theatrical release schedule and put down our best guesses as to which films might be filling up Hall H in July.
1. Hercules
Release Date: July 25, 2014
http://youtu.be/4JZhGYrgCPg
We already know Hercules will have a presence at SDCC, because it was revealed by its production company, way back in January. But the question here is, what kind of presence? Its release date puts it in a difficult situation. Should it have a panel, it would only make sense to hold it on Thursday, the day prior to its theatrical release. Or as we've seen in the past with movies release during Comic-Con, perhaps it might have special Thursday premiere showing with cast and crew, or some other offsite promotion. Nonetheless, whether we'll be seeing star Dwayne Johnson or director Brett Ratner in support of the film, we will definitely be seeing Hercules in some form during the weekend.
2. Guardians of the Galaxy
Release Date: August 1, 2014
We've been hearing that Marvel will be pushing Guardians of the Galaxy hard during Comic-Con this year. If not an early screening during the convention, perhaps the company will give Hall H attendees an extended sneak preview during its annual panel. After all, Marvel showed an early look of the characters last year after only filming for two weeks. Expect to be humming "Hooked on a Feeling" throughout the weekend.
3. Into the Storm
Release Date: August 8, 2014
Here's another film we know will be at Comic-Con, thanks to star Richard Armitage who mentioned it during an interview this year. Distributed by Warner Bros., it was already at WonderCon back in April, so we're left wondering if this will even be at the studio's big panel event. It's also not a great fit genre-wise. Sure, it has a fan-favorite star and big special effects, but this is Comic-Con, not Meteorologist-Con. Warner Bros. sure does like to pack its panels full of whatever it has on its upcoming release schedule, so who knows. It could be a trailer and a quick Q&A, or maybe just a booth appearance. Whatever it is, Armitage will be there. Whether that bodes well for another film he'll be in later this year, we'll see…
4. Lucy
Release Date: July 25, 2014
Here's another film with a release date smack dab in the middle of Comic-Con. And, like Into The Storm, it's another film that already had a panel at WonderCon last month. We'd count this out for the aforementioned reasons if it weren't for two things: One, it's got Scarlett Johannson, who although is in the middle of a pregnancy, might also be in San Diego for The Avengers: Age of Ultron; and two, it's Universal, which really doesn't have anything to show at Comic-Con this year, sans a big budget sequel (more about that later). So we would expect to see some promotion for this film during the weekend at the very least.
5. The Expendables 3
Release Date: August 15, 2014
And yet another film which a star spilled the beans regarding an appearance. Terry Crews mentioned earlier this year during an interview he would be back at Comic-Con for The Expendables 3. Now, he didn't say what kind of appearance that would be, we can only look to the franchise's past to see what might be in store for attendees this year. The Expendables surprised a Hall H audience way back in 2010, and again with the sequel (although to diminishing returns) in 2012. With this being advertised as the last film in the franchise, we would expect nothing else than for Stallone and the gang to go out with a bang (pun intended).
There's also the Ford factor here – Harrison Ford, that is, starring in the film along with newcomers Mel Gibson, Wesley Snipes and Antonio Banderas. If Ford is advertised to appear in support of The Expendables 3, there's going to be a lot of people expecting him to also make an appearance for Star Wars Episode VII as well. Or maybe he doesn't show up here at all, in order to keep any Star Wars appearance a surprise.
6. Frank Miller's Sin City: A Dame to Kill For
Release Date: August 22, 2014
Robert Rodriguez. Frank Miller. The sequel to the immensely popular Sin City.
Of course it will be at Comic-Con. The only questions would be, in what way? Will it be a huge Hall H presentation with a star-studded list of panel guests? Or will it be an intimate panel with fan-favorite director Rodriquez and some big offsite push? Regardless, this is tailor-made for Comic-Con fans, so expect something really cool for attendees.
7. The Maze Runner
Release Date: September 19, 2014
As far back as last fall, star Dylan O'Brien mentioned during an interview that the film would be making some sort of an appearance at Comic-Con. The release date makes sense for it to be in San Diego this July, and the endless misses of YA adaptations with the exception of Twilight and The Hunger Games keep studios pouring money into marketing and advertising in hopes of breaking that streak. The Maze Runner was already at WonderCon though, so we don't know if it makes sense for it to be part of 20th Century Fox's annual panel presentation, or maybe this just makes a booth appearance with a signing. We'll know more for sure in the next few weeks.
8. The Hunger Games: Mockingjay Part 1
Release Date: November 21, 2014
The Hunger Games film franchise has always been at Comic-Con, but 2013 was the first year it actually had it's own panel in Hall H. Heading into its final act, it would be a given to make a return appearance if it weren't for the fact that it doesn't even need to – the film will be a blockbuster success regardless. And since it's only "Part 1" of a two-part finale filming back-to-back, perhaps it will pull a Hobbit and forego rolling out the red carpet with cast and crew due this year to the rigorous production schedule. It would be a shame, but not a surprise. We do know that SDCC plays a key part in Liongate's marketing campaign, so at the very least there should be a big booth push.
9. and 10. Home and The Penguins of Madagascar
Release Dates: Home – March 27, 2015; The Penguins of Madagascar – November 26, 2014
DreamWorks Animation has in recent years had an understated presence at Comic-Con, despite star-studded casts filling up its popular franchises. But that was before 20th Century Fox became its distribution partner. Could we expect to see more animation films play a part in Fox's annual Hall H presentation? After all, it worked for The LEGO Movie last year. And this year's slate of Fox's animation films has some pretty significant star power with the Comic-Con audience.
First, there's Home, a film not slated for release until spring of 2015 but stars The Big Bang Theory's Jim Parsons as a member of a friendly alien race who hides out on Earth with a teenage girl, played by Jennifer Lopez. Aliens and Jim Parsons? That seems like a good candidate for Comic-Con. But release date, and the history of animation films at SDCC, put this one clearly in the "wishful thinking" category.
Then there's The Penguins of Madagascar, the film spin-off of the popular DreamWorks Animation franchise. However the film stars Hobbit and Sherlock star Benedict Cumberbatch, along with John Malkovich, Ken Jeong, and Andy Richter. Plus, the Penguins skew a little older and any panel with that line-up would certainly keep the Hall H audience entertained as they wait for the latest Hollywood blockbuster news and previews. And since the movie releases this year, we think this one is a little more likely to have a presence at Comic-Con.
11. The Hobbit: The Battle of The Five Armies
Release Date: December 17, 2014
Jackson regretfully cancelled any Hobbit appearance at Warner Bros. big Hall H presentation last year due to conflicts with the production schedule. But this is the last Hobbit film, and likely the last Tolkien film adaptation in some time, if not ever by Jackson himself. We fully expect Warner Bros. to roll out the red carpet to Jackson and his cast and let them take one final bow in front of thousands of gracious fans on Comic-Con's grandest stage.
12., 13. 14. and 15. Big Hero 6, Into The Woods, Cinderella, Tomorrowland
Release Dates: Big Hero 6 – November 6, 2014; Into The Woods – December 25, 2014; Cinderella – March 13, 2015; Tomorrowland – May 22, 2015
It's been two years since Disney proper has made its studio presence known at Comic-Con. Last year's absence is something we call the "D23 Effect". Every two years, Disney holds its own fan convention, and famously holds back from showing off its big upcoming properties at other conventions so that D23 could have the exclusive reveal. But 2014 is an off-year for D23, so we fully expect Disney to be back with a Hall H presentation in July. Two years ago, Disney showed off Wreck It Ralph, Oz: The Great and Powerful, Frankenweenie and The Lone Ranger. This year's slate includes possible panel inclusions such as the film adaptation of Broadway's Into the Woods; the live-action adaptation of Cinderella, and Tomorrowland, backed by George Clooney, Brad Bird and Damon Lindelof. But if there's one sure-thing, it's the first Disney Animation production of a Marvel license, Big Hero 6, which we're hearing is a shoo-in for July.
16. The Man From U.N.C.L.E.
Release Date: January 16, 2015
As Warner Bros. prides itself with parading an extensive slate of upcoming productions during its annual presentation, we think on paper there's a good chance we'll be seeing The Man From U.N.C.L.E., the big-screen adaptation of the 1960s television show. After all, it stars Superman himself, Henry Cavill, so if he's in San Diego for anything else, he might also be asked to come out on stage for a quick Q&A after a teaser trailer to drum up buzz for the Guy Ritchie-helmed feature.
17. Seventh Son
Release Date: February 6, 2015
Seventh Son, starring Kit Harington and Jeff Bridges, was shown last year during Legendary Entertainment's presentation with then-distributing partner Warner Bros. Since then, the film was delayed nearly a year, and then moved to new distributor Universal Studios with Legendary's new deal. If Universal or Legendary is to have its own Hall H presentation this year, we expect this to be back on the slate for 2014. After all, we haven't heard much from this production for nearly ten months, so getting this back in front of the Comic-Con mindshare will be good.
18. Warcraft
Release Date: March 11, 2016
It's crazy to think that a movie with a spring 2016 release date would be a lock for Comic-Con, but Legendary Entertainment's CEO Thomas Tull has already teased the film will be getting some attention at SDCC this year. It has recently wrapped principal photography, and Tull stated "he wouldn't be surprised" to see something this year, with chances high it will be a new trailer.
19. The Avengers: Age of Ultron
Release Date: May 1, 2015
The best odds for an appearance at Comic-Con this year have to be on The Avengers: Age of Ultron. After all, Marvel didn't hold back last year even though it was a D23 year. And with Batman vs. Superman: Dawn of Justice moving out to 2016, the stage is clearly Marvel's to own. Aside from New York Comic-Con, there really isn't a better opportunity to get Ultron in front of fans before next spring's release. Even franchise-newcomer Aaron Taylor-Johnson, who is playing Quicksilver in the film, has stated publicly his appearance at SDCC this year. If The Avengers doesn't show, prepare for a riot in Hall H.
20. Mad Max: Fury Road
Release Date: May 15, 2015
Mad Max: Fury Road has been a difficult production. Starring Tom Hardy, Charlize Theron and Nicolas Hoult and directed by returning franchise director George Miller, the film completed principal photography in 2013, with reshoots continuing into 2014.  It's a big $100 million production, so we think Warner Bros. will want to create some early positive buzz with a welcome Hall H audience and the world's media at its attention.
21. Jurassic World
Release Date: June 12, 2015
Jurassic World has a lot going for it to make an appearance at Comic-Con this year. For one, it's the latest in storied action franchise started by Steven Spielberg. Although the sequels have taken their lumps throughout the years, the franchise still remains popular among the SDCC crowd. Two, it's been shooting since April, so there should be plenty of footage to put together into a teaser trailer. Three, it's got Judy Greer (Tomorrowland) and Chris Pratt (Guardians of the Galaxy) among its cast, putting two of its stars already in San Diego for their other respective films. And four, it's 2015 release date is before the next San Diego Comic-Con, being this the one and only chance to cause a packed Hall H to erupt with excitement. Purely speculation, but the points above make it a good chance for a Jurassic World appearance.
22. Entourage
Release Date: June 12, 2015
At first glance, the idea of Vince and his Hollywood posse making an appearance at Comic-Con a little odd. After all, it's not even a genre film. But the history of Entourage as an HBO series has deep roots in SDCC. Way back in the show's season two, the cast made a trip to San Diego to promote the  fictional Aquaman film, directed by James Cameron, as well as Johnny Drama's dive into fandom with the outpouring of love for his Viking Quest series. Some say it was this episode which aired back in 2005 as the reason for Comic-Con's sudden increase in popularity among the general public. It would only then make sense for studio Warner Bros. to repay the Comic-Con audience with an early look at the film and some access to the cast.
23 and 24. The Fantastic Four and X-Men: Apocalypse
Release Dates: The Fantastic Four – June 19, 2015; X-Men: Apocalypse – May 27, 2016
20th Century Fox have been the first major studio to release a big Marvel franchise movie (X-Men). But in the years that follow, it's had its share of misses with X-Men: The Last Stand and the two Fantastic Four movies. It's gotten back on track as of late, with the superb The Wolverine and X-Men: Days of Future Past movies, and the studio is looking to take on Marvel and Sony by furthering its own Marvel Cinematic Universe with a Fantastic Four reboot in 2015. The film has already started shooting, so it should have something to finally show attendees in Hall H after years of rumors, speculation and false starts.
And might we also hear casting news on X-Men: Apolcalypse? It's too early to tell, as shooting won't start until spring of 2015, but who will play Apocalypse, the big bad himself? And might we also hear more about the announced X-Force and Deadpool movie adaptations? Let's hope so.
25. Terminator: Genesis
Release Date: July 1, 2015
Doctor Who's Matt Smith in a Terminator movie? Yes please. And we speak for the 6000+ fans who will undoubtedly fill Hall H to get a glimpse of the 11th Doctor fighting with, or perhaps alongside, Arnold Schwarzenegger. It has already started filming, and its release date is just prior to next year's Comic-Con, making this a likely candidate for a 2014 appearance.
26. Ant-Man
Release Date: July 17, 2015
The recent news of Ant-Man's director Edgar Wright leaving the production over "creative differences" has thrown this production in turmoil, at least in the minds of fans. After all, Wright has been acting as champion of the Marvel character's big screen debut – and in front of a Comic-Con audience, mind you – as far back as 2006. But despite the serious change in personnel, and given the script still seems to be up in the air, Marvel has not yet changed the 2015 release date. That seems to be a pretty aggressive schedule, even if Wright had stayed aboard.
But now things have changed, and what better way to turn around the production in the eyes of fans than to announced Wright's replacement, show off some promising teaser footage and show that things are back on track. Or, Marvel could stay away from any controversy altogether and hold any public announcements for now. After all, if Ant-Man's release date doesn't change, Marvel still has one more shot to get in front of a Comic-Con audience in 2015. And quite frankly, a panel full of Avengers: Age of Ultron and Guardians of the Galaxy might just be enough for most.
27. Star Wars Episode VII
Release Date: December 18, 2015
Okay, this is the big one. The panel that most attendees have been hoping for. It's been nearly ten years since a new Star Wars movie has graced the hallowed Hall H, but this one is more important. Disney, acting as the Star Wars Social Services, has taken the franchise from creator George Lucas and hopes to erase the bad taste of the prequels and endless special editions. Things haven't started out as good as we had hoped though, playing with tradition by moving the release date to December 2015, re-writing the screenplay which was originally drafted by Oscar-winner Michael Arndt, and calling into question the decision to name J. J. Abrams director out of the fallout from Star Trek Into Darkness. Yet fans, including ourselves, remain hopeful.
And early buzz seems to indicate we might just get that hope (a "new" hope, mind you) with some sort of Star Wars Episode VII presence at Comic-Con this year. Perhaps it's the rumored title reveal, something that has had a bit of tradition at Comic-Con from Episode III. You can see this reveal from 2004 below:
The film is currently in production, and we think there's a good chance Abrams would use some of that to make a special teaser for Comic-Con attendees at the tail end of any Disney studio presentation. Or perhaps Disney and Lucasfilm would drop additional character reveals, since according to an article on Slashfilm, "several roles have yet to be filled, including a major female part." And we think if the cast – including Hamill, Ford and Fisher – made an Avengers-type appearance on stage in Hall H…well, there probably wouldn't be anything left of Hall H anymore.
What's missing?
CCI has never been big on bringing horror movies inside the Convention Center – that genre is more likely covered by the folks at NYCC in October. So no Poltergeist, Amityville, Lazarus, Friday the 13th, or Insidious Chapter 3. Sorry, horror fans.
Bonus Round
Comic-Con weekend has always been host to one strangely fitting indie film per year. Last year it was The To-Do List with Aubrey Plaza and Clark Gregg (Agents of S.H.I.E.L.D.); the year before that was Hit and Run, directed by Dax Shepard and staring his wife, Kristen Bell (Veronica Mars). So we're going to stick our neck out and guess this year's movie.
Without further ado, our guess for "Weird Indie Movie at Comic-Con" is…
What If
Release Date: August 1, 2014
What If stars Harry Potter himself, Daniel Radcliffe, a love story between his character and "an animator who lives with her longtime boyfriend Ben". A lead character who is an animator? That's a loosely tied connection to Comic-Con if we ever saw one. And it stars Radcliffe, who will be in the U.S. for his Broadway stint in The Cripple of Inishmaan, due to end on July 20 (and right before Comic-Con, see?). These indie appearances tend to be off-site, but an appearance by Radcliffe would undoubtedly create attention, among the Comic-Con fans, not to mention the media buzz that would follow ahead of its August release date.
What films are you looking forward to most at this year's Comic-Con? Which films do you think we missed? Which guesses do you think we got wrong? Let us know in the comments.