Square Enix isn't just the videogame company responsible for such favorites as Final Fantasy and Kingdom Hearts, they're also a producer of some beautiful licensed collectible figures. If you recall from last year, they brought us the beautiful PLAY ARTS -KAI- Metallic Batman, which we proudly display on our geek mantle over at SDCC Unofficial Blog HQ.
We've finally received word of some of the company's 2014 exclusives, which we'll post here. And as we march closer to the start of San Diego Comic-Con, we'll update this master post with any additions as they are announced.
[UPDATE June 16] Metal Gear Solid creator Hideo Kojima tweeted an image of a Big Boss figure, stating "Special color version only available at San Diego Comicon next month". Here's the picture of the Big Boss figure: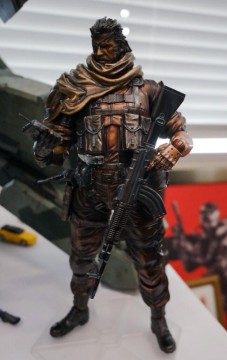 The tweet was retweeted by the official Square Enix Merchandise Division account, indicating this will be another SDCC exclusive from the company. There's precedence for this as well. Even though the games are produced by Konami, Square Arts has produced several PLAY ARTS -KAI- figures from the Metal Gear franchise. Stay tuned.
[UPDATE June 14] The Square Enix site has updated with a blog post detailing the Limited Color PLAY ARTS -KAI- Arkham Origins Batman. First the details, from the post:
This limited color variant version, a 2014 San Diego Comic Con Exclusive, incorporates Batman's iconic style with a metallic finish, heightening the contrast and drama of its design. We have brought this youthful version of Batman to life in glorious three dimensions, but also we have heightened the depth and beauty of its design with a multi-dimensional luminous shine, as if watching over Gotham in the moonlight. Accessories include a Batarang and a gun. Display stand is included.
Next, the item is limited to 1000 pieces and will come in window box packaging (as seen in our update below). Dimensions for the figure are W 12.5″ x D 2.8″ x H 10.6″.
Here are some official images of the figure from the product page:
Lastly, the figure will sell for $99.99 and can be pre-ordered for shipping now (not available for on-site pick-up). Limit of three per order.
[UPDATE June 12] We have more images of the Limited Color Batman exclusive, via Toy News International.
Director of Square Enix's PLAY ARTS -KAI- line, Hidemi Matsuzuka, tweeted out a couple of images of the 2014 exclusive's packaging:
https://twitter.com/hidemi_mad_EN/status/475873782234501120
https://twitter.com/hidemi_mad_EN/status/475932455216492544
Check out the post on Toy News International for some more close-ups of the figure out of the packaging.
[UPDATE June 10] Straight from E3, the company tweeted out its first SDCC exclusive, the limited color version of Batman from the videogame Batman: Arkham Origins: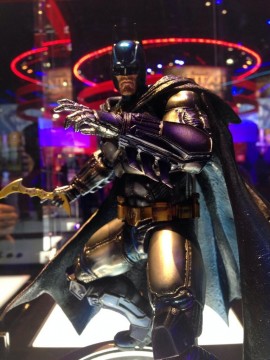 No word on details, such as production run or price, but we've reached out to the company for additional information. And we've also asked if, like last year, these will also be available online, for those who aren't attending SDCC. We'll update as soon as we receive word.
What do you think of Square Enix's SDCC exclusives so far? Let us know in the comments.