To the layman, the name SQUARE ENIX evokes memories of popular video games like Final Fantasy and Dragon Quest. To the savvy collector, however, it also means some beautifully detailed PVC collectible figures from the Halo, Mass Effect, Metal Gear and Batman franchises. We'd like to add, that also means some SDCC exclusives as well.
News of SQUARE ENIX's 2013 SDCC exclusives has started to trickle out, both through tipsters and from the company itself, so we've started this master post to compile all the merchandise as it is announced. We'll update when we receive new information.
[UPDATE MAY 29]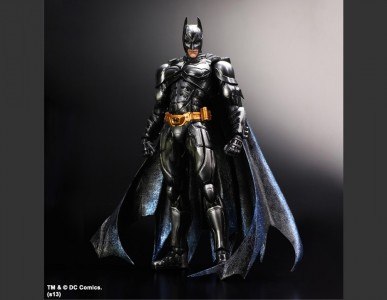 BATMAN™ THE DARK KNIGHT TRILOGY PLAY ARTS -KAI- Batman™ BLACK METALLIC $64.99): This isn't a SDCC exclusive, per say, because it is also being made available to collectors online, but the company is saying the majority of the figures will be sold on site at the SQUARE ENIX booth during the convention:
Majority of #SDCC #Exclusive Batman figures will be sold on-site! Come early before we sell out (or order online: http://t.co/ykQMQt3fHL)

— Square Enix Merchandise (North America) (@SQEX_MD_NA) May 28, 2013
If you want to purchase online and not worry about the lines, you can do so now via the SQUARE ENIX Online Store. Note that pre-orders will only be shipped, so if you really want to stand in long lines for that true con experience, it's best to wait until San Diego.
CG CAPTAIN HARLOCK SPACE PIRATE: We haven't seen any official announcement on this, but we reported earlier this month SQUARE ENIX would be previewing its figures from the upcoming Captain Harlock movie from Toei. It's rumored there will be some big announcements regarding the international release of the film at SDCC this year, which makes sense that the figures would be previewed in conjunction.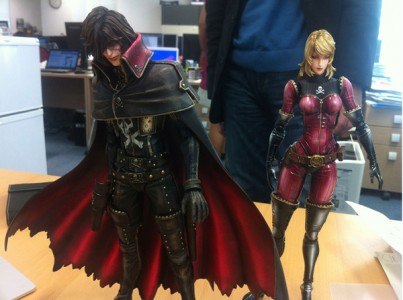 No word on whether these figures will also be sold during the convention, or if there will be a Harlock SDCC exclusive. but we'll update as soon as we get word.
Ready to spend your hard-earned dollars at the SQUARE ENIX booth? Let everyone know in the comments below.