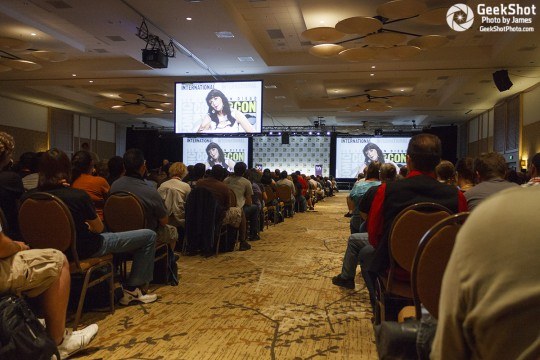 It's now June, and that means that we can officially state that San Diego Comic-Con is next month. Are you prepared? Well, alright, no one is probably ever completely prepared, but your best option for ensuring you make the most of the behemoth that is Comic-Con is keeping up with the important important. But don't worry! We've got you covered. Here's what you can expect over the next month:
More Panel Announcements
Something really exciting happens in June — panel confirmations go out. This means that television and movie studios get details on when and where their programming will be taking place, and anyone who applied to hold a panel during SDCC finds out their fate as well. In June of last year, we learned about the vast majority of TV shows and movies that would be at Comic-Con, well in advance of the final July schedule release from Comic-Con International (which this year should happen on July 10-13). We learned FOX's final Comic-Con panel schedule as early as June 12, but throughout the month, we learned the SDCC schedules of ABC, Adult Swim, AMC, Cartoon Network, CBS, Cinemax, FOX, MTV, Nickelodeon, Syfy, TNT, USA Network, Warner Bros., and more. We also learned that movies like Divergent, The Hunger Games: Mockingjay, Riddick, and The World's End would be making the trek to the convention.
We've already taken a guess at which movies we'll be seeing next month, but we should know for sure on several of those properties very soon. You can see our complete list of Announced & Confirmed Panels as of now by clicking here.
Exclusive Announcements & Presales
June will be a big month in the world of exclusives for most of the major companies. We already have details on most of the Comic-Con exclusives from Mattel, two exclusives from Hasbro, all four of NECA's exclusives, some clues about what to expect from Funko, and much more. We expect to hear more from Hasbro and Mezco Toyz this month, as well as announcements from companies like Entertainment Earth, Gentle Giant, Super7, Dark Horse, Diamond, and others.
Several of these companies will be holding online presales, with exclusives either then available to pick-up hassle-free at the convention center, or to be shipped directly to attendee's homes. Here are the presale dates that we know about:
More SDConCast
Although the new season of the SDConCast is already in full swing, we have an exciting schedule of upcoming guests to talk movies, TV, comics, and much more all month. In addition, each week we'll continue to keep you up to date on all the latest news, to help ensure you're as prepared as possible for July.
Weekly Newsletter
To kick off June, we've started our brand-new, weekly Comic-Con news round-up newsletter. Every Sunday, we'll be sending you all of the SDCC news you might have missed over the last week, to help keep you up to date on the exclusive, panel, offsite, and other news you care about. If you haven't signed up already, you can do so by clicking here.
More News, More Features
It may seem hard to believe, but June is usually the busiest month for SDCC news. Expect all sorts of booth, offsite event, panel, and other information to be announced fast and furiously all month long, and we'll be on top of it all to be your number one source for all-things SDCC!
In addition, we'll have more tips, regular columns and other great content to help make this year's SDCC your best ever, whether it's your first or your fifteenth year attending.
Is there anything in particular you would like us to cover or want to know more about for SDCC? Let us know in the comments, drop us a line or tweet us at @SD_Comic_Con.