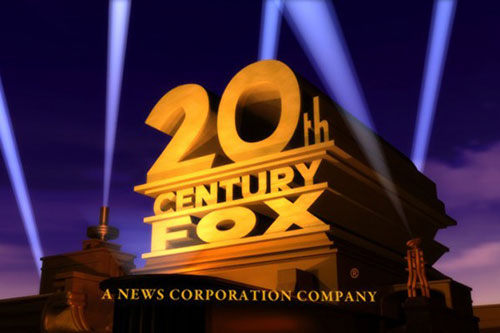 [UPDATE 2] And just like that, the official announcement from Twentieth Century Fox hit our inbox by way of a press release:
Friday, July 25th

THE MAZE RUNNER

Dylan O'Brien, Kaya Scodelario, Will Poulter, Writer James Dashner and Director Wes Ball

BOOK OF LIFE

Channing Tatum, Ron Perlman, Christina Applegate, Writer/Director Jorge Gutierrez and Producer Guillermo del Toro

HITMAN: AGENT 47

Zachary Quinto and Hannah Ware

 

LET'S BE COPS

Damon Wayans Jr, Rob Riggle and Keegan Michael-Key

KINGSMAN: THE SECRET SERVICE

Colin Firth, Samuel L. Jackson, Taron Egerton, Sophie Cookson, Sofia Boutella and Co-Creators Mark Millar and Dave Gibbons

4:20PM-6:20PM                20th Century Fox Comic Con Presentation

Location: Hall H

LET'S BE COPS

Release: August 13, 2014

It's the ultimate buddy cop movie except for one thing: they're not cops.  When two struggling pals dress as police officers for a costume party, they become neighborhood sensations.  But when these newly-minted "heroes" get tangled in a real life web of mobsters and dirty detectives, they must put their fake badges on the line.

THE MAZE RUNNER   

Release: September 19, 2014

When Thomas wakes up trapped in a massive maze with a group of other boys, he has no memory of the outside world other than strange dreams about a mysterious organization known as W.C.K.D.  Only by piecing together fragments of his past with clues he discovers in the maze can Thomas hope to uncover his true purpose and a way to escape.  Based upon the best-selling novel by James Dashner.

THE BOOK OF LIFE

Release: October 17, 2014

THE BOOK OF LIFE, a vibrant fantasy-adventure, tells the legend of Manolo, a conflicted hero and dreamer who sets off on an epic quest through magical, mythical and wondrous worlds in order to rescue his one true love and defend his village.

KINGSMAN: THE SECRET SERVICE

Release: October 24, 2014

Based upon the acclaimed comic book and directed by Matthew Vaughn (Kick Ass, X-Men First Class), Kingsman: The Secret Service tells the story of a super-secret spy organization that recruits an unrefined but promising street kid into the agency's ultra-competitive training program just as a global threat emerges from a twisted tech genius.

HITMAN: AGENT 47

Release: February 27, 2015

Based on the top-selling, award-winning videogame franchise, "Agent 47" is an all-new motion picture about an elite and genetically engineered assassin, known only by the last two digits – 47 – of a barcode tattooed on the back of his neck.  His latest target is a young woman on the run from powerful and clandestine forces.  The mission brings startling revelations about the lethal agent and his prey, hurtling them on a collision course with their pasts.  And this time, his number may be up.
[UPDATE] We'll likely know for sure tomorrow when CCI releases the Friday SDCC schedule, but Borys Kit of The Hollywood Reporter tweeted the line-up for the Fox Hall H presentation: The Maze Runner (we knew it!), Let's Be Cops with Jake Johnson and Damon Wayans Jr., the animated The Book of Life from producer Guillermo del Toro and starring  Channing Tatum, Zoe Saldan and Ron Perlman; Mark Millar's Kingsman: The Secret Service with Colin Firth and directed by Matthew Vaughn, and Hitman: Agent 47 starring Zachary Quinto.
Channing Tatum, Colin Firth , Zachary Quinto, Will Poutler, and Guillermo del Toro are expected to appear.
Fox unveils its Comic-Con line-up: THE MAZE RUNNER, LET'S BE COPS, THE BOOK OF LIFE, KINGSMAN: THE SECRET SERVICE, & HITMAN: AGENT 47.

— Borys Kit (@Borys_Kit) July 10, 2014
No mention of FANTASTIC FOUR.

— Borys Kit (@Borys_Kit) July 10, 2014
Here are some of Fox's foxy stars: Channing Tatum, Colin Firth (!), Zachary Quinto, Will Poutler, plus Guillermo del Toro.

— Borys Kit (@Borys_Kit) July 10, 2014
The original story below…
Last year, 20th Century Fox was one of the highlight panel blocks of the entire weekend, with appearances from Wolverine, Dawn of the Planet of the Apes, and even a surprise X-Men: Days of Future Past appearance. The studio has a lot on its upcoming slate that it could be trotting out to San Diego Comic-Con this year, so we're already expecting great things from the studio – but we now have confirmation that attendees can find 20th Century Fox back at San Diego Comic-Con on Friday, July 25, 2014.
This marks a shift in programming dates from 2013, when the studio took over Hall H on Saturday last year, and only for 90 minutes. With so many upcoming movies on their slate, including The Book of Life, Kingsman: The Secret Service, the new Fantastic Four reboot, more X-Men movies, The Penguins of Madagascar and more, we wouldn't be surprised if that shift to Friday was also to allow for an even longer programming block with even more exclusive reveals and films.
This would also leave a hole in Saturday's programming compared to last year — could Warner Bros. or Marvel's traditional Saturday panels be getting longer, or could another studio that's skipped out recently be returning to the convention, like Universal Pictures with Jurassic World, Paramount or Disney?
Giving credence to the theory that 20th Century Fox's 2014 panel block could be getting longer is the fact that James Dashner, the author of The Maze Runner book series which the upcoming movie is based on, posted on his website that the film will be having a panel in Hall H this year, on Friday, July 25, between 4pM-7PM. Although a representative from 20th Century Fox would confirm only the date and no other details – such as room or films included – we've been hearing for months that a Maze Runner panel is in the cards.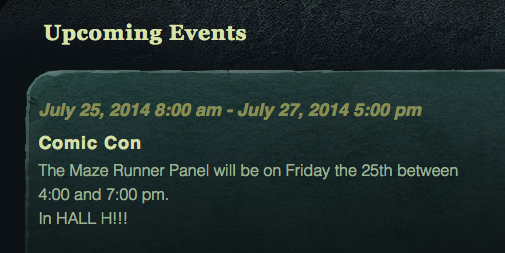 San Diego Comic-Con attendees were disappointed last year when The Maze Runner didn't receive a panel at the convention center during last year's event — instead, the film only hosted a smaller Q&A across the street at Nerd HQ with just lead actor Dylan O'Brien (Teen Wolf), Dashner, and director Wes Ball in attendance. For a movie that's being hailed as the male version of The Hunger Games, it was a little lackluster as far as Comic-Con appearances go. It was originally slated to come out in February, so 2013 would have been the ideal time to push the film — but after SDCC, the release date was pushed to September 19, in a move which lead actor Dylan O'Brien said he was excited about because it would allow them to bring the movie to Comic-Con, presumably to promote it on a larger scale.
Now, it's looking more and more like this could be exactly what happens, in a very big way. And, we now know that O'Brien will already be at the convention on Thursday and Friday for Teen Wolf — and we've also confirmed through a representative of director Ball that he will also be in attendance at Comic-Con, which puts all the key players for a Maze Runner panel already in place.
We've posted our predictions for which films we think will be appearing at San Diego Comic-Con this year, but one thing's for certain: the line for 20th Century Fox's panel is going to be long.
Are you excited about 20th Century Fox's move to Friday? Let us know in the comments.